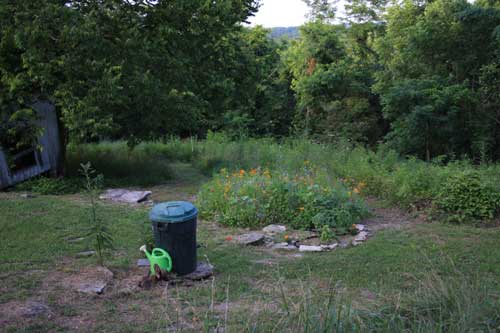 Rustic Kentucky hillside flower garden.
(*photo credit)
August 1, 2016      Gardening in August
      August is unique with its plentiful fruits such as peaches, apricots, plums and grapes, along with its generous harvest of green corn, cantaloupes, watermelon, tomatoes and squash of many varieties.  The early autumn plantings have begun and these need tender loving care in dry times.  Don't forget to preserve surpluses: pickle the cucumbers, make tomato juice, can peaches, fill up the deep freeze with squash, solar dry the first pickings of apples, and also save blueberries, peaches, and grapes to make tasty cobblers. 
      With the land so bountiful, it is the season to spread the word from longer-term to beginning gardeners.  Over time "master" gardeners gain respect for nature, by enduring the vicissitudes of the elements, accepting mini‑disasters, weighing a chance to plant another crop, being "up on top" of the weeds, and minimizing crop damage with an even temper and alternative interplanted crops.  Beginners gradually enter into the mental ways and aspirations of the long-term gardener and can visualize the beds with or without certain plants.  Gardeners, whether beginners or more mature, wince when hail falls, pray that heavy wind will cease, and hope that the freeze won't come too early.  They know August is harvest time.
     Yes, gardening can become an ideal time and place for learning and teaching.  Mistaken ideas that food originates in supermarkets and greens come from distant places gives way to the reality of food production in a local garden.  Novice gardeners become personally acquainted with it, often for the first time.  When master gardeners observe the power of demonstration, they are changed also.  Talks, reports and television shows certainly help, but does not equal connection with a personally-tended garden. 
     Gardening is a grassroots effort.  Neophytes perceive that they are not mere observers, but participants in the mystery of garden growth.  Participants gain a true sense of awe at the power of life unfolding before our eyes.  They may begin at a wide variety of levels -- and should start with youth.  Near Amsterdam in the Netherlands I observed an entire school class engaged in planting seedlings in a school plot.  Some learn cooperative gardening projects through Scouts or civic or religious associations; all need personal participation.
     Ideally, all learners have their own individual plots, which are their personal responsibility for planting and harvesting.  Accountability for seeing a project to harvest is a major gardening lesson in patience: to prepare soil, remove weeds and harvest without damaging surrounding vegetables.  A Chicago youth minister once phoned, wanting to bring eighth graders to teach Appalachians to garden.  I asked whether the kids had gardening experience and the organizer said they didn't, but could learn quickly.  I assured him that we could find numerous Appalachians who would teach them.
     Prayer: Lord, teach us to praise your August glory.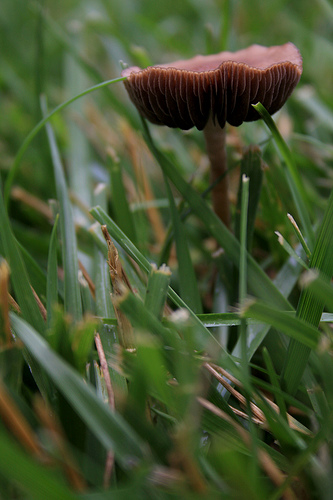 Unidentified fungus hidden below grass.
(*photo credit)
August 2, 2016      How To Be a Revolutionary
    A Christian who is not a revolutionary today is not a Christian.  Pope Francis
1. Resolve to personally change for the better.
Make a simple lifestyle and learn to live frugally.
Forego accumulation and live by sharing with others.

2. Let leaving the world a better place be your proper legacy..
Be willing to be countercultural in resource use.
Do not waste resources and recycle as much as possible.
3. Think poor in all activities, for each is poor.
Avoid corporate grants and donations from the wealthy and.
support a constitutional amendment to curb donations.
for political campaigns.
Consider the poor with respect and solidarity.
4. Advocate for energy efficiency and renewable energy use.
Use solar energy where possible.
Avoid the fossil fuel economy where possible.
 5. Condemn the Godless Capitalistic System.
Bring on a non-profit and non-competitive world.
Purify motivation; Avoid the Green Capitalism tempter. 
6. Support free education from pre-school to university.
Why not free education for those who are diligent?
Free universities should be assured.

7. End all indebtedness on the part of society.
Forgive debts, especially for health reasons and also
college indebtedness that enslaves the young.
8. Full employment is a goal for all.
People are willing; infrastructure needs rebuilding;
Unloosen hoarded capital from tax havens and tax dodges.
9. Resolve that no one will go to bed hungry or homeless.
Minimum wage is a necessity.
Maximum income tax is also a necessity and like during WW2
when large incomes were taxed 95%, the time is of
equal or greater gravity today.
10. In God we trust;
Rebuke those wanting to forsake our motto.
The consumer culture is addictive;
Others are organized to help reinforce resolve.
     Prayer: Lord, help us to see that profound and radical changes are necessary, when we challenge climate change deniers and bring about a just and balanced environment in our world.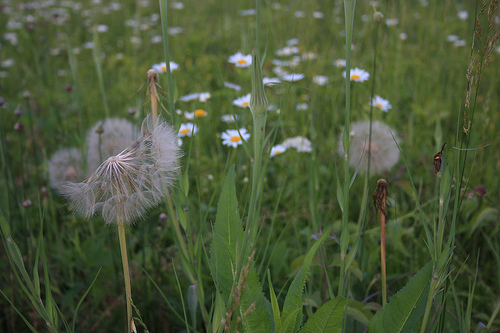 A field of summer dandelion and daisy.
(*photo credit)
August 3, 2016      Counsel: Making Right Judgments
     This reflection focuses on the third of the gifts of the Holy Spirit: Counsel.  This gift is associated with supernatural prudence, and enables us to choose correctly what will help most in giving glory to God and in effecting our own salvation.  Humble people know their limitations, including the ability on occasion to make right judgments.  They are committed to avoid judging rashly and they are resolved to make necessary decisions well. 
     Judgment on important matters does not always come easily; people may judge too quickly or they may never judge by putting off too long, due to a rather procrastinating mentality.   For them, evidence is either overly obvious or totally hidden; they behave as impulsive shoppers or they never come to decisions at all.  And there is the third category, namely, those who sometimes make bad choices by not weighing all the factors or discerning properly; they come to judgments quickly, but these are sometimes faulty judgments.  The virtue of prudence calls for action, correct action granted the current understanding of the situation.  We can do a variety of activities and are caught in not wanting just to act correctly, but to understand some of the ramifications that actions may entail.  Often we find it difficult to choose from possibilities to act this way or that and need assistance. 
     What becomes evident to anyone who is actively engaged, and is looking out for "our" and not just "my" salvation, is that we are in a community in our journey of faith; we need the counsel of other co-travelers in matters dealing with our practices.  An openness to weigh opinions and factual evidence within a collaborative context is at the heart of good judgment.  A danger is the attitude, "Leave me alone, for I can do it myself."  Obviously, it is true that "the buck may rest here" with many decisions, but consultation is of utmost importance before the choice is finalized.  This process includes a conversation with the Lord, along with a discerning process that may and often should involve other human beings who are able to help us act in a godly manner.  Our budding wisdom leads us to take counsel of the wise; understanding inspires us to be more open and seek advice from equally open people.  The discernment process requires a prayerful weighing of all options before God, removing those that are selfish and emphasizing those that are beneficial to all. 

     Proper decisions are part of the lives of all who reach the use of reason.  Individually, we find this need in vocational and professional choices and in the tasks and duties we perform.  Proper collective decisions involve enhancing our culture and Earth herself.  Proper judgment magnifies the glory of God's world -- our lives, our mission, our family, our profession.  Discerning people realize the value of good judgment, and thus the efforts that must be undertaken to come to good conclusions.  The prudent person soon appreciates wise advice and is humble enough to seek and accept it.

     Prayer: Lord, give us the gift of prayerful discernment.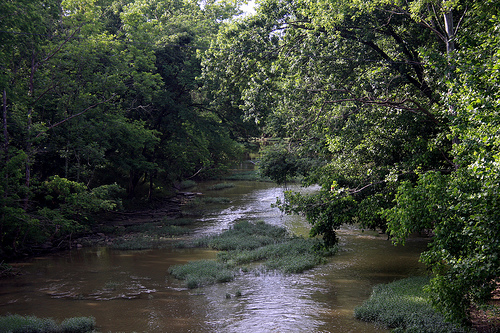 Chaplin River, Washington Co., KY.
(*photo credit)
August 4, 2016        Respect Our Coast Guard
          Semper Paratus (Always Ready)
     During this hurricane season and the height of water-related summer recreational activity, it is highly appropriate that we celebrate Coast Guard Day and honor the heroic people who serve that agency.  So often in the most trying of conditions it is the U.S. Coast Guard (USCG) that is called out to rescue stranded people.  In such disasters we begin to recognize that USCG discipline and organization pay off for the good of our citizen population, and from harm and terroristic threats as well.
      A Jesuit brother, the late Paul Mattingly and I took some vacation trips together in the 1980s and 90s, and he would regale me with stories about his days in the USCG.  One thing was evident: he treasured those memories of the Second World War, when he assisted in defending America's coastline against possible Nazi attack.  He never saw any active combat, and I became certain that is what made his treasure of memory more delightful with time.  However, isn't active vigilance a form of combat duty?
     Today the Coast Guard is both a branch of the military and a service within the Department of Homeland Security.  It has a multi-mission that is uniquely military, humanitarian and civilian law-enforcement, all wrapped into one.  It not only acts as armed guardian of our coasts, but also carries out policing efforts and rescues the stranded and the shipwrecked.  Sometimes this more humanitarian work is required in the most harsh of circumstances, such as summer hurricanes and winter storms.   
     The Coast Guard lists five fundamental roles:
* Maritime Safety: Eliminate deaths, injuries and property damage associated with maritime transportation, fishing and recreational boating.
* Maritime Security: Protect America's maritime borders from all intrusions by: a) halting the flow of illegal drugs, aliens, and contraband into this country through maritime routes; b) preventing illegal fishing; and c) suppressing violations of federal law in the maritime arena.
* Maritime Mobility: Facilitate maritime commerce and eliminate interruptions and impediments to the efficient and economical movement of goods and people, while maximizing recreational access to and enjoyment of the water.
* National Defense: Defend the nation as one of the five U.S. armed services.  Enhance regional stability in support of the National Security Strategy, utilizing the Coast Guard's unique and relevant maritime capabilities.
* Protection of Natural Resources: Eliminate environmental damage and the degradation of natural resources associated with maritime transportation, fishing, and recreational boating.
     Prayer: Lord, teach us to respect those who vigilantly watch over us so that we can learn to be more protective of others.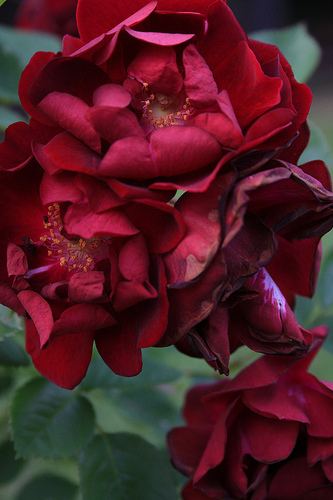 Quince in full bloom.
(*Photo by Sally Ramsdell)
August 5, 2016          God is Love
     Following the lead of John the Apostle we can make this statement of God being love, and yet this is subject to a variety of interpretations: 
     Love could stand alone as a philosophical structured principle, a thing that exists by itself and apart from other beings.  It negates "hate."  We could construct it in some fashion and then define it as God.  Perhaps I would do the same for "freedom," "justice" or "equality," all ideas or virtues that I find delightful to champion.  But is this not a hollow exercise if so exteriorized and lacking interiority?  Are idols involved?

     Love could exist in the person I know best, "me."  It may be a personalized goal, since I do not have perfect love on my own, though I hope it would reach higher (in mind) or deeper (in heart).  I could champion "love" in the abstract or within the concrete improvement of my own actions.  Again, I hesitate since I know or highly suspect that I am no great lover, nor have ever been.  Why should I pretend to totally interiorize love, for there is no social dimension to such a process?  Am I my own god?
     Love could be always seated in personhood and among persons, for there must be a social relationship in order that it is authentic.  As St. Paul says, we can do marvelous works and yet if we do not have love, it is worthless.  So love helps make me who I am and yet it is connected to others in charity or through other loving ways.  If I do not love, then I am a hater or isolated from them.  Love has a social dimension that includes offering and receiving and ultimate reciprocity.  I exist apart from those hateful characters who slay others by sword or word.  However, is there something hypocritical about this form of love; do I inflate my standings?
     Love could be always personal and embracing more than one person, and yet it is offered to others who do not accept it, no matter how truly offered.  While two parties are expected to accept and thus resonate with each other, often one party stands at a distance and thus disappoints the other.  At least the loving relationship that is extended has a purity to it that means love first exists as a free offering.  We are getting closer.  Is this God's offer to a wounded world that is not fully open to love?
     Love is offered and accepted, even though the receiving person lacks the fullness of receptivity at a given time.  Only one true possibility for this to occur is that the free, though imperfect, receiving agents open the door to love and thus the God within.  Only in saying and meaning that I am not there yet, but open to be, is the giving God able to penetrate human defenses and come within in some fashion -- a pure act.  Can I now say in truth that God is love, and say it with confidence?
     Prayer: Lord, give us the love to show we are yours.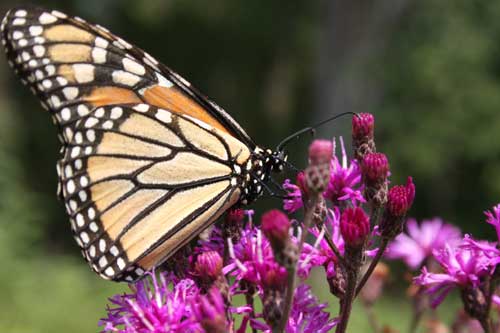 Monarch, Danaus plexippus.
(*photo credit)
August 6, 2016      My Favor Rests
      A reflection for today's Feast of the Transfiguration.
                           MY FAVOR RESTS        

      Curtained bright land, a moment's darkened cloud,
          Graced holy place, chosen race, hope endowed,
       Loud the proud, silence of the cowed,
          He rode into a cheering, soon turned jeering, crowd.
       Aloud, aloud.  Hosanna! Like a plowed,
          furrowed landscape on this earthen shroud.
       Rood of God and us, Heaven professed this plan
          "My beloved son in whom my favor rests."  When
       As Jordan's swift current to the Dead Sea ran;
          On Tabor's grand --brief career's mid-span.
       Now at a skull-faced hill faintly heard again;
          But how can favor rest when lights descend?
       And Earth's word is cleft in gasping breath;
          Dispersed light from afar focuses, rescinds.
       Wait.  Favor does rest on a restless crowd,
           even when thunder-like it comes aloud.

       Favor rests on John to Mary and her a new son;
           He graced this act of maternity,
           a dark moment's rest becomes eternity,
       Here rests the heart of our beloved one,          
           Beating to an end, that has won
         for us our unmerited fraternity.
       Leave land's shadows to the lit-up hill,
           prismed light condensed to a moment still.
       Afflicted individuals and species ill,
           Enlivened spirit, creatures thrill,
       Fly monarch, shrill whippoorwill,
           Rainbow rays rout the planet's chill.

       Fast forward.  Is "favor" a prophetic word,
           when sharing wealth remains unheard?
       And who favors turning the stampeding herd   
           that says "enough" is utterly absurd?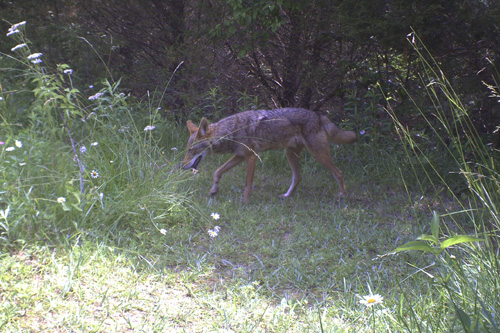 Young coyote seeks tree shade in August Kentucky heat.
(*photo credit)
August 7, 2016        Parables Are for All of Us
     Peter said, "Do you intend this parable for us, Lord, or do you mean it for the whole world?" (Luke 12:41)
     Peter's question could be asked about the particular parable mentioned here, or for that matter any parable.  Each parable has a story line and each is a message that has both individual and more universal meaning.  If one sees the glazed-over look of a few in the congregation, it is time to say this message is meant for you or you -- but we would never do such a thing, lest the person be frightened away.  Instead we look into ourselves and say, how can we make stories more relevant so that they are meant for this and that person -- just as Jesus is master of universal parable. 
     Jesus, as superb teacher, announces to his listeners the Good News of God's blessings.  The hearers of the word can rise and become better for it.  Jesus proclaims a teaching that involves a future element, but pertains more to the present condition of preparing for a meaningful future.  Since the reign of God is not just a future event but also an ongoing current happening, the fulfillment has already begun -- if we have spiritual eyes to see.  This Good News is not a blessing of wealth, success, power, nor of evil doers, the overly competitive, or the warmongers.  No, Jesus stands on the side of those who are truly blessed, the lowly, the illiterate or the poorly educated, those who have no school to attend or conditions to concentrate in study.  His teaching involves a vision and promise of the coming of better times, a new reign where the poor receive their blessings -- and God's kingdom comes: certainty he announces that the Messianic age is coming.
     We need applicable parables.  Jesus teaches the multitudes in the fields and hills, in the synagogues and marketplaces, and wherever the crowd gathers.  Don't we have new places to teach: printed and electronic media, festivals, the Internet?  Jesus teaches in parables that reach the masses in different ways, and these methods of parables and story-telling are still highly effective today.  People are drawn to concrete examples from everyday life with which they can identify.  Likewise, our audience is the whole world, literate and illiterate.  Teaching all people means having an acute awareness of what they know and their particular attention span.  Finally, the content of our teaching is part of the Good News, a blessing for those who hear.  The message is to be short, plain, and to the point for people who suffer from information overload.  Jesus's teaching way is to become ours. 

     The challenge.  While the message is meant for all, the challenge is for us to hear the parable in our individual way, and then consider that it not only applies to us as individuals, but also to our entire community of believers.  Thus it is my job to help answer Peter's question and to spread the word to others, especially those who have not yet heard the Good News.
   Prayer: May your love make us what you call us to be.

A native bee visits fresh hollyhock blossom.
(*photo credit)

August 8, 2016   Bikers, Pedestrians and Infrastructure Improvement

     Few things irritate me more than the signs at the entrances of the Interstate roads listing the different restricted travelers of America who cannot use these expensive road networks; these roads were built at taxpayer expense but exclude pedestrians and those using bikes, horse-drawn vehicles, etc.  Certainly, prohibitions are meant as safety measures for drivers and all concerned, but my irritation stems from the inherent inability of our wealthy economy to provide for those forbidden to use the Interstates and other major highways.  Why aren't they privileged as well with a proper travel infrastructure?  A 2015 report says pedestrian deaths rose by 10%, due to increased driving and use of cell phones by inattentive drivers.

      To obtain a network of roads on which bikers and pedestrians can travel safely is a realistic hope.  It certainly was my dream back in 1976 in my bike-riding days when we competed with the logging trucks while vacationing in British Columbia.  That excursion was downright scary and I'm too old for further such ventures.  My history of bike spills, scares and scars is too lengthy to recall, but it only enhances the goal of seeing bikers and pedestrians have a national walking and riding network that could go over or under or alongside of existing highway networks.

     Constructing an equivalently alternative Interstate network may seem costly, but there are many advantages beyond safety.  Recall that the argument for the restricted Interstate System was for national defense purposes.  However, only a minority of people in this country at any one time are licensed drivers; the majority must find their way around as best they can.  And bike and pedestrian networks can make use of existing highways and shoulders of major roads at far lower expense.  Bike lanes, routes, signs, parking spots, etc., could piggyback off the existing road system with often small scale readjustment for the greater part.  Such an  alternative system will reduce fuel use and air pollution. 

     A national biker/pedestrian system would encourage wider use of this mode of travel, for commuting to work and during vacation periods by those wishing to reduce auto use.  Such a system may continue to expand existing Rails-to-Trails programs and add to its length, and add to the growing hiking trail network already begun in outdoor conscious states.

     An alternative biker/pedestrian system in place could popularize physical exercise for larger numbers of people.  It would allow the promotion of tourism in various parts of the country targeting both Americans and overseas visitors.  It is assumed that confirmed walkers and bikers will do a greater proportion of their outdoor exercise in non-congested areas with fresh air and full spectrum sunlight.  Such an alternative system is a long-range investment in America's health and wellbeing.

     Prayer: Lord, help us champion mobility for all our people.

A rustic farm below white rocks of Cumberland Gap National Historical Park.
(*photo credit)

August 9, 2016       Recycle Unused Barns in Imaginative Ways

     Barns still punctuate the rural countryside of our land, and they add a particular flavor to the cultural heritage, economic stability and practical ingenuity of our people.  They help express who we are.  Many are used for their intended purposes of feed storage or sheltering horses or other livestock, but many barns are past those purposes and sit rather forsaken.  What can be done?  Today, farms are being consolidated, milking parlors are disappearing in numbers, hay is rolled in fields, and certain crops like tobacco no longer grown (from 55,000 in Kentucky at the end of the twentieth century to a few thousand growers today).  How can the lightly used or vacant barns be recycled today?

     Barns to houses.  Substantial barns have become total housing in areas where housing is needed or in Europe where barn/house combinations have existed for centuries.  In our own country, numerous examples exist of barns that are refurbished to make comfortable living places -- and quite roomy ones at that.

     Barns to public places.  Sometimes the ordinary farm storage needs (hay, implements, etc.) are met using only a portion of the barn, and so the large interior space can be used for conferences, dances, community meetings, bars, sleeping quarters, restaurants, and commercial establishments.  Again, the rustic motif comes in quite handy to entice clientele to a restored barn setting. 

     Barns to retreat chapels.  The interior of a well preserved barn allows for the same expanse that a chapel ceiling gives.  The Monroe, Michigan, Immaculate Heart of Mary Sisters have done an excellent job converting a barn to a retreat chapel/conference center.  A score of other communities have been equally innovative. Some, like the Passionists in Louisville, have excellent barns to work with from the start; others may need extensive retrofitting.

     Barns to museums/exhibits.  Many folks like to see what a barn was like in the past, and so returning it to former use may become an opportunity to teach visitors in agri-touristry about our rural past.  Hay lofts, grain bins, cattle stalls, and pens are worth showing.   Even the slave pen at the Cincinnati Underground Railroad Museum was originally within a Kentucky barn structure.

     Barns to storage.  This form of recycling is most used today and at least can eliminate the need for new storage space.

     Barns to redevelopment.  In parts of this state the tobacco
warehouses covered sizeable acreage of urban land, and they are not now needed because of contract instead of auction marketing procedures.  Most of these spacious structures are being torn down or "accidentally" burned down; they are replaced by housing and commercial establishments.  This reuse saves farmland greenspace; barn materials, from siding to framing, are worth recycling.

     Prayer: Lord, help us reuse unused structures of our past.

Monarda fistulosa, wild bergamot.
(*photo credit)

August 10, 2016      The Widening VW Diesel Scandal

      This Daily Reflection series has never before discussed scandals; however, one that is so disturbing to the efforts to clean up our environment deserves to be mentioned, namely the VW Diesel ("Dieselgate") scandal.  Almost a year ago the USEPA issued a notice of violation of the American Clean Air Act by the giant automaker Volkswagon.  A large number of its brands VW and Audi from model year 2009 to 2015 were equipped with 2.0 liter engines with installed software that was able to circumvent U.S. air pollution emission standards.  The software (a defeat device) allowed the cars to show that they meet standards when tested and yet the cars emitted between 10 and 40 times more NOx (a powerful air pollutant) than allowed during ordinary operation.

     After the revelation last September, Volkswagon admitted that 11 million cars worldwide were equipped with this software device, including over a half million in the U.S. and 8.5 million in EU countries.  Thus the VW defective vehicles are responsible for between 237,000 and 949,000 additional tons of NOx emissions each year.  The highest range is four times the total amount of the gaseous emissions allowed in Sweden and Denmark combined.  The magnitude of such a scandal when other carmakers were expected to conform is disturbing.  Is VW the only one involved in this or are there other similar scandals?  How long was the practice known in the auto engineering community?  How high up the chain of command was this tolerated?  Why is there delay for the heavy bevy of fines to commence in this country?  Are class action suits being formulated to compensate VW owners for loss of resale value?  Why has there been so little done by European carmakers?

     According to the environmental periodical Acid News, "Diesel Cars Will Continue to Exceed Emission Limits" (December, 2015); there is deliberate foot dragging in the EU regulatory scene.  It quotes Greg Archer of Transport & Environment as saying that the failure to act is legally questionable and that changes of about 100 Euros per unit would be needed to clean up the defaults.  The periodical also states that the recent Dieselgate scandal is the tip of "the emerging iceberg" in terms of systematic manipulation of vehicle tests, "as carmakers are allowed to test specially prepared 'golden' vehicles in unrepresentative laboratory tests  conducted by testing organizations they pay."  The call is for the EU to establish independent road inspection agencies to test vehicles on sale against lab tested ones.  Hopefully, there's more.   

     For free information on this and other European environmental information in Acid News: A Newsletter on Air Pollution and Climate Change, write to the Swedish NGO Secretariat on Acid Rain, Box 7005, 402 31 Goteborg, Sweden.  You also may visit <info@acidrain.org>.

     Prayer: Lord, keep our minds open to the information needed to make wise decisions when it comes to human health and safety. 
---
There once was an important national election and involved various candidates each with his or her particular faults. One was a determined plain-speaking person seeking power in its full. The citizens were not vigilant and were consumed with sports, lotteries, and new fangled things. The candidate was infatuated with the power of weaponry since his country held enough to kill the world's population five times over. Threaten terrorism with terrible weapons was one answer, and the candidate often said so much -- and asked three times in an hour security briefing why we can't just use nuclear weapons. At the election neither of the major candidates had a plurality because the minor parties cut deeply into the vote totals; the candidate in question got 33.4% and this being a narrow victory (exactly like Hitler's in 1933 except the difference was not a nation devoid of weaponry but now the greatest military might the world had ever seen). Many of the electorate were shocked, especially when the victor took office and called in each general. "Could nuclear weapons be used?" Many said they could but shouldn't for moral reasons. The new Commander-in-Chief told each who said this, "You're fired." The electorate was doubly shocked but found it was too late for a change.

---

Mitsy Appalachian morning.
(*photo credit)

August 11, 2016     My Memory of "Smoky Holler"

     Some places stand out in our memories from decades ago -- in my case three-quarters of a century.  One hollow near our country seat Maysville served as home to eight poor white families and we called the place pejoratively "Smoky Holler."  At that site I was hitchhiking on Route U.S. 68, the Old Buffalo Trace, and a truck bearing railroad ties came blowing its horn frantically.  Something made me back up against the cable guard rail and the tie edges went right past my face and shaved my peach fuzz.  "Smokey Holler" was my near miss with death and was permanently implanted in my memory. 

     But there is more to the place and name.  The Kentucky Explorer had an article in the July/August 2007 issue by Earl White "Mason Countians Shaken from Sleep by Terrible Explosion in 1854."  White describes that on August 13th at 2:15 a.m. about eight hundred kegs of blasting and rifle powder burned and exploded in several terrible explosions that sent debris and heavy rock all over the Ohio River, a half mile from that cove.  Paradoxically, even though many of Maysville's homes, churches and businesses suffered extensive damage, only thirteen houses were destroyed, no one was killed and only one person, a William Conwell, seriously injured.  An unconfirmed report in the newspaper said that a man was thrown from his bed at Orangeburg ten miles away.  A wake up!

     The author explains that the fact the cove sits on slightly elevated ground above the town reduced the damage.  Undoubtedly, the terrain cushioned the blast, and still directed the debris mortar-fashion over the town and into or across the Ohio River.  After the blast they found one rock weighing forty-three pounds on the Ohio side of the river over one mile away.  No suspect was apprehended for setting off the explosives but a number must have kept secrets.  The authorities knew that the culprits were definitely five, but the thousand dollar reward for pinpointing the instigators went unclaimed.  People keep secrets well in Mason County.  The incident did lead to a small-scale religious revival, for most thought the explosions were a wake up call from Gabriel. 

     What made the area, which the author White called "Sleepy Hollow," so smoky, in its older prior-to-gentrification nomenclature, was undoubtedly the sulfurous smell of eight hundred kegs of spent gunpowder.  The explosions must have darkened the cove that still appeared in my memory as somewhat devoid of vegetation.  The smell must have lingered for a period of time since the cove is sheltered from the prevailing westerly breezes.  The origin of "smoky" is clouded in distant designations by those long gone.  It tells us of changes that continue to go on with time and that our own memories fade.  In fact, Smoky Holler had poor houses when I was young but more substantial ones today.  The area is gentrified and most likely the residents have ceased using the nickname since it is part of the city of Maysville.  Time moves on.

     Prayer: Lord, replace our fading memory with new promise.

Field of August-blooming wildflowers.
(*photo credit)

August 12, 2016     August Flowers Are Worth Celebrating

     Summer produce can be glorious and worth celebrating.  It is the season of the delicious mayapple and the teasel, of the sweet and spotted joe-pye-weed and red clover blooms, of ripe clusters of pokeweed and edible papaws.  Fruit and flowers abound in random assortment and beckon gathering, sampling, decorating and offering to others to raise their spirits.  Color, taste and fragrance all combine to raise the quality of our lives.  The abundance of all this beauty raises the spirits of fractured homesteads and communities. 

     Outdoor wild and exotics.  As August progresses we see the bright yellow roadside flowers (heliopsis and others) that come out each year and seem to form a living bouquet for residents and travelers alike.  They blend in so well with the seasonal mainstays, pale blue wild chicory and Queen Anne's lace.

     Outdoor displays.  Deliberately cultivated wildscapes have their second breath in mid-summer after spring displays of profuse color from the cosmos and other summer flowers.  It is the season when the deeper summer colors of zinnias, echinacea, cannas, begonias, castor plants, and scarlet sage brighten the flower beds of homes and businesses.  In Europe at this time of year, geraniums seems to spill out of the houses onto the window sills.  In August we look across the meadows and see the summer flowers -- goldenrod and others; they seem to be everywhere, almost rivaling the flowers of spring.  The only drawback is that exploding floral beauty can be distracting to the passing driver. 

     Indoor summer bouquets.  I always enjoyed bringing my mother a bouquet of ironweed, goldenrod and bush phlox that was more or less artistically arranged with other greenery.  Care was taken, for the wild bouquet was all looks and has little fragrance and even perhaps harbors extra pollen that could affect a sensitive nose -- so it was be better left on a porch instead of inside the dwelling.  The blues and yellows and purples of these wildflowers always captivate those hungry for added color within domestic space.  Bouquets have a certain healing effect on those who observe them.

     August is Celebration.  Flowers were given in God's order of an evolving Earth to attract pollinators and to spread seeds, but with a deeper and more redemptive aspect.  Flowers heal over transgressions with which we are tarnished and seem to smooth the rough edges of life.  Just as a feuding couple may make up through flowers, so God gives us flowers to bring us back to a sense of thankfulness and well-being.  Flowers become the gentle healers that are not intrusive or overbearing, self-righteous or self congratulating.  Flowers become the symbol of Earthhealing.  They assist us when in a stressed condition and certainly are effective in their caregiving capacity.  If this reflection incites a single bouquet for another, it is worth the Internet space.

     Prayer: Lord, inspire us to celebrate the month in its glory.

Rustic bridge near Wartburg, TN.
(*photo credit)

August 13, 2016    Lefthanders' Day and Practical Tolerance

     Righthanders are the vast majority and never seem to consider what this truly means within our culture.  School desks (uniform for the greater part), handshakes (a sign we are not carrying a weapon), salutes (who wants a lefthanded salute?), and a host of other gestures and materials are set up for the right-handed -- and lefthanders list many more.  Maybe there are lefthanded people to remind us that tyranny can be imposed by the majority without even thinking.  Perhaps the lefties are called to be guardians of the world's overlooked minorities.

     Why not become both?  One answer is to strive to be ambidextrous.  Since it is tiresome to do things always in one way, I learned to plant tobacco, milk cows, hoe plants and pitch hay with either hand and arm.  But carrying this dexterity over to writing was never tried and selected use of either hand at certain tasks hardly ever noticed.  We do type using both hands.  We need to strive to break down majority thinking.  Yes, it is good to rest one's arm making us ambidextrous, but to what length should the preference for right-handed people go? 

     Must minorities be assimilated?  Up into recent decades Australia required its aboriginal people (about two-and-a-half percent of the total population) to be integrated by forbidding the use of native languages in the schools to which the youth were sent (this practice also occurred to some degree in the United States and Canada as well among native peoples).  With time, each nation saw such educational programs actually as oppression by a majority that really wanted integration and assimilation, without regard to the cultural consequences of such forced measures.  Cultural ways of such minorities resemble being lefthanded and pressure to conform to the majority is no longer justified.   

     Are we a melting pot or mixed vegetables?  Today in America, desire that foreign language speakers conform to the majority tongue is rampant.  It's not so much melting as dissolving and becoming the majority in all but little ways.  The minorities can cook, dress, worship, or live their lives as they wish, but when speaking in public it must be in English.  This comes when the ability to translate has never been easier and less costly.  Is behind this a fear that if we allow minorities to have their ways, they may prosper, attract others and become the majority? 

    Can we learn acceptance?  Sensitivity grows with time, and lefties can remind us that a majority position can become a privileged one.  With knowledge comes tolerance that furnishes lefthanded desks and accepts lefthanded handshakes if the culture will just allow it.  But here uniformity meets diversity, and that too requires a compromise that lefties have accepted down through the ages.  Somehow this must have been God's design, that we are to accept diversity in little matters so we can do so in larger ones.

     Prayer: Lord, teach us to accept others and grow in doing so.

Flame-red vibrance of the butterfly milkweed, Asclepias tuberosa.
(*photo credit)

August 14, 2016       Bringing Fire to Others   

     I have come to bring fire to the Earth, and how I wish it were blazing already! (Luke 12:49)

     Setting people on fire for the right cause is a gift and, in this age of high-powered commercials, it can prove to be a daunting task.  By this time in the political season we know what being inflamed is about.  Some are already on fire with the wrong things: drug addiction, alcoholism, sexual problems, a sticky finger for merchandise, sporting events, and on and on.  Being on fire is not something new, but it can be misdirected, especially when it incites opposing forces to clash.  That makes the efforts at inspiration for a good cause harder to distinguish and promote.  

     Charismatic people such as Hitler could turn masses of people on to wrong causes, and so merely arousing people's emotions is not necessarily a lofty goal.  Religious charismatics are often gifted at inciting people to rise, wave their arms and go into emotional fever pitch.  Sometimes this is for a revival period and sometimes on a continual basis of living by frequent emotional outbursts.  But what brings on genuine enthusiasm (the God within), with its balanced approach and staying power?  This is the inspiration that takes root and can be seen in others, is worthy of imitation, and is catching fire.  It is not devoid of controlled emotion.

     Those who are on fire with a wrong cause or direction are certainly hard to change, or almost impossible to redirect without a miracle of grace.  It is as if some inflamed people, moved by anger or hatred of others, are almost possessed -- and removal of possession is a formidable task.  We are deeply aware of this in 2016's political season.  It may be best not to attempt a frontal confrontation, but to say some prayers and hope that calmer people enter their lives.  However, those on the other end of the spectrum lack fire and are moved by nothing; these need to be inflamed with a zeal that is lacking.  Here we enter as catalysts of change.       
As Saint Luke says earlier, "Yahweh has pulled down princes from their thrones and exalted the lowly" (1:52).  

     We get a clue from this passage that our attention must be on the often overlooked -- the lowly.  Sometimes they await inspiration, and yet we have given too much attention to those who are well-known but over- or under-charged.  Too often we determine and limit the audience to movers and shakers or those we imagine to be.  Sometimes the lowly are outside of our area of vision.  When it comes to change, we are often taken in by the outmoded dream that if we inspire the affluent and notable, the peons will follow.  Maybe, just maybe, that is not God's way and Scripture tells us so.  The divine option is with the poor and it ought to be ours as well.  The poor will suffer most from major climate change that is occurring, for all those with eyes to see.  We have a responsibility to move all people to profound change.

     Prayer: Lord, inspire us with the fire to bring about change.

Green dragon, Arisaema dracontium.
(*photo credit)

August 15, 2016     Making Basic Assumptions

     Blessed are you among women, and blessed is the fruit of your womb.      
                                 (Luke 1:42)

    Today is the Feast of the Assumption of Mary and a time when we gardeners need to plant our fall turnips.  Likewise, we Catholics (and also Orthodox and other Christians) celebrate the Assumption of Mary into heaven or her being taken up body and soul.  And wasn't Elijah taken up also in a flaming chariot?  For the rest of us, we die and a period of time elapses with its natural decomposition.  We do await the resurrection at the last day.  Mary, the privileged one, goes before us and that is what we celebrate today and await for a future tomorrow.

     But the just mentioned truth does not end the discussion.  If Mary goes before us, then we will follow in some indefinite future period, and that is a fundamental assumption in an extended meaning of Earthhealing work.  We are "taken up" by the truth that a privilege will in time be extended to all of us imperfect human beings who happen to live and believe.  Immortality awaits us.  As our funeral prayers say, our lives are changed, not ended.  We undergo a partial transformation that gives us an immense faith in God's goodness.  And in the light of the Incarnation event, of God becoming one with us, we enter into the family of God and are to be integrated with our bodily features in a future event. 

     In the fullness of the summer growing season we reflect on this fruitful expectation and on hope of eternal life for those in God's grace.  Our outlook is doubly blessed: that Mary has received a great privilege, and that we are in a lesser way also wonderfully blessed with eternal life ahead.  Mary is most blessed of all women (and men) as Scripture says, and in her humility she recognizes that this blessing is totally from God's grace.  In an extended manner, we are blessed as well, for what comes to Mary will in due time come to us all though we experience a time of separation. 

     In what do our promised blessings consist?  First, there is a glorious future, which we cannot speculate about or even imagine; all creation including our mortal bodies has value -- eternal value.  Second, the scars that we bear in life can become glorious through the connection with the Resurrected one and will become features of who we will become.  Our life story does not end with death but really only begins.  Add to this an emerging blessing, namely that Earth, which we know, will in some way be transformed and will become part of a promised New Heaven and New Earth embracing the familiar environment that makes us who we are. 
When the corruptible frame takes on incorruptibility and the mortal immortality, then will the saying of Scripture be fulfilled:"Death is swallowed up in victory." "Oh death, where is your victory?  O death, where is your sting?"  (I Corinthians. 15:54-55) 

     Prayer: Lord, fill us with joy even in the troubled world in which we find ourselves, so we can encourage others on their road.

Exploring summer ferns.
(*photo credit)

August 16, 2016      Relinquishment AND Restitution
  
     Several years ago, John Coleman wrote a thought-provoking piece entitled "An American Strategic Theology" in A Political Theology of America.  Here he speaks in positive terms of America's need for relinquishment, "What we relinquish is an addictive bondage to luxury and consumerism in a conversion to solidarity, community and the full enjoyment, in measure, of the earth's good resources.  Relinquishment points to greater freedom to enjoy and celebrate."  While agreeing with letting go of bonds and acceptance of freedom, I still feel a bit uneasy.  Are affluent people to freely choose what to do or must they listen to the call of the lowly?  Environmental damage is caused by affluence; we caused climate change; we must restore our damaged Earth.
 
     We must remember that to relinquish means to stop a practice that is damaging, and there is a moral obligation, as Pope Francis says, a commandment on the part of Christians.  To leave behind sinful ways is to admit that damage is done and change is needed.  We must let go of addictiveness to excessive and wasteful consumer products and see these as resources to be used for the essential needs of others.  Our personal and corporate eternal salvation is at stake.  We are motivated by moral obligation, not immediate enjoyment, and thus we must let go of the addiction to comfort and convenience.  We relinquish to others (the world's poor) due to their just demand on the common resources seized for our own good; and we relinquish our immediate convenience.  But we must do more: we must take up the task of reclaiming and restitution for what has been damaged; what we caused we must put back into order.

     Our culture demands profound change, from wasteful practices of overheated and cooled homes to fuel guzzling vehicles, and a vast array of electronic devices.  Secondly, we convert some of our resources to reclaiming a damaged Earth so others can live with a proper quality of life.  In return for this profound change of heart we will receive a spiritual satisfaction found in radical sharing, a sense of good will and security within the community of peoples.  To relinquish and to perform restitution for the damaged social order is a moral necessity that merges into a single act -- something that unbelievers may find difficult to conceive and realize in their lives.  We let go because we must and because we still have the task of making damaged land productive again.

       Only through corrective action can universal celebration begin.  After radical sharing we will then be ready to fully celebrate.  A major task still awaits us, especially since some politicians today still deny that climate change is of human causation, that we have done no major damage that cannot be easily repaired, and that others must bear the task of cleaning up our mess.  The agenda requires a conversion to a renewable energy economy and this must be speeded.  Radical change is in the air.

     Prayer: Lord, open us to letting go of our wasteful ways and to accepting responsibly the restoration of our damaged Earth.

View of the Smoky Mountains with summer foliage.
(*photo credit)

August 17, 2016         The Art of "Making Do"

     To live with limited resources with a moderate quality of life is  "making do" in our world of extreme wealth and poverty.  The art involved includes a certain even-tempered approach to being resourceful when working with limited means.  It may be extended to include the duty of sharing limited resources with others.  We have been spoiled into thinking that what others have must be acquired by us, for we "deserve" what were luxuries and now are regarded as "necessities," such as television, air conditioning and electronic devices.  The attitude conflicts with those who are content with less.  On the other hand, luxuries dull the ability to live comfortably with a homesteader's ethic -- namely, to get along with what we have around us and not expect servants or government or others to supply us extras.

      When we visit model pioneer homesteads like the one at the Cherokee Entrance to the Great Smoky Mountains National Park, we are amazed with what homesteaders did in building with native materials that were close at hand, in growing and gathering all the food they needed, in preserving surplus produce for winter in cellars and as dried, salted or canned goods, in weaving and spinning and making excess cloth into patch quilts and garments, in traveling by boat and horse-drawn carriage, and in making their own soap using wood ash and animal fats.  Yes, they were amazing folks, true artists in their own right, and we often overlook the skills they passed on as true and practical artists.

     Today we think it convenient to get foods from distant lands, to use inefficient vehicles burning fuels that pollute our atmosphere, to use incandescent bulbs when more efficient LED types are available, and to transport exotic wood from the rain forests and building materials from distant factories.   The struggle today is so expanding the act of ordinary living that the traditional art of "making do" borders on the absurd.  We need to go back to more conservative definitions of the practice.  Now it is respecting the Creator in giving us abundance but not excess; it is willingness to share with those who do not have the essentials of life; it is allowing future generations access to materials for their needs; it is denying convenience as our motivation and affirming deeper values with limited resources.

     The political climate is such that "making do" is a priority that does not mean a military presence in other lands to secure resources, or allowing undertaxed billionaires to dominate the policies of our nation.  We must put our minds and hearts to making do in a patriotic/pioneer manner.  Good conservation is simply buying less wasteful vehicles, insulating and airing out the house at night, and using home-grown products and renewable energy sources ASAP.  Making do is building smaller homes, schools, commercial buildings and churches -- and sharing with others.

     Prayer: Lord, help us to become more down to Earth in what we feel we need and to be satisfied with simpler things of life.
---
On the passing of Paula Gonzalez, S.C.

Paula was an earth-loving person of the highest degree; she gave advice to our development of "Earth Healing" as a environmental resource assessment program three decades ago and came to and contributed to completion of a number of assessments over time. We will miss her very much. Please see article (click here) "The Solar Nun" Cincinnati Enquirer, 8/11/16. Al Fritsch, SJ

---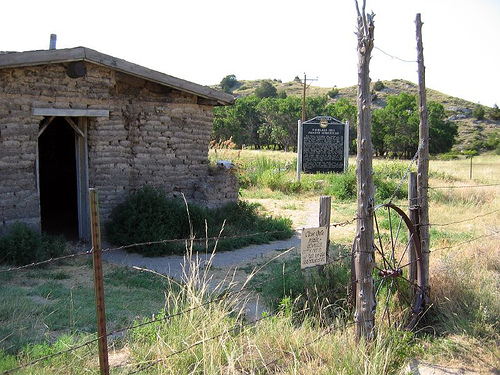 Windlass Hill, early prairie sod home along the Oregon-California Trail, Llewellen, NE.
 (*photo credit)
August 18, 2016    What about Sod or Pressed Earth Houses?
     In the midst of a hot summer the question arises as to what lower-priced local building material could be used to address the heat in our domestic surroundings.  Can we not use the earthen substrate beneath our feet, either as an environment for a submerged home or cave or use earth itself for walls?  Actually adobe, cob, pressed earth and sod buildings have been used for centuries.  Escape from summer heat is truly a worthwhile goal; this may be a ready answer for coolness otherwise obtained by using an energy-consuming air conditioner.  Not everyone wants to live in caves, cellars, or underground homes, especially during the seasonal changes that allow above dwellers to commune with nature.
     Earth is a good insulating agent and holds at a near consistent temperature through the seasons.  Those who dwell in adobe homes in the desert Southwest will testify to this, though they add that the sides need to be quite thick for best affects.  The adobe gives us a clue.  We can concentrate on insulating qualities of an earthen wall and still have some naturally cool places (cordwood can give the same effect depending on wall thickness).  An entire section in Chapter Twenty-one of Healing Appalachia: Sustainable Living through Appropriate Technology, is devoted to pressed earth structures and more could perhaps be added about the English "cob" house, Southwest adobe buildings and sod structures on the Great Plains.  Note that formed wall buildings require sizeable amounts of energy and costly cementing materials. 
        For earth-type structures bulk building materials must be near at hand due to transport costs.  Actually, building walls with earth requires considerable additional labor and time over what a wooden stick house or a pre-fab house of any material will require.  Direct moisture should not strike walls, for this could erode or damage them, and thus the need for extended protective roofing and wall outer coatings.  Remember that only a fraction of the total cost of a house will be in the wall that is defining the type of house (when all is counted up, to three-quarters of the cost could come from preparation of site, foundations, roofing, utilities, interior furnishing and embellishments and decorations).  However, there's an energy saving investment in the walls for both summer and winter, provided roof, doors and windows are airtight as well and all portions insulated by standard procedures.
     Sod and some earthen houses are not necessarily beautiful, but serve a practical purpose.  Certainly pressed earth and other such structures can be painted and embellished with color and decoration, thus giving a more homey appearance for the aesthetically concerned.  Actually, the sod house was like the homesteader's log cabins -- temporary housing until more settled and prosperous times would allow a larger and more elaborate building.  But these structures have advantages -- and can be green housing in this needy world.  The question remains pertinent.
     Prayer: Lord, teach us to discover better means for living.

Common snapping turtle, Chelydra serpentina.
(*photo credit)

August 19, 2016     Recalling Guns of August and Beyond

     We have too much military expenditure, and yet in this election year too few voices call to cut back and find other ways to achieve peace and security than hundreds of billions of dollars in our bloated American defense budget; this currently consumes over half of our tax dollars.  Better spend it on infrastructure. 
A century ago the gigantic battle of Verdun (the largest ever fought involving over a million soldiers) was raging.  The act of patriotism was fast fading, as the slaughter continued on every side.  The struggle was meant to end all wars, but three decades later a still bigger one developed and continued for six years.  The aspirations of many were of little account, for the automatic machine called war went on its gruesome way.  It started in the glory of a European August 1914, but ended during a gray flu-plagued November four years later (and after millions had died).  It started again a second time on that September 1, 1939 and ended with Nagasaki in ashes in August 1945.  And it continues in sporadic ways in still costly wars such as the conflict in Syria and the Middle East today and in parts of Africa.

     Many die in these struggles, combatants craving peace in their native places.  An increasing number are non-combatants who are part of the total war that is certainly uncivilized.  Some say he or she "died before their time," meaning that in the natural order they should have lived to grey hair and old age.  But the fields of Flanders and Verdun tell a sad story.  They died and died.  The book by Stephen O'Shea entitled Back to the Front: An Accidental Historian Walks the Trenches of World War I (New York: Walker & Company [1996]).  Several unexpected things emerged in this often entertaining but deeply distressing travelogue.  First, remnants of that First World War remain after a century (unexploded shells, trenches and bunkers, rusted shrapnel, even piles of bones at the fences) and the cemeteries, hundreds and hundreds of them scattered in a string of land from Nieuport in Belgium across northern France to the Swiss border.  A second point was O'Shea's own growing distress while hiking, of the meaningless struggle. In his traveling he even found his great uncle's grave within a cemetery.

     Long after guns were silenced, armchair experts, overlooking the horror and stench of battle, scrutinized Ypres' or Verdun's plans and found little planning -- a bankruptcy of leadership.  A slaughter is still a slaughter, whether experts point it out or not.  On at least one occasion, French boys led a mutiny, for they saw no reason to go to their certain deaths or to linger for years after gassing.  Many of the most talented and spirited young, such as the writer Charles Peguy, died in the early months of that brutal "Great War."  Yes, sometimes people are forced by circumstances to fight and die or be maimed for the rest of life.  Perhaps their contribution is a global conclusion: NO MORE WAR.

     Prayer: Lord, teach us the true ways to peace and security and help us make this a pertinent political message at this time.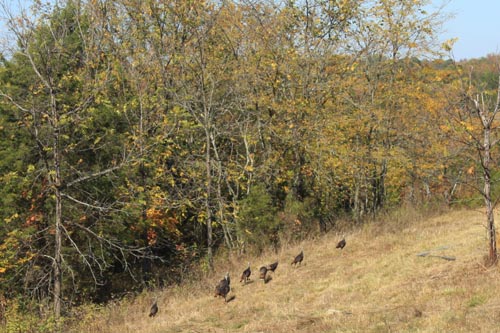 A flock of wild turkeys, Meleagris gallopavo.
(*photo credit)

August 20, 2016     Bald Eagles Versus Turkeys
     In these designated "Bald Eagle Days" we all celebrate that in the past decade this majestic and national bird has been removed from the Endangered Species Act's "threatened" list.  In some ways this removal is a sign of progress; through protected habitats and the banning of the use of DDT, the raptor has returned to a rightful place in America's biosphere.  However, saying all this does not mean the eagle is free of danger, for developers want to clear and sell for profit their more scenic habitat areas.  And all of this loosening of restrictions has wildlife environmentalists somewhat concerned.  The Bald and Golden Eagle Act still stands, and no one is allowed to mess with these birds by harming them or disturbing their nests or eggs.  But are their habitats protected?
     This takes us back in American history.  Ben Franklin wanted the wild turkey to be our national bird, and for good reasons: turkeys are more plentiful; they inhabit a wide American area and do so in a hearty fashion; they thrive where other wildlife has difficulty; they are excellent roasted for celebrating on Thanksgiving tables; and they are quite pugnacious and allow hikers to be challenged when near their nests.  Some will not regard all of these turkey characteristics as positive ones and will say the turkey is rather ugly in contrast to a graceful bald eagle.  True, but their ugliness is all in the mind of the beholder.  I have not yet resolved to consider the turkey as superior to the eagle, but one added characteristic is that the turkey is vegetarian for the greater part and not a raptor.  They do crush wild ginseng seeds.  
       My modest proposal is akin to what Kentucky has decided in designating its state tree(s): it has accepted both the Kentucky coffee tree and the tulip poplar.  Nationwide, we ought to declare both the bald eagle AND the turkey as our national birds.  Perhaps some will object, but why?  Militarists like the power, might and aggressiveness of the eagle, for they hover over their prey with a sense of dominance; they elicit a sense that they are number one in the aviary world; they trigger admiration on the part of many when watching eagles in flight; they are certainly a sight to behold!

    Turkeys do not share these eagle strong points, and, in fact, sport teams called eagles elicit pride; does any team ever call themselves "turkeys" or "goblers?"  However, turkeys will fearlessly defend their own when provoked -- perhaps more strongly than other birds.  The eagle is uniquely set apart so it will not be threatened; there is little need to do this with the exploding population of turkeys.  Rather, one must speak of controlling the turkey populations and harvesting wild ones, because they are good to supply a meat-hungry world with organic food locally grown free-ranging birds.  Turkeys are practical, like many Americans; they know how to take care of their own; they use the resources at hand with expert skill.  And they don't beg for handouts.  They are truly a national bird as much as the bald eagle.
     Prayer: Lord, help us overcome our militarism in this country.

Lycoris, "magic lilies" in bloom.
(*photo credit)

August 21, 2016      Last First and First Last

     Yes, there are those now last who will be first, and those now first who will be last.   (Luke 13:30)

     God always looks after us.  We all rank high in the mind of God, but some regard their gifts as really something they merit, or have the right to from some hidden privilege in all creation.  In such a world of rankings, they advance to what they regard as first place, and thus convince some humble folks that they rank higher than the lowly ones.  Those left behind are regarded as part of the lower base of a seemingly unchanging social structure.  But revolutions overturn front-ranking mobility; violent storms strike the wealthy as well as the impoverished; and death is the great leveler.  But perhaps the total order of rankings will be inverted when the lowly rise to high place and those in high place are brought low. 

     The Good News is that salvation is universal, and we all are brothers and sisters without last or first rank of any sort.  The Church, the New Jerusalem, is now rising as a bright light attracting people of all ranks.  In the matter of our own lifetimes we are more aware that the Church is one of the poor -- the developing world.  The majority are now those who were last in the economic order.  Church leaders are called to serve the rest.  The cultural status is being overturned as all realize that they must serve not only other human beings, but the plants and animals, by being protectors of the environment.  Climate change, with its special effects on the poor makes this imperative all the greater for us -- we are to listen to the cry of those in need and learn from them how to share responsibility.  

     This section of Saint Luke's Gospel (13:22-30) always hits us close to home, for we may like to eat, drink and be merry in our own ways.  But our merriment is all too often quite exclusive, and we ignore a knocking sound of someone at the door asking to get in.  The poor seek a fair share of the world's resources, which actually "belong" to all -- really to God and given for our proper and just use.  We must use goods properly and repent misuse, and thus it involves personal responsibility on our part to repair the damage that our wasteful civilization has made.  Retribution on the part of the affluent is an added responsibility.

    Salvation is both an individual and a community mandate.  On the first level, I must become sensitive to the needs of my brothers and sisters -- and that can only be done through a life of self-abnegation and following the Lord's commandments.  In order to do this I focus on Jesus, deny myself, and accept responsibility for my journey of faith.  On a broader communal level we must work together, though the task is not always easy.  The task ahead is collaborative and involves sharing in the resources of our Earth - something that the more wasteful members will find difficult. 

     Prayer: Lord, show us what we must do to share with others.

"Volunteer" squash in outdoor compost bin.
(*photo credit)

August 22, 2016     Consider Recycling Made Easy

     Recycling and reuse of wastes and abandoned materials is always part of our ongoing reflections.  It must be, to keep us conservationist in a consumer-goods-glutted society.  Waste symbolizes an act of disrespect, for we profess that some of God's creation is not worth respecting.  Some of that waste can be re-utilized by means of compost toilets and compost bins in the backyard.  But why do many people fail to recycle even when they have places fairly near at hand? Albanians once freed from totalitarian rule considered waste something that the state should take care of and they would dump it wherever convenient -- until they began to see that waste becomes personal responsibility within a growing community.  The high price of garbage pickup tempts some to resort to dumping and littering, but many see that this becomes an even higher environmental cost.

    * Backyard ease: available composting bin --  Having one's compost bin for organic materials that can be composted into soil amendment is one way to reduce waste greatly and still provide a natural and fairly convenient method of recycling.  This means taking care of food wastes, yard wastes and any compostable matter that can be worked by worms into an Earth-friendly humus product. 

    * Institutional ease: curbside pickup --  Many places have recyclers who move about the neighborhood on designated days and pick up, generally pre-sorted, recyclables (paper, metals, cardboard, newsprint, and certain plastics).  This is the easiest method, but can still be expensive for the pickup people unless the volume is sufficient to make a profit.  A variation on a pick-up program is to transport recyclables to accessible centers.  Some irresponsible depositors dump unsorted trash, to the public detriment.  Our local recycling center is glutted by unsorted wastes and this may cause the operation to discontinue.

     * Organizational ease -- recycling bins.  Much depends on the length of time it takes to place a plastic bottle in the domestic or office sorting area.  If space allows, the bins can be accessible and capable of handling the particular's home waste stream.  Left unsorted, one is tempted to simply dump it into the waste can and send to a landfill -- and recycling is defeated.

     * Purchase choice ease -- One incentive to reduce container wastes is by preparing a dinner from dried beans; this saves on cans needed to be prepared for recycling.  If we don't buy the exotic packaging, we need to recycle far less.  The use of permanent plates and dinnerware in contrast to disposable materials would reduce the waste stream and make recycling far easier.

     * Personal habitual ease -- Exchanging items can prove to be a waste-reducing practice as well.  Trading books, periodicals and other items extends the products' life and reduces material needs. 

     Prayer: Lord, make us responsible for the wastes we generate.

Yellow-gold marigolds in bloom.
(*photo credit)

August 23, 2016      European Population Decline

     Spectacular population increases in many parts of the world challenge their respective governments to find education, employment and basic services to meet needs.  However, shrinking populations also have problems and two dozen or so nations, mainly in Europe, as well as Japan and a few small island nations are declining in population.  In these lands a shrinking number of workers must provide social services for an increasing older population, and this becomes burdensome when populations continue to decline due to falling birth rates and negative migration. 

      Some, like Germany, can make up losses by increased numbers of immigrants (1.1 million refugees last year alone, though many will return if peace comes again to the Middle East).  Japan has lost a million people in the past five years and has closed itself essentially to immigration replacement; it could lose an additional one-quarter of its people by 2050 as the world's fastest shrinking nation.  By that year Ukraine will lose 23.1%, Georgia 22.6%, Bulgaria 21.9%, and Bosnia 20%.  

     European losses based on current birth and death rates can be calculated with some degree of accuracy.

birth/1000   death/1000     Loss/1000/yr               
Belarus       12.6          12.7           -0.1
Bosnia          8.9           9.6           -0.7   
Bulgaria        9.6          15.8           -6.2
Croatia         9.5          12.3           -2.8
Estonia        10.8          13.6           -2.8
Greece          9.8          10.4           -0.6
Germany       8.5          10.9           -2.4 
Hungary        9.9          13.4           -3.5
Italy              9.2          10.1           -0.9
Latvia         10.9          15.7           -5.8
Lithuania      11.2          13.9           -2.7
Moldova      12.2          12.4           -0.4
Portugal        8.8          10.3           -1.5
Romania      10.3          12.5           -2.2
Russia         11.8          15.5           -3.7
Serbia          9.2          12.3           -4.6
Ukraine      10.8          16.8           -6.0

      Noticeably missing are the Scandinavian lands, UK, Lowlands, Ireland, Spain and France where higher birth rates along with immigration increases are helping to raise populations.  On the other hand, nations with aging populations find it difficult to change matters on their own; Belarus has, for one, turned matters around mainly through drastic reduction in abortions in the last two decades.  Prosperous nations become more attractive to immigrants such as Germany, Austria, Sweden and Netherlands.

     Prayer: Lord, allow the nations to develop healthy balances of replacement for aging populations, so that all may affirm life.

Morning glory to begin the day.
(*photo credit)

August 24, 2016  Using Biofuels and Biomass More Efficiently

     The movement is focusing on transition to a renewable energy (wind, solar, hydro, geothermal and tidal) economy with the use of declining amounts of fossil fuels during this critical period of change in the next two decades.  Using biofuels, or those obtained from growing plants, is regarded by some as "renewable" because the material can be replaced more quickly with growing field crops or trees.  However, this is being questioned at this moment from two viewpoints.  The use of cropland diverted from food production to making fuels (from corn or sugar)  drives up the price of food for the world's needy and diverts these edible materials to a fuel so often used by inefficient vehicles.  However, corn to fuel ethanol is booming, is more efficiently produced, and byproducts are still used as animal feed.  On the other hand, the biomass source of fuel (tree and wood scrap materials) is in harder straits with many processors closing due to lower-priced natural gas for fuel use.

     Within limits, biofuels can be a transition fuel, especially if this is a beneficial use of waste materials that cannot be easily composted.  Making biodiesel from fat wastes in food processing is a recycling potential, but of very limited amounts compared to fuel use to run the economy.  A similar approach is to use non-food cellulosic or waste products to make biofuel.  Cellulosic agricultural and forestry waste and weed materials have potential use as fuels, but gathering and processing is often time consuming when renewable energy and natural gas sources are becoming ever more economic.The moment agricultural lands are used for fuel production, one realizes that this competes with ever more scarce food-producing lands on a global scale.

     One recent research path involves turning biomass-derived sugar into DMF (2,5-dimethylfuran).  Researchers convert fructose (90% yield) and glucose (70% yield) into an intermediate compound, HMF, that gives great promise for making DMF at lower costs for the manufacture of both synthetic biofuels and alternative non-petro-based plastic precursors.  This potential biofuel, DMF, has some advantages in comparison to ethanol, the biofuel of current choice: DMF has a higher energy content than a comparable amount of ethanol; ethanol conversion from sugar is slow and inefficient; ethanol evaporates more easily than DMF and becomes contaminated by absorption of water from the atmosphere.  In contrast, DMF is chemically stable and insoluble in water.  Evaporating DMF during the production process requires about one-third less energy than evaporating ethanol.  Manufacturing DMF efficiently demands the proper catalyst, temperature, pressure and technical conditions.

     Hopefully R&D time and costs will not be major hurdles in new forms of converting cellulosic waste products to transportation fuel alternatives, the great hurdle of current renewable energy applications.  Still, direct use of solar to recharge electric cars and advances in battery storage capacity are more promising.

     Prayer: Lord, keep us open to using efficient fuel resources.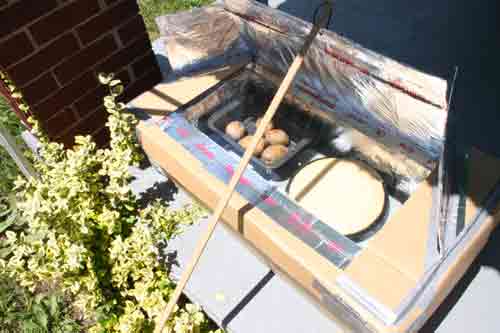 Solar oven makes hearty meals!
(*photo credit)

 August 25, 2016         Rural Indoor Air Pollution

     About two billion lower income rural people in developing parts of the world use wood stoves or primitive heating devices.  All too often these devices are not properly vented, and so the homes of these poor folks are filled with wood smoke, which affects the respiratory systems and eyes of the cook and all other inhabitants, especially the very old and the very young.  The magnitude of this form of environmental pollution that kills an estimated 1,500,000 people a year is not as well acknowledged as are other major health problems (e.g., HIV/AIDS, malnutrition and water pollution problems). 

     We have discussed wood and solar cookers previously, as well as the impact on forestlands of gathering wood for fuel.  Solar ovens are obviously the more perfect answer and should be promoted whenever possible.  However, the culture may resist such ovens because the heat is not concentrated enough to cook certain foods -- and so wood heating continues in many places.  Not only is the scavenging of wood damaging parts of the world's remaining forested areas, but also the time consumed by cooks in gathering the wood along with the cooking of the meals takes up a major portion of poor rural women's days.  And these wood gathering practices are often unsafe ventures.  However, few commentators mention the indoor air pollution problems.   

     Reports and news media give several suggestions that are being worked on by technical people in rural parts of the world.  They mention efficient wood stoves as wood conservation measures, as well as the use of developing world biogas generators, but this somewhat "clean"  fuel is predicated on having access to enough livestock to be the source of the gas --and many rural people are too poor to qualify.   Another approach noted by appropriate technologists is based on the fact that these rural cooks like to see and tend the fire.  They suggest, in place of expensive chimneys and enclosed stoves, the installment of hoods to channel the smoke away from the indoor area.  However, one aluminum hood costs about 1,000 rupees, or about one-twelfth of a year's earnings of a poor family that saves surplus income for youth education.

     We have regarded solar food cookers as one answer that has proved highly effective in reducing wood fuel needs and in saving wood gathering time for folks in developing countries.  An added benefit is the reduction of indoor pollution.  These solar devices can be used much of the year and can cook many food items such as rice and beans.  The solar fuel is free, and there is no accompanying air pollution -- and the cost is far less than that of a metal hood at a fireplace.  When conditions are not fit for solar cooking, keep the previous cooking device for rainy weather, but refrain from using on sunny days.  Solar cookers work in various parts of the world.  KY Jesuit Mission has sponsored solar teams to help in Peru, Honduras, Dominican Republic and Malawi. 

     Prayer: Lord, help us in every way to make homes more safe.

Pathway to secret forest hermitage.
(*photo credit)

August 26, 2016     Enjoy a Hermitage Experience

     Many people desire to get away from noise and congestion, and thus are looking at this time of year for a short period of relative isolation.  They often prefer a wilderness in order to get close to nature and where they are removed from the rush of life for a short time.  For tense people it is "just what the doctor ordered."  Others may desire a slightly more inhabited or civilized place, in proximity to neighbors through fears of being alone at night or during the day.  Allowances ought to be made, and you may desire a companion when engaged in a hermitage experience.

     Hermitages are isolated places generally designed for a single inhabitant, but often near other dwellings for like-minded hermits.  Hermitages were quite popular in the 4th and 5th centuries A.D. while the Roman Empire was crumbling.  Some liken our current age to that of a crumbling civilization, and thus the concept of a hermitage experience -- even though for a brief period of time -- seems highly a propos. 

     Why our interest here?  Nature experiences are quite important for healing our Earth.  The healer needs time to reharmonize with Earth, and this cannot be achieved simply by reading books or spending time on the Internet.  Getting out into nature is a necessity, and many do this on weekend hikes and while on holiday.  Some need more time.  Believers seek time alone with God and the Almighty's creation.  Hermitages furnish possibilities for people who aspire to become good healers, and offer opportunities analogous to ongoing professional education.  See a partial listing of twenty-five accessible hermitages in seventeen different American states in the Special Issues section of this Website.  Being able to have a hermitage experience could be a godsend.

     Some potential short-term hermits expect the amenities of home life, and these expectations may include all the various aspects of a consumer culture: commercial heating and cooling devices, immediate water access, flush toilet facilities, cooking facilities or prepared meals, laundry and room service, and on and on.  Part of the hermitage experience ought to be living even more simply than one's accustomed to; it includes realizing that even this condition is perhaps better than what a quarter, if not half, of the world's population endures.  So affluent expectations are not all met, but instead there is a certain purifying effect upon us, for we come to appreciate what our culture so often takes for granted. 

     Some hermitages near established retreat centers have access to prepared food services, and others are more rustic.  Choose wisely.  A possible hermitage exercise includes confronting what is really so much the part of our lives that many others are too poor to have.  Take notes of your own reflections as part of a journey and list the pros and cons of simpler living and whether anything can change in ordinary practice. 

     Prayer: Lord, show me times to be alone and to profit from it.

A stand of pine, Red River Gorge, KY.
(*photo credit)

August 27, 2016        Mother Teresa's Favorites

      The following are a series of wise sayings from Mother Teresa that could help our friends in the "Daily Reflection" circuit:

      The biggest disease today is not leprosy or tuberculosis, but rather the feeling of being unwanted, uncared for and deserted by everybody. 

      The greatest evil is the lack of love and charity, the terrible indifference toward one's neighbor who lives at the roadside, assaulted by exploitation, corruption, poverty and disease.


---------------------

People are often unreasonable, illogical, and self-centered;
Forgive them anyway.

If you are kind, people may accuse you of being selfish
and of having ulterior motives;
Be kind anyway.

If you are successful, you will win some false friends and  
some true enemies;
Succeed anyway.

 If you are honest and frank, people may cheat you;
Be honest and frank anyway.

What you spend years building, someone may destroy overnight;
Build anyway.

If you find serenity and happiness, they may be jealous;
Be happy anyway.

The good you do today people will often forget tomorrow;
Do good anyway.

Give the world the best you have, and it may never be enough;
Give the world the best you've got anyway.

You see, in the final analysis, it is between you and God.
It is never between you and them anyway.

                              (Harvard Student Agencies, 1968)

     Prayer: Lord, teach us to treasure the good sayings of the wise and to pass these on with joy to those who just might benefit.

Small periwinkle climbs abandoned wall. Old Taylor Distillery, Woodford Co., KY.
(*photo credit)

August 28, 2016      Exalted and Humbled 

     For everyone who exalts himself will be humbled, and he who humbles himself will be exalted. (Luke 14:11)

     Too often in the past we have witnessed a neo-colonialist approach to spreading the Good News.  In the past, colonialist conceived of themselves having all to give and expecting others to show gratitude.  "True believers" had the power to give something others lacked through ignorance, and so this was what delivering Good News meant.  Fine!  But such proclaimers sometimes became good candidates for cannibal stew.  Exaltation comes in crowing to another, but humility waits patiently for revealing.   

     We are humbled by the task of being proclaimers of Good News and called to bring change in our lives.  We are also humbled in knowing that our message will need to be continually refined while in dialog with those from other cultures -- all of whom have so many good things to bring back to the universal community through communication within the Church.  In fact, one of our goals in proclaiming Good News is that the targeted culture has inherent good qualities that refines our proclamation; there we spread the word that a culture deemed of little worth actually has immense value for a broader global audience.  Creation and cultural diversity is Good News.  This is a message worth sharing worldwide. 

      Appalachian Example.  Cultures may be already Christian or not; they open themselves for discovery and enrichment of the whole.  Appalachian culture is basically Christian but not Catholic as such.  We seek to bring the culture to a fuller participation in our common Christian heritage.  Appalachian culture can be approached so that all are humbled together and arrive at a common exaltation.  A rural culture is regarded as backward and yet can be positive and contribute to the glory of God's Family.  Let's look at components of the Catechism of the Catholic Church.    

 I.  Profession of faith: The marks of the Church are  One, Holy, Catholic & Apostolic vs.
Appalachian -- Witness of the dynamics of the local church and how this church is regarded as
psychologically owned by the local community.

II. Celebration of all seven sacraments: vs. Appalachian -- Born again by Spirit and intensity of
that rebirth (humility demands that we see that our salvation is being worked out in fear and trembling).     

 III. Life of Christ: Seven Gifts of the Holy Spirit that are  conferred in the sacrament of confirmation vs.
Appalachian -- Intense suffering from drug culture that needs remedying by cooperation of all the people.

IV. Christian prayer: Formal prayer of the Church in all its liturgical beauty brings all people together vs.
Appalachian -- Informal but centered on God's presence.

     Prayer: Lord, make us open to the wealth of other cultures.

Appalachian streamside sighting.
(*photo credit)

August 29, 2016   John the Baptist as Our Model

     The more unpropitious the situation in which we demonstrate hope, the deeper that hope is.    Vaclav Havel

     The Feast of St. John the Baptist (martyred two millennia ago) seems an ideal time to reassess just how we can find this rather heroic and unusual person as our model in the modern age.  Virtually all of us would find it nearly impossible to live on wild honey and grasshoppers, or to wear the coarse clothing with which he robed himself.  However, could we imitate him in being prophetic, which really means knowing what will inevitably happen if people continue in present ways?  Samuel Goldwyn says, "Never make predictions, especially about the future."  Being prophetic is not predicting, but only saying what will inevitably happen if... we continue as we are.     

     John the Baptist is the herald of Jesus Christ; even before his birth he leaps for joy for the one who approaches; his birth and naming by Zachariah show the struggle that would dominate in his life as prophet; he is named in much the manner in which Alex Haley describes in Roots the naming of a West African child; John withdraws from the world and yet lives simply within it in a manner few of us could ever imitate exactly; John speaks plainly to the people and lives simply; John is the right person at the right time and sees what will happen if people do not reform their ways; and finally, John witnesses to martyrdom because he is bold enough to tell the king the exact situation of the king's life, a testimony to truth.

     John can be our model.  He is a free spirit, affirming the mystery of life (at birth), living simply, proclaiming prophetic statements and witnessing to his faith, even to the point of martyrdom.  We too can leap with joy at the presence of the Lord, affirm the mystery of life through reverence, live simply so others may live, become prophetic, and speak out about the need to make changes in our world; we can also witness in our lives to what God calls us to do.  John the Baptist can become our model.

     We become the John the Baptists of today when we also speak in the manner of John.  We will have to come to terms with our economic indebtedness, for all that goes up must come down -- hopefully not with a crashing sound.  The rich cannot indefinitely continue to grow super rich and to dictate our national policy; eventually the poor will lose patience and take what rightfully belongs to all and not just to a few.  Ocean levels will surely rise, for melting ice must go somewhere and glaciers are melting away.  Terrorism will continue to play havoc.  Corporation practices may become more democratic when workers take charge.  Some events will most likely occur, and some climate change effects are in the offing no matter how fast the change.  Prophetic?

     Prayer: Lord, help us live simply and imitate John the Baptist in being heralds of Good News.




Under the canopy of tall oaks. Harlan County, KY.
(*photo credit)
August 30, 2016           Treasure Oak Shade
     What is more delightful then the shade of an oak tree on a hot summer day, say a thick foliaged pin oak?  This great gift is quite possible in our temperate oak/hickory forests covering much of the territory in the eastern half of the continental United States, from the Ozarks and Appalachians up through New England.  These deciduous oak trees, Quercus, are members of the beech family and are known for being tall and majestic, with broad spreading crowns in their mature years.  Among my memories are enjoying the shade of pin oaks in our home place when they matured to shade trees. 
     Our oak trees may have unimpressive flowers in spring, but they make up for this in their shade-providing propensities in the hot summer months.  In autumn, the varieties of oaks do not hold a candle to the colorful maples, but some of their annual contributions are more in the form of acorns, that is mast for the squirrels and other wildlife such as turkeys and deer.  The acorn yield, which begins when the oak is about twenty years old, and reaches maximum production within a century, actually varies year-by-year, depending on weather conditions.  Oaks are widely famous for their toughness and strength, as anyone who has worked with wood can testify.  Try driving nails or sawing a rough oak plank.  Oak firewood contains much heat content and is sought after for winter heating.  Oak wood is also known to mill well and is used for building materials, furniture, hardwood floors and barrels. 
     The white oak (Quercus alba) normally can reach 100 feet tall and several feet in circumference, and can be called the mainstay of our Eastern forests.  However, even more valued from a wood quality standpoint is perhaps the red oak (Quercus rubra), which can reach 90 feet in height and has a round crown when grown in the open, and a clear, long bore when grown with competition (among other trees).  Various types of oak can grow to over one hundred feet tall and live at least two centuries.  The Wye Oak in Talbot County Maryland, which succumbed to a wind storm in June 2002, was estimated to have been 460 years old, 32 feet in circumference, and 108 feet tall.  The "Seven Sisters" oak at Mandeville, Louisiana, is 37 feet in circumference with a crown spread of 150 feet, and is supposed to be one thousand years old.  Can you beat that?

Oak decline, mortality or death in America has been observed for a hundred years and seems to be worsening.  This decline has especially affected red and black oak, and also to some degree scarlet, pin, white and chestnut oak.  This is extending to western states, and in parts of California native oak die-off is reaching epidemic proportions.  No single cause has be determined, but is most likely the result of stresses from several environmental factors along with beetles, fungi, and defoliating caterpillars.  Hopefully, the strength of the oak will endure, and these oak forests will continue to flourish.  We simply cannot afford to lose our Quercus.  We need them to refresh ourselves year round.

     Prayer: Lord, make us ever mindful of the gift of oak trees.

Kentucky organic farmer admires tomato harvest.
(*photo credit)

August 31, 2016     Formulating Gardening Practices

     A number of gardening practices are worth formulating:

     Keep records. My uncle Louis, a successful gardener, kept uniform records for about 60 years which told varieties, planting dates, harvest times and yields, and qualities of specific produce.  This can become a habit and a good trait in recording practices both for oneself and for others who may look through the records. Recording by experienced gardeners is salutary, for the general store of horticultural knowledge should embrace an evolving knowledge that includes our many mistakes and successes.   

      Be humble.  There is always much more to learn, and so any gardener should be willing to take notes and ask about another's experience, especially from those living within the micro-climate of the gardener.  We're not permanent fixtures who garden on Earth forever.  Today segregated elders find it trying to hand their garden gems on to younger listeners through oral tradition, especially in a throwaway culture.  Learn lessons from those who have acquired a green thumb through practice.

     Be willing to share.  A good gardener will want to create a ripple effect, with his experience being passed on to others through an ongoing teaching/learning process.  The garden that is well tended becomes a model for what others can become.  A New Eden is an emerging phenomenon which is being born.  "Wasted" or non-productive land becoming productive excites us; we are encouraged from what is occurring and want to hasten the process. 

      Be restorative.  Gardening should better the piece of land where practiced.  The place of growing productivity may be a yard, neighborhood, town, county, state, region, country, our Earth.  If we accept responsibility for our local environment, we can more readily accept accountability for progressively broader environmental areas.  The improvements must begin at a specific locus, a grassroots, a place from which organic growth can occur.  Each energized point (garden plot) is influenced by the other -- a ripple effect of change. 

      Create a Gardener's Creed.  A gardener is his or her own person and there's a unique spirituality attached to tilling the soil, watching life come to be, and enjoying the fruit of labor.  Each gardener should place the purpose, motivation and successes into a format for ongoing practice and relating to others.

      Prayer: Most Provident One, You give us strength to care for what is entrusted to us.  You teach us to be respectful to all we know and to share our experience and produce with neighbors and others we meet, to be role models and to encourage faithfulness on the part of beginners.  Help us enjoy our work and to convey that joy to those we meet so that it can become contagious.  Finally, we believe that You alone can teach us to count how few days we have and so gain wisdom of heart (Psalm 90: 12) -- even in gardening.