VISIT OUR MASSES and HOMILIES ONLINE! CLICK BELOW TO WATCH
St. Elizabeth of Ravenna Catholic Church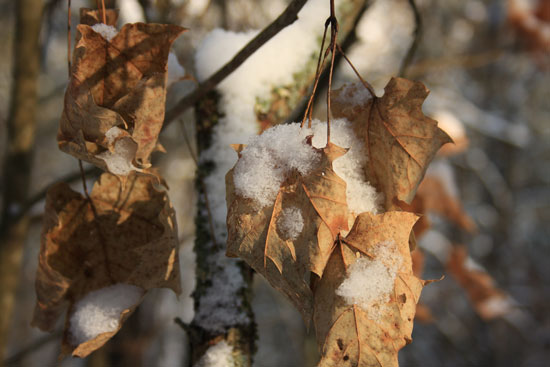 First snowfall of December in Kentucky.
(*photo credit)

December 1, 2021     Hoping During the Advent Season
        I can hardly imagine living without hope.  As for the future of the world, there is a colorful spectrum of possibilities, from the worst to the best.  What will happen, I do not know.  Hope forces me to believe that those better alternatives will prevail, and above all it forces me to do something to make them happen.    Vaclav Havel
        Hope springs eternal and rightly so.  It is in the air we breathe, for without air there is no physical life -- and without hope no spiritual life.  While immersed in hope, we seldom think much about its value and necessity.  Without hope we are lost in the sea of surrounding troubles in which we often feel helpless.  Like survivors riding in a life raft before rescue, we learn to make the best of where we are and how to live with the limitations that surround us.  Our ability to continue and discover opportunities is our hope; our enthusiasm to persist testifies to God within to whom we confidently give witness.
        Act in hope that others act in a similar fashion.  Some who are cynical say we are fooled by expecting others to follow our example -- but these unfortunate souls often verge on despair.  If we act hopefully there is an inbuilt magnetism that draws others, even when words fail us or reason sees little sure success ahead.  It is not the vain hope of a gambler who places everything in one last bet.  Rather, it is the sure belief that promises bathed in love and fulfilled in time will continue to be fulfilled.  Christ came yesterday at that first Advent; Christ comes today into our hearts; Christ will come again as promised at the Parousia.

        The world around us needs a heavy dose of hope, for troubles seem to multiply.  Without hope these unfortunate people lack the alertness to see new possibilities.  They need assurance that we can help save a threatened Earth with its changing climate due to human activities.  We can challenge the fossil fuel practices of the past and put in their place renewable energy sources (wind, solar, hydropower, geothermal and tidal) -- and a rising generation of earnest folks can bring on this renewal.
        Hope involves listening to the Spirit in our lives.  It is more than insights by technically astute people; it involves breathing in the air of freedom.  The hopeless suffocate within the imprisonment of their own mental constructs -- they say it is no use to continue; they regard growth as impossible.  An atmosphere of hopelessness allows no fresh ways of thinking and doing; it leads to paralysis with no room for the Spirit.  On the other hand, our hope promises to conquer despair and we must hope that our enthusiasm continues in troubled times to encourage the wandering.
          Prayer: Lord, through your Resurrection we are empowered to hope and to discover that you are in charge of our world.  Help us to challenge and conquer despair and to work with you with greater confidence and love for the betterment of all.

Club mosses add touch of color to December forest floor.
(*photo credit)
December 2, 2021  Proclaiming Expectancy an Advent Characteristic
        When these things begin to take place, stand erect, hold your heads
high, because your liberation is near at hand.         (Luke 21:28)
        We are entering a season of awaiting the coming of the Lord.  In essence, we practice this virtue of expectancy throughout our lives and in a variety of circumstances.  A baby awaits the bottle at feeding time; youth listen for the bell that means outdoor exercise or the end of the school day; teens long for the day that they can get a driver's license and be "free" behind the wheel; the pregnant mother counts days before delivery; workers look forward to retirement; and elders start to reflect on what follows mortal life.  Life from start to finish involves vigilance, waiting for a more promising event to occur.
        Expectancy is at the heart of the Old Testament as all awaited the promised one, "The Lord our justice."  The Messiah will bring a new order to a troubled world and all will be able to live in peace.  While our reflection on history includes the gradual coming to a better world order, still work is unfinished.  Jesus comes as the awaited one and he teaches, heals, suffers, dies, and rises from the dead.  But Resurrection is part of an unfinished movement of which we are invited to be part.  We do not wait passively; we are invited to enter and participate in the flow and even help accelerate the final coming of the Lord in glory. 
        Expectancy then includes our participation in the fullest sense in the final Advent, the Parousia.  This involvement gives a completely different cast to all the series of anticipated events that we have looked forward to in life.  The promise is something that is to come in a fashion we anticipate, but do not have a definite image of what will transpire.  Events are often foretold by homemade prophets and all of these have been proven false over time.  We are party to the coming; we are not paralyzed by the fright of the unbeliever. Rather, we stand erect and hold our heads high.  Amazingly, this is the posture and role of the activist, not one who is unable to move due to fright. In fact, St. Paul (I Thessalonians 3:12-4:2) says we are to redouble our efforts -- our improvement in conduct as the end of time draws nearer.
        Among the elements that accompany the virtue of expectancy are the following: the ultimate outcome will be successful for God's justice will ultimately reign; if we remain faithful, we will participate in that justice; we can expect the signs that will indicate the final occurrences; we are not to be frightened but continue in the work we are doing in a redoubling of effort; we are to support those who seem paralyzed by what is coming; and we know for sure that time is shortening with each passing day.  Some may regard these elements as foolish, but we can look out and see -- and know full well that a failure to perceive signs is really the condition of the foolish.  We are all called to be alert.
          Prayer: Lord, help us see signs of the time with equanimity.

Snow squall, Rowan Co., KY.
(*photo credit)
December 3, 2021  Existing While Stranded in a Blizzard
        The list of things to do while caught in a storm could be quite varied depending on whether within or without shelter.  It is quite different if on a canoe in a lake, or in a car on a stretch of forsaken highway, or in the confines of your home.  I have been stranded a number of times (once for an entire week), and was lucky enough to creep by auto down the clogged Interstate to the Oldenburg, Indiana Franciscans and to make my annual retreat during that never-to-be-forgotten storm.  Another time the place where I was forced to stop driving was near a motel north of Lafayette, Indiana on the way to a Jesuit meeting in Chicago -- and conditions deteriorated when stranded guests ate up all the snack food in a short while.  In both these cases the conditions were temporary.  In some home circumstances, utilities have failed, and patience to endure the storm was tested.
        Maybe "don'ts" should precede "dos" for the stranded: 
* Don't leave home (in a car) without taking some essentials -- changes of clothes, sleeping bag, candles, flashlight and batteries, crash blanket, some basic high energy food, matches, battery cables, gloves, boots, ice scraper, and warm cap.
* Don't neglect weather reports. It is not wise to try to outrun a storm; if you know the storm's direction adjust your route accordingly to miss its direct impact.
* Don't forget about neighbors or others caught in the storm; they may be less prepared than you for the consequences.
* Don't strain yourself in too much digging out of the drifts or de-icing the vehicle.
* Don't wander about in the stormy outdoors -- and get lost.
* Don't allow blizzard conditions to overwhelm you.
        Certainly "dos" are equally important:
* Do keep posted on weather conditions for they can help with change of routes to travel or, for safety sake, to stay put and collect necessary supplies.
* Do keep warm with many layers of clothes to conserve body heat.  If space heat goes out in your lodging, use the crash blanket or its equivalent and do not over-exert yourself.
* Do take along reading and study materials and find the light of day an ideal time to do some catching up.  If you have things set aside for the snowy day, the frustration of being stranded is highly reduced.
* If you are caught in a storm outdoors, build a protective burrow or shelter and insulate with grass, leaves and any
vegetative material at hand.  Stay put until the storm passes.
* Do consider the storm to be an ideal time to pray, for that can be done in the dark or where reading materials are absent.
          Prayer: Lord, winter means being prepared.  Inspire us to follow weather conditions and grant us the fortitude to withstand the elements and prudence to act properly.
---
Must We Continue to Press for Climate Change Curbs?

       Our "Facebook" essays in December deal with citizen action concerning the curbing of climate change in the immediate future.  Yes, an old theme!  We intend to ask some basic questions and must not relent on confronting governmental agencies and legislators: they must act now in order to prevent a catastrophe at mid-century.  Certainly young people are right in saying that this change of climate will affect them more than those of us near the end of our mortal tenure, and they hope matters will stay within a 1.5 degree Celsius rise in global temperatures.  Actually, the International Energy Agency states that based on policies that countries have announced, the world will have around a 2.4 degrees rise by the end of the century – a real catastrophe!  
COP26 at Glasgow in November made a series of promises dealing with conserving resources and controlling methane emissions, but the conference was too timid in addressing the fossil fuel phase-out possibility (calling for a phase DOWN – not out – of coal).  Many participants called for taking positive steps to curb climate change.  For the first time a COP gathering spoke of fossil fuels, but like the 25 preceding COP conferences they had no enforcement mechanism.  The money to bring changes must come from the heavily polluting nations, but there was no consensus on that either.  However, the growing pressure to act makes semi-enforcement possible, that is, global weight of public opinion for each government to abide by the announced pledges of meaningful carbon dioxide reductions; specifically, this awaits  the upcoming COP27 in 2022.
       Does persistent citizen pressure help?  Much depends on how many apply it and how continuously we confront the establishment.  Without a doubt, action must be taken now, since demands for energy are rising rapidly, especially in less developed lands seeking to install air conditioning and driving individual's vehicles with internal combustion engines.  In order to utilize cheap energy, these nations (which could broadly include China and India), still favor use of coal with all its carbon dioxide and toxic emissions.  Yes, renewables are coming, but not fast enough to satisfy existing and new energy demands, and this is having a telling effect of a constant rise in global temperature at a time when it should be dropping.
       Why end the year on such a serious note?  No doubt we are tempted to do otherwise, for this is the celebratory holiday season.  We must stay emotionally balanced and for that reason we need social life with its sense of togetherness.  Yes, that is to be encouraged – but again this is a partial picture.  We must continue to apply our climate-curbing methods and stay steadfast to the tasks before us; this includes holding all governments accountable.
---

A blooming rose in December. Rockcastle Co., KY.
(*photo credit)
December 4, 2021   Preserving the Last Rose of Summer
        One early sharp December evening fifty years ago, I was on my way back to my residence on Capitol Hill in Washington, DC and passed the National Botanical Garden.  I was surprised to see that a single flower on a rose bush had survived a deep frost.  Granted, today in far warmer times there might be many survivors on that bush -- and they all ought to remain for viewing by passersby.  In my sense of compassion, I picked that 1971 surviving rose and took it back to my room, and pressed it to include in a Christmas card for my mother who loved roses; a less than perfect act imitating Jacob fooling his father Isaac.  Why let a rose die alone?

        Why this somewhat sentimental tale?  We like to see survivors even when their remaining time is limited.  These are the ones who last long beyond their normal time, when others have happily served their duties and passed on.  The competitor who goes for the crown when others are left behind receives the applause, even though we are convinced that such crowns have hollow rings.  However, survivors of more noble causes stand out and touch our hearts for their sheer endurance; they move us to give them a special place.  In life's great competition, those who last to the end deserve our recognition.  We are encouraged to hold on until the end, for so St. Paul instructs Timothy; surviving is an act of fidelity.
        A single thought might survive.  Often when giving a homily, I pray that if one point changes one person for the better then the homily is worth it.  What is at stake is the hope for plentiful survival of all our actions including our many words spoken or written.  We tend to forget that we mortals are deeply immersed in a survival struggle.  Each of us is a survivor functioning in a world of constant change. 
        This writing is a final blooming of an older person, and its survival is a struggle infused with hope.  Our reflections have a moment in the sun and then as the busy days of life go on, they fade and often others snatch up fragments; these fashion themselves into new works to be stitched together for some good purpose.  Surviving enters into the DNA of living tradition.  Our reflections have no permanent copyrights unless we are a rare Shakespeare -- and we are not.  Most of the Bard's thoughts did not survive though some very good ones did.  Like that last rose, we strive to remain a lasting sign of Summers's past before we fade.  What survives even crumbling memorials?  Only eternal Love. 

          Postscript: While distributing my mother's keepsakes after her passing in 2005, we found that last rose of summer in her bible.  I confess I do not know whether it survived that discovery.
          Prayer: Oh Lord who is love, help us understand what is truly enduring and make this the center of our lives; help us see survivors, even roses, as witnesses striving for permanence; make us seek after love that survives, after faith and hope passes.

Reaching for the sky.
(*photo credit)
December 5, 2021  Becoming Forerunners of the Future

        A voice cries in the wilderness: Prepare a way for the Lord.
(Luke 3:4)
        During this holy season of Advent, we look into history and reacquaint ourselves with prophets.  We become briefly acquainted with the Old Testament prophet Baruch (5: 1-9), one who remotely prepares the way for the Lord by leveling the barriers that lead to an easily accessible pathway.  In the Gospel we observe the proximate forerunner, John the Baptist, a voice in the desert preparing the way of the Lord.  He is a transition, a bridge between Old and New Testament.  Through discipline he trains in the desert for his mission.  When his time comes, he delivers a prophetic word for those who venture to hear him in the desert.
          Forerunners are out front exerting themselves spiritually by preparing the way to improved practice.  This requires the discipline of planning and building a highway, and still more.  It takes effort to be forerunners to a future not yet actualized.  Ours is the continuation of the path of salvation history with its years of preparation both remote and proximate.  As individuals, we need to be people capable of focusing on the essential needs of our world.  We make our future with its unique imprint.  We want it to benefit all, and with God's grace we help actualize this goal.  We cannot act alone; God strengthens our cooperative endeavor with its strong community dimension.  
          HERE is the place of contention.  We are driven by the Spirit to break the silence of inaction, to speak out, and to accompany words with needed deed.  It is not a distant remote issue but one that is right at hand.  Silence is never enough and so at times we are moved by the Spirit to speak out.  We know that forerunners do not stand back; through consistent training they prepare for the race; through major exertion they run in an attempt to lead the pack.  Troubles inspire us to run; preparation moves us to the right action.  We cannot mess around and get distracted, for our race is serious work.
          The time is NOW.  We are called to take responsibility when others are hungry and in need of essentials, food, shelter, etc.  One virtue needed is human dignity, strengthened when we show   others that they are important in helping to renew our world.  Encouragement may not make us heroes, but we are vital leaven for fermenting change.  The poor will rise and those in high places come down -- and we who are forerunners to this coming revolution.
          WE must act together.  Forerunning is not uniquely an individual exercise, for we are called to prepare roads that take mutual cooperation.  Preparing the way is difficult work, for we may suffer in order to bring about the Lord's Advent.  Yes, called to be forerunners, we see this as an opportunity to make a future involving cooperative action to hasten the Day of the Lord.
          Prayer: Lord, give us the stamina to be good forerunners.       

A surprise finding in a warm early December.
(*photo credit)
December 6, 2021     Attacking Climate Change    
        Climate change comes under attack in at least three ways: negatively, deliberate effort by some to demean the findings of the world's climate scientists; acknowledging the phenomenon, but say it is not through human causation; and positively, as ecological efforts to halt the change and save our environment.  After each hot summer and associated wildfires, fewer people think climate change is either not occurring or from non-human causes.  However, a minority of Americans (more than those of other nations) still follow merchants of doubt who want to stretch fossil fuel to the utmost.  Why do potentially well-informed folks doubt?   
        The answer is commercial propaganda of a very perverse sort, one that captures hearts and minds by persistence of its message: climate change data is emerging and there's a chance scientists are wrong.  The merchants of doubt are continuing similar efforts perpetrated against dangers of smoking that resulted in decades of unregulated profits for Big Tobacco.  Today we confront immense commercial forces, namely Big Energy, which wants to fight regulations by capturing conservative legislators.  Thus, these doubters are buying time to continue receiving perks associated with fossil fuel (oil, coal, and natural gas) use.  They discourage energy efficiency and renewable energy, for these climate-control routes would undermine their profit-taking.

        These profiteers feed on a media that loves to construct "two sides" to an argument, all the while pretending to remain neutral.  In fact, from a scientific viewpoint the case is closed; Big Energy continues to damage a wounded Earth that may take millennia to recover from greedy corporate practices with their social costs to the public and private profit to the few.
        In this Advent season when we ought to come to grips with radical spiritual insight, we must resurface this American industry-led harassment of U.S.-based climate scientists who are not often political in temperament.  While needing to observe signs of the times, we are confronted with a hidden organized effort to doubt scientific evidence showing that climate change has anthropogenic origin.  Incidentally, these doubts have had strong encouragement by the previous Administration and its donors. 
        Currently, fossil fuels fill in the gaps before full transition in the 2040's to renewable energy programs: carbon dioxide emissions are decreasing in this country due to rapid fuel source transfer from coal; the speed is reduced by the use of fracked natural gas with increasing methane emissions that could run as high as 4% of natural gas procurement, transport and processing.  This "clean" fuel hastens climate change faster than burning coal, because released methane (in natural gas) is two dozen times more potent as a greenhouse gas as is carbon dioxide.
          Prayer: Lord, give us the clear insight to see what is happening to our Earth, and give us courage to challenge doubters.

Ripples of ice from melted icicles.
(*photo credit)
December 7, 2021    Realizing that Pearl Harbor Could Reoccur
        In early December eighty years ago, I clearly recall standing at the church steps with another grade schooler and discussing whether New York City would be attacked next.  The thinning ranks of those of us who remember Pearl Harbor, and a dwindling number who were actually at the attack site, can testify to the trauma of going to war in 1941.  Likewise, the awful 9-11, 2001 incident makes it easier to talk about possible surprise attacks.
          Cybernetically, such an attack in this computerized age could do immense damage to utilities, transport networks, communication systems, and banking establishments, to name just a few.  We would be in a state of chaos, and it would most likely take time to recover.  Many national safety experts worry; homeland security people focus attention on the possibilities of such an attack and its aftereffects.  To some extent cyber warfare may have already been discussed by various terrorist groups and nations.   Who knows whether Cyber warfare lies before us?
          Biologically, some forms of pathogens could be introduced into our food supply and do untold harm.  It may be slipped through air, land, or sea routes and go undetected until the first victims appear.  Has it already been done?  What about spread of Lyme disease affecting so many from tick bites (brought from visiting deer into a guarded government biolab)?  Such forms of pathogen escape or intentional introduction are not beyond possibility. 
          Terroristically, airplanes or other modes of transportation could be destroyed by a competent and secretive "underwear" bomber who sneaks lethal materials aboard and detonates them.  We want safeguards that are not intrusive and yet cover an entire cohort of travelers coming to our country from all parts of the world.   Such absolute and complete security cannot be ensured or, if attempted too rigidly, would add much to expense and inconvenience for travelers.  Many do not appreciate the heavy-handed searching that is required for such thoroughness, but will tolerate it for "other" people.  Terrorists recognize their power of surprise that adds suspense to their purpose, widespread publicity, and effective, and yet untested, deadly methods.
          Oligarchically, Pearl Harbor could involve the total takeover of our democratic process by a wealthy contingent of individuals who dictate policy through lobbyists' and donors' demands to those in power in our country.  This is a threat of immense and unrealized dimensions, and in some way is more subtle and yet just as grave as others mentioned.  We can lose our freedom and never even know it happened.  In place of a Pearl Harbor event, it could be a time lapse with victims' attention turned to bread and circuses; attention is missing from what is actually happening.

          Prayer: Lord, teach us to be alert, especially during this Advent season, and never let down our guard.  Help us to live with worldly troubles and still retain our peace of soul.

Sun beams through the forest with a blanket of snow.
(*photo credit)
December 8, 2021  Considering Immaculate Conception and Motivation
        Today's is the patronal feast of the United States, and it is also the feast that is more misunderstood than any other in the Church calendar.  To some, this Feast of the Immaculate Conception deals with the conception of Christ, but that is not the case.  We speak of Mary being always free of any stain of sin, in God's preparing her for the coming of Christ.  God's singular grace is given to her, and we celebrate that gift in a special way.  We can liken the preparation of Mary's physical birth to our being born into the Church through Baptism.  Here we extend our reflection to our maturing purification of motivation on our journey of faith.
        A pure intention is one that is spiritual in its depths and without individual human material self-satisfaction as a principal motivation.  Part of this world's troubles is greedy profit motivation that builds on the human tendency to selfishness.  In response we must reflect on the degree of purity of our motivation and attempt to leave selfishness behind.  We are people on a sacred mission; the material aspects are there and must be sorted and understood.  Individually, we are to become more and more selfless people working within a spiritual community to serve our brothers and sisters in need.  Through our desire to be like Christ and sacrificing self we touch the hearts of others and assist them in their faith journey.  This is also Mary's special role.
        It is not the summation of all totally pure motivations that make a change in our world, for such total purity is nearly impossible.  What is within reach is the quality of people becoming more motivated to be selfless that gives others inspiration to become selfless in their actions.  To the degree that this goal of dignified human struggle is in the forefront, our purification of motives will approach that of the Virgin Mary's acceptance of God.  Strangely, our purification process has a material element -- the essential needs of all people (food, shelter, education, and health), and through awareness our work can be successful. 
        The spiritual quest for a purified national motive to reach a lofty selfless goal is always accompanied by a concern that includes furnishing essentials to all people.  We are not divorced in the spiritual quest from matter, for Mary realized in time that a Messiah's rearing was challenging; he would eat, sleep, and walk about like the rest of us.  Through likeness to Mary we also learn about the wedding of the spiritual and material in the incarnation of the Lord.  An authentic and purely motivated spirituality includes material concern for all people and not just ourselves.  If America were so motivated, we could be a great nation.  Mary's purity is what we seek for our purified national goals and an enhanced motivation to bring about needed renewal.
          Prayer: Lord, give us as individuals a sense of selfless concern for others who are in need.  Help us as a nation to rise above profit motivation and to assist others within our land and in the world to help meet their essential needs.

Festive outdoor lights to warm the evening spirit.
(*photo credit)
December 9, 2021  Decorating with Taste, Safety, and Cost in Mind
        Decorating home, office, school or church seems so appropriate on Tinsel Day; do we run the risk of repeating ourselves on safe decorations and choice of artificial decorations?  If you are moved to decorate for the holidays, consider these points:

          Decorating with taste is presented first because people intend to splurge during the holidays to some degree.  In Depression times we went on a hike on a December Sunday and chose the cedar in the field that would be ideal for decorating our humble home.  The scent of cedar to this day brings back happy Christmas events. In a frugal way my family saved decoration materials, even tinsel from year to year, and yet we had mistletoe and other simple but tasteful natural and temporary decorations to fit with festive foods.  Others in more affluent times splurge on elaborate streamers, banks of lights in and out of the house, and numerous examples that may even be regarded as in bad taste.  Some hope the gaudiness will be caught by a media seeking houses ablaze with Christmas light.  Consider simplicity at Christmas.
          Decorating safely is often overlooked when it comes to open fires, heated surfaces, and combustible materials, all possible when dealing with modern decorations.  For instance, the artistic decorator may create a centerpiece of pine boughs with candles to be lit on a major occasion.  In the middle of that event, the lit candles are forgotten and cause a fire.  It may have been a tasteful choice but a fire hazard, since pine sprigs dry out and become ideal tinder for a conflagration.  St. Lucy-style maidens with lit candles in their hair will testify to one or other terrible story of the unexpected hair fire.  Taste should always be balanced by safety, and pine boughs that easily burn could be replaced by less flammable holly and vine wreathes.  Safety first decorators ought to focus on less flammable products.  Evergreens tend to dry out indoors, while more safe as outdoor decorations.  Refrain from open fires, lit candles, or smoking.
          Decorating expenses may not be a determining factor, but this year many households will watch their pennies.  Perhaps a deciding factor that trumps taste or safety is a recyclable artificial tree.  Also, a tree with roots and plantable in the yard as a permanent decoration may mitigate an initial expenditure.  Some tasteful folks demand the real thing, and we will not quibble for time calls us to focus elsewhere; besides, real tree commerce keeps small growers alive.  The Great Depression made us captivated by real "weed" cedar bushes so why not now?  Christmas decorating comes once a year.  Homemade decorations always can top commercial varieties, when creations compete with costs and manifest extra creativity.  Furthermore, in the long run the homemade decorations are remembered and treasured by young and old alike.

          Prayer: Lord, give us balance in our decoration tastes, safety and economics in what we do on festive occasion and in our efforts to beautify this world properly.