VISIT OUR MASSES ONLINE! CLICK BELOW TO WATCH
St. Elizabeth of Ravenna Catholic Church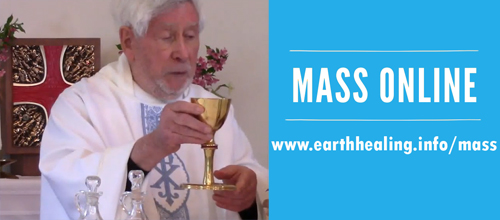 ---
Experiences of Summer Vitality

        August is inspiring; however, even in the midst of a pandemic, we are expected to stay-at-home.  Instead of traveling we have an opportunity to be introspective.  This enhances our service and can encourage our neighbors who are stressed by current health conditions.  For those who can't reach out and touch nature easily, please consider videos, books or periodicals for virtual viewing. 
The full glory of August is celebrated on the 6th with the feast of the Transfiguration -- a feast focusing on Christ's exaltation, along with his consolation as he prepares to enter Jerusalem and his passion and death.  As we pass through these stages of the pandemic, we too need the transfiguring consolation that is found in August's glory.  Our setting may not be the incredible beauty of Mount Tabor, but we do our best, for foliage all around us is in its zenith.  No matter how glorious, we realize that it's passing, and green will soon turn to golden.  Spiders build cobwebs; migratory birds are clustering together with their chatter, and mornings and evenings are less harsh than in July.  Subtle change is in the air; and we need our consolations.
        At this time of deeper introspection let's address our inner restlessness.  We yearn for what only God can give.  We return to mystery -- a mystery within, all around, and beyond, all coalescing to make us who we are.  That Mystery beyond is a deep underlying experience of God's presence, which may approximate what Karl Rahner calls the "mystical moment," namely the awareness of God touching us, even though there is no explicit experience.  Mystery opens our hearts to others, and especially to God who is the absolute Mystery, incomprehensible and impenetrable.  We seek mystery to add to interior balance that contains an inherent restlessness.  We are moved to ask, Are our reflections both inspired and inspiring; inspired by the Spirit, inspiring deeper involvement with Earth and people?
          Fascinating Insects.  Idler, go to the ant; ponder her ways and grow wise; no one gives her orders, no overseer, no master, yet all through the summer she makes sure of her food, and gathers her supplies at harvest time.  (Proverbs 6:6‑8)  They toil and work, whether ants, or tumblebugs, or "waspers," or yellow jackets.  Life is short for these insects, and they seem to know it, and teach us to know our life's shortness.  August's shortening days and cooler morns and evenings tell us that summer is not endless; autumn is emerging, plants coming to seed, cobwebs everywhere.  Busy insects tell their story; they are part of communities -- anthills and hives -- all working together for the common good.  Monarch butterflies flit about the milkweed stand in preparation for an upcoming two‑thousand-mile migratory trip to Mexico.  Hummingbirds seem busy with wings fluttering faster than the eye can see; methodical bumblebees move from flower to flower.
         Engaging in Nature's Conversations.  In August, fields exult in soft misty morning haze, intense blaze of noonday glory, lengthening shadows of evening, and nights with creepy natural sounds detected by a well-tuned ear.  At night we can hear corn growing, as blades unfurl with their creaking sounds -- a truly mid-summer sound.  We attune our senses: fish splash in the creek; leaves rustle in the breeze; varmints rustle about; birds flutter when it's cooler.  Listen to nature's symphony and enjoy it.  My Aunt Toots, a green-thumbed gardener, once asked, "Is it wrong to talk to plants?" Answer:  "Why not, for they are looking for a good conversation when happy."  Some talk to their pets, others to wildlife, and so plants may hear as well.  I once overheard a Jesuit on his morning prayer walk saying to a begging squirrel, "I'm sorry little fellow, I haven't got anything to give you." He was mistaken; he was giving his love in response to the animal's invitation -- a moment of joy.  God speaks through all creatures and they, in turn, invite us to converse.  We enhance creation by re-presenting Divine Presence.
          Visiting the Summer Kitchen.  YHWH smelt the appeasing fragrance... (Genesis 8:21a).  August's bounty announces food-preserving time.  In good seasons fruit abounds -- cherries, plums, blackberries, peaches, grapes, and summer apples -- ingredients for juicy cobblers.  Mama was proud of her day's work and would show the jars lining the marble counter top, cooling before carried to cellar storage; her varied preserving efforts included sweet and dill pickles, relish, pickled pears and watermelon, mincemeat made from green tomatoes, as well as strawberry, grape, blackberry jam and jelly, apple sauce and Damson plum marmalade, which became the basic ingredient for her famous Christmas puddings.  Pre-AC days turned kitchen preserving into an earthly purgatory.  What love!
          Tasting Wild Plums.  Nature's exceedingly wide variety of wild foods invites us to sample unique tastes: fruits, nuts and seeds, berries, greens, herbs, saps, edible mushrooms and flowers.  These wild things are the "manna and quail" of our age, naturally present and, if we accept the divine invitation, ready to be discovered and sampled.  So often, just a single taste is enough for the year, lest we become gluttons.  Wild provisions are to be taken as a sampling, a simple moment of delight; perhaps we can invite others to taste nature's bounty as well.  By selecting wisely, we can ensure the wellbeing of all wild plants.
        Appreciating the Foliage of Summer.   August 2020 is a time to stay-at-home as required to halt the pandemic spread; it's a retreat-like situation.  Hopefully, this is of short duration, but we must endure with fortitude.  Rather than reflecting on our isolation, let's see this as an opportunity to come closer to God, who is always present to us.  The full intensity of plant foliage beckons us to show appreciation to the Creator for all we have to give us joy.  Even our capacity to receive a gift is a God-given gift.  Our natural response is to extend appreciation by serving others with an ever more sincere heart.  Thank God for natural beauty during this glorious season!
---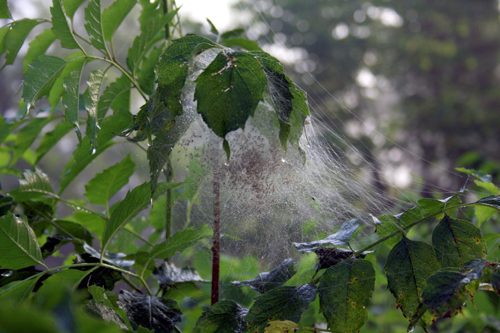 Many strands of an extensive spider web.
(*photo credit)
August 1, 2020     Celebrating Green as the Color of August
     Green is my favorite color, and so 32 previous reflections have green in their titles (more references than to all other colors combined).  Green occurs always in a positive light, and mostly pertaining to environmental buildings (hospitals or churches), practices (organic gardening or conferences), materials (gifts or collectibles), areas (cemeteries or tourist sites), and food "greens" (spring or autumn).  Interestingly, no titles refer in a pejorative manner to complexion (green with envy), inexperience, or condition of spoiled food.  I recall that once on St. Patrick's Day in New York all the food in our dining place was dyed green -- but the food was unappetizing and went uneaten.

     Greenery is characteristic of Kentucky's summers.  Travelers returning from the vast West with its open skies and wonderful mountains, plains, canyons, and rock formations mentioned how great it is to get to our Commonwealth, because the landscape east of the Mississippi is quite green at this time of year.  We who live here take this coverage of verdant foliage for granted, for we know that this is a satisfying mantle.  The tree cover has many advantages (see May 21, "We Champion Trees for Many Reasons").
    Green is the color that psychologists tell us is the most soothing for the human eye -- no telling how it strikes other creatures.  Green gives us comfort in ways that are not rationally explained, but chalk it up to personal experience.  I know there is a feeling of exuberance when in late April our entire landscape goes from the brown of winter to that fresh coating of green once all tree leaves appear.  Actually, with climate change, the phenomenon occurs in recent years nearer to mid-April.  Also, in mid-autumn, the tree foliage turns color, and then the naked trees appear in early November in our deciduous forested regions.  We are blessed with a green expanding (seven-month) year.
     "High green" is our Kentucky landscape in August -- and really even that designation will fade after mid-month.  The fields of soybeans and corn are in the height of greenery, but these will turn to golden in a matter of weeks.  The pastures and the hayfields contain their second cutting coming in this season as well as vegetables in the gardens (melons, tomatoes, and others).  Shades of green are all about and, like blooming flowers, they last and turn so quickly -- and that is always what makes the landscape so treasured.  In a little while the shades of autumn will appear, just as brilliant and colorful and even more transitory. 
     We can detect the "turning of the green" already in forests, for some of the shades have that mellow yellow appearance.  The sycamores are starting to lose their leaves and the black locust leaves are drying up as well.  The sour gum gives us that signal that changes are in order.  We boldly prepare for what is to come.
     Prayer: Lord, help us to see that colors confer meaning and the sign of life; direct our minds through color to eternal life.
Sharing Abundance Today - Homily on the Multiplication of Loaves. August 2, 2020.
Father Al Fritsch speaks about the need to share resources during this time of pandemic, where many people think only of themselves. This homily is a reflection on the multiplication of loaves and its application to universal sharing today. Filmed at St. Elizabeth of Hungary Catholic Church, Ravenna, Kentucky.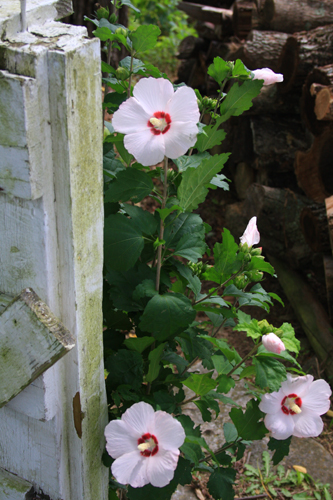 Rose of Sharon (Hibiscus syriacus) at the gate.
(*photo credit)
August 2, 2020     Not Letting Bad News Hinder Our Work         
     When Jesus heard of the death of John the Baptist, he withdrew in a boat to a deserted place by himself.    (Mt. 14:13)
     My mother's family physician was a personal friend, and when my dad died right outside his office with my mother present, he came the next day to our home to see how she was doing.  He asked where she was; we said "In the cellar washing the sauerkraut."  That relieved him at once for even death did not stop those routines that had to be done in farm life -- and he knew it. 

     Jesus was closely attached to his cousin in his ministry and was deeply hurt by the violence of John's martyrdom.  The horror impressed upon him the possibility that his own ministry could also be cut short.  John had spoken plainly and honestly, and for this he aroused the vengeance of others.  Filled with sorrow, Jesus did what many would do; he retreated to a solitary place.  However, a large crowd awaited him at the shore; in his earthly ministry the ordinary duties of teaching and healing took precedence.  Death, no matter how personal, does not always stop those who are active, though it would be excusable to say "I am too saddened to..."
     Perhaps the lesson in today's Gospel has something to say to us as well.  The compassion we have for others helps us to overcome our own shortcomings and troubles.  The world goes on even when sad things happen.  If tragic events leave us depressed or unable to perform our duties, we accept who we are; we do need to come closer to Jesus who worked unto the end, even on Good Friday when he consoled the sorrowing women, gave his mother to the apostle John, and forgave the penitent thief.  Ministry ought to be close to us and even keep us active in hard times.

     This brings us to the so-called "retirement years" when we know life is ebbing, but this telling news should not stop us from extending our ministry to more resource-conserving ventures both material and spiritual.  Opportunity always comes when we are able to doing the routine well; we strive to meet challenges even when immobility or illness calls to severely limit previous commitments.  The Lord wants us to continue as best we can even when detours and barriers seem daunting.  Troubles will come, but the underlying happiness that we are doing our best overcomes all other feelings.
     Note: Some people are paralyzed by grief, and we must recognize and accept their plight.  Our ministry to them is very important, honoring where they are, respecting their depressed condition, and still, when time and opportunity arise, to encourage them to extend their vision to discover new horizons.
     Prayer: Lord, give us the courage to continue even when the news is not good, and we have every reason to withdraw to a deserted place by ourselves.  Help us see such times as golden opportunities, and encourage others to do the same.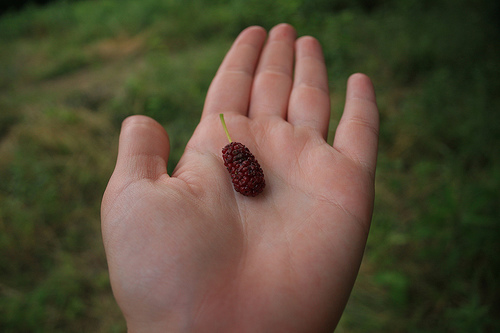 A final ripe mulberry, picked from a productive mulberry
(*photo credit)
August 3, 2020    Reflecting on Physical and Spiritual Journeys
     As the vacation season winds down and we end our annual extra physical travel, we need to take stock.  A physical journey can change us and refresh us, and in asking pardon for mistakes, we ought to count benefits -- for new acquaintances, experiences, scenes, and acquired virtues.  In these reflections we have mentioned over time a variety of spiritual journeys: St. Luke's Gospel, Emmaus episode, formal pilgrimages, Palm Sunday, and personal on tobacco and food.  Furthermore journeying can include writing, planning, hiking, and engaging in a labyrinth. 
     Journeys are by the derivative of the word something that takes effort, and so a journey (especially as we age) is something that is not taken lightly.  We plan ahead and we engage ourselves fully while we travel.  A variety of relationships are established, new scenes come to us (thus some reason for photography), we gather souvenirs, and we take daily notes that will later bring back memories.  After a trip we express gratitude to hosts and hostesses who went out of their way to make these truly joyful events.  Journeys can often become the high points in ordinary life.
     Physical journeys are now taken with greater foresight because fuel prices rise, travel conditions are congested, lodging is a challenge, and nerves can become short.  When we opt for public transportation, there are airport parking, searches, late planes, and unexpected difficulties in carrying all items allowed by security.  Of course, packing includes gifts to take and maybe those to bring back from and for others.  The weather and travel conditions are factors to consider, along with contending with red alerts of terrorists, volcanoes, and national disturbances.
     Spiritual journeys could be put in the singular, for we each have a special calling.  My journey of faith is similar to and yet profoundly different from others -- and that makes each of us unique persons.  Differences are obvious when we listen to others' stories, for each has a special flavor along with their own personal relationship with the Almighty.  Similarity includes all having a beginning at birth, a period of maturation and the ultimate endings at death.  Our spiritual journeys need the road maps of life through commandments and Scriptures, along with energy through sacraments to ease pain, avoid spills, and correct detours. 
     Characteristics of pilgrims on a formal, once-in-a-life journey (persistence, trust in God, attention to road conditions, quest for good companionship, prayerful attitude, and sense of shortness of life) are integral to our entire journey of faith.  However, attention needed at the temporary destination, which is often so tricky during physical journeys, is left to God, who gives us a fresh start when faith is transformed into eternal love.
     Prayer: Lord, give us the grace to discover you in our travels and, in reflection upon each of them, permit us to have a clearer anticipation of what lies ahead.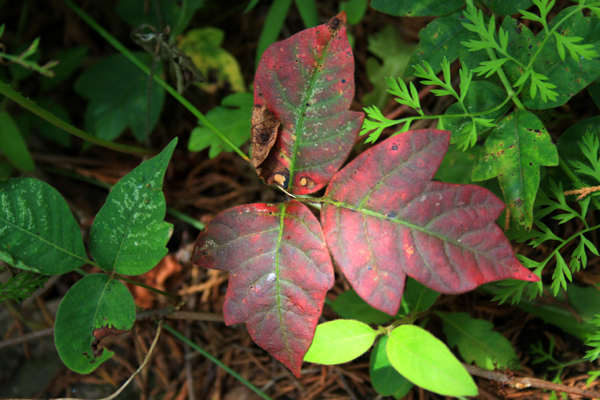 August turning leaves of poison-ivy, Toxicodendron radicans.
(*photo credit)
August 4, 2020   Nationalizing with Caution and Care

     Some people do not like the sound of "nationalization" whether in respect to utilities, railroads, manufacturing, or financial operations.  The banking crisis due to sub-prime mortgage rates in 2007 and the banking and housing mess unraveling in 2008-09 first raised questions about nationalization of lending institutions and banks -- a plague for many fiscal conservatives.  However, an immense privatized and unregulated system was able to create a massive global disturbance, and governments seemed powerless to stop it.  More have more recently followed.  Many governments admittedly lack procedures and regulations to handle multinational banking organizations with operations beyond national boundaries.
     The blame for such financial misdeeds goes far beyond lack of governmental regulations: banks and lenders with high-salaried executives; rating agencies failing at their designated tasks; Ponzi schemes running into billions of dollars; and overextended credit on the part of borrowers who lacked ability to repay or fail to read adjustable mortgage rates that soon get out of hand.  Along with changing housing values, the bubble bursts, equity evaporates, unpaid mortgages go "under water," and some walk away from debts or are evicted from homes during foreclosures.  The banks and auto manufacturers come with outstretched hands (some via private jets) to the federal government for bail-outs.  Panicky treasury officials throw billions of dollars to save these organizations through temporary "nationalization" though seldom using the term.  Is this where history repeats itself?          

     Nationalization advocates point as a success to Costa Rica that nationalized utilities, railroads, insurance, and banks.  This is one of the smallest of the Western Hemisphere's republics with no military and a higher standard of living than its immediate neighbors.  However, many countries have moved away from centralized planning and nationalizing ventures for a variety of reasons, and prefer to opt for the free (unregulated) market system that is not really free. 
     The principle of subsidiarity holds that operations should be conducted at the lowest level possible, and often that is lower than the national level.  Domestic practices ought to trump localized or regionalized ones.  Local ownership ought to be better when it comes to things from newspapers to local food-producing farms and gardens; local, regional and national highways should exist along with seaways open to international trade.  Large-scale governments can become bureaucratically stagnant and large-scale private operations greedy.  Largeness, public or private, has limitations and thus must be transparent and capable of being controlled.  Nationalizations still has a vital role to play.

     Prayer: Lord, make us political and yet not partisan, righteously angry and yet merciful, involved and yet with eyes focused on a just and fruitful horizon that moves to a New Heaven and New Earth.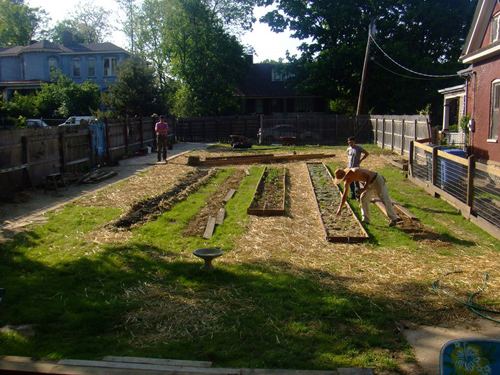 A community garden in Lexington, KY.
(*photo by Sunny Montgomery)
August 5, 2020       Preparing for an Autumn Garden
     Today is high summer; autumn is as much in time ahead as spring is behind us.  It's a perfect day to plan for an autumn garden.  If protected, many fall vegetables can carry one well into next spring with crops that survive the winter -- garlic, onions, carrots, turnips, parsley, spinach, kale, arugula, and mustard -- all this spring's survivors in my past winter gardens.  Note a number of other vegetables were omitted mainly for lack of seed.  There was even an unknown lettuce -- it made an excellent salad on a May 1st potluck.  Don't let fair-weather-summer gardeners discourage you.  Autumn, at least in our milder temperate climate; it is an excellent time for gardening that can extend well into the next calendar year.
     * Choice.  Many plants grow in the fall.  Choose one that is your favorite (e.g., endive), and give it extra loving care in a choice location where protection from the wind is maximized.
     * Preparation. Soak seeds before sowing and water well in late summer.  Sow early enough to have full growth started before frost, and yet late enough not to burn out in the hot dry weather (usually from August 10 to September 10th).  It takes as much luck as proper choice.  While in springtime we may sow in rows to minimize cultivation and protection against weeds, the autumn seeds can be "broadcast" or sowed over the entire surface areas.
     * Variety.  Try some new autumn entries.  Do not neglect to sow variety, some for fall harvest and some that can last through the winter.  Make this a season of simple "messes" of many salad greens, for autumn is truly salad time (we find springs are too short-lived for some salad greens, and they often go to seed in the heat of late May or early June).  Choose some Brassica members (kale, Brussels sprouts, broccoli, etc,).  Omit summer hot-weather cucumbers, beans, peppers, and tomatoes.
     * Protection.  Better yields can occur through use of Remay or other protective covering.  On sunny days remove plastic coverings to allow the autumn crops to air out, but cover at night.
     * Mulching.  This is not as needed as with spring crops beset by weeds.  However, a light covering of dried grass, crushed leaves, or other light materials could prove protective. 
     * Watering.  Most cooler weather growing spans do not need watering once beyond the critical growing period of germination and early growth.  For small gardens, a rain barrel is sufficient to cover moisture needs.
     * Omit flowers as planted in spring and summer though mums do well, as do marigold, zinnia, goldenrod, cosmos and aster.  The greenery of the growing veggies is color enough for me.
     Prayer: Teach us, Lord, to prepare always for what is ahead.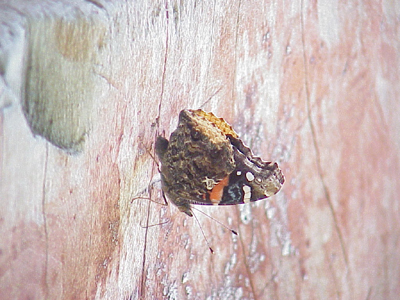 Red admiral butterfly, Vanessa atalanta.
(*photo by Sally Ramsdell)
August 6, 2020     Replicating Fukushima in New Mexico?    
     In the decade since the disastrous earthquake in Japan and the serious damage to nearby nuclear powerplants, the rest of the world has wondered how to prepare for such possible occurrences in their own countries.  Germany, Switzerland, and Italy have started to step back from nuclear power generation all together.  Other countries are having second thoughts and the U.S. is soul-searching as well, even beyond powerplants as such.  Pax Christi focused on the proposed Chemistry and Metallurgy Research Replacement (CMRR) Project at Los Alamos, New Mexico to replace an aging facility.
     The original CMRR to be completed in a decade was projected to cost $400-550 million.  The current estimate according to the project ongoing construction and expected completion in 2023 is $5.8 billion, ten times original estimates.
     Costs are one thing.  The worse part of the project, as taken from the Pax Christi report, is that the new CMRR plant is being built 2/3s of a mile (1 kilometer) from a geologic fault line.  The Los Alamos National Laboratory (LANL) is located in a seismic fault zone between a rift valley and a dormant volcano.  An updated seismic hazards analysis from May 2007 showed a potential huge increase in seismic ground motion and activity.  In all likelihood, most of the more than $3 billion added to cost estimates since 2008 result from efforts to address the heightened seismic hazards.  The costs of adding this enormous new facility to LANL's weapons manufacturing complex in a geologically unstable area are just too great.
     Under this current Administration we are not taking the same precautions on nuclear safety issues as some of our allies.  Do we just continue as though it is worth the risk for a repeat of Chernobyl or Fukushima?  Of course the risk question could be extended to other global nuclear powerplants.  An added Pax Christ note: Is the nuclear weapons work presently done at LANL and our other nuclear weapons facilities violating the Nuclear Non-Proliferation Treaty?  Thus, recklessness could be compounded by actions going against international treaty considerations.    
     Our American concern must include a number of other factors that are also coming to light.  Many of America's one hundred  nuclear powerplants lack full security measures; they have holding tanks that could be vulnerable to attack -- a point we are reluctant to mention due to planting ideas in the minds of terrorists.  Furthermore, several of the powerplants are located within earthquake-prone areas and may be subject to such unfortunate events.  Is New Mexico or other states or nations due such a Japanese-type disaster?  Until we close these facilities down the risk will always be present.

     Prayer: Lord, teach us when we make mistakes not to compound them, but to own up to them and take proper corrective measures rather than to act recklessly.