VISIT OUR MASSES ONLINE! CLICK BELOW TO WATCH
St. Elizabeth of Ravenna Catholic Church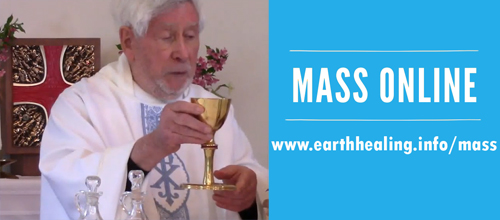 Please do remember us if you are considering donating your stimulus check. We certainly could use the funds at this time!



---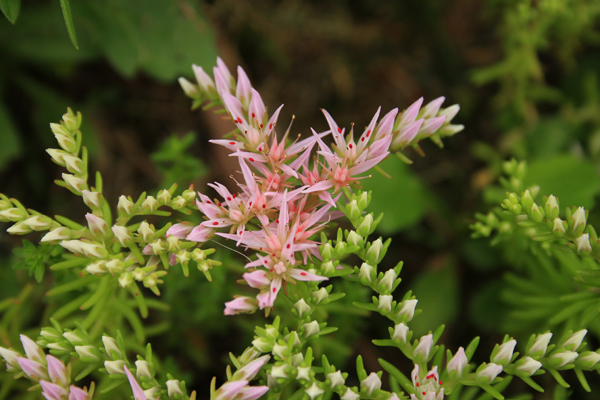 Pink stonecrop, Sedum pulchellum
(*photo credit)
June 1, 2020   Happiness, Confrontation and Holy Discontent
        The desire for happiness is often put in terms of peace, retirement and lack of stress of any sort.  Certainly I am perplexed by a number of issues and so my happiness could be called into question.  At the heart of the matter I agree with my mother in her old age who said over and over, "I'm happy, happy, happy."  Our family was deeply impressed by her happiness and each prayed that our elder years would be joyfully mixed with gratitude to God for a wonderful life.  In some ways I do feel that sense of happiness even though I work in my senior years on issues that are filled with impending struggle and discontent.  Distinctions?
          Happiness comes when we know we are doing what God wants and that in some way we are moving towards a distant horizon, an indefinite future time, but still a certain eternal future.  Happiness is realizing that all does not depend on us, but we are the Lord's along with others on the journey; God holds our lives in divine hands.  Happiness is accepting our limitations and working as well as we can with them.  Happiness is being on the side of the poor and finding friends in solidarity will all.
          Discontent arises in various ways.  For one thing, it is being on the wrong road, thinking all depends on us, refusing to accept inherent limitations of self, and attempting to discover companionship on the side of wealth, fame, and power.  On the other hand, the term "holy discontent" implies suffering through what it takes to be on the right road, to be dependent on God, knowingly to be limited in human talents and resources, and to be accepted as of little account for siding with the poor and associating with them.  Holy discontent includes being unsettled because solutions are not immediately forthcoming, and we may not be present for solutions.
        Nevertheless, the fact of incompleteness can be humbling and trigger happiness in the words of St. Ignatius and others as part of the road to sanctity.  We become more like Christ in the way we proceed.  Thus, just as tranquility is not peace, so comfort and contentment are not the same as happiness.  In further reflection we discover that comfort can be deceiving and thus not a true indicator of spiritual life -- in fact, it could be from the evil spirit.  Holy discontent can be sure knowledge that through prayer and discernment we are going in the right direction with encouragement from others whose assurances are often needed.    
        In the struggle to solve problems, a holy discontent may be intensified by questions and objections from peers.  In such cases, prayerful discernment and conversation with the Lord is required for it takes trust in God to know we still have a road ahead even when some we respect to not fully agree with what we are doing or understand what we are striving to accomplish.  We happily trust in God to see us through life.
          Prayer: Lord, make us ready to do your will and in so doing to see holy discontent as part of our sacrificial oblation to you.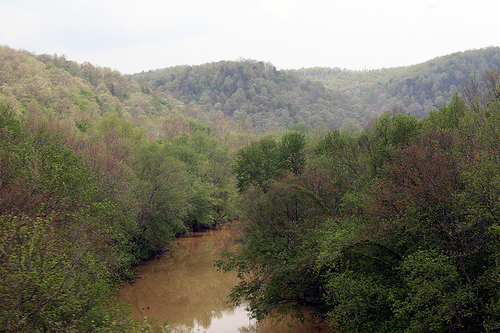 The Rockcastle River.
(*photo credit)
June 2, 2020      Babel Dispersal Today and Beyond
          Let us make a name for ourselves so we will not be
              scattered about the whole earth. (Genesis 11: 1-9)
        There are a number of interpretations of the story of the Babel dispersal of the people into their own separate tongues.  A literal interpretation may not be overlooked, for it shows that the oneness of any communal people speaking a single tongue can break apart through pride and worldly goals; the coherence of broader communities can be broken by individuality and selfishness. The dispersal leads to new cultural expressions and through isolation new languages emerge. 

          Theologically there is more here.  The breaking apart of the common thread that bound the primitive people together was a pride in building their cities, the Tower of Babel being a symbol of reaching out to obtain divine greatness.  As they used their ingenuity to build and the petroleum product to be the binding, we are reminded that a common language of greed exists today as well, and that this also uses petroleum products as well in trying to bind t he elites together in selfish purposes.  Materialism, based on advanced technologies, can bring about a disruption of community goals and lead to insecurity and hostility among peoples.
        Pentecost is a counter-current flowing in the opposite direction of the dissipation of a fragmenting materialism.  It is the spiritual return or coming together, and this is Good News.  The material interest that divides people into selfish automatons and isolated units is countered by the power of the Spirit to bring us back together as a single grouping.  We recognize the power of God in our lives; we see the work we are called to do as partners with the Lord in spiritual empowerment; we begin to see the need for others to assist -- those in Church and beyond. 
          Technology is a promise or peril.  Technology is a tool that can be used to spread Good News as well as division.  The "babel" of a misdirected tower or form of communication has been perverted by selfishness into a dividing symbol; instead of truly assembling people in solidarity, it sets them apart from each other.  The power to bring folks together is overlooked for selfish reasons.  Thus, a privileged class speaks among themselves a language of capitalistic greed; overlooked is the great mass of people who are divided and scratching for a living as best they can.  A sense of commons must be restored; that is the task of those steeped in the Good News of Pentecost.  Assorted towers of Babel exist all around, and those who wanted to build them, babble on about their fading dreams of glory.  So be it, but Good News brings about a spiritual gathering, a counter movement brings people together and not apart.
          Prayer: Lord, let us see the dangers of a Babel where people make names (privileges) for themselves and forget others' needs; help us to champion the Pentecost spirit of togetherness.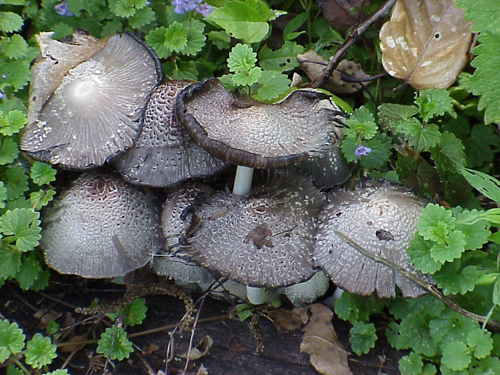 Fungi in catnip garden.
(*photo by Sally Ramsdell)
June 3, 2020   Good News Will Ultimately Triumph
          Positive helpful news for much of the mass media is NOT news.  Often natural disasters are intermingled with mass killings and armed struggles to create the 24-7 news cast -- and they name names.  The good deeds that abound in our world are hardly newsworthy.  However, the challenge for bearers of Good News is to make it appealing to a broader audience.  How can this be done given the sensational nature of today's media?
          One solution: Accept bad news and make it palatable.  Why fight bad news, for it is out there for presentation and reception? Just see the troubled world as a reality in which we come to cope and meet head on in a spiritual way.  Take for granted that the reporter who finds such existing phenomena is more worthy of promotion, and so the scramble for more and more hidden sources of evil and destruction inspires his or her more graphic reporting.  However, a failure to name killers and terrorists could greatly reduce the copycats; we leave off names of those underage; why report those who break the law as though the publicity matters?  If left unknown perhaps many will forego the temptation to be someone important for a moment of terroristic glory.
          Alternative solution: Overpower with good news.  The opposite of bad news is a plethora of successful plans, reports and past stories of positive actions by people who have made a difference.  It is promoting a series of human models who overcame the odds and performed feats of service for others.  An in-built problem with this is that the models can be painted better than life.  This may lead people to retreat into their own inner misgivings as to whether they could imitate the performers in the success stories.  Just be yourself, and look for times to perform charitable deeds.
          Balanced approach: Mix good news and bad.  A sense of failures and successes could be regarded as a realistic approach of which some media do attempt to comply, at least in the total weight of the news when once past the headline stage.  Much depends on how the stories are composed.  In an age of troubles good things still happen, but some like to critique them unfairly.  The tendency is to either inflate for competing headlines or to deflate to make the budding models imperfect people more to our tastes.

          An emerging solution: focus on ultimate success.  Perhaps there are too many good and bad items, and we suffer from information overload.  More attention must be given to singular events that focus, rather than spread out scatter-shot across the media landscape caused by competition-prone outlets.  Ought we to pick and choose, or is this not the expertise of news directors?  Ultimately we are our own news directors, and what we watch is up to us and our ability to decide not to surf channels but settle on balanced news reporting.  Choice of news depends on our judgment.
          Prayer: Lord, give us the courage to find the news best suited for our benefit and to help others do the same.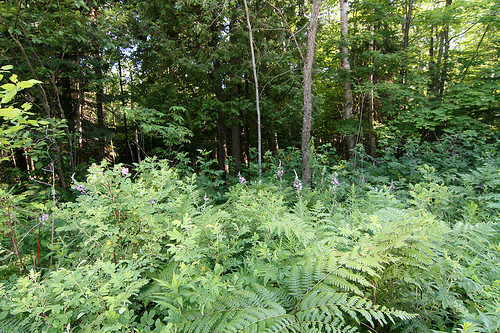 Bracken fern near trail, St. Ignace, MI
(*photo credit)
June 4, 2020      The Utterly Divine Gift
          Pentecost has many aspects that we cannot grasp fully in a single event.  In fact, that is why the Pentecost Season lasts until the end of November -- a half year of time to reflect on how much the event touches our daily lives.  We can grow in awareness of an immense Gift that is given, when Christ ascended and the Holy Spirit came and rested upon the disciples.  As followers of those first inspired we have become inspired through Baptism/Confirmation to act as other christs in our world.  The good Spirit moves us to say and do the right thing for the betterment of all.
          Testimony abounds.  In the Old Testament there was mention in numerous places of God's Spirit resting on groups or individuals: David, the various prophets and others through a divine favor.  In the New Testament the rare expressions of divine inspiration has now extended to all the faithful through sacramental life.  We receive the Holy Spirit as God's great act of love and mercy, for this is now given to each and every one of us of whatever race or color and economic condition.  The Spirit knows no boundaries and manifests God's providence and power in a world all too often lacking in attention to what is really happening. 
          Respect the Gift with gratitude.  The great generosity of God is revealed to us individually when we seek to do some good works.  We discover what to say and how to react when it does not seem possible to find the right words.  When these things happen say "Thank You, Lord."  We respond not only in the inspired manner but with a heart-felt gratitude that God is with us in our immediate and longer-range needs.  Respect comes in awareness and acknowledgement of the Gift given that we are certainly not deserving.  Why do humans exist except to say thanks?
          Show need to share our Gift. God is exceedingly generous and worthy of our immense gratitude.  Inspiration has several attributes: it comes unexpectedly even when desperately needed; it manifests God's creative hand in the universe, in life itself and in guiding our rightful deeds; it triggers a response through enthusiasm or an awareness that the Lord is with us in a special way.  This has a contagious effect on those around us, for our inspiration leads to their being caught up in being moved to do something in their own unique way.  The tongues of fire have jumped to neighbors and the harmony now extends to the world through the instrumentality of our inspiration now being shared.

          Evangelize through gratitude.  Awareness of God having given something very special impels us to a more permanent condition of thanksgiving that swells up in each of us when least expecting it.  This is the basis for "praying always."  This does not stop at the individual level but becomes socialized in swelling up with a message to tell the world the Good News that it craves to hear.
          Prayer: Lord, inspire us to help renew the face of the Earth through use of our hands, head and heart.
---
The Experience of Confronting a Real World
     June is a new and promising growing season, even amid this distracting pandemic.  We cultivate gardens, trim overgrowth, and pick mulberries and raspberries.  We crave the full span of sunlight each day to raise the spirits and give us needed Vitamin D.  Yes, during the month, springtime freshness fades like a youthful blush giving way to middle age.  Even deep-colored black-eyed Susans ushers in a special summer tone.  With limiting social contacts this year, we search for ways to go outdoors and yet physically distant from neighbors.  Our experiences have a certain singularity while we hope and pray for the safety of all people.
     This June's eco-spirituality involves answering the call to be resilient, upbeat, and cheerful; we seek to pace ourselves maturely, reaffirm our collaboratory mission through use of virtual social media, and prepare for a summer of trying times. Liturgically, this is a fitting transition to the long Pentecost season when our endurance and commitment to Christ are tested.  In a normal June we might travel more and explore different surroundings; now we can become more familiar with the local outdoors and recall travels of the past.  Our limitations are before us and we are keenly aware of being at the mercy of powerful natural forces.  While lowly, we are challenged in summer to realize our spiritual empowerment.  The Almighty teaches us how to be interactive in a challenging natural world, if we only take the time to see, listen, taste, smell, and touch the Divine Presence found in creation.  This year we must use our sense more in an individual fashion and apart from the reaffirmation of others.  Consider these experiences or recount memories of former actions:

     Daydreaming in the back yard.  We may not travel this year but can remember pleasant adventures of the past. Maneuvering the hidden recesses, sheer heights, and the rugged character of rock formations required close attention, especially when foliage was dense and the footholds ahead concealed.  When we observed prominent cliffs and jagged rocks from a distance, they seemed ever so enchanting; up close, we experienced cliffs and caves as barriers to conquer and challenges to explore.  In troubled times like now are we afraid to journey near life's jagged edges and be ready for what lies ahead?  Do we have an insight into the wilderness of our soul?  Can we find ourselves in the rugged terrain and somehow conquer our uncertainties and move on to what lies ahead?  Memories of those climbed rocks have a way of eliciting new questions about our continuing journey of faith.
     Experiencing the sounds and sights of storms.  I had to get the cow with the newborn calf to the barn because the distance was great and the sky threatening.  Upon finding them I tried to carry the calf but it was too heavy for a youth of ten or twelve.  I tried to drive the cow but she went in circles back to the walking calf.  Finally she nudged me and moved me to go first, and she followed and the calf trotted behind her.  We made it to the barn before the storm; what I learned in this close shave with storms is that we must go ahead and allow others to follow -- not drive them.  The cow taught me a youthful lesson, for God speaks to us through lowly creatures if we but listen.
     The sounds of creation vary in volume, tone and pitch -- and even with the seasons.  Other powerful sounds (earthquakes, mighty waterfalls or the crash of an ocean wave) are rarely experienced, highly localized, or too far away for inland residents.  However, distant or local thunder rumbles and close crashes give us a sense of powerlessness.  Dogs and other animals are often terrified by a thunderstorm, for it hurts their ears and triggers strange and unexpected behavior on their part.  We are at the mercy of the God who sets this world in motion: we could be hit by lightning, washed away by flash floods, killed by earthquakes, or burned by flames.  All life has its thunderstorms deserving of our respect in chaotic times, but through endurance we crave gentle breezes and are ever so grateful when they unexpectedly occur.
     Savoring the priceless gift of cool water.  As a doe longs for running streams, so longs my soul for you, my God. (Psalm 42:1)
Water has a particular taste in different places and we when thirsty are blessed when close to running streams, and doubly blessed if we can drink freely.  Much of our water is like our lives, demanding secondary treatment for fear of organisms that might be present.  In fact, some foul‑tasting mineral waters have been regarded for centuries as curative and healthy to the fortunate ones who have the means to "take the waters;" the unpleasant taste accompanied the anticipated curative process of soaking, sipping, and sitting around mineral-spring resorts.  But clean, soft, and good-tasting water is inviting, and ought to be accessible to everyone.  Let's enjoy the sound and feel of running water along with an inviting taste under proper conditions.
      Smelling natural scents.  Isaac, the patriarch, though blinded, still had a sense of smell, and could distinguish his sons accordingly.  Perfumes and scents identify individuals as all dogs are most aware.  Incense, a liturgical substance associated with the church assembly, has its place in raising our minds and hearts to God.  We know particular smells of some animals, the pole cat, sweaty horse or wet dog.  Every season has its special odors and June has the particular one after a thunder storm.  Recognizing these aromas keeps us in touch with reality for better or worse.
     Touching Earth.  Some regard earth as cold and lifeless, and it certainly can be during frigid times.  But let's think of Earth as warm, for this is our cradle, our refuge, our stronghold and our final resting place -- but that's a partial story.  Feeling humus makes us humble and indicates to us that God alone is our true refuge and harbor of security.  Only in God do we trust.  If we but touch soil with reverence, we learn something about ourselves.  We may be tempted to think the long days of June will last forever, but already by the month's end in barely perceptible ways days are shortening.  And so are our days.  Let's confront our natural world as a gentle friend calling us to be aware of our shrinking mortal span.  We are lowly and yet called to glory.
---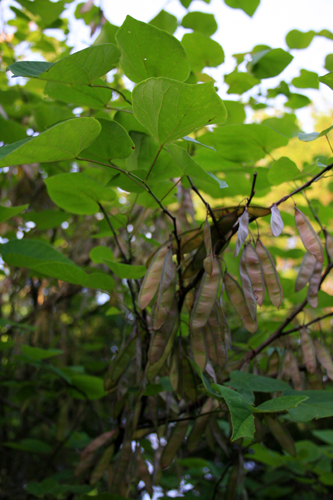 Pods of the redbud (Cercis canadensis).
(*photo credit)
June 5, 2020    Fiftieth Anniversary of Earth Day

        It is hard to realize that fifty years have elapsed since the feeling of solidarity among concerned citizens back in 1970 at that first Earth Day.  In that half century our understanding of needs have expanded immensely.

          Environmental knowledge in 1970 was limited:
     1. We expected environmental solutions in too short a time by focusing mostly on polluted air and water conditions.  The correctives seemed to be clear and it was a matter of governmental prodding of offending industries to clean up the mess.  Much progress was made on these fronts within a decade.
     2. In 1970 we did not see clearly the impact of greenhouse gas emissions on how they affect climate change; fossil fuels, especially coal, were sources of toxic pollutants and land disturbance through surface mining, but the carbon dioxide from fossil fuel use were not yet fully understood.
      3. Environmentalists did not understand that disparity of wealth is related to problems and that the consumer culture was deeply influenced by powerful corporate and media influences.
        However, even at the early stages the wisdom of Rene Dubos was being heard of the connection between global and local issues:
It is fortunate that practical necessities will compel local solutions to global problems....The ideal for our planet would seem to be not a world government, but a world order in which social units maintain their identity while interplaying with each other through rich communications networks."   Celebrations of Life
          Environmental experience in 2020 is more mature:
        1. Problems such as global warming and threats to native species are better understood today thanks to accumulated knowledge over the last half century along with the work of a host of non-profit environmental groups.  Naive notions of solutions coming easily have been debunked and a more systematic approach is being attempted at all levels of government and private organizations.
        2. A partnership of organizations at all levels must work together and this extends to the community of nations through such groups committed to the Paris Climate Change Accord.  However, the denial of such powerful groups as Big Energy and their clutching at the throat of the U.S. Administration means the battlelines are drawn, but victory is being delayed with the threat of global catastrophe.
        3. A change to a needed "Green New Deal" is in the offing but not yet part of workable public policy.  Whether it has a chance with stakes so high at this time is still unanswered.
          Prayer: Lord, help us see what is needed to save our threatened Earth and to do all in our power to act accordingly.