Sycamore in March snow.
(*photo credit)
March 1, 2013    May Benedict XVI Have Time to Write
     The world's wealth and resources do not belong to the select few; they also belong to the poor.  Benedict XVI
     Our recent pope's words speak of his love for the poor, his sense of justice, and his courage to say what many hesitate to utter.  He is a humble man of immense intelligence, and we pray he has more time in old age to continue his writing ministry.  His book, Jesus of Nazareth, which he describes as "My personal search for the Face of the Lord," is an inspiration for all who follow Christ.  He says in the Foreword with intellectual honesty, "Everyone is free, then, to contradict me. I would only ask my readers for that initial goodwill without which there can be no understanding."  
     Benedict is regarded, through talks and writings as the "green" pope.  He established a commission of leading scientists in the field to help prepare a 2011 Vatican report, Fate of Mountain Glaciers in the Anthropocene that listed a series of practical steps that must be taken in the light of impending climate change and its affects on all the world's inhabitants.  Special concern is for those who will be victims of extreme weather events triggered by changes now occurring.  The thrust of the Pope's understanding of the environmental crisis and social justice is seen in the light of his challenge to Jesuits to "reach the geographical and spiritual places where others find it difficult to reach."  Speaking about the depths of the environmental crisis fits this mandate; thus, the digital book we are publishing at this time entitled Reclaiming the Commons: Challenging an Enlightened Church to Act (Brassica Books).  You may download this "work in progress" and use contents only provided you cite the passages.  The book is dedicated to Pope Benedict.
     Admiration has grown in the struggles and turmoil surrounding Benedict's papacy in this century.  He never hesitated to speak exactly what he thought such as this opening paragraph in his 2013 New Year's message -- It is alarming to see hotbeds of tension and conflict caused by growing instances of inequality between rich and poor, by the prevalence of a selfish and individualistic mindset which also finds expression in an unregulated financial capitalism.
     Rarely if ever have we seen such strong words from the Pope on the social issues that plague our times; these conditions hold us back from addressing the environmental crisis and its root cause in the materialistic consumer culture, so championed by much of the world.  The Pope has been a voice of reason and unwavering attention to the right to life and the need to preserve our wounded Earth -- a singular concern that must be addressed by world leaders.  He has spoken out for global controls in areas of immense need.  May his voice continue. 
     Prayer: Lord, give Benedict more time to write and speak on issues that he clearly sees and is impelled to express.

Vedauvoo formation, Wyoming.
(*photo credit)

March 2, 2013      Championing a Wind-Energized Economy

     Note that the title is not a Wind-Centered New Economy as some of my environmental friends (Lester Brown's team) suggest.  The reason is that the change in economic system to a more sustainable one must be based primarily on fairness for all people, without which world security cannot be attained.  People come first in a new economy, and no technology is a permanent solution. 

     Renewables are coming rapidly, but will they get here fast enough to stave off terrible climate-change effects?  Actually, wind as a fuel source is one key to avoid runaway climate change.  The Earth Policy Institute (EPI) shows that as of the end of 2011, solar power had a total global capacity of 70,000 megawatts and geothermal 11,000 (though potential for growth is still immense in both areas); however, at the same time wind had a capacity in 80 countries of 240,000 megawatts.  Both China and the United States lead in this truly win/win competition as to who can stay ahead in wind development.  The report from EPI states that the expected growth of wind is 30% per year, and with agreeable national policies this could continue well into the century.

     Offshore areas near one-third of America's population are open to large-scale wind farms, the potential of which has not even begun to be tapped.  In fact, Atlantic Coast offshore wind (regarded as "outstanding" by the U.S. Department of Energy) has the estimated potential of 54 gigawatts or equivalent to 52 coal-fired plants.  Likewise, experts say that utilizing wind in only the prairie states of North Dakota, Kansas, and Texas (though near less densely populated areas) could furnish all the energy needs of our nation from wind alone.  Wind is a prime candidate to furnish a major source of electricity to replace coal because of ease of plant construction and due to being benign environmentally.  Wind applications could include wind-sourced recharging of a new generation of electric vehicles, a replacement for petroleum.

     Expansion of electricity generation from wind is more than a theoretical possibility.  This phenomenon HAS been occurring over the past few years.  American wind generation capacity (albeit from a lower starting point) increased 45% in 2007 and 50% in 2008.  The growth potential is immense with the entire world catching on in varying degrees.  EPI says that the global increase of 40% in a decade, with no major catastrophes, could end this decade in 2020 with 5 million megawatts of wind-sourced capacity.  That would satisfy all increased energy needs by this one renewable source alone.  Adding other renewable energy sources brings the total to 7.5 million megawatts.  Yes, we need other fuel sources when wind dies down.  But optimists question whether we need all of that coal and petroleum in the energy mix.  Can hydro, geothermal, and biofuels replace natural gas in the next few decades?

     Prayer: Lord, allow us to see the need of a new economic order with its primacy on human quality and welfare.  Holy Spirit, allow us to be energized by promises of wind as a choice energy source.

An old bucket at a well.
(*Photo by Valerie Everett, Creative Commons)

March 3, 2013    Woman at the Well and Frank Conversation

     When a Samaritan woman came to draw water, Jesus said to her, "Give me a drink."  His disciples had gone into the town to buy food."      (John 4:7)

Ordinary conversation makes the world go round, but this exchange mentioned in today's Gospel is monumental, not routine.  Conversations have been the routine at village wells for centuries.  That is where drawers of water socialize.  In my sole trip to Haiti I once looked out the window and saw a tiny girl carrying a large bucket of water up a steep path.  That would have been forgotten had it not been an hour later when I again saw the same girl with another bucket of water.  Oh yes, one person told me, Haitian kids carry water for an occupation. 

     Jesus' chance meeting with the nameless Samaritan woman is an encounter with a drawer of water (see 3/15/09; 3/7/10; and 3/27/11).  Jesus' request breaks the routine of her life, and it is forever changed.  Of all the conversations in Scripture this is perhaps the most extraordinary.  The woman does not want to talk since Samaritans do not customarily speak with Jews and a man at that; she frankly says so.  Jesus reciprocates with frankness as well.  He brings up that if she knew him, she would have asked for living water that he could give.  This drawer of water becomes the first missionary and carries out her ministry by going back to her village and bringing the Good News to them -- and even amid her reputation the village comes to meet the one with whom she has had a frank conversation -- and reveals her past.  Jesus' frankness extends to her personal life and to religious differences as well.

     This particular conversation is one of going out to gather in the harvest that is so ripe for the picking -- and yet too many of us are caught up in the routine of our cell phone conversations that manifests importance, busyness, and connectedness.  But such constant talking on cell phones ignores the person next to us, who may want silence and peace or may want to talk; if we enter the conservation gently and with an intent not to convert but to engage we may exchange something.  Here Jesus comes as a beggar; he is thirsty physically for water and spiritually for communion with us. 

     An application of fetching water can be part of our lives.  We are hesitant to engage in conversation with others for fear of breaking their routine -- or for being regarded as intrusive.  The opportunities may come if we are sensitive enough to perceive them.  First impressions are lasting ones and we must put our best foot forward.  The woman at the well sees that Jesus is different and the conversation proves captivating.  We need not intrude, but we can do what Jesus does and invite frank conversation when the right  opportunity affords itself. 

     Prayer: Lord, give us the insight to see when it is time to converse and when to keep silent.  May the Spirit speak for us in such occasions that may chance come to us.

The rushing Kentucky River after March floods.
(*photo credit)

March 4, 2013         Remembering the Sounds of Floods

     Water sounds can be so life-giving when we need a cool drink or take a shower.  However, raging waters from floods and storms can be frightening experiences.  Some water sounds resonate with us many years after perceiving them for the first time.  I recall the sound of a flood that came up so suddenly in Rockcastle County that I could watch the swirling water come across the road and engulf the narrow valley with its relatively large watershed -- the sound of that roar and my helplessness in the face of this onslaught is vivid today. 

     In mountainous areas upstream heavy storms can unloose massive amounts of water that can inundate the landscape downstream in very short periods of time.  And floods in these parts can come any season of the year, but late winter floods stand out most in my mind.   This is what we recall and show photos of in our book, Appalachian Sensations: A Journey through the Seasons as presented here:

March -- The Frightening Flood Waters

     YHWH, the rivers raise,
     the rivers raise their voices,
     the rivers raise their thunders;
     greater than the voice of the ocean,
     transcending the waves of the sea,
     YHWH reigns transcendent in the heights.
                    (Psalm 93: 3- 4) also (Habakkuk 3:10)

     I never felt more helpless than when the flood waters reached the highway (KY 1329) and raced down it, showing the speed of the rising waters.  I stood breathless and listened to the roar of the tide as it came through the narrow constricted Rockcastle River valley from its upstream watershed.  The runoff comes so quickly with surging water bearing the making of disaster, an unwelcome but all too regular Appalachian event.  Flooding rivers and creeks evoke terror on Appalachian minds, especially for children roused from sleep by parents to seek higher ground. 

     Our love of rivers and creeks is tempered with respect for these unmanageable creatures.  Waterways have their quiet moments for wading, fishing, or swimming, but then tide waters swirl and wildlife and humans scramble for a safe place.  "If the creeks don't rise" is an Appalachian saying, referring to flood tide.  Nature teaches us to treat our streams well but to keep our distance, especially when gentle waters give way to rampage.  Nothing teaches us respect for nature better than a rapidly rising stream when the rains pour down upon us.

     Prayer: Lord, give us the stamina to carry on even in the face of weather extremities that can be so disruptive and even destructive.  Help us encourage others to be prepared and to live through such events with trust in you.

Finding signs of spring in the forest floor.
(*photo credit)

March 5, 2013           In Defense of Daydreams

     Your old men shall dream dreams and your young men see visions.  (Joel 3:2)

     For an old man to refuse to dream today may go against the prompting of the Spirit and would be a denial of his calling.  What if I do not like what I dream about and tend to forget?  In my youth I did considerable daydreaming and liked it, since if the story took a wrong turn it could be erased and recreated.  Gradually with more demands these dreams dimmed and then there was no time left for such far-fetched pastimes.  Daydreaming took up the time of repetitive farm work (hoeing tobacco or replanting corn) or riding a school bus.  While these dreams were fiction they were not so fanciful that they could not have been real.  Later I opposed fiction writing and yet had been its champion as long as I did the composing and character-building.   

     Now in old age Scripture tells us we are supposed to be dreamers inspired by the Spirit.  In fact, one of the drawbacks is we hope to stay optimistic and yet the journey of our good Earth leads to frightening scenes that we do not want to share with others, in dreams or in tales.  If the climate changes in ways currently forecast -- and we fervently hope those are wrong, the extreme conditions will put great stress on the world of the next generation.  Perhaps the Spirit is prompting us to reveal these dreams, since in doing so we give a bit of wisdom to those who deny what is happening.  Failing to daydream the practical result of current trends makes us no better than people immersed in fiction and refusing to face reality today. 

     There's a time for everything under heaven.  While not liking to daydream in older age, I did create one piece of fiction representing my nephew when he becomes as old as I am.  The story is of a grandfather taking a trip with his grandchildren out West in 2050.  The world of forty years hence is not presented as a fully likeable place, but it has good moments.  This was the last work I showed my co-author/editor Kristin Johannsen before her untimely passing in the autumn of 2010.  In fact, she gave me a detailed critique a month before her passing -- and said it needed much work.  So I put it aside. 

     Daydreaming with such a story is perhaps worth resuscitating.  Prophesy is seeing the future if the present continues on its inevitable course -- but won't little twists and turns make it unbelievable a few years from now?  Older age is a good time for dreaming, not of impossible futures or overly optimistic ones.  If we could freely dream in sleep and write them down with prefect recall it might be fascinating.  But even more a propos, "Is daydreaming a healthy approach to a somewhat sick world?"

     Prayer: Lord, inspire us to speak what we foresee so that others can help ensure it doesn't happen that way.

White-throated sparrow, Zonotrichia albicollis.
(*photo credit)

March 6, 2013   Dreaming about the Future: Alternative Scenarios

     Daydreams differ from those in sleep because we can modify them to become ever more realistic.  We prefer better solutions to seemingly inevitable world problems; thus daydreams look at ruin and disaster or success and happiness.  Prophets speak of what will happen unless --  but the unless can take two courses: here are alternative ways of daydreaming, one resorting to becoming a remnant awaiting a better future and one involved in actually building a New Heaven and a New Earth:

     1. Freedom under threat -- Freedom of faith will erode because positions are out of fashion, and holding them is a form of "bigotry."  Because of paralysis in democratic lands, more authoritarian regimes may come into the fore.  Because it is so unfashionable, church attendance diminishes in areas of former affluence, even from countries undergoing persecution.  Free expression could be strictly curtailed and mention of past history is strictly forbidden.  Travelers require permits to visit cities.

     An alternative picture finds freedom expanding.  Though secularism seems to triumph, there is freer expression in speech, voting, and ways of expressing religious belief has flourished worldwide.  The entire Christian community (though still diverse) has become far closer through an ecumenical council in which virtually all religious bodies participate.  Religious communities flourish in Asia, Africa and the Americas.  

     2. Environmental nightmare or possibility -- The longer range goal has been to keep global temperature increase to two degrees Celsius (3.5F) since the start of the industrial revolution (it has risen 0.8 degrees to date).  This now seems impossible since carbon dioxide levels have risen 50% since the year 1990 and the pace of growth has picked up since 2000; China's rate of emissions is now 50% higher than the U.S.  Will all this bring rising oceans, melting glaciers, floods, droughts, and threatened flora and fauna?

     An alternative world involves a concerted effort to convert to renewable energy in wind, solar, hydro, and geothermal and to do so in an equivalent world system where the local regions have greater autonomy.  Weather patterns return to normal.

     3. Instant communications disaster -- Revolutions in technology make world connectedness a reality that allows us all to be far more closely linked than before.  The disturbing reality includes knowing the bad side of poverty and seeing it as if next door.  On the other hand, the media is vulnerable to sabotage and the entire dependent world is paralyzed.  

     An alternative scenario is to eliminate spam and to take care of the unattended by instant response teams who act like the 911 corps of the world, and these have to some degree replaced 20th century militarism.

      Prayer: Lord, if we must resort to daydreaming, help us turn to practical alternatives that will inspire others to effect change for the healing of our wounded planet.

Intricate fossils in "Kentuck River Marble" (limestone).
(*photo credit)

March 7, 2013     Perpetua & Felicity and Modern Temptation

     Today is the feast of two North African martyrs who died in 203 under the persecution of Septimus Severus.  Perpetua, a catechumen not even yet a Christian was a married noblewoman who had just given birth to a son and with her pregnant servant Felicity was arrested hauled before the court for refusing to honor the emperor as a god.  Her aged father pleaded with her to renounce her beliefs and all she had to do was put a grain of incense in the brazer before Caesar's image.  She became the first Christian woman writer of her exploits given in the Passion of Perpetua and Felicitas, a short essay quoted frequently by St. Augustine and honored in the early Church.  I reread the story annually because it is so inspiring.

     I am no Perpetua by birth, language, age, sex, color, social or religious status, or even physical martyrdom by wild beasts.  With such differences, why an affinity?  Because I am a fellow Christian pressured to renounce what I hold.  Recently, a very successful Catholic businessman saw my letter-to-the-editor in the National Catholic Register calling for fairness in comments on the 2012 national election issues.  He admitted to differing from my position and that he had read this column; he said openly that he would like to convert me to proper views on what I call a "dysfunctional global system."  He attempted to get me to categorize my position, saying he was from a progressive liberal family that saw the light -- and his CV had ivy league strands. 

     From the materials that he voluntarily sent me were what he regarded as "facts."  If I only reflected like he did on what seemed to be four themes and admit to them, there would be no financial worries.  His emails were frequent and enticing.  If I would at least come to his position, I could receive a generous donation. 

     Since this is a difficult year for money needed to keep this website open, I must confess I was tempted.  At one time I thought of equivocating (Jesuits are supposed to be good at this).  I would try to convince him that he was having an effect.  So in truth I called his contributions "interesting" (a neutral term), though in my initial correspondence I called his views "BS" having known the material by growing up on a dairy farm.  The theme-gods that he wished me to offer obeisance to seemed to be to accept the following: doubt that climate change is of human origin; the wealthy know how to make economic judgments because of success; the system is quite sound if the wealthy can have their way; and the Church (specifically the Pontifical Council for Justice and Peace) claims no teaching authority on matters of economic and finance.  Since his health appeared to be threatened by efforts in opposing me, I cut off communication -- and in one final plea he reminded me of losing a large contribution.  So be it!

     Prayer: Lord, keep us mindful of early martyrs who help keep us faithful and closer to you.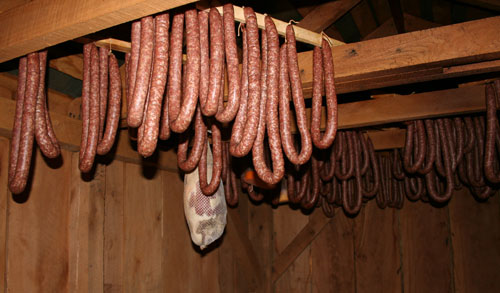 Homemade sausage and ham.
(*Photo by Charlie Fritsch)

March 8, 2013      Sausage Making

     On International Women's Day I could relate once more the many vegetable and flower gardening, food preserving, butter making, cow milking, yard caring, and homemaking tasks that my mother performed; let's not forget raising and dressing chickens, helping with crops, bearing children, and saying a rosary every evening.  Only one occupation in my memory did she dislike -- making sausage into links (some paddies were canned and she liked doing that).  The homemade sausage links in six-foot sections have a transparent outer lining called "casings," still sold by the English measure called "hank," (the term generally used in spinning days for commerce in yarn and thread). 

     The unfortunate part of the process that Mama hated was cleaning out the hog intestines contents and scraping the outer layers of fat and tissue on a board in a pan of water, in order to leave a transparent lining or "casings."  In fact, each intestine had to be turned inside out and that side scraped as well.  Needless to say, the process left an indelible mark on Mama.  When her memory was failing in her nineties, we kidded her while she was observing us making sausage at my brother's place.  We invited her to help us clean casings, and she shouted with full memory returned, "Casings!"  How cruel of me!

     The final sausage product did not reflect her disfavor at part of the process.  In fact, she and my father had a partnership in preparing this delicacy with its exquisite taste that involved spicing to taste, smoking the sausage, and cooking at the proper time and occasion.  The aroma of sausage filled the kitchen air for a hearty breakfast and at other meals as well.  It was generally eaten with homemade catsup and bread along with fried potatoes with onions.  Such fare could keep one going all morning.  Sausage dishes also appeared at other fancy meals with sauerkraut and along with a wide variety of vegetable and other dishes (300 recipes are available on line for pork sausage).

      The sausage, as made later by my brother consists in following handed down recipes -- using salt, red and black pepper, sage, and garlic for flavoring.  The long coils of about six feet of sausage links are tied at the ends and placed on a stick for smoking in a "smoke house" using hickory wood.  The smoking is also used for home-cured hams, and so the process is an art in which some of our family excels.  Meat preservation requires it to be done right.  Good sausage depends on choice selections of the best meat -- pork roasts and pork chops go into our German/Alsatian variety along with ham and shoulder trimmings.  We have never reflected on "hog-killing" as such, though it was a winter ritual usually occurring after tobacco was stripped and marketed, so it often was a winter chore.  We needed cold weather.

     Prayer: Lord, help us see that all good things come at the price of human effort, and that what we prize in food is in part due to the gift of taste buds you give us.

Lycoperdon pyriforme, commonly called pear-shaped puffball.
(*photo credit)

March 9, 2013  A Lenten Environmental Examination of Conscience  

     The great majority of people prefer not to delve too deeply into personal actions, but especially those within a consumer culture dealing with use of resources.  However, once in the sober season of Lent we ought to consider where we stand in relation to use of God-given resources.  The following is a partial list of questions to ask ourselves in the confines of private quarters or in Church before devotions or services:

* Do I waste items that could be stored, recycled, or extended in lifetime?
* Have I rushed out to buy what is unneeded or just after a persuasive advertisement?
* Must I take that extra food helping or desert or other snack food that is heavy in salt, sugar or fat?
* Am I tempted to buy the latest electronic device and regard what I presently have as outmoded or old fashioned?
* Is there some self-righteousness about my practices that have to be worked out?
* Should I drive less and walk or bike more?  Can I car-pool with neighbors?
* Do I dress warmly and reduce the thermostat in winter, or dress coolly and decrease the air conditioning in summer?
* How about my use of lighting?  Do I leave lights on and forget about them?
* What sort of environmental reading have I acquainted myself with in recent months?
* Could I use fewer chemicals in the home or in the workplace?
* Ought I to take some extra silent time, especially when overly tired or under stress?
* Are smokers allowed to light up in my space and do I have the proper signs all around?
* Will I budget the amount of TV time spent each day?
* Can I find ways to use less water in showering, cooking, watering garden and plants, and in brushing teeth?
* Okay, I'm not perfect; is that so bad or should I accept myself for whom I am?
* Where might I expand my garden space or are there limits to its growth?
* So I have to spring ahead with the clocks tonight, or leave it till tomorrow?
* Should I air out clothes and house or wait until spring is in full swing?
* Did I thank God that days are getting longer or just fret about the coming summer heat?
* Why must I be concerned about saving our wounded Earth when no one else seems to mind?
* To whom should I send these questions without making an enemy?

     Prayer: Lord, give us the energy to answer these questions sincerely and prayerfully, and change my ways for the better.

Explorations of an abandoned tunnel.
(*photo credit)

March 10, 2013   Laetare Sunday and the Blind Man's Courage

     He replied I told you once but you wouldn't listen.  Why do you want to hear it all over again?  Do you want to become his disciples too?       (John 9:27)

     In the middle of our Lenten forty days we pause from the austerity and allow a celebration to occur when we rejoice (Laetare Sunday).  The stories of courage among Christians allow this joy to be expressed, for their presence allows the entire believing community to rejoice, as does today's story of the blind man coming to faith.  There are still people in this world who will not give deference to the wrong persons, but will speak with courage as well as faith -- for both virtues are closely bound.  Recall that even the parents of this nameless blind man forsake him for fear of authorities and make him speak on his own.

     No passage in Scripture had a greater impact on my early journey of faith than this Chapter Nine of St. John's Gospel.  As I say elsewhere, what an honest and brave person!  He risked and was throw out of the synagogue, a protected religious institution in Roman times.  Now he was at risk of following Jesus and that was life threatening in this period in history, for he had no legal protection and could only live with courage.

     Solitary witnesses have existed down through history.  Such people as the young French maiden Joan of Arc (May 30, 2006), the Second World War Austrian Franz Jagerstaetter (October 21, 2009), and Henry VIII chancellor, Thomas More (August 24, 2006), or even the Roman saints we introduced last Thursday, Perpetua and Felicity.  These were people who lived in very different times and under widely varied circumstances but all were martyrs because they stood firmly for what they believed and gave a life for doing so.  Like the man born blind, they each affirmed that the Spirit was moving them, and each in a quiet courageous manner showed that the power of the state did not crush their own spirit. 

     The condition of blindness, as Jesus says, is not due to an individual or his parents.  The person is set apart so that the works of God may be shown through him.  As his blindness was not called for, in this case it is God's gratuity to give sight to this person who is then triggered to respond in a courageous fashion.  And in all frankness he so responds.  Even before the first martyr Stephen, immediately after Pentecost, this blind man refused to be overcome by being thrown out of the synagogue.  Thus, he was beyond the pale of protection by being part of a tolerated and protected approved religion in the powerful Roman Empire.  He was to be the first follower of Christ to resist the pressure of the state to conform and therein he was eligible to become bait for the lions.

     Prayer: Lord, give us the courage to endure the hateful spite of people who do not want us to wander from conventional ways and to think differently than the social herd to which they belong. Give Earthhealers courage to be solitary witnesses in this world.

The appearance of crocus flowers, giving hope of winter's end.
(*photo credit)

March 11, 2013        Emergency Grab-and-Go Kits

     I live less than ten miles and downwind from the Bluegrass Army Depot (the largest chemical weapons stockpile in America).  Great pains are being undertaken to destroy these mainly nerve gas agents within this decade, and no accidents have occurred.  But the Government is taking no chances and so issues each year a calendar to every household in our county (Estill) and the country where the depot is located (Madison).  One can find a reflection on planning for emergencies and what to take with you on a two-minute, five- minute and ten-minute listing (see August 7, 2006).  This material is still pertinent but this current reflection goes a step farther.  What about a "grab-and-go kit," and this has a wider application at times of unexpected floods, hurricanes, and forest fires?

     The critical consideration is whether you have access to your own or a neighbor's escape vehicle, which you can use to exit in short order.  Our plans assume a specified evacuation route that we are familiar within this county.  Those who do not have vehicles ought to make alternative plans with neighbors.  My plans say to put on shoes and get my wallet and car keys and if time permits, personal medicine (don't store in a parked car with summer heat).  I would have added a store of writings, but these are duplicated and kept at a distant friend's place.  Some would add a cell phone and other electronic devices and that is good, or at least have an address book and sufficient old-fashioned maps.  

     My auto equivalent of a grab-and-go kit includes the following (and I hope you will think up other items): sleeping bag, floor pad, change of heavier clothes, light jacket (handy at other times as well), heavy shoes, pair of glasses, crash blanket, (personal kit: tooth brush, toothpaste, razor, soap, pencil, small hand sanitizer, note pad, change of underwear, socks, handkerchief, matches, and comb), candles, matches in closed container, flashlight & batteries, litter bags, aluminum pan, utility knife, plastic cup, toilet tissue, duct tape, utensils, mechanical can opener, pliers, car tools, and large plastic sheet for cover along with cord.  A bottle of water and some jerky caps off this auto emergency kit.  

     The Norton Healthcare group has a fairly extensive listing in their emergency "Grab and Go Kit." Theirs includes water (one gallon per day per person for at least three days if evacuating) and a series of nonperishable foods, including dried fruit and granola bars.  This is really a home store for emergencies.  Other categories include pet needs, tools, communication devices (including hand-cranked radio), personal/medical needs, miscellaneous (waterproof container with medical records and critical information), sleep needs, and infant needs. A light-weight tent and camp stove increases average weight in the vehicle too much.  Some include family photos and financial records.

     Prayer: Help us stay prepared in spiritual as well as physical ways, and to be willing to quickly help others in need.

Hemp for building materials, grown in Australia.
(*Photo by Tara Jones)

March 12, 2013  Hemp-Growing Legalization Is Good Common Sense

     The time has come when hemp can rejoin corn, wheat, rice, and cotton as a major American agricultural crop.  It is an extremely versatile fiber, easy to grow, and now suitable as a money crop for some hard-pressed farmers. 

     It's not marijuana.  One argument to refuse the reintroduction of hemp to American agriculture has been its close relationship to its cousin marijuana.  This is more a question of failure to distinguish the two plants.  Believe me, no one wants to smoke hemp.  Besides, it was the efforts of the synthetic fiber industry that opposed hemp production and removed it in the early 20th century (except for a brief period in the Second World War when it returned to cultivation in Kentucky due to loss of foreign natural fiber sources).  Why even bring up marijuana?  Because the confusion in cultivated plants is the listed reason for suppressing hemp production. (See May 5, 2010). 
     Hemp is good farm economics.  Hemp was introduced into our state in 1775 at its first white settlement.  Kentucky was leader in the nation in growing hemp from 1840 to 1860 and hemp was the leading cash crop until 1915, when tobacco gained precedence. 
     Hemp is good ecology.  Hemp takes little pesticide and can be grown with low tillage requirements.  It can replace synthetic fibers in bags, coverings, and a host of other textile applications currently made from petroleum products.  Include the resource cost of oil refining and chemical synthesis when counting environmental impacts. 
     Hemp-growing is an example of insourcing.  The decline of hemp cultivation had several causes.  One was that steamboats replaced sailing ships with hemp ropes -- but that may not be a full answer because there were so many other uses of hemp products.  Another reason was that hemp shifted to the Philippines and other lower- cost foreign sources where imported jute, sisal, and Manila hemp supplanted it.  The hard expenditure of farm (slave) labor before labor-saving machinery introduction must be partly to blame.
     Hemp is a healthy replacement for tobacco.  Tobacco has shortened the lives of millions, whereas hemp has no such record (with exception of those hung on hemp ropes).  With labor-saving means of production, hemp now takes less hand labor than tobacco and can be grown far more economically using modern machinery.
     Hemp has a multitude of uses.  Some estimate 25,000 uses for both stalk and seed in areas of fiber, food, and feed.  In the past, historic American flags had hemp fiber as did the famous U.S. Constitution. 
     Hemp-growing is versatile.  The crop can be grown in many different types of climatic and soil conditions and thus has national appeal in agricultural circles.  Yields can exceed 800 pounds per acre, making this on par with other major crops in many growing areas.

     Prayer: Lord, teach us to use common sense in coming to choices that involve our means of livelihood.    

Sharing a moment with a friend.
(*photo credit)

March 13, 2013        Celebrate Good Samaritan Day

     How can one celebrate Good Samaritan Day?  In this age of diminished resources when the bulk of our incoming mail is begging letters, we wonder about our charity and what it means.  There are two types of Good Samaritan, the one who has to give an instant response due to an extreme condition (a fire or storm or accident requires immediate attention), or the condition that takes time to answer because the condition is more chronic than acute.  The Good Samaritan parable found only in St. Luke's Gospel involves a healing possibility to which we are called to respond.

     Privilege -- 'It is better to give than receive' could apply here, though giving service forces us to change schedule, lose precious time, and exert a commitment on our part.  Only the more spiritually mature will see such events and people entering our lives as God speaking to us about things.  In the poor victim whom we encounter we find someone calling on us to grow deeply in the act of giving.  The call is reason to celebrate.   

     Openness -- We pride ourselves by helping another in need before we find out whether this person is one with us in faith or other forms of similar relationship.  A human being needs help and we respond immediately and without stopping to see whether we could rationalize our refusal to help. 

     Counter to a culture -- Gradually we come to realize what it means to be neighbor to another, even someone who is alienated from the community.  Recall in the parable, the first two would have been contaminated by the blood of the wounded person and so passed him by.  So often in our society the passersby are average people who expect us to do for them what they would do for us in times of need.  We may be criticized for interfering in the accident situation before the professionals arrive.  The commonly held position is that victims have gotten themselves into the situation, so let them get themselves out.  

     Sensitivity -- An inability to see others in need occurs with a blindness resulting from affluence.  If we live at higher levels of expectations and material comfort we have little idea of what is happening when the victim is in real need and all we have to do is divert our eyes and not see him or her.  It is so simple.  But the Good Samaritan has the spiritual insight to see and respond to the need because neighborliness requires instant response.  

     Merit -- This is the least to celebrate for we do the task at hand for more than to be credited in the future for doing good.  However, while of imperfect motivation, the act may have a certain quality about it that is what is expected of believers.  We help another; that will overcome the blemishes of our past and this is worth celebrating at least to some degree.

     Prayer: Lord, give us the grace to become a first responding Good Samaritan and to be willing to do this generously.

Flowers of the silver maple, Acer saccharinum.
(*photo credit)


March 14, 2013        Gunbearers Are Insecure People

          On the weekend following the Sandy Hook Massacre I was notified by church members that they would not come to church if I mention gun control.  (I would have said the "last" mass killing but this homily was written at the time and American scenes of carnage are all too frequent).  I really hadn't intended to, for I regard diversion from Luke's account of John the Baptist's ministry as going contrary to the Advent spirit.  However, it was of interest that these people were so insecure that they had to voice opposition to what could have been said in a progressive audience.  Instead my attention was turned to millions of school kids who were aware of the killing of the little ones and did not want to return to school.  How do we minister to them?

     Many thanked me for the topic, even my tea party critics, but in the back of my mind was the possibility that I did not have the courage to endure another debate with other attacks that week on the Internet for affirming that climate change was of human causation.  I look a little deeper at some of these stern instant reactions and find a massive insecurity, the first that guns must not be controlled and the second that climate change will take care of itself.  Insecurity is behind a massive trillion dollar security system that simply reduces security; it is behind the desire not to tackle the heart of climate change and that is a dysfunctional economic system that must be changed in this age of globalization -- and which I intend to give more time and focus if I have breath. 
Insecurity or the failure to trust in God is behind so much in our society.  The week after the Sandy Hook massacre saw massive purchases of semi-automatic weapons and ammo.  Why?  Because these fearful potential gun owners had to have weapons and ammo before the government at a state or national level might take action.  That could include declaring these weapons of mass destruction and their ammo as banned from insecure bullies who needed them for supposed security.  They could not dream of a home without an arsenal (like we had at our home when growing up).  Guns are an illusion as to security and yet gun owners smother their insecurity with the constitutional right to bear arms.  It is pathetic if the "wimps with arms" would only see it as such.

     If time and energy permits I will continue in an effort to speak against this insane practice of allowing assault weapons to the crazies of our world.  The assumption is that addicted people can control themselves with weapons.  It is as though auto license holders should zoom through a playground area at top speeds because it is fun.  "Cars don't kill, only killers do."  Maybe from the time this reflection was conceived until it will be read after editing and photo selection, there will be some common sense placed in the federal legislation.  And let us then start to address basic insecurity in our culture.

     Prayer: Lord, give us the courage to speak to gunbearers and show them their basic insecurities as hurtful to others.

Admiring the March crocus once again, in purple.
(*photo credit)

March 15, 2013     Be Slow at Handing Out Superlatives

     We know people who like to hand out superlatives as though they have a fist full to pass around to friends.  "He was the kindest person."  "She was the most lovable person."   Maybe others found the deceased to be a penny-pincher and one who never shared much; yet being a faithful mourner the one knowing better refuses to speak ill of the dead.  On another occasion the guest is introduced by a string of superlatives to which members of the audience take offense. "She is the greatest contributor to this community project" when another quietly did a greater part of the work wherein she is given credit.  If God is the judge, another who is never pointed out may have been the greater. 

     Jesus actually gave out a number of superlatives to the little widow who gave out of her need to the Temple treasure, and the superlative to his cousin John the Baptist upon hearing of his death, calling him the greatest born of woman.  But Jesus will be the ultimate Judge of our scores and so deserves to hand out the superlatives -- but we don't.  We ought to be a bit more modest in our complimenting and most surely in denigrating another.

     First, a superlative means that we are superior in being able to decide who is the right person to deserve such a special title. Perhaps in such a delivery we have assumed the high role of making ourselves the sole judge of character.  Only God judges such people with complete fairness and there are literally billions from whom to choose.  

     Second, we could be only showing our ignorance about omitting another who as listener knows someone who is far better in the category we have just placed our candidate for superlative.  "He is the best pitcher in the world." Really?  Have we exhausted the search of all pitchers to make such a statement?  Are we the ultimate judge of others good or bad deeds?  Instead of saying this person is best or worst, we can qualify and say that he is the best I have yet discovered. 

     Third, it brings back times we have made such assertions and then lived to regret them by offending another.  I once bragged about my father's meat-curing skills as the best in the county and found others deeply offended when they thought their dad fit that category.  Giving superlatives to one is far different than simply saying the person is very good and letting it go. 

         In fact, in the casting of good terms, other than God no one deserves superlatives -- and it is both embarrassing for them and lacking in any true validity on our decisions.  I think we all ought to think of people's good qualities but leave it at that and not allow our judgment to make them the best.  In eternity we may be in for some surprises.

     Prayer: Lord, you are the kindest, the most merciful, and the perfect one.  Let you be the only one I give these credits.

Lenten roses, the hardy helebore.
(*photo credit)

March 16, 2013   Limits to Physical but not Spiritual Growth

     The shocker to many Americans and those from other affluent countries is that there are limits to growth -- that is, physical and material growth.  The Betrayal of the American Dream, a best seller last year, tells about this fading (unrealistic) dream in a very vivid fashion.  We do not want infants, gaining many percent of body weight or inches in height to continue such growth rates, because having elephants or twelve-foot tall adults is not our expectation.  We expect limits but maybe not according to the aspirations of Ben Franklin, that is limits to physical wealth and property as well?  Democracy would be far better off with specific limits, and he knew it.  With globalization and hedge funds the limits for groups "too big to fail" become critical.  We must think in terms of limits not so much to acquiring but retaining wealth.

The culture of greed flourishes with those who have received everything that they ever wanted.  This applies to individuals and to entire nations; they expect a continued procession of good things.  Can they (and we) accept limits to American growth and discover in the process that a new American dream may have happiness as its goal -- not material profit motivation?  The nation of Bhutan has a Gross National Happiness instead of material measures of success.  

     The title above made more succinct could be "Spiritual Growth is Unlimited."  The focus there is on the spiritual growth itself and is not contrasting it with the American Dream of sons and daughters becoming multimillionaires -- if they win the national grand sweepstakes.  Turn attention to spiritual things.  That is what the gift of "priest, prophet and king" refers to when anointed in Baptism and Confirmation.  We do not have to eat locusts and honey and live with clothes of camels' hair to still be somewhat similar to John the Baptism.  We are called to bring people to Christ.  The challenge when we give charity to the poor is to elevate them above the wishful thinking that they have of the material American Dream.  Invite them to dive into the infinite ocean of God's love.

     We are challenged through our prophetic role to rise to a new motivation as an American people, one where consumer spending recedes.  Let winning be trying to be first in changing rules for profit taking from money, to acts of sharing resources.  In some primitive societies the one who is able to serve the others better is the serving leader, not the one who has more than others.  We must call into question the very economic system that has made people gullible consumers bent on spending what they can grab, and then continue the insatiable quest for more.  We need to acquire a reasonable use of energy resources.  But as a nation we do not need people to make exorbitant salaries or material profits, and show these as models for others to try to imitate.

     Prayer: Lord, teach our nation to be more than grabby spoiled brats.  Help us learn to be sharers and make this a valid dream.

Rural scene in Lee Co., VA.
(*photo credit)

March 17, 2013         Martha, Mary, and Lazarus

     I am the resurrection. If anyone believes in me, even though he dies he will live, and whoever lives and believes in me will never die.                          (John 11:26)

     In this fifth week of Lent we treat once more a favorite text for funerals (John, Chapter 11).  This chapter is a short story much like the previous two Sundays also from John's Gospel.  In all three of these stories the cast of characters are entirely different but in each there is a coming to faith, first, the woman at the well (Jesus is living water), second, that of the blind man (Jesus is light of the world), and now the faith of Martha and Mary (Jesus is life).

     We see in this short story that Jesus is close to this little family and, upon hearing of Lazarus's sickness (not the beggar by the same name in Luke's Gospel), Jesus delays because the ending will be to the glory of God in people coming to faith.  After Lazarus' death, Jesus and the disciples come.  Martha goes out and says if Jesus had been there her brother would not have died.  Jesus replies that Lazarus will rise again and Martha acknowledges that this would occur on the last day.  Jesus means a resurrection now and says the words quoted above.  Jesus IS the resurrection and Martha acknowledges that he is the Son of God.  Before this greatest of miracles an emotional scene occurs.  Mary's arrival comes with the same comment that if Jesus had been there her brother would not have died.  Then Scripture's shortest verse appears.  "Jesus wept."

Jesus shows in this episode that he is the master of death and life.  He who has the command of the waves and storms also has command of all of life itself.  The calling is far deeper than the first story where he is living water, or the second where he is light of the world.  Water and light gives way to life itself.  The miracle is the coming to belief of many and a point of decision in John's Gospel of doing away with Jesus (the other gospels place this in the cleansing of the temple episode).

     At the heart of our belief is the resurrection from death, and this miracle centers our faith journey in that moment of coming to new life through God's grace.  We meet people who ask cynically, "Do you really believe in New Life?"  The belief is in eternal life, not that of Lazarus who has a reprieve for a period of time, but a life of dying no more.  Nothing else in what we profess has such a deep stirring, for the desire for unending life is so very deep in all of us, that to say we believe causes others to question us and to wonder whether there is something here.  Only in Christ do we put our hope for eternal life and the joy it will bring.  As this episode indicates, the miracle leads to belief on the part of bystanders, and this shakes the established order.

     Prayer: Lord, give us moments of coming to deeper faith, and let this faith be in Jesus' resurrection and that of all believers.

(*Photo by Warren Brunner)

 March 18, 2013   Swallows Return to San Juan Capistrano 

     Most of us live too far from southern California to be present today or tomorrow for some late winter bird-watching, namely, the return of swallows from their winter vacation in Argentina to the mission at San Juan Capistrano.  That unusual event is really not that rare, because each day now we hear the honking of the geese and numerous other birds as they return from southern arenas to our part of the country -- and each sight and sound delights us. 

     We all too often regard the sound of birds as their major contribution, but isn't it the sight of them in flight that inspired so many who dreamed of human flight in earlier centuries.  Birds pushed us to the fullness of human creativity and give us much to admire and imitate.  That is the theme of our Appalachian Sensations: A Journey through the Seasons with this March contribution:
-------------------------------------------------------------
                                 March -- Soaring Birds

           Look at the birds of the sky.  They do not sow or reap
       or gather into barns; yet your heavenly Father feeds them.
(Matthew 6:26-27a)

     Birds seem to be so carefree.   They have not yet secured tonight's meal and still they sing, swoop about, preen, and carry on as though they were millionaires without a care in the world. If I didn't have tonight's meal bought, paid for, stored, and prepared in some fashion, I would be quite upset.  However, even birds in long-distant flight sing cheerfully, and then rest a little amid no guarantee of added energy supply.  What a life! 

     From the seemingly carefree birds respecting no boundaries and operating on instincts, we can learn valuable lessons as Jesus indicates to us.  We, who pride ourselves on being Appalachians and always "free," are all too often susceptible to concerns and cares that truly restrict that God-given freedom.  We form the grooves in
which we find ourselves, struggling to move along rutted tracks of our human making.  We engulf ourselves in worry, and wonder what tomorrow will bring.  We cannot fly in the air like a bird; we can hardly get beyond our land-based confines.  We, who should trust in God who makes us free people, often restrict our own freedom through false hopes and desires which enslave us to routine and self-centered activities.  We are highly influenced by the worn pathways that others often make for us.  Let's learn from birds around us; they point out to us how we are to handle life's persistent concerns.
----------------------------

     Prayer: Lord, show us the carefree world of birds as a reminder that you take care of everything and that many of our own worries are better placed in your hands so we can enjoy life.

St. Joseph in the garden.
(*Photo by Vuctor Kuyabic, Creative Commons)

March 19, 2013    The Church Preparing to be a Catalyst of Change  

     What we are waiting for...the new heavens and new earth...
(II Peter 3:13)

     On this Feast of St. Joseph it is appropriate to talk about the Church as instrument to hastening the day of the coming of the Lord.  In healing our wounded Earth we know that individuals can do a little but not much; the entire Church working as one body could do very much.  We could catalyze growth in awareness and prepare for that final transformation -- an event we await with anticipation.

     In order to be a good catalyst the Church needs to be refreshed for the awesome mission ahead.  Renewing herself means knowing weaknesses -- and plenty of critics contribute here, confessing where change may occur, and making those changes for the better.  Agents of external change must seek internal development on all matters of importance, for such renewal manifests God's promise of being with the Church until the end of time.   This troubled world needs a beacon of hope.  Agents of change realize how powerless individuals can be without community support composed of committed groups working together.  The Church as a body of believers is that global community of support, and it must inspire action if it takes upon itself to do so. 

     The great temptation that faces all institutions is to be beholden to sources of wealth and thus limit one's freedom to speak by demands to appease the financial wellsprings.  Church leaders are not immune to such temptations to become beholden to the status quo, for he who pays the piper can most often call the tune.  In fact, such conformity only retards growth and fails to see the value of globalization when properly controlled.  The temptation is to silently nod affirmation to others who seek to retard change agents.  To distance the Church from radical change is an immense disservice, for the temple always needs cleansing of its moneychangers.

     Part of the Church's role is to develop good leadership skills and prepare and encourage members to be agents of change.  This can be done by the traditional routes of instruction in schools, leadership conferences, service training, retreats, and counseling and guidance.  But looking deeper, it may have to be done by completing the work of Vatican II through another Church Council involving all Christians of good faith.  Such an event would streamline Church administrative agencies from the top.  It would involve a better witness of collegiality as proposed at the last Council.  The time is coming when leadership positions will be filled through democratic participation by rank-and-file members.

     Prayer: Lord, teach us through the intercession of St. Joseph to see new possibilities so the Church will be an instrument of change in our troubled world.

American pokeweed, Phytolacca americana.
(*photo credit)

March 20, 2013    Preparing a Seasonal Garden Salad

     At the start of each new season of the year I attempt to make a twelve-part salad using most or all materials from my garden.  It is a good opportunity to do so on J.S. Bach's 327th birthday, just because garden plants like Bach's and other classical music.  The challenge at each time of seasonal change (especially in winter) is having the magic number "twelve"-part garden salad.  Sometimes I add an ingredient from a neighbor's or parishioner's garden that can highlight the season; in rare cases I use preserved produce that came in earlier but is already past its productive period -- but that is hardly the case between winter and spring. 

     This is first drafted about three months before the crops are grown and harvested for the 12-part spring salad.  The listing has been updated depending on the foibles of the 2013 winter.

* turnip tops -- they grow when sheltered through winter provided the season is warm enough.
* kale leaves -- a hearty and highly nutritious brassica that ought to be grown whenever possible. 
* mustard greens -- I like to put this variety as a border to my garden to ward off the rabbits.  
* chickweed foliage -- good in winter but not available by mid-spring due to seeding.
* garlic spears -- this winter garlic is really best at this time of year.
* carrot roots -- a holdover from last summer provided the varmints do not find them first.
* dandelion "mess" -- yes, under the leaves are some fresh dandelions for the picking.
* polk salad -- if the leaves are already up depending on late winter weather.
* endive clumps -- a green that endures the winter cold better  than most and is quick to grow again.
* collards -- what more can be said but this is really a mainstay for the year-round garden?
* oregano buds -- the first leaves will be well received as
for herbal flavoring.
* mint leaves -- I have four varieties and one or other will have enough leaves at this early time.

Other possibilities: In addition in some years I grow parsley indoors and that can be an added treat, for it keeps the mind alert and deserves a sprig a day for people of all ages.  At other times I have some arugula, onions, radishes, and other wintered-over greens that are worth considering.  The field is not exhaustive and that is why the number 12 is well worth aiming for by gardeners who do not want to tire on certain veggies.  The garden salad mixture can be in various types and amounts and then there is the dressing that will give the extra flavor needed for the occasion.

   Prayer: Lord, awaken us to spring in all its many forms.

Stately forest elder.
(*photo credit)

March 21, 2013         Observe World Forestry Day

     Man is weaned of the forest, and yet the forest is very much a part of us.    Sir Frank Fraser Darling

     We could have titled today's reflection "Celebrate World Forestry Day," but there is not too much to celebrate when we observe how much of the world's diverse rainforest is being destroyed each year.  One pessimistic environmental writer (see April 17, 2009) considers that 200,000 acres are destroyed each day -- an incredible amount.  We do know there is too much deforestation along with poor forest-cutting and management practices, and a failure to return logged lands to a healthy productive state.  We could take stats from the Arbor Day people and recall how many trees are planted each year as a counter measure to the damage being done -- but is it enough?  Our forests can be productive when furnishing enjoyment to sightseers and visitors.  Recall that the U.S. Forest Service is part of Agriculture.  Would it be better as part of the Department of Interior and regard "productivity" as recreational potential?

     Let's observe this day by doing one of the following:

     1. Visit a forest on this first day of spring.  The life is only starting to stir and it is great before foliage comes to see the shape of trees and the abundance of life harbored in the understory.  My church is next door to the Daniel Boone National Forest and it's an easy walk to enjoy trees.  However, it may be more difficult for you; if a grove or park is nearby make a visit.
2. Plant a tree with all the attention given to species that is best suited, and the location and sun-space needed.  The sapling may need some protective material (gauze or protective cover) from wild or domestic life that may snipe its leaves or chew its bark.  Consider how this tree will ultimately fit into an ecosystem that will survive after we are gone. Be prepared to water in dry times.
3. Read about a particular forest and how much it is threatened or able to be preserved with better care.  A good reference is "Rain Forest for Sale," National Geographic, January, 2013, pp. 82-119.  Ecuador's President Correa has offered to leave untouched an estimated 850 million barrels of oil inside Yasuni's ITT forest block in return for $3.6 billion from the rest of the world.  A second suggestion is to visit the FAO Corporate Document Repository on the Internet to obtain reference materials for further learning experiences.
4. Consider forest benefits and influence a classroom's students and teachers to regard the many benefits as worthy essay assignments.
5. Contact your congressional representative to emphasize the need for funding for our national forest protection and programs; let's start to regard forest "infrastructure" employment to be a high level of priority to getting people back to work.

     Prayer: Lord, help us to see your great gift of forests to our planet and make us responsible to caring of them.

Nature's ikebana (Japanese art of floral arranging).
(*photo credit)

March 22, 2013  Why Such Brief Prayers at the Reflection's End?

     Some have suggested that these reflections either contain a full length prayer, or leave the prayerful last sentence off entirely, for most reflections are on secular environmental, homesteading, or other public interest issues.  Recall that prayers simply do not have to be long and the Our Father fits the brief category (Luke's version in Chapter 11 is briefer than Matthew's in Chapter 6).  Since God already knows what we are asking, it is the sincerity of our prayers that count, not length of explanation to the Lord.  For us, to conclude so abruptly in prayer is meant to indicate that our conversation with the Lord is ongoing and thus we include the divine throughout an otherwise secular reflection.

     Subject matter.  I regard all matters related to healing the Earth to be serious and worthy of a prayerful conclusion.  Our daily lives include matters of concern to which we seek the Lord's help.  Variety in subjects, even when on a secular activity, sharpens our minds and makes us open to new opportunities that may arise.  We gain in creativity when we learn about and reflect upon a host of daily happenings.

     Reflections ending in prayer.  We are called to pray always and include the human and divine in everyday life.  Certainly not all "prayers" are said mindfully; some are highly routine and have their own place, but each reflection here with one line titles is meant to be unique for that day.  The important issue is that we ought to be creative in the way we pray and thus reduce the temptation to be routine.  Part of our ministry is to bring people to prayer and so the environment and prayer is so very close.

     Ultimate purpose.  My fellow Jesuit and environmentalist, John Surette, tells in his Christmas message of the three workers who were asked what they were doing; the first said carrying stones; the second, making a livelihood for his family, and the third said "building a cathedral."  The purpose in these reflections go beyond the subject matter for reflection HERE and that is worthy of reflection for a variety of reasons.  It is more than what I am moved to do in my older age when my mobility is impaired and limited to making a living by writing NOW. 

     A third and deeper level of purpose is to go to the heart of cooperative efforts and involve WE.  The cathedral we are building is a healed Earth, a place where people can live a higher quality of life.  All of us must work together in whatever way possible to bring about changes needed to heal our troubled Earth.  The public needs to be alerted and learn to accept the threats as something they can help do something about.  However, this democratic task is not easy.  We need divine help to sustain our creativity and enthusiasm.  To stay on the steady course requires moments of public prayerfulness. 

     Prayer: Lord, help us select good topics, explain them in a proper way to our audience, and work together to heal our Earth.

Glacial melt in British Columbia.
(*photo credit)

March 23, 2013       The Arctic Sheet is Melting

     On World Meteorological Day (a climate science event) we are all the more aware that we look to scientists in the field of climate change to show where the world is heading.  Specifically, we are told things I would have never believed I would live to see -- the rapid disappearance of summer ice cover of the fragile Arctic Region and the loss of glaciers all over this planet.  In 2012 the extent of the ice melting was greater than in 2007 and clearly allowed shipping through the Northwest Passage -- the only positive aspect of global warming.   

     The National Oceanic Atmospheric Administration (NOAA) reported last autumn about the 2012 melting of the Greenland ice sheet, along with record summer sea ice loss even though air temperatures were not an unusually higher-than-average year.  The agency says that this involves both predictable and unpredictable happenings in a very sensitive portion of our planet.  The predictable was that this would happen; the unpredictable is that it would occur so rapidly and irreversibly, for NOAA says that it is highly unlikely that the former ice sheet state will return.  Why is this of significance beyond allowing easier and cheaper transporting of goods among Asians, Europeans, and North Americans?

* Ice is melting in the Arctic and other parts of the world.  Among the findings from the data collected is that sea ice extent fell to a new record-keeping low last September.  Furthermore, the Greenland nearly ice sheet-wide event occurred in July and all (97% of the surface) was affected.  The report did not connect this with overall glacier decline in recent years though the rates of decline have been disputed in climate circles.
* Tundra vegetative growth is greener and the summer growing season is extending throughout the region.  This weather change is being observed in many other parts of the world as well.  What does this mean for weather sensitive flora and fauna? 
* Weather extremities cannot be fully ascribed to a cause and effect connection.  However, good reason exists to believe climate change spawns severe cold weather in winter, record-breaking heat in summer, crippling droughts over vast areas and costly hurricanes when they strike a specific region.  We cannot dismiss the growing costs of these disasters following one after another.  In 2012, America's bill alone may exceed one-hundred billion dollars.

     Additional major problems involve sea and land ice and snow cover loss resulting in diminishment of highly reflective planetary surface, and this in turn will have a self-reinforcing warming effect.  The more ice cover that is lost, the faster the warming.  Furthermore as the warming occurs, methane from melting permafrost layers in Arctic regions is released in ever greater amounts.  We know that methane has about two dozen times the greenhouse potency as does the worrisome carbon dioxide emissions.   

     Prayer: Lord, shake our people into seeing the seriousness of the situation and to call for meaningful remedial action.

Palm Sunday procession, with daffodils in bloom.
(*Photo by Waldo Pepper, Creative Commons)

March 24, 2013   The Meaning of a Palm Procession

     Blessings on the King who comes, in the name of the Lord!  Peace in heaven and glory in the highest heavens. (Luke 19:38)

     This is a narrative of the triumphant entry of Jesus into Jerusalem before his passion and death.  The Pharisees tried to stop the crowd shouting for Jesus but he rebuked them and said that if the crowds keep silent the stones will ring out.  The public recognition of the Messiah is part of the story, but it is not the triumphal entry of an earthly king with parades and horses and pomp and circumstance.  This is a simple entry with Jesus riding on an ass in a humble manner of his birth, announcement, mission and eventually his suffering and death a week later. Recall that in Luke's Gospel his journey narrative takes Jesus from Nazareth to Jerusalem, just as the narrative in his Acts of the Apostles takes the Church from Jerusalem out to all the world. A moment of joy fills our hearts for the Messiah has come for all the world to see.

          Rejoice heart and soul, daughter of Zion!
          Shout with gladness, daughter of Jerusalem!
          See now, your king comes to you;
          he is victorious, he is triumphant,
          humble and riding on a donkey
          on a colt, the foal of a donkey. (Zechariah 9:9)

     This public entry shows the prophetic announcement of the coming of the Messiah is being fulfilled, and Luke is careful to express this.  King David entered in triumph to this city and this entrance of Christ is also public but humble, and not with the massive display of worldly majestic pomp.  The divine plan is soon to unfold and God's ways are becoming manifest for all the people to see.  Immense suffering is just beyond the horizon.  Jesus would say to his disciples on the road to Emmaus (Luke 24:26) "Was it not ordained that the Christ should suffer so as to enter into his glory."  The second contrasting display is soon to come as expressed in the same Chapter in Luke describing his driving  moneychangers from the temple.

     Today churchgoers pick up palm fronds and process in or around the church proper.  Movement from place to place is a symbolic sign of our own journey of faith and our profession of the coming of the Messiah.  No matter how much time is consumed, it is generally short in comparison to the liturgical celebration that includes a lengthy passion and death narrative.  We move from one place to another showing our journey of faith that has moments of consolation awaiting the realistic knocks of life still to come.  We are to undergo our suffering and death so as to enter into our glory.  We are willing to publicly profess our faith and thus are willing to do so even knowing that harder times may come our way.

     Prayer: Lord, let us acclaim Jesus our Messiah and King so that we can reach one day the new and everlasting Jerusalem. 

Petroglyphs found at Arches National Park in Utah
(*Photo courtesy www.TheEnvironmentalBlog.org)

March 25, 2013  Word Power: Faith in Words Spoken or Written

     On the feast of the Incarnation we consider Word eternally spoken to a world in need.  This raises deeper questions: Are these reflections the ranting of an elder or do they give some hope of survival beyond my passing?  They are not written in stone but are included in a "flash drive" that may or may not survive the rapid changes of communications devices.  Do words get planted in other hearts through charismatic tones or powerful word-smithing, or seep in the most subtle ways?  Do they have an audience that cares enough to remember just one or two ideas?  Maybe there is another element to be added. 

     Does our faith come to play here?  Written reflections involve words seeking to trigger or actualize deeds.  They must be more than mumbles and stumbles, of things well or poorly said.  They must be said with conviction that something will occur to give them power.  Can a speaker put zing in their speech or zip in words?  The challenges face all of us young or old.  Does our communication have lasting value either for the speaker or the hearer?  To effect change, the words need to be believed both by the speaker and the hearer.  I can fool myself and say it is the fault of the recipient.  I can philosophize that this will last until the next Twitter feed or Facebook image.  Certain giving and receiving is a two-way street and requires both parties.

     Do I believe in the power of words even after writing a great number?  Perhaps, there are levels of belief and of us on a journey of faith with the horizon getting clearer with time. The power of any words exists in the purpose placed there by the writer and the hoped for reception on the part of receivers of the world.  To doubt that they will have any meaning is to reduce that power, and the doubt comes through in the communication.  If I truly believe that I am empowered by the Incarnate Word within me, then these words have a power not from me, but transcending power of God working within me.  I must believe this power to give new life.

     Words give direction, focus on issues, refute harbingers of doubt, and encourage citizen participation.  However, sounding alarms, calling for prompt action, discussing benefits by joining others is effective, but words bring change when willingly received by believing people; these give living proof of vital words spoken or written.  Words can become incendiary; delivery styles excite emotions; anger spills into uncontrolled violence.  On a positive note, words spoken with power can inflame a world for the better; these can bring about new life.  If the magnifying power is of divine origin AND the one uttering truly believes, then words are offered to those empowered as well.  I must believe that these words can move others -- and will.  It is not false humility but rather a request through prayer for power to say things effectively, and let the Spirit do the rest.

     Prayer: Lord, help us believe that what is said will be received and what is received will lead to effective deeds.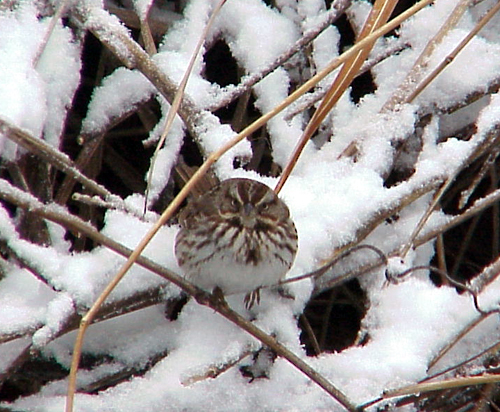 The Mad Song Sparrow (Melospiza melodia) in late March snow.  By Sally Ramsdell
        (*To read about the "Mad Bluebird" click here)
March 26, 2013    Realism Is the Best Earthhealing Practice
     We are constantly faced with reality, and that means we are to be balanced and not overly pessimistic or optimistic on our ecological viewpoints (see April 17, 2009).  Along with others concerned about environment I have vacillated in one or other direction.  When we try to arouse a tepid audience an apocalyptic or harder approach seems most appropriate (SeeReclaiming the CommonsChapter Six).  This creates an alarm which many flee through denial, excuse, or escape.  On the other hand, a soft approach that involves optimism may be dismissed as being taken care of by experts; the issue no longer is my concern.  Thom Hartmann in The Last Hours of Ancient Sunlight launches into a list of startling statistics in his book's introduction.  Not a rosy picture!  The opposite picture is painted in Rand McNally's America: A Celebration of the United States with flawless and incredibly beautiful scenic photography.   Neither approach works perfectly; neither approach tells the whole story.

     Realism is always a better approach for it builds ultimate confidence of success even if after our lifetime.  Realism is good spirituality for it follows that of Jesus and his mother Mary.  Both really saw what stood ahead of them and still followed the will of God in all things, not pretending that the world was in better or a permanently crippled condition.  Realism is seeing things exactly as they are, not too rosy or too confused.  Realism is accepting the knocks that come to us and knowing that no matter how bitter they seem at this moment, God will show us the way through to ultimate success. 

     This website mixes reflections that can be regarded as light and airy with those somewhat darker.  I find that working in a garden is the best approach when indoors conditions become too oppressive.   Our Daily Reflections are really a mix of a hard and soft approach, but telling others that best is to see all sides on an issue.  A prophet says that failure will come unless ...; another prophetic witness will say that success will come if we do more of this or that.  The realist will tell what must be done or avoided and not try to predict the future, because it will most likely not be what is foretold.  The key is balancing what is with what could be if all works well.  Contrary to our hint in a reflection of five years ago, it is not a mixture of optimism and pessimism but rising above them when both elements are present.
     We fight the fight with confidence that in the power of word translated into deed a good result will most certainly follow and our Earth can be healed.  Will it inevitably happen?  We do not know, for our only realistic certitude is that we must continue the struggle.  To suggest dire circumstances if we do not may be an imperfect approach, for it is our love to do what is right that drives us forward, regardless of the outcome.
     Prayer: Lord, teach us to be realists and to hope for a successful outcome without knowing how the outcome will occur.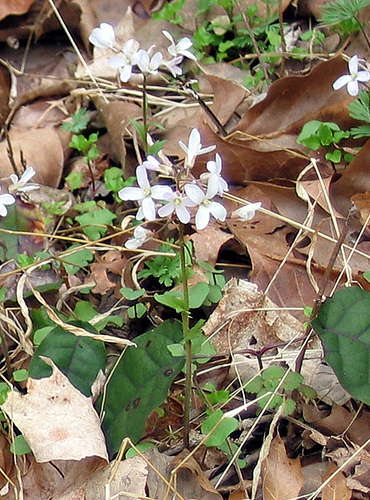 Cardamine douglassii, purple cress.
(*photo credit)
March 27, 2013    Spy Wednesday: Loyalty and Betrayal   
     The title Spy Wednesday is known to Christians who follow the liturgy of the "Holy Week", for on the day before Maundy (Holy) Thursday, Judas slipped away from the disciple band and betrayed his master for thirty pieces of silver.  To this day, the deed is so dastardly because of whom it betrayed and because it was the opposite to what Jesus does for us -- remaining loyal even when we disobey and go our separate ways. 
     Betrayal is part of our sinful character, and must be accepted by most of us as part of our lives at one or other time.  We regret our moments of betrayal.  Even the self-righteous need to tread lightly, for their moments of betrayal may blind them to seeing who they really are.  God awaits our return and offers forgiveness ever so quickly for our imperfections, which are truly betrayals.  Purifying ourselves means acknowledging our faults, asking forgiveness, and seeking to rectify disorders of our causing. 
     Loyalty as shown by God's grace to us is to be our own affirmation of renewal, even in hard times.  Marriage vows say "in good times and in bad," and that applies to all aspects of life, from early schooling to final illnesses.  Life is not always a bed of roses but sometimes thorns prick us.  Loyalty involves coming back again and again even when it hurts to come back.  We need to examine our own consciences and discover our disloyal streaks that ought to be avoided so we can become more perfect loyalists for the Lord.  Protecting our good Christian calling requires a return to trust in God through forgiveness and restitution.
     Spying is a form of disloyalty to those who trust us.  In fact, this spying into our lives occurs so often we hardly notice: the spam by telemarketers and robocallers, cookies in computers, advertising on cell phones and electronic tablets, cameras when we enter stores, and on and on (see April 4, 2007 and April 9, 2009).  Facebook and personal photos are now being commercialized; buying habits recorded and sold; privacy theft in many forms is rampant; and even our homes are publicized unless we make an effort to stay off the tracking devices.  Demanding our Social Security number by a business or bank violates the original intent in issuing the federal number.  "Big Brother" knows our purchasing propensities; cameras scan our entry and departure, and devices check our auto speeds and practices, our work habits, and what else?  New required school paraphernalia have GPS computer chips that tell where students are at a given time.  
     We must not withdraw from public view no matter how challenging conditions seem; we are called to be healers, not hermits.  Public service demands opening to risks, such as private and public spying.  We do the best we can and continue our efforts to preserve privacy and refrain from having our information commercialized.

     Prayer: Lord, help us to grow in loyalty to you and all.

Cladonia cristatella, British soldier lichen. St. Ignace, MI.
(*photo credit)

March 28, 2013   Priestly Service and Cultural Expectations

     On Holy Thursday (or Maundy Thursday) we turn our thoughts to service -- even though the culture of the Last Supper was primarily a remembrance.  The word "maundy" comes from mandatum or the commandment that Jesus gave when washing the disciples' feet; this is the humble service they are to do for others (John 13).  This service rendered with an ancient cultural rite makes us ask exactly where "priests" fit in.  Recall that this word conjures many reactions: "priest holes" were hiding places for priests in times of English persecutions; the priesthood of Aaron dates from Old Testament times of sacrificial offerings; modern controversies swirl about priestly duties and conduct.  In fact the priest has an accretion of cultural baggage, some comforting and some not.

     Old Testament priestly duties involved sacrifice of animals.  A New Testament priesthood of all through Baptism/Confirmation has been mentioned in "Priest, Prophet and King" (May 20, 2012).  Nor is this a question of celibacy as such (see "Priests for Equality: An Expanded View," Report # 27 on this website).  The state of life is not of the essence of priesthood, though it is often coupled in many discussions.  The focus on ministry is closer to October 23, 2007, where we treated the distinguishing work of priest and deacon in the early Church. 

     Ministerially, priests focus on two areas designated in the Acts of the Apostles (Acts 6:3-4) addressing an overload of work and thus instituting the order of deacons to handle charitable works for the poor.  The apostles were to devote themselves to prayer (liturgical formal prayer of the Church) and service of the word -- spreading Good News.  The prayer life included dispensing sacraments and especially those of reconciliation and the celebration of the Eucharist.  Through reconciliation those in the community who are wounded are healed and brought into full community life; through the Eucharist the spiritual nourishment of sacramental life in Christ is given again and again because we need it so desperately to save our wounded Earth. 

     Culturally, priests must be in union with the suffering Christ, and that entails taking risks and refraining from blandness or silence.  If a priest remains silent about an oppressive system, he can become a chaplain of nobles, whether inherited privilege or wealth gained through hook or crook.  However, in our consumer-oriented dysfunctional culture, tacit acceptance by the priest can be grossly deceptive and thus needs constant review.  At least in their hearts priests should not kowtow to the establishment, lest God's Word is desecrated.  For believers, the basic priestly ministry of formal prayers would not reap opprobrium because rubric if followed is relatively neutral.  However, accepting our culture is worth focusing on -- for popularity is always tempting.    

     Prayer: Lord, on this Holy Thursday, make us understand what proper service is all about, even if it risks receiving a rejection by people who ought to divorce cultural accretions from priesthood.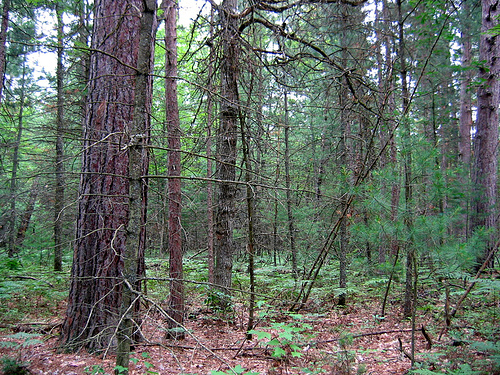 Red Pine Natural Area, Roscommon Michigan, old growth.
(*photo credit)

March 29, 2013         Being Present at Calvary

     Did part of the herd that had shouted "Hosanna" now shout "Crucify Him?"  The betrayal and arrest sent a bolt of lightning through the little disciple band; except for John, they went into hiding, frightened about the lack of military might to defend their leader and unwilling to speak up boldly.  Only a very faithful few, and these mainly women with Mary from distant Galilee, trudged up the hill to Calvary.  John accompanied them, but where were the rest?

     The question in song can be asked to each of us, "Were you there when they crucified the Lord?"  Yes, we can ask it with the same longing and sadness expressed by that relatively recent spiritual, but it pains us all even to be asked.  Of course, from solely human secular time we were not there, but rather born about two millennia later.  So why the question?  The answer is that Calvary is part of something more than a historic event around 33 A.D.  Calvary enters the realm of the eternal in which our participation today allows us to be present in a past event -- and to have our current reparations registered at that historic time.  It is sort of a "counter investment" -- a change of the situation of the past by an action taken today.

     So often when a severe accident occurs in our vicinity we suddenly deny the crash occurs.  While some people run to the scene we can no longer deny, but we could hold back saying "Make way for the first responders."  Another instant impulse by the fearful is to simply escape from the scene, excusing ourselves with more important business.  However, some are called and do respond to be present at the foot of the cross and all the horror involved.  Any crucifixion is not a pleasant site no matter how much artisans paint it in vivid color or sculpt it in marble or ivory.  Sobering is hardly the word.  Mary is portrayed as looking down quite often, but did she?  Do we stand beside her and look up at the crucified?

     The point to be made is more than a private reflection of my individual personal devotion.  What we must do is bring others to the Calvary event and have them stand with us, supporting those at the lonely stance and the One who is upon the cross.  It is an act of being united with Jesus, who is meek and humble of heart.  Our hearts united is the aim of our simple Calvary venture, an act that places us in a unique experiential role that few others care to venture in this age of comfort.  Are we willing to touch the rock that bore the cross and hear him say, "Look what they have done to my Earth!"?  Our stance can be with the poor and suffering of this planet who in all ages have been willing to obey God's will generously and lovingly.  We stand with them and fortify them in this ghastly moment and place when time does not stand still but becomes eternal.

     Prayer: Lord, help us to go up to Calvary and see this moment of earthquake and thunder as one of serenity and decision to be with you so that we can all go forth to Easter.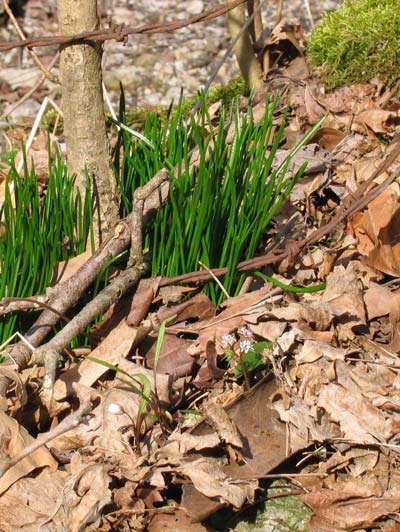 Harbinger of spring and spring beauty, hidden among the leaves.
(*photo credit)
March 30, 2013      Pausing and Awaiting the New Fire
     Holy Saturday is the time we await the coming of the Savior, much as the holy people of the Old Testament awaited the Messiah to open the gates of heaven for them.  In the new liturgical order no activities really take place after the close of Good Friday and before the drama of Easter Holy Saturday night.  The hiatus is a telling one, but it too invites us to reflect more deeply, for it is a time to catch our breath after the roller coaster dip of Good Friday.
     The New Fire is a baptized version of a ritual of spring that occurred across the countryside in pagan European times and continued in some variation until today.  In youth, our pagan roots were stirred when we burned plant beds for sowing tobacco seed. Throughout the countryside fires of substantial size burned on those late winter evenings, for this was a harbinger that spring was coming.  In a similar way, where no fire alerts exist, neighbors burn brush and accumulated trash this time of year. 
     For the Christian, Holy Saturday evening is the time we await with anticipation the coming of the Risen One at Easter -- for the event begins after dark.  We are watchful as we start a mini-bonfire and from that fire light a taper for the Easter Candle that is blessed in a very special manner.  From the light of this Pascal Candle, tapers are lit for all in the congregation and suddenly we hear "Light of Christ" coming in the darkness.  Upon arriving at the altar the "Exsultet" is proclaimed in a fitting and solemn manner, and the entire building is illumined by light.  A New Fire has gradually given light to all and in that light we listen to the words of Scripture from the creation narrative to our redemption.
     From the Holy Saturday events we recall Jesus' words, "I have come to bring fire to the Earth, and how I wish it were blazing already!" (Luke 12:49).  The message on this most holy night is that we are being called in our renewal of baptismal vows to be the ones who go out and take that new fire to the entire world.  Fire can destroy (anything combustible) and fire can purify, turning ore into iron and copper; fire can burn us or fire when properly used can cook our meals and light our way.  Firemen put out fires and firemen stock fires in a furnace.  Learning to control fire is the first great act of human civilization, a moment in our long history worth celebrating because by controlling fire we control light.  From youth we are fascinated with fire and matches must be kept out of infant hands.  We are drawn to fire like moths to light; we warm ourselves and comfort ourselves by stove and hearth and campfire.  We are on fire when we become more energetic -- and that is what the silent period of Holy Saturday is about, namely, giving us the energy to carry on our mission.

     Prayer: Lord, help us to be renewed by the New Fire of Easter, to see the Easter dawn as the beckoning call for us to rise from our slumber and become something new as healers of a wounded Earth.

Ever-constant renewing waters washing upon the shore.
(*photo credit)

 March 31, 2013     Easter People Inflamed to Renewal

     You must know that a small amount of yeast is enough to leaven all the dough, so get rid of all the old yeast, and make yourselves into a completely new batch of bread, unleavened as you are meant to be.  (I Corinthians 5:6-8)

     In this year of renewal of our Faith, Easter becomes a golden opportunity to express that newness of life in which we are called.  St. Paul in this first letter to the Corinthians uses the imagery of ridding ourselves of leaven and becoming unleavened.  That is faithful to the Old Testament use of numerous leaven or yeast symbols for sinfulness and corruption (e.g., Exodus 12 and 13).  The unleavened bread in Exodus was baked in haste by which the Israelites departed from Egypt.  Even there the unleavened condition had this sense of purity from sin.   This imagery clashes with seeing yeast as a biological catalyst that penetrates dough in small amounts and hastens a process of baking bread.  Using traditional Scriptural imagery of leavening as corruption, we find at Easter that we are to move from sin to a new state, a renewed life of perfection. 

     Thus, the selection today speaks of new ways of seeing things, the way of the Lord Jesus in our lives, a freshness in an unleavened condition.  One could say that the movement is from the leavening of a small number to that of everyone being called to be part of the new batch of bread.  We are not an elite few who make the change from an old condition to a new, but an entire mass of people moving to renewal.  Our oneness in Christ is the destiny of every Christian, not just the few who are a faithful remnant or the specially trained or chosen to be catalytic agents. 

     We speak of the need for catalyst of change in the coming of the Kingdom of God (November 25, 2012).  However, more catalytic aspects of quickening in a biblical sense is through the use of fire (Luke 12:49), for a blaze moves quickly and has dramatic effect.  Fire can either destroy or damage, or fire can warm and purify; water can give life to the thirsty or drown a helpless person.  We are able to dispel darkness by Easter fire, our theme yesterday.  In reality, fire has a deeper significance for hastening at Easter than does leaven, for Christ purifies through the working of the Spirit.

     The renewal process is one of dramatic change, and fire can serve that purpose of change here and most certainly at Pentecost when tongues of fire came and rested on the heads of all assembled.  We enter into the new life of the Lord, for our old selves give way by dying to sin and rising to the Lord.  At Easter our renewal of Baptismal vows have the effect of committing ourselves by word to renounce Satan and all his works and take on the Lord Jesus as Easter people willing to bring dramatic change to our tired world.

     Prayer: Lord, renew us with new fire and allow us to be able to effect change within the entire body of Christian believers.