Forest floor bouquet.
(*photo credit)
June 1, 2013          June's Pluses and Minuses  
     June ushers in summer, and summer has its credits and debits in so many ways.  In younger years July was my favorite month, for this was the time that formal classes ended for a few months and we would be free of schoolwork.  I resolved to learn on my own during that summer "vacation," but such learning was always deferred due to crowded outdoor activities.  Summer meant freedom from winter clothes and sharp winds from the west.  In youth, June was when we shed our shoes and went barefoot-free among the fields and pathways.  Also it was the season to travel on short visits to slightly distant relatives and still be back to milk cows in the evenings.  Later, when free of dairy hours, June was for hiking and climbing mountains, a reminder on this National Trails Day. 
     Our earlier summers were often gun-toting and defiant of state bans on weapons for this off-season portion of the hunting year.  To us, killing crows was warfare, not hunting.  Pesky crows could playfully pull up sprouting seed or rip green ears later in August.  In June, we sought specimens to hang up on a pole, because other members of that aggressive flock hated the practice.
       Our June landscape explodes with a majestic array of colors, sounds, and smells, and we know that the land is truly bountiful -- provided rains come at the right time and place.  We welcome the thunderheads bringing the needed rain, provided the delivery is not too violent.  A browning June landscape is a horror that we prefer to forget.  Generally, in no other entire month are woods so green, for even in July black locust leaves can turn rusty looking.  However, the myth that June will last forever disappears as daylight reaches its zenith and then inevitable decline begins.

     June is a month for special communion with nature in all its glory of flowers and verdant plants, but it also includes memories of the somewhat sweaty and distasteful duty of "making hay" (see June 3).   It is the season of new wildlife and livestock in all their lovely expressions, but also the season of ticks, flies, mosquitoes, gnats, and other worrisome pests.  This is the start of berry season that for us was a way of making pin money during scarce financial times.  However, berry picking was anticipated then, but now the strawberry means backache and raspberry- and early blackberry-picking means "stickers" (thorns) with accompanying scratches.   Mulberries were so much easier to pick, but the trees were tall.  Nothing in this world is perfect.
     Summer activity meant growing appetites.  Culinary delights came in June with homemade ice cream, cherry and rhubarb cobblers, fried chicken, stewed summer apples with cinnamon sprinkled on the top, new potatoes, sliced cucumbers with vinegar and onions, and the last of the spring salad greens.  Then came the first taste of the season's tomatoes.
     Prayer: Lord, give us the realistic vision of each month and prepare us for the best and worst of all in each succeeding season.

Solomons seal, Polygonatum commutatum, common spring Appalachian wildflower.
(*photo credit)

June 2, 2013 Corpus Christi: The New Covenant Cosmic Event

     The Eucharist is the cosmic act uniting Heaven with Earth and penetrating all of creation.  This one act of praise restores all creation to the One who created it, giving back to the Father a redeemed creation.  John Paul II Letter on the Eucharist, #8

     We are part of the Body of Christ and celebrate the Lord's promise to us on this feast of Corpus Christi.  This stands at the heart of the New Covenant, a joining with the Lord who is present in a sacrament of the Eucharist, a truly cosmic moment.

       The solemn and formal covenant ceremonies among people in Old Testament and ancient times included a walking of both parties in the path between two halves of slain sacrificial animals; this was a solemn formality like a handshake.  If either party disobeyed the covenant then a mishap would occur.  The promise of God to Abram (later Abraham) of the Promised Land (Genesis 15: 5-18) is sealed with just such a solemn covenant and is but one of numerous covenants recorded in the Old Testament.  The Old Covenant promises with Noah, Abraham, and David were not negated but fulfilled in a grand manner. 

     The New Covenant is the bonding of God with us as a people through the suffering, death, and resurrection of Jesus.  This New Covenant is expressed in an atmosphere of loving service that Jesus explains at the Last Supper.  In turn, he shows how to be a servant at the Calvary event followed by his glorious Resurrection.  Thus, a New Covenant is affirmed by us as disciples through our actions, our own loving service with the Lord.  Our individual covenant with the Lord starts at our Baptism with our vows to renounce Satan and all evil, and enter a loving relationship with Our God.

     In return for our affirmative response, we are promised first a peace-filled living relationship with the Lord and at the end a resurrection from the dead and eternal life.  God is faithful to us in promise; in turn, we are faithful in striving to live the way the Lord wants us to in a grace-filled life.  The affirmation of this individual covenant is performed when we receive the consecrated host, the Body of Christ and commit ourselves each time to be more deeply connected with that reality of his Mystical Body. 

     At each Eucharist Calvary is extended in space and time, an ever-renewing New Covenant happening.  In receiving the Lord in Communion we recognize the monumental event of our salvation that includes the whole universe and our togetherness with creation.  This is what Blessed John Paul called a cosmic event.  Thus our reception has immense implications, and the more we believe in its power and efficacy, the more we are empowered to further the Body of Christ through our action.  We partake in the cosmic act of sacrifice and become part of it -- if we but believe.

     Prayer: Lord, help us grow in the Mystery before our eyes and help us see its cosmic dimensions.

Pharr Mounds, near Tupelo, MS.
(*photo credit)

June 3, 2013     Making Hay: Pleasant and Unpleasant Memories 

     June is the month of haying or making hay.  A city slicker may ask, "Isn't the hay out there in the growing grasses and all you do is cut it?"  No, cut grass is not hay.  Pile a little of it in a heap and you soon find it heating and emitting steam on cool mornings.  These heated heaps of cut vegetation, if left standing can become moldy.  Hay demands adequately scattered vegetation that dries out with cooperative sunshine (see June 21, 2010 for "Make Hay While the Sun Shines").  The drying is important for Hay is properly dried grassy materials used for animal feed or bedding.  Much in the hay-making art depends on human decisions and natural conditions, sometimes not of the haymakers choosing, such as rainy weather.  Making good hay is an art in timing, for the drying must be just right and skilled farmers know this quite well.

     The "fun" is not so much in the cutting or the drying, but in gathering hay and proper storage.  In our youth, we went through three different phases of haying in a short span: stacking cut hay in the field for winter use; raking, making hay shocks or windrows, and bringing to the barn with horses pulling wagons of loose hay; and baling hay either by a stationary baler or a moving implement.  Actually, loose haying is almost gone and the size of hay bales are now large rolled ones over several hundred pounds, far heaver than the small rectangular bales we produced a half century ago. 

     Work involved collecting loose hay (pitching with hayforks and placing properly on the hay wagon) or baling.  At least this happened outdoors in the open air; harder labor was the actual storage operations in enclosed structures.  In the case of the original loose hay, storage in a hot barn in summer became a vivid meditation on hell.  The operations were sweaty and dusty -- and almost choking in a tight barn loft -- never again, Lord.   

     The quality of the hay depended on vegetation used.  Some "weeds" were more fiber than leaf and thus of poorer quality.  Other grasses such as alfalfa and Korean clover were highly prized by the livestock.  Good farmers desire quality hay for better milk and meat production and so decisions on what to grow are key to haymaking success as much as the proper operations.

     Amid it all, looking ahead involved a pleasantness to haying, knowing that on cold winter evenings the cattle and other livestock would devour the hay with relish.  What was being stored would be appreciated in another season when fields could not furnish enough nourishment for the animals.  Furthermore, the hayloft and haystacks were enticing and pleasant places for kids to play when it was rainy outside.  The scent of new-mown hay (coumarin) and stored hay of various kinds were great sensations.   

     Prayer: Lord, give us a sense of the seasons, finding what needs to be done and doing sometimes unpleasant activities with a sure knowledge that ultimate good will come from our efforts.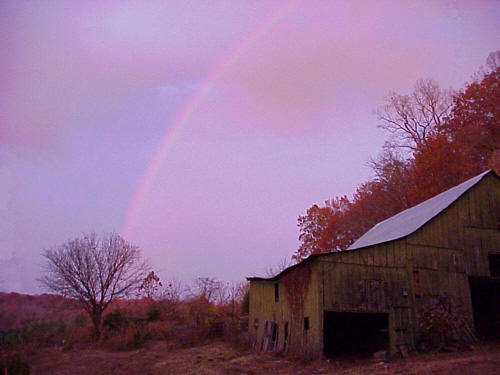 An Appalachian rainbow. Estill Co., KY.
(*Photo by Sally Ramsdell)
June 4, 2013  Clean Air Day and Decline of American Coal
     Coal production bears a bittersweet story at this time of a sea change from 50% of American electricity production six years ago to nearing one-third today and falling fast.  Some 150 coal-fired power plants have been closed in the past six years (one a week in 2012) -- and only one new coal plant started last year.  On the other hand, China is opening one new coal-fired plant per week and the collective rest of Asia an equal number -- though this will hopefully slow down in the coming years.
     Sweetness, from an apparent environmental standpoint, is that decline of American coal use in the past few years has resulted in lowering of carbon dioxide levels along with certain pollutants such as sulfur oxides and mercury.  That is good news on Clean Air Day.  For non-environmental but economic reasons, the movement away from coal occurs with increased oil production in this country along with a glut of fracked natural gas, all adding to growing American energy independence, even while accessible American coal is still relatively plentiful.  Drilling gas is a safer occupation than mining coal, and land disturbance is not near as great.  However, climate-changing impact of natural gas use in place of coal has not been fully analyzed, for we lack gas leakage data.

     Bitterness resides in many of our coal fields, while some laid off miners look forward to shipments of coal to expanding Asian and (surprisingly) European markets.  Much depends on where coal mines are situated to rail, barge, and seaport shipping facilities.  The ones less suited to coal export witness closed mines and idle machinery.  Activity in my railroad town of Ravenna has seen declines from six coal trains a day several decades ago, to now only a few at best per week.  At this week of writing I have observed only two one-hundred-plus-car coal trains.  Rumor is the transfer yards will be slated for closure.  
     The causes of coal's precipitous decline are numerous: new coal-fired plant costs have been rising due to new governmental regulations now going into effect; plummeting prices for plentiful fracked natural gas haves occurred in the last six years making it a favored fuel; existing coal plants have operated past the deadline originally expected (60% over 40 years of age and median age of those retired in 2012 was 53 years); newer and middle age powerplants can be converted with relative ease to gas-fired ones; and (the sleeper of them all) the lack of strict federal regulations on natural gas production.  The latter point is worthy of coal industry and laborers' complaints, namely, calling for an equal playing field since fracking has a number of environmental disadvantages.  However, calling for regulations even on competitors is not on the agenda for energy producers.  Rather, the emphasis is on retraining laid-off miners in renewable energy applications, for this is the wave of the electricity future. 
     Prayer: Lord, help us to consider all factors in making changes in our world, and to give assistance to those who suffer.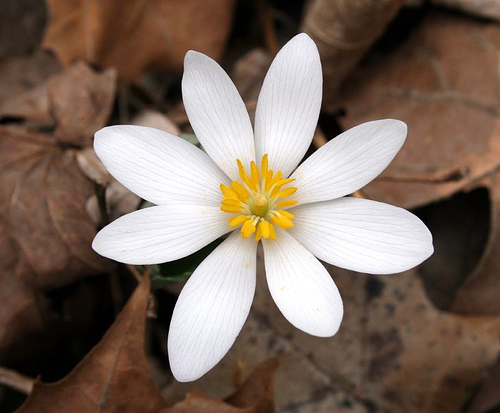 Bloodroot, Sanguinaria canadensis. Woodford Co., KY.
(*photo credit)
June 5, 2013   World Environment Day and Healing Our Earth
     On World Environment Day we ought to acknowledge the need for long-term healing of our wounded Earth.  I recall early celebration of this day when emphasis was placed on awareness of existing conditions and educating people about the situation.  Granted those efforts are still needed, but they are simply not enough.  Why not?  Because pollution effects brought on principally by industrialized societies, when affecting one-tenth of the world's population are now expanding to two-thirds or more of Earth's people.  Mere safeguards to moderate pollution can only slow and not stop climate change.  We must reemphasize the need to advance to deeper levels of eco-awareness.  Note: St. Ignatius' three levels of humility are found in Reclaiming the Commons.  Feel free to download.
     First level eco-awareness is when keen observers point out some of the ways in which Earth is being harmed by pollutants in air, water, and land.  Over the past decade there have been increasing revelations about damage from a multitude of sources, the primary ones being fossil fuel combustion.  Climate-changing substances have been identified and efforts made to curb these.  However, this is the level of diagnosis and emergency measures, not fundamental and longer-term healing.
     Second level eco-awareness is what I was engaged in for a quarter of a century at an appropriate technology demonstration center.  This involved ways to introduce alternatives to harmful practices causing the environmental crisis; the activities are shorter-term healing operations and include introducing forms of renewable energy, recyclable materials, and conservation techniques that are commonplace today.  However, this is equivalent to palliative measures for giving comfort to an ailing Earth.
     Third level eco-awareness is to get to the underlying causes of the major disturbances.  This means addressing the destructive materialistic consumer culture with all its ramifications.  It means curbing those who abuse resource use, including the super-wealthy and their modeling of materialism that a vast surging world population wants to emulate.  Lack of courage to address the unsustainable and uncontrolled resource expenditure leads to an increasing desire to consume resources without respect for elementary needs of billions of the world's population.   
     We should encourage all three levels, but not rest at the first two.  In perceiving the addictive nature of the consumer culture we need a prayer crusade to God to penetrate a culture of satisfaction and to acknowledge the need for divine assistance in healing our wounded Earth.  Unfortunately, a secular and materialistic culture either denies the wrongdoing or shows reluctance to talk about collective deficiencies that include all of us.  Pray that we act properly and follow with citizen action.
     Prayer: Lord, give us the courage to do what we must and to act with courage.

The cherry tree, with fruit.
(*Photo by Tim Martin, Creative Commons)

June 6, 2013       Cherry Season and Happy Memories

     Why tarry when it comes to cherry?  Perhaps it's because June has many distractions.  Over the decade we've mentioned virtually every popular fruit and yet omitted a favorite by accident.  Some cultivated and wild cherries come to fruition later in the growing season (I observed this in both Michigan and Oregon), but June is Kentucky's cherry time.  Whenever ripened, the cherry is beautiful and delicious provided we get there before the birds.

     In youth, our blond-to-red sour cherries would be fully ripe right after Memorial Day in late May.  That meant picking them, which I always found a pleasant job since one can eat a few till the belly ached.  Picking cherries is a better task than sitting and pitting them -- a grossly tedious undertaking.  In this season long ago we were rewarded with the blessed smell of Mama's cherry cobbler sizzling in the oven.  Then while the pan was still warm we could have it as a signature June dessert, perhaps with vanilla ice cream on top.

     Our cherry trees were not hard to tend for they were dwarf and took little pruning.  Their blooms were pleasant, but not as spectacular as the flowering cherry trees at Washington, DC's Tidal Basin (a favorite jogging route during my sojourn in the nation's capital).  Cherries, like pears and plums, are known for blossoms and fruit, though it takes different trees to excel in each.

     After my family sold the farm, I have driven past on the way to visit relatives and the nearby cemetery where so many ancestors and relatives are buried.  The entire orchard area of my old home is now overgrown, but a number of cherry saplings have proliferated and still bear fruit.  Since some of these small trees overhang the right-of-way of the adjoining state highway, I stop and even with local dogs barking enjoy a few handsful of fruit with a flood of past memories.  I alerted the local resident living a hundred feet from the thicket that the trees were fully ripe -- and he didn't know they existed.  Yes, know your locally grown produce!

     I must not tell a lie; we are considering cutting down a rather large eight-year old cherry tree perhaps mislabeled by the supply place, for it had nary a fruited cherry.  It has grown brutishly large; it consumes sunlight space needed by other fruit trees but did bloom beautifully this April.  Yes, it is hard to cut a growing tree.  A few years back at our parish we cut an eighty-year-old wild cherry tree because it was sloughing branches.  While wild cherry wood is valuable when grown in cooler northern states, Kentucky's wild cherries are not as prized for wood.  However, our wild cherries are tasty when not overly indulged.  My dad never allowed wild cherry to grow on the farm because the wilted leaves could poison livestock, a fact forgotten by others and resulting in race horse deaths in our Bluegrass Region eight years ago.

     Prayer: Lord, you create all things, including fruit that delights the spirit and triggers gratitude.  Thanks for cherries.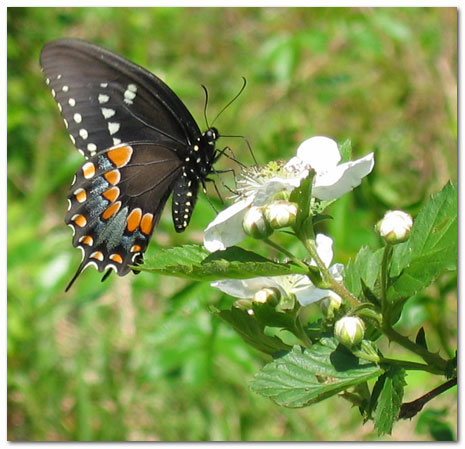 Eastern swallowtail on blackberry flowers. Powell Co., KY.
(*photo credit)
June 7, 2013  Healing Earth through Reparation Practices
     Misdeeds done to our wounded Earth must be repaired in several ways: by halting misdeeds being performed; by making reparation for wounds already inflicted; and by repairing the social order damaged from misdeeds.  The last relates to today's Sacred Heart Feast. 
      The most basic act is to initiate healing by requiring a halt to the misdeeds -- and this is not achieved while fossil fuel consumption remains at such high levels.  Corrective actions here and now are formidable and require citizen action, both in our community and beyond in our nation and world.  As citizens, we join and support pressure groups to force governmental agencies to act responsibly, to develop effective regulations to halt pollution, to enforce the regulations now, and to pressure world governments to do the same.  Our environment is global in scope and pollution knows no national boundaries.
     Second of all, beyond halting environmental misdeeds, reclamation takes on added urgency because wounds to our world require our attention, especially erosion and unreclaimed surface mined areas, brown fields, waste dumps, and water bodies polluted through environmental mismanagement.  Such repairs are late in coming but urgently needed, lest our people lose heart.  Unfortunately, such physical repair work is costly and often postponed during times of belt-tightening.
     Lastly, repair must be performed for the entire social order, which has been disrupted by damage to our Earth.  This third level is one of deepest spiritual awareness and yet it must be achieved in order that true healing occurs.  Reparation includes pious sacrifices and prayers performed to repair the damage my own sin and that of others has done to our total social order.  The world is damaged by misdeeds, and forgiving words are not sufficient.  However, it goes beyond personal misdeeds and includes the reparation for that order of the universe around us -- those of the local community, region, nation, as a whole and an entire Earth.
     To offer profound reparation through prayers and good deeds is to fill up what is wanting in the sufferings of Christ for the good of all.  It is to heal and respond to the words of Jesus at today's Calvary: "Look what they have done to my Earth!"  God, who so kindly made this world in which we live and allowed the human race to evolve to its present conditions, has been offended by our lack of response to divine love.  Reparation is to enter into the act of Christ on Calvary to such a degree that we suffer with the Lord in an extended act that continues through space and time.  We can help in the salvation of the world through a spiritual healing process that is healing at its most meaningful level.  It is to attack the social addiction that plagues us all and begin the process of tackling the destructive consumer culture all around us.

     Prayer: Lord, give to us the grace to offer our lives with yours for the saving of our wounded Earth.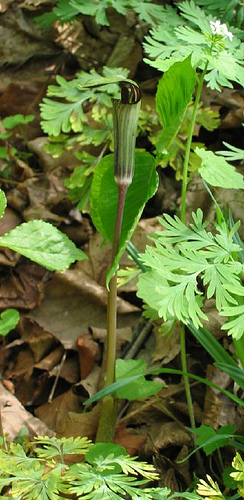 Arisaema atrorubens, Jack in the pulpit. Cedars of Lebanon, TN.
(*photo credit)
June 8, 2013  Climate Activism: A New Breed of Environmentalism
     It is easier to talk than to act.  We can see what must be done far quicker than be moved to do something.  Today we are observing a new breed of doers, those who are willing to put themselves on the line and return priority to activity.
     Now is the acceptable time.  Now is the day of salvation.  In fact, today our observations are accompanied by scientific evidence that something is profoundly amiss.  A Science article of three months ago was quite convincing.  The global climate is in a precipitous rise not experienced since the Ice Age ended 11,300 years ago.  The study of ice and sediment cores from sites around the world averages out regional anomalies and allows a clear picture of the global temperature history.  During the last 5,000 years, Earth on average cooled about 1.3 degrees F until the last 100 years, when it warmed about 1.3 degrees F. Climate models project that global temperature will rise another 2.0 to 11.5 degrees F, largely dependent on the magnitude of carbon emissions.  The team says we should be near the bottom of a long-term cooling period, but that is history.

     How do we react to clear scientific evidence that continues to confirm a series of probabilities of coming disaster, which humans have caused?  We can expand our renewable energy sources, and all the while our world is using still more non-renewable energy, causing this rise in carbon dioxide level.  Reducing fossil fuel by transitioning from coal to natural gas is hardly enough.  Nor is a plea for legislators and administrators to change energy policies according to their own political propensities.  A growing consensus that climate change is a serious issue is also not enough.  Actions that bring about national and global attention are called for and some of a new breed of activism speak of the need for some form of civil disobedience in order to accelerate concern about the issue. 
     Must we work or pray that the renewable energy sources gain acceptance at a faster speed?  Certainly.  Some of us have been doing this for four decades.  Hammer on gas pipelines?  It is symbolic and may lead to arrests, but not necessarily win hearts and souls.  Divest from Big Oil companies by educational institutions?  That may have some effect if a certain school is a large investor, or it may start the awareness that Big Energy is hardly the way to go.  On and on, the questions arise and those with growing concerns ask for still more telling action. 
     The rise of concern is greater among our younger folks, for they are the ones who will suffer during their lifetimes from the mistakes of this generation.  Reclaiming the Commons suggests a series of steps requiring limited time and resources.  An enhanced activism must bring urgent change, for time is running out.
     Prayer: Lord, help us to know what to do and have the will to do so through prudent action.  Help us to meet challenges facing us with determination and a prayerful spirit of cooperation.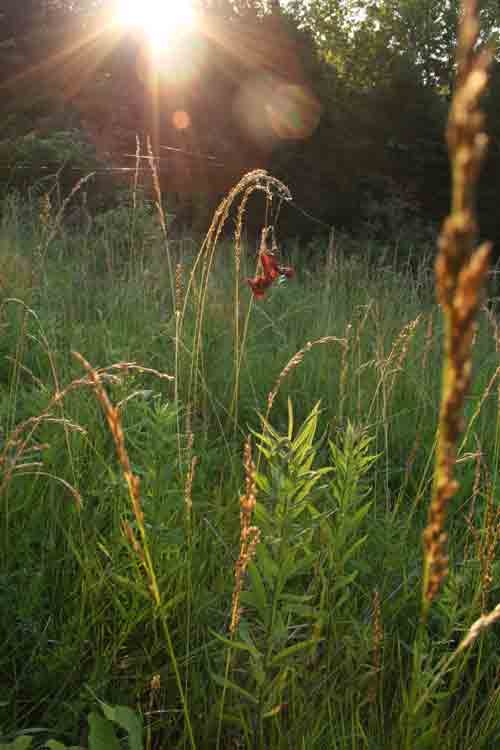 Sunset on the prairie.
(*photo credit)
June 9, 2013  Victims of Violence Dying before Their Parents
     It happened that a dead man was being carried out for burial, the only son of his mother, and she was a widow.  (Luke 7:12)
     This Gospel tale of woe is as old as history with parents enduring the burial of dead infants, youth involved in accidents, and soldiers killed in combat.  All too often in this land of great medical advancements and safety standards the added tale arises involving senseless urban violence and gangland killings of young people  -- with sorrowing parents having to endure the burial of their offspring.  This brings together a compassionate community, newspaper headlines, and often a wider community of sympathy as occurred with the massacre of the twenty children (and six adults) at Newtown, Connecticut.  Then we return to everyday distractions.
     This is Senior Citizens Day and we discover that many of our seniors are subject to moments of deep sorrow when loved ones and especially children pass away before them.  Some seniors still blessed with good memories must endure seeing their loved ones precede them in death.  Often parents say they would far rather had been the one who passed first -- but sometimes that is not the case.  Seniors generally do not expect their offspring to precede them in death; pain occurs and is more devastating where widows have no direct social means of support except in their children.  In this Gospel story a widow experiences the death of her only son and Jesus expresses deep sorrow.  Perhaps he anticipates as much in his own family?  Recall Mary, a widow, would lose Jesus at Calvary.

     Examples of similar stories will continue to haunt us.  Today, far too many American youth are gunned down in this manner in both urban and rural parts of America.  Blame it on guns or gunners and perhaps blame it on easy access to massive amounts of ammo.  Is this a condition so prevalent within our culture that it will remain as part of the American way, because we have little or no control over availability of ammunition clips by those who harm?
     As Christians we are to protect precious life and to help give new life through God's power.  Can we create conditions in which less violence will occur?  Some ninety percent of the annual 45,000 automobile accidents are caused by human error, and in half of the cases the victim's parents will have to go to funerals of their offspring.  Must we see repeated the sorrow of one younger than the normal life span passing before their parents?  One is one to many.  How many could have lived to have a normal life, and yet are cut down before their time?  Gangland murders, auto accidents, drug overdoses, and other such incidents will continue, but we could at least reduce their frequency through meaningful policies not now in place.  In such cases we can be christs to those who need not suffer such loses if we act as responsible citizens and help curb such senseless occurrences.
     Prayer: Lord, give us the sorrowful compassion of Jesus and  help us reduce the cases of violent endings to youthful lives.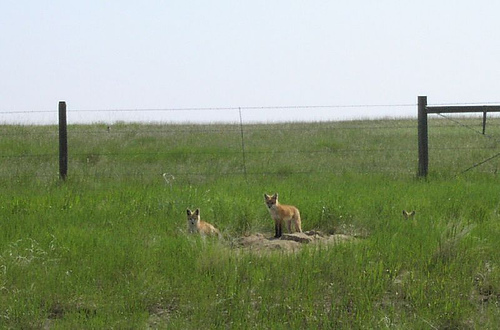 Red fox family, Vulpes vulpes. Havre, MT.
(*photo credit)
June 10, 2013      Global Wildlife Under Immense Peril    
     Wildlife threats come from land development, poaching for body parts, and lack of concern.  Read Reclaiming the Commons:
---------------------
     The United Nations estimates that our planet is experiencing a major wildlife die-back period: official bird counts show decreasing numbers and varieties in our temperate zones, in part due to destruction of winter habitats, especially heavy logging of tropical forests.  The Monarch butterfly has a reduced wintering area in Mexico due to recent land development.  Siberian tigers have been decimated by commercial exploitation; other factors include internal conflicts, poaching (e.g., African highlands gorilla), and lack of police protection.  Monitoring and protection can make a difference.  For instance, the North American whooping crane has come from near total extinction to healthy sustainable population levels through conservation efforts; the bald eagle has been removed from the threatened lists; the Illinois River otter moved from endangered to a pest status requiring controls.  We must respect and give space for wildlife to flourish.  We may never meet a tiger "there" in the woods, and yet their presence enriches us.
     Unpoliced wildlife reservations in lower-income nations have resulted in uncontrolled poaching by inhabitants seeking bush meat to supplement protein needs.  While most wildlife forays today are for good camera shots, that was not the case a century ago when wildlife sporting forays were fashionable.  Sport hunting and poaching of sparse species for desired animal parts (e.g. certain tigers and rhinoceroses, bird feathers) are out of favor, but further trade restrictions are necessary.  Nineteenth- and early- twentieth-century "conservationists" were wealthy enough to travel great distances to hunt game for sport, but they could not brag about such exploits today.  Exceptions to restricting wildlife contact involve protective measures, research, and obtaining materials for virtual tourism projects to protect fragile habitats.
     Excessive harvesting happens.  Bison roamed by the tens of thousands on the Great Plains, and yet systematic harvesting in the nineteenth century saw herds virtually disappear -- in part to subjugate natives who depended on these animals for livelihood.  Unsustainable harvesting of certain species of wildlife (eastern elk, bison, whales) has resulted in tragic declines and extinction of certain species (passenger pigeon).  Human negligence and harmful practices have caused 1,141 of the 5,487 known species of land mammals to be at risk of extinction -- and there are more threatened flora and fauna besides.  Frogs, salamanders, and other amphibians are among the hardest hit by today's many strikes against wildlife; they have weathered 300 million years to evolve into more than 6,000 singular species, as beautiful, diverse -- and imperiled --as anything that walks, or hops, the Earth. 
------------------------
     Prayer: Lord, focus our ears to Shakespeare's words, One touch of nature makes the whole world kin.  Help us protect wildlife.  

Verdant view at Buckley Wildlife Sanctuary. Woodford Co., KY.
(*photo credit)

June 11, 2013      Support Wilderness Preserves

     On World Population Day we ought to consider that in parts of the world a struggle exists between human populations and wildlife for scarce land.  However, with proper global support programs a balance can be maintained to the benefit of all.  The following is an excerpt from Chapter Three of Reclaiming the Commons:
-------------------------
     Wilderness ought to be restricted as to vehicle access.  Wildlife needs protective habitat, and this is becoming more obvious in various parts of the world where human development impacts on certain endangered species are evident.  Sub-Saharan Africa is hard hit at this time, even on some of its wildlife reserves.  In the Democratic Republic of the Congo, dedicated custodians have gone unpaid for years and some have become targets of poachers and military units in conflict zones.  Brazil is creating Amazon forest protective zones.  Wildlife managers deserve proper wages and support for constructing protective barriers.  At the Chinese Wolong Nature Preserve, threatened pandas are being bred and raised in sufficient numbers for ultimate release.  By protecting natural habitats, Sichuan Province, where pandas dropped to a low of 1,200, is now seeing increasing numbers. 

     Specific fragile regions must be declared wilderness areas and excluded from human intrusion: unique rock formations, remnant tropical and temperate rain forests, certain springs and water sources, fragile desert areas with rare flora and fauna, and specific oceanic islands.  Sufficient policing is necessary; developers should be kept from the land, exotic species should be excluded and removed, and tourists should not be allowed to visit these areas, but rather encouraged to be virtual visitors. 

     Wildlife sanctuaries and reservations need global policing and maintenance support.  This is because some wilderness areas are the targets of competing demands from increasing human populations needing cropland, as well as those seeking "bush" meat to supplement protein demands.  While Western population growth rates are small, this is not true in parts of Africa, Asia and Latin America, where health and education services and employment opportunities are strained by expanding populations (above 1% growth per year).  Reasonable population controls require national efforts to sustain them using means that respect cultural and religious sensitivities.  Moslem lands like Iran and Indonesia have moderate population growth rates (0.86 percent and 1.45 percent -- 2005 estimates), while Moslem lands with major economic and social imbalances are higher.  A long-term goal is to achieve social and ecological balances, which moderate population growth.  To maintain an urgent balance of wildlife/human habitat conditions one solution is to furnish livelihoods to maintenance/police personnel near wildlife sanctuaries.  When local populations regard their wildlife as treasures, then a harmony can be regained.
----------------------------------  
     Prayer: Lord, give us a sense of active support to those working to protect and preserve our wildlife populations.

Beauty of Canadian wilderness.
(*photo credit)

June 12, 2013   Dangers from Canadian Tar Sands Exploitation  

     Many Canadians as well as U.S. citizens are quite alarmed about the prospect of development of tar sand areas of northern Alberta Province for fuel purposes.  This source of fossil fuel can be either strip mined or more often melted with steam by using 2 to 4.5 barrels of water for each barrel of oil produced.  Waste water in the extracting process can easily pollute pristine rivers and lakes of the North and never be cleaned up to prior conditions.

     One of these concerned Canadians is Bishop Murray Chatlain of Yellowknife, Northern Territories.   He speaks about the threatened rivers and Lake Athabasca in his diocesan territory.  He reminds us that water is a fundamental human right and a gift from the creator.  As the thirsty Israelites called to God, so the First Nations (Natives) call to God as they petition governments.  Bishop Chatlain lists these grievances of his people and how they have constantly expressed concern about threatened water quantity and quality that could occur through tar sand exploitation, as well as potential impacts on human health.  The Bishop's flock and neighbors have petitioned the government about changes in their health status since the tar sands development has been initiated. 
To date the concerns have not been fully recognized.  Bishop Chatlain declares that his people have the right to participate in the process of review around the tar sands issue.  Legal limits must be set to protect northern waters.  Using local natural gas to extract the costly oil will heighten climate change.  He calls for our help to assist in these efforts to do the following:

* Suspension of new oil sands lease sales and oil sands project approvals until there is a proper understanding of the combined effects of this development into the future;
* Establishment of limits and guidelines to protect the environment and people of Alberta and downstream in the NWT;
* Commitment to hold environmental hearings, with right of participation of NWT communities on the cumulative effects of the tar sands projects;
* Legal binding transboundary agreement on water between the NWT and Alberta;
* Commitment to use dry tailings technology for all future oil sand development; and
* Support for more environmentally sound energy sources and overall energy conservation to ensure that we do not take away opportunities for future generations.

     These concerns of our northern neighbors must become ours, for if the Keystone XL pipeline goes into effect in the near or distant future, we in the United States will be partly to blame for pollution caused by those tar sand fields to the North (see next reflection).  Furthermore, current fossil fuel economy will continue with the ill effects resulting from tar sands oil and gas accelerating the ill effects of climate change.

     Prayer: Lord, make us aware of the harm our actions can do.

Calypso bulbosa, Calypso orchid / Cypress Hills Interprovincial Park, Canada.
(*photo credit)

June 13, 2013   Keystone XL Pipeline is a Lose, Lose Proposition

     A hot button American environmental issue for the last year or so has been the possibility of building the Keystone XL pipeline connecting the Alberta tar sands (see yesterday's reflection) with the Gulf Coast refineries.  A modified route that does not endanger the fragile Nebraska sand hills has been proposed.  Postponement of this final cross-country pipeline became an issue in the 2012 election campaign.  Now comes the decision stage after the U.S. State Department found no major obstacles to possibly building it.

     For us in coal country, this pipeline has seemed a rather remote issue.  Partly it is the supposition that if the tar sand products did not come south they would go west to the Pacific Coast and be shipped to energy-hungry Asia.  We knew that existing pipelines are sufficient to bring new-found oil from North Dakota to Gulf Coast refineries.  Partly, our lack of concern was that saner minds would predominate in the Administration after the 2012 election and the pipeline would be abandoned. 

     Such expectations may be misplaced.  Big Energy with its heavy political influence in Washington, DC will never relent when profits are just beyond the horizon.  What is obviously distasteful does not mean it will be discarded -- when money rides on results.  Canadian government relations became a factor.  So do certain unions with the prospect of tens of thousands of temporary jobs to build and maintain the pipeline.  Red state politicians believe that human-caused climate change is unproven; and more North American oil weans our nation away from Middle East petroleum.

     Furious environmental opponents focus on a variety of issues; possible toxic spills by a pipeline breakage; economic costs; lock-in to tar sand development and its added environmental affects in Canada; delivered product being type with no environmental benefit; emphasizing tar sands may postpone changeover to a renewable energy economy.  The last emerges as key: postponement of a 2030 fossil fuel deadline for sufficient wind, solar and other environmentally benign sources.  For the Green Movement, permission to build the pipeline is a disaster in the making.  They repeat that the pipeline will hasten major climate change problems by the costly energy expenditures of gas to extract oil from the tar sand, carbon print of new pipelines, and resource costs to obtain useful fuels.

     From an environmental standpoint this is lose, lose. The battle takes on more serious dimensions as supporters flock to fight the pipeline battle.  Youth have caught the fire of the 1960s baby boomers in their civil rights and Vietnam struggles.  Civil disobedience rears as a distinct possibility and is waiting to happen.  Much rides on outcomes and the political will of the American citizenry.  Keystone XL triggers a raw nerve; it reminds veterans of our 1980 battle over Kentucky shale oil development.

     Prayer: Lord, give us the courage to attend to a bad proposal and to use our moral persuasion to see it does not occur.

A celebration on Flag Day.
(*Photo by Julia Flosum, Creative Commons)

June 14, 2013        Civil Disobedience on Flag Day

     Early in this season I was invited to sign up with a group that was soliciting large numbers of activists to pledge civil disobedience (CD) to fight the Keystone XL Pipeline (see June 13). At that time 30,000 pledges resulted from the first appeal and it was almost double by the second appeal a week or so later.  These pledges were compiled and sent to the White House to serve notice that the activism of the Johnson, Nixon, and both Bush eras was not dead.  That request for a personal pledge gave me pause as to what procedures to use to stop flooding our country with unneeded and highly polluting tar sand products.

      I am not against the tactic of CD but have been reluctant to take part in public demonstrations for a number of reasons during my public interest career.  In its early days a half century ago, my reasons were that I worked as a military chaplain during the Vietnam War and worked at some government-sponsored scientific research, both of which could be jeopardized by public CD activities.  During my years in Washington, DC through one alternative public interest organization (Technical Information Project) we received governmental grants from the National Science foundation and the USEPA.  My non-involvement reached a crescendo with the sit-in at the Seabrook Nuclear power plant when virtually the entire staff of our CSPI operation was arrested in New England.  Only three of us were not involved.  Upon returning to Kentucky, for many years I served as part-time chaplain at two Federal prisons at Manchester, Kentucky. I obtained an FBI clearance for my work -- and wanted no arrest record.

     When the cause is justified, I am not opposed to those who perform acts of CD, especially Robin-Hood types of activities that help the poor who are hurt through inaction.  Public CD actions attract publicity and make the distracted aware of issues that all ought to consider.  However, CD leading to an arrest makes the individual a known person and that can be of advantage.  We can ask forthrightly whether Dorothy Day, a great twentieth century model as champion for the poor would be considered for sainthood without her arrest record.  The first draft of this reflection was on the feast of the martyrs, Saints Perpetua and Felicity, known today for their CD against the Roman emperor.  CD is done out of serving the Lord, not out of fame that is a secondary effect of such actions.  CD can make heroes and heroines.

     What more needs to be said?  I endorse the public acts of people but I prefer that change can and is made through Robin Hoods who can also effect change in quiet and hidden ways of pursuit.  This removes any temptation to perform public CD for a certain glory that can, in some cases, attract the reckless.  If public display halts the Keystone XL Pipeline, more power to organizers and participants.  But let's also look for other means.

     Prayer: Lord, help each of us to discern what method of action is best for us depending on our inclination and limited resources.

Memorial for Daniel and Rebecca Boone. Frankfort, KY.
(*photo credit)

June 15, 2013    Power in Possessing Guns and Being Unarmed

     On National Smile Power Day people urge us to lighten up and have a pleasant time.  Certainly there is hidden power in a good-natured smile when unexpected.  We need the generosity of pleasant folks to see that this can change things for the better.  Smile!

     In working on a future extended essay called GUNS that is as yet unsubtitled, I reflect on the adolescent possession of guns and how the power associated even precedes and exceeds that of any who possess driver's licenses.  It is one of the first powers that can be so easily misused in our short lives, and can even shorten those lives.  In moments of truth, gun owners will tell you about a sense of power felt, whether the gun is exposed or hidden.  Perhaps gang members and certainly child soldiers would vouch to what it means to have a weapon that elicits fear, for the holder has the power to kill another.  With three hundred million American guns it means one per person (though only half have them), and some have an arsenal that should make us wince.  Don't smile!

     American weapons are not evenly distributed, thank heavens.  Hopefully the very young, the senile, and those with mental problems do not have them.  In fact, the majority of Americans do not have weapons; they are unarmed.  They are the ones with a true interpretation of the Second Amendment of the Constitution that allows the militia to be the bearer of community arms, not a bunch of ill-trained and often uncontrolled individual upstarts who lack the courage to go unarmed.  Thank heavens, some are able to rely on our community's joint security and give policing groups the materials and moral support that it takes to safeguard our wellbeing.  There's power in being willing to live unarmed.  Smile!

     Unfortunately, a materialistic society places its safety in material things (e.g., money, real estate, drones, or guns).  We are the most heavily armed nation in the world, but are we safer because of it?  This mentality of material security draws weak and frightened people to arm themselves as though that will make them safer.  A look at statistics show unsuccessful defense by the untrained through false scare tactics and unintended fatal accidents.  The trigger-happy can do terrible things, and media has many examples leading to mistaken identity and deep regret.  Merely arming untrained individuals is asking for trouble.  Don't smile!

     The good news is that it may become fashionable again to rely on a community-sponsored police force, well trained and disciplined, to act justly for all.  To these should be given the weaponry necessary to keep law and order, combined with easy communication access to the people.  Citizens must develop a trust in this form of law and order where it is possible to go unarmed about daily life.  In the hidden power of peacemaking we discover a spiritual power that can make the world a better place.  Smile!

     Prayer: Lord, teach us the courage to be unarmed peacemakers.

Bearded Robber Fly, Asilidae sp., with prized catch.
(*photo credit)

June 16, 2013     Forgiveness in an Unforgiving Culture

     It is the man who is forgiven little who shows little love.
                                                            (Luke 7:47)

     Forgiveness is such an integral part of Christ who forgives sin, welcomes sinners as in today's Gospel reading, demands that we forgive in order to be forgiven, says that we must forgive over and over many times, forgives on the cross, introduces the prodigal son, and extends the power to forgive in the Sacrament of Reconciliation on Easter.  We must be reminded that forgiveness is key to Christian love, and Father's Day is a good time to reflect on our heavenly father who is all forgiving.

     Denial of personal sin is rampant.  When a culture is one of denying one's personal sin, it allows all of us to find fault in others but to be free of any sense of guilt.  Do we realize that no one is perfect this side of heaven and so pretending to be free of fault is utterly dishonest?  We can build up an interior impression that we are innocent until such time that another proves us guilty, and that is rarely the case if we mind our own business.

     Excuse erases guilt.  We can be extremely wasteful of resources or cause grief to neighbors, even admitting that certain misdeeds may have occurred, but we are not really to blame.  For the excusing one, a hundred other factors play the part of evading personal sin.  This is not denial of actions but a pruning of the fault to a size that makes it easy to wear.

     Escape is looking elsewhere and forgetting faults.  This becomes a worthy occupation and includes reviewing the media's accounts and basking in the ones to whom the fault is laid.  Though the individual may deny personal guilt, or feel an excuse is possible, still certain offenses by others are more worthy of our attention.  For these, the book must be thrown, three counts and they are out, and no tolerance is the rule of practice action.  The culture that imprisons more than any other nation in the world is not a paragon of forgiveness for neighbors.  Pharisees were quick to talk about sinners; but they are the other ones.

     By saying "through my fault" at the beginning of the Sacred Liturgy we are assessing our own stance before God more openly; then as beggars we affirm our condition as needing God's merciful love.  We accept consequences and do so knowing that this focus on ourselves allows us to move in an atmosphere of forgiveness to seek out and forgive others who fault us in any way.  To forgive is to see faults as being healed and thus new life can and does occur.  While those who do faults may have to be treated with respect, we still must forgive without truly forgetting.  In our culture it is impossible for a person to be totally resuscitated since records remain, and that is all the more reason we must be quick to forgive and then find ways that forgiven people can have newness of life.

     Prayer: Lord, allow us to know our situation, to know we are forgiven, and to spread the aurora of forgiveness to our neighbors.

A water break after a long walk.
(*photo credit)

June 17, 2013   Wildlife Protection and Drought Conditions

     Wildlife is part of our world that we celebrate in June.  The welfare of this wildlife is also a major component of our featured Chapter Three of Reclaiming the Commons.  Do not wildlife members have equal claim on land, water, and air resources along with us?  These are our brothers and sisters and fill our lives with joy and refreshment.  Songbirds and raptors, squirrels and rabbits, butterflies and lightning bugs, all carry a message worth rediscovering in summer.  As a family of creatures we benefit by wildlife's presence and they ought to benefit from ours as well.  With global development comes those who take liberties with wildlife, and this calls for enhanced protection and respect.  Too much easy money is used for wildlife parts and hunting.  

     The reckless culture that killed off the passenger pigeon and decimated forestlands worldwide now is moving on the global search for sharks (millions deprived of treasured shark fins) for popular Asian cuisine, and left to die finless in the oceans.  We not only threaten the habitat and breeding grounds of large numbers of wildlife; some of the most blatant exploiters poach the remaining herds of elephant to slaughter for ivory and seek the remnants of tiger populations for commercial body parts.  Never before has there been such a widespread war on our wildlife.

     Added to this widespread poaching are resulting climate extremes that beset stressed wildlife and conditions worsen.  Drought can be naturally caused, but we humans can worsen it through climate change conditions.  Purists would say that artificial feeding or watering is improper, but they tend to forget that we who cause these conditions through habitat misuse, hunting, and pollution must do something to compensate for misdeeds incurred.  If we damage, we must also take remedial measures; if our actions impact the wildlife populations, we must provide essential needs for stressed and threatened wildlife.

     A recent National Geographic featured an article on elephants at a watering hole, and how there was a distinct pecking order in who drinks the water first.  It was a story of social interactions within herds, but a reader could note in the photos that the watering place was a concrete trough for wilderness mammals.  Artificial means are being used to keep elephants from thirst in those parts of Africa, and only rightly so.  Nearer to home, it is quite worthwhile to feed over-wintering birds and water the temporary residents in summer, to provide sanctuaries and resting places for migrating wildlife, to water newly planted trees and all plants, to furnish feed to mammals and ensure access for adequate water supplies, and to look after other wildlife needs.  This is a duty when human beings have so impacted the lives of wildlife -- and it is an act of Christian kindness and justice. 

     Prayer: Lord, instill in us a sense of familial respect that extends to all the wildlife that are your gifts of being companions to us as part of our extended family.

Tabletop wildflower arrangement for picnic.
(*photo credit)

June 18, 2013  Sociability and International Picnic Day

     International Picnic Day is open to several interpretations.  Certainly, we are expected to be sociable with our neighbors who are from other lands, or to try to be sociable when we are visiting in foreign lands.  We may attempt to speak their language, I always find difficult as I try one more time to learn to speak French when returning to my grandparent-land.  In fact, a memorable picnic for me was one in Hunawihr in Alsace on my 70th birthday.  We recall meeting and communicating with others in whatever way we can, for speech and festive foods combine to make life sociable.

     Jesus expressed his sociable nature in the many recorded dining incidents in his life: the feast at Cana, Mary and Martha's invitation, several multiplications of the loaves at vast picnics of thousands, dining with Pharisees, the Last Supper, the Emmaus episode, and feeding the apostles after Easter.  We cannot image that animated conversations were not part of these events.  Jesus loved picnics and dining events.  Christian fellowship continues that tradition, and as Christians become more international in composition, picnics should actually gain favor.

     Sociability takes effort and when we lack energy due to sickness or overwork, we simply shy away from more festive occasions, or cut them short to the disappointment of those more energized for such festivities.  In fact, our physical appearance may have something to do with how we conduct ourselves.  So will our lack of mobility or disabilities such as hearing loss that makes it difficult to engage in conversations by missing the topic.  Certainly such limitations enter into our degree of sociability at given times of day, or season, or age in life.

     Another ingredient in sociability is our willingness to mix with others, or rather our preferences to share only with like- minded or acquainted individuals.  Party goers can become quite selective in their sociability.  It is important how the early Church insisted that all be treated in the same manner in liturgical celebrations.  If some are wealthy as St. James says, we are not to defer to them and give them special places of honor. 

     Acceptability and sociability may be more akin than first thought.  Social acceptability goes hand in hand with those we are inclined to "like" or "dislike."  Being down-to-Earth means that we accept a broader range of others (the earthy) into our company.  Communal welcoming allows for creating greater ripple effects on a world with essential needs of life.  In financially hard times, we are tempted to limit social services, and venture to ask who ought to be omitted from the banquet of life.  Social benefits are a mark of communal and even national inclusiveness.  We must be open to the embrace, to turn our sharing of world resources into an international picnic -- and thus grow in global sociability.

     Prayer: Lord, teach us to be sociable in a broader sense, and to know how to communicate more deeply with others in need.

"Monarch, Danaus plexippus, sunning on the shore.
(*photo credit)
June 19, 2013      The Cyrus Cylinder and Human Rights
     I am he who says of Cyrus, 'My shepherd -- he will fulfill my whole purpose, saying of Jerusalem. "Let her be rebuilt," and of the Temple, "Let your foundation be laid"'. (Isaiah 44:28)
     The clay 2,500-year-old "Cyrus Cylinder" is one of the most precious "documents" originating in the ancient world and in public display today.  It is a proclamation of human rights for people who were exiles, and it includes a statement tolerating their religious beliefs.  Some entitle this the "first bill of rights" and Thomas Jefferson was aware of the contents written by the Persian King Cyrus (559-530 BC).  An actual hand-pressed record of the proclamation was discovered in 1879 in Babylon (or Nineveh) in modern Iraq.  It was taken to the British Museum where it has been on display ever since.  This year the museum has sent the object for exhibition in five U.S. cities (Washington, Houston, New York, San Francisco, and Los Angeles). 
     Past glory is revealed.  Modern Iranian leaders speak with pride of their heritage of proven human rights, and it is time all people on this planet recognize the importance of this ancient proclamation through which King Cyrus allowed freedom of religion; he permitted Jewish exiles enduring their Babylonian Captivity to return to their home in the Holy Land.  Because of his good deeds Cyrus was praised in several places in the Scriptures (see above quote from Isaiah and elsewhere in II Chronicles, Ezra, and Daniel).  Furthermore, the Cyrus Cylinder offers proof for the historicity of Scriptural accounts of the Babylonian captivity.  
     Today, this document holds special relevance.  The Cylinder's fame rests in an ancient broad-minded expression coming from the Persian Empire which was in its zenith at the time.  The pride in this document extends to all people and not just one nation.  What came about before is all the more needed now.  The Cylinder was an instrument of peace and justice so many years ago, and even today can serve as a peace symbol at a time when clouds of war hang heavy over the Middle East landscape. 
     This has a future possibility.  This rare 539 BC-Babylonian cuneiform is more than an expression of Cyrus' victory over his enemies.  Perhaps ecologically, this is a model for what can be achieved today and proof that earthhealing is possible.  Freedom of religion and movement of people is part of commons being reclaimed right now.  Far better than bombs and warplanes is a document that people in modern day Iran, in Israel, and throughout the world can acknowledge as a common aspiration of people of all religions and cultures.  Warfare threatened at this time on the Iranian nation is no solution.  Common recognition of cherished human rights must be the goal, especially on this anniversary of Juneteenth.

     Prayer: Lord, inspire us to find in ancient actions of Cyrus the behavior sorely needed in our modern world to avoid war and trust that good will can be established among all peoples.

Hairy puccoon, Lithospermum caroliniense.
(*photo credit)

June 20, 2013             World Refugee Day

     We can hardly heal a wounded Earth unless we address the problem of millions of refugees in today's world.  Throughout the planet large multitudes of people flee warfare and oppressive conditions.  During this year much attention has been focusing on refugees from the Syrian Civil War; in that unfortunate land there are as of this writing, well over one million externally displaced Syrians and perhaps in worse shape, over three million internally displaced refugees lacking relief efforts.  Many of these leave their homes with little more than the clothes on their backs and move to homes, camps, or settlements that are generally overcrowded and lacking much of the amenities of life.  Basic sanitation is wanting; schools for the displaced children are non-existent or extremely rudimentary; adequate food and lodging is a constant problem.  The refugees are as one says, "alive but little more."

     The United Nations and other public and private agencies have been struggling to keep up with the demands of these incoming refugees.  Not only are the surging numbers a problem, but also keeping alive the 15 million externally displaced refugees (including 4.8 million Palestinians) and perhaps 25 million internally displaced ones who are already identified.  This work falls heavily on the United Nations High Commissioner for Refugees and other relief agencies.  Refugees are in flux; some come suddenly; others return when conflicts are resolved.  However, many such as Palestinians continue in this temporary status of limbo for decades.  Unfortunately, incoming exceeds outgoing refugees in this century, and one wonders whether climate-change will trigger numerous "refugees from climate" in decades to come.

     Settling strife so refugees can return is the best solution, but that has ongoing difficulties.  The Syrian conflict has no end in sight right now.  The second possible solution is to find permanent homes for some refugees who often include those not fully meeting the definition of authentic displacement but are economic refugees seeking a better life.  Perhaps refugee unfriendly conditions exist because the mix of politically displaced and economic-betterment seekers slows the process.  Receptive nations such as United States and European ones are reluctant to receive large numbers of refugees, especially during trying financial times when many refugees lack desired skills.  Even Australia, one of the most welcoming of countries, has begun a process of discouragement due to boatloads of Asians seeking to reach this relatively empty continent's shore in their flimsy boats.

     Turning longer-term refugee camps into settlements is a current option.  Children need schools; housing needs to be safe; food and potable water must be available, and working people need more permanent jobs to help support their families.  Yes, we must redouble support for refugees and their agencies.

     Prayer: Lord, help us continue to be aware of the problem of refugees and pray and work for their finding permanent homes.

Approaching storm in the forest.
(*photo credit)

June 21, 2013  Reducing Emissions Caused by Deforestation Practices     

     With the arrival of summer heat we know the forest fire season is soon to come to many parts of our country, especially areas where diseased trees have been affected by pine beetles and other pests.  The degradation of forests that seems to have compromised immune systems due to air pollution is unfortunately not confined to our country alone.  The global forest cover (the lungs of the planet) is endangered.  One-fifth of greenhouse gas emissions are attributed to the massive deforestation operations occurring on this planet.  Causes include excessive logging, general road building and urban development, mining operations, fires, and clearing for plantations and pasturelands.  Can many of these contributing factors be halted or reduced so as to stabilize the global average temperature rise to two degrees Celsius?  Can this be achieved without focusing on deforestation practices?

     Observations are not optimistic.  According to new National Oceanic and Atmospheric Administration figures, carbon dioxide now stands globally at 395 parts per million (PPM), having increased about 2.67 ppm in 2012, while past decade annual increases were under 2 ppm.  This narrows the window of opportunity to save our planet from a massive warming effect.  Every effort to reduce these emissions is necessary and major focus must be on both retiring coal-fired power plants and decline in deforestation practices.  

     All forests deserve proper forest management and harvesting practices, controlled access roads and restrictions on motorized vehicles, invasive species eradication and native wildlife encouragement, pest control, and the funds necessary to carry out these measures.  The United Nations "Reducing Emissions from Deforestation and Forest Degradation Program" (REDD) was established at the 2010 global climate-change conference to put financial value on carbon stored in forests (especially in rain forests as found in Brazil and Indonesia).  Through carbon-trading schemes, money (optimistically first estimated at thirty billion dollars) would flow to emerging nations for forest preservation, but field verification of forest conditions remain problematic.  Such a dependence on the working of various agencies in different countries could make theoretical climate-change curbs far less effective in the practical realms.  

     One emerging technology, lidar (light detection and ranging), gives three-dimensional computer images for accurate and inexpensive stored-carbon-content information.  Another possibility is direct grants to national enforcement agencies and to sponsor good management procedures at the local and regional level.  Another is a resource extraction tax on forest products.  Still another is simply prohibiting export of exotic rainforest types of wood to curtail commercialization of wood from endangered forests in impacted parts of the world.

     Prayer: Lord, give us courage to save our precious forests and to use a variety of methods to bring this about.

Rhododendron maximum, Harlan Co., KY.
(*photo credit)

June 22, 2013      Car Pooling and Sharing Resources

     Champions of private property (we all need some property) always struggle with just how much of a good thing must every individual possess, and yet be able to share with others.  The majority of working Americans have private autos, but should all drivers use them to commute?  What about larger but rarely used extension ladders or chain saws?  Some equipment needs to be used by the owner for the sake of proper care or safety, and so there is more than mere sharing the property; the owner may have to be shared as well and that can be complicating.  Using public means of transportation is a more perfect option than private use for automobile owners (it was Pope Francis' option until recently).  

     Many in our rural counties do not have the public option.  Here many commuters to nearby cities have parking areas at key places, where some cars are parked and others car pooled.  This means that people realize great saving in fuel and reduction in congestion.  There is a slight inconvenience when passengers have different drop off points or when some poolers do not follow the schedule.  When car poolers are quite dependable, this car sharing works quite well for everyone, since it could amount to much money savings over time.  Promotions by community groups or traffic lanes favoring greater occupancy all add to popularity of car sharing.    

     Regulated sharing has been expanding to strangers during these difficult financial times.  Sharing of lodging space is now a business and much is being written about unused housing being rented out for short-term living by outsiders -- provided parties are guaranteed safe in some fashion.  Again, some sharers can trash a place, or the accommodations are not what were expected, leading to some renter dissatisfaction.  Modern social networking today allows for better knowledge of both lender and renter.  Some urban businesses such as motels are finding this hurts their more regulated businesses and call for tighter regulations on the upstart companies promoting sharing.  Regardless of how traditional businesses react, some control is needed in this arena of the conservation ethic for more satisfactory use of vacant and idled property.  Certainly insurers now experiencing some challenges with incidents of sharer mishaps will find workable solutions.

     Neighborly sharing of tools such as garden tools, farm implements, tree trimmers, and picnic equipment, as well as guest rooms for rare visitors all make for a tighter community.  Economic savings and social capital accrue without having all parties buy all that could possibly be needed.  For every sharing community not all is a happy ending for some damage or do not return property.  Some will be reluctant to loan that which would be needed in better quality at a future time.  However, we can put safeguards in effect and check out renters and borrowers -- and Internet helps too with those coming from a greater distance.

     Prayer: Lord, help us to share with others what we have been
able to acquire, seeing that community grows by acts of sharing. 

Carolina horsenettle, Solanum carolinense.
(*photo credit)

June 23, 2013  Faithfully Taking UP Our Daily Crosses  

     If anyone wishes to come after me, he will deny himself
       and take up his cross daily and follow me. (Luke 9:21-22)

      What do these words just quoted from today's Gospel really mean in these somewhat difficult times?  In this year of faith, following Jesus means being willing to do what we are inspired to do given our own limitations.  We look back at the world of the coming of the Messiah.  The entrenched establishment had it rules and regulations, and had predetermined how the Messiah was to fit into schemes of obsessive observance of a rigid legal framework.  Coupled with this was a political agenda of liberating Israel from oppressive Roman rule -- and the picture of strife emerged. 

      In what ways are we called to be followers of Christ today?  Our crosses are associated with responsibilities in modern life that include busy schedules, massive allurements, and financial and  civic exceptions.  Many of our responses depend on our physical and mental ability and situation.  When willing we still find life with its ups and downs that make daily crosses difficult.  We have to be  alert to true conditions around us and including ourselves; we have to discover a sense of urgency to do something; and we act in meaningful ways.  Often circumstances make us have to break away from the prevailing culture and act in courageous ways.

     Faith calls us to be more down-to-Earth.  In accepting a cross we discover a hidden power -- a spirituality rooted in self-surrender and also self-discovery -- a process that Soren Kierkegaard addresses in The Sickness unto Death.  One of the points in this age of climate change activism is to see that we are all addicted to either the culture in which we find ourselves and engaging partly in practices we loathe.  We may condemn use of fossil fuels and yet the electricity powering this computer is from coal-fired power plants.  Furthermore we tolerate the people who contribute to destruction of our planet and do so through our inaction, which allows them to continue doing their misdeeds.

     Suffering includes accepting life's challenges and the opportunity to grow in such an acceptance of being Christian.  In part, our self-sacrifice involves understanding our innate powerlessness in a vast world of dangers and troubles.  "What can I do as an individual?"  A sense of powerlessness overwhelms me.  Maybe it is even as self-revealing to say, "What can we of a body of believers do in order to remain faithful?"  Even here, powerlessness creeps in and sucks at our collective juices.  Followers of Christ look to God for the power to act, a power resting in the resurrected Jesus.  Yes, we are powerless when acting alone or even in groups trusting in their powers alone, but the Spirit inspires us to launch out with God's help into the deep.  In this sign of the Cross we will conquer.

     Prayer: Lord, you give us crosses in life to take as a mark of service.  Help us do so with lively faith in this Year of Faith.

Appreciating summer wildflowers. Anemone virginiana.
(*photo credit)

June 24, 2013         Book Review: Return to Order

     Our economy needs solutions so we look for ideas all about.  The book by John Horvat II entitled, Return to Order: From a Frenzied Economy to an Organic Christian Society sounded like a new possibility but he turns out to be an advocate of a past Medieval Period and with no serious critique of that era.  At the start of the book I share a dismay at the materialistic culture in which we live.  However there is a quick parting of ways because Horvat seems to totally dismiss social means of addressing the issues facing our world.  At best it is done alone as individuals or in family or small community settings, but where do governmental agencies fit into the picture?  Hardly, for that is "socialistic."

      Why continue to read the entire 51 chapters lacking in a social context?  Because it is fascinating to view a rather intelligent person who shares my faith with such utterly different approaches and with utter lack of any practicality in reaching solutions.  Even the question of how on Earth would a Medieval "organic economy" be reestablished with its hierarchical structures becomes a mounting but unaddressed mystery. There is mention of concentric circles of relationships but where would national or global regulations fit if at all? 

     Horvat operated from two basic principles: "property" and  "free enterprise."  The right to basic property need not be quibbled over, but a government (a perfect state in his words) capable of regulating unlimited property or misused free enterprise is not broached, since here's a tea party bias against government. 
Ecological people or issues are labeled in the only four instances mentioned with utter scorn as are Wall Street occupiers -- though these may have been in a kinder light closer to his ideal goal of a sharing familial society.  A treatment of the four cardinal virtues including justice -- but nary a mention of social justice as understood in our age.  The cure for imbalance in society is the exercise of charity by the benevolent or prodded (by moral teachings) wealthy.  Regulated use of resources is not on the agenda.  Horvat never sees charity as a powerful tool to suppress, or that excesses could occur in the private sector, for "millionaires" much less "billionaires" and "disparity of wealth" are never mentioned.  

     Pining for a past without regard for the globalized present seemed totally unrealistic.  He places the wealth and poverty in the same categories of diversity of physical and mental endowments, in other words, a given that is part of our world and to be accepted by those within each category.  Did the book have anything redeeming?  Not textually.  However, he had spent good time in selection and placement of photos of reproductions of Medieval scenes of paintings and stained glass windows.

     Prayer: Lord, how can we return the romantics to a real world of proper discipline and still use good examples from the past.

Open land meets blue sky. Anderson Co., KY.
(*photo credit)

June 25, 2013    Religious Call for Property Limitations

     Woe to those who add house to house and join field to field until everything belongs to them and they are the sole inhabitants of the land. (Isaiah 4:8)

     We are in an age of globalization when key financiers can acquire and retain vast amounts of wealth through existing legal means.  Their power makes them feared by officeholders and average citizens alike.  Is it not the Church's mission to cultivate discipline and refrain from retaining good things by individuals?  The following is how we conclude this subject in Chapter Three on land commons in Reclaiming the Commons:                         

----------------           
     To the degree that essential needs can be met at this local level, the principle of subsidiarity encourages citizens at all levels to make this a goal worth working for.  People of the Book regard land as sacred and a commons given by the Creator as owner to be protected by stewards and temporary caretakers --not absolute owners.  The land is holy and some of it is set aside as dedicated to worship. Land is "ours" to use, a divine gift, which we are invited to acknowledge through gratitude and worship.

     Action 1 -- Promote individual and community fasting.
The Church has always had periods of time devoted to fasting and abstaining, as part of the discipline expected of its members.  People can have too much of a good thing, and so human will power is better served by periods of time when we simply do with less of a good thing.  This is a focus of particular seasons before a big feast, such as Advent prior to Christmas and Lent prior to Easter.  The rigidity of fasting and abstaining varies with times and cultures and so this is not a matter of uniformity, but that which is fitting a certain age or time in a person's life.  The thrust here is to accept the concept of limits on what we have to use -- and this approach is as old as religion itself.

    Action 2 -- Acknowledge limitations and learn.
The Church does not pronounce on specific types of landholdings: freeholding, small private plots, rented, or "owned" under proper circumstances.  In an age of land scarcity, limits need to be sought and redistribution performed fairly for the Common Good.  When missionaries followed the colonial flag, they often preached what indigenous people lacked.  As party to colonialists, colonial-age proclaimers neglected to see Good News as a two-way street.  Many indigenous people had advanced concepts of sustainability worth contributing to a broader global community.  Absolute land use rights that permeated Western colonial practice clashed with the communal nature of landholding among Natives.  Often the Church does not perceive this limitation fast enough to promote bridge-building among cultures.  The time is ripe for missionaries and those familiar with primitive cultures to affirm
the good of these cultures and reinstruct the West to sharing.
----------------------
     Prayer: Lord, give us the courage to speak when we must.

Welcome summer wildflowers! Honeybee on wingstem, Verbesina alternifolia.
(*photo credit)

June 26, 2013    Wastes in American Medical Practice

     On the day designated as the International Day in Support of Torture Victims, it seems far-fetched to talk about medical costs.  However, some of us observe that some hospitalized and ill people of limited means are tortured about how to pay the upcoming bills -- and it affects their health.  We must not overlook or dismiss victims of physical torture, but mounting indebtedness on the part of hard-working people certainly can be forms of mental torture.  Of course, some of those needing health care are victims of fraud and phony medicine that is bought from unregulated outlets.

     Let us look deeper and discover the heart of the medical waste issues.  For years we have heard that of $2.5 trillion dollars Americans spent on medical care in 2009 some one-third of this is wasted.  These wastes include inflated drug prices and improper, uncoordinated, or unnecessary treatments.  Sometimes proper diet or cessation of health-damaging practices (smoking or drug intake) could have prevented costly treatments.  Efforts at focusing on cleaning up homes can eliminate respiratory problems; good diet can reduce obesity; stopping smoking can save lungs and other parts. A conservation ethic has a major prevention component.  

     Daniel Levinson, the inspector general of the U.S. Department of Health and Human Services looks for fraud and waste for the Medicare and Medicaid that affects one hundred million citizens in our country.  He reports instances where Medicare pays four times the cost of the most commonly ordered lower-back brace ($919 for one average suppliers charge $191).  Levinson continues that infections and overmedications are events of deep concern and half could be preventable.  These conditions afflict one in every four hospitalized Medicare patients.  He adds that these events contribute to 180,000 deaths each year and cost taxpayers $4.4 billion.  This is just part of the total waste in the health system, but highlights the lack of concern about a medical health conservation ethic.  It is coming but at too slow a pace. 

     Through education we can become aware of medical waste issues -- and we mean more than just where to dispose of materials coming from hospitals and clinics (a problem in itself).  We know that all parties (health professionals, legislators and patients) must team together to reduce waste and save those who suffer or die from this appalling waste of resources.  Physicians are the key, for they order treatments and prescribe medicines.  More and more, doctors choose generics versus name brands and decide whether every test is really necessary.  They respond to a "Choosing Wisely" campaign needed to reduce the driving cost of health care that could break our nation if waste is not eliminated.  However, patients have a role to play and should ask whether this medicine or test is really necessary, or whether inexpensive but effective alternatives are possible.  Reference: AARP Bulletin, March 2013, p. 34.

     Prayer: Lord, inspire us to recognize waste when it comes to personal health and to do all we can to prevent and eliminate it.

Blue mistflower, Conoclinium (Eupatorium) coelestinum.
(*photo credit)

June 27, 2013  Benefits and Risks of Cheap American Natural Gas

     Plentiful fossil fuels strike us as a great benefit.  Many consumers and some industry groups would say "yes," but some discerning citizens have second thoughts.

Benefits:
* Thanks to the new engineering procedure of hydraulic fracturing of plentiful shale strata, both in many parts of America and abroad, natural gas is now available in abundance at greatly reduced prices, now as low as $2 to $4 per MBTU (million BTU) versus $12 in 2008 for shale gas;
* America's fracking of gas (and oil) opens the prospect of energy independence.  Facilities built on the Gulf Coast to import liquefied natural gas (LNG) are now applying for licenses to export American gas to Asian lands where prices are $20/MBTU;
* Industries hard hit in recent years by outsourcing such as metals now have advantages of accessible markets, expert labor force, less travel cost and time, AND cheap natural gas;
* Royalties help some farmers and landholders in gas-rich American areas along with some associated businesses; and
* Gas-fired power plants replace dirty coal, which is known to pollute our air with such toxic substances as mercury as well as excessive amounts of carbon dioxide.  Furthermore, gas drilling is less risky than underground coal mining and less land is disturbed than for surface coal mining.
     Risks:
* Increased use of gas goes beyond being a substitute transition fuel (to replace coal).  It actually helps arrive at a  "tipping point" in climate change (see previous reflections).  The Proceedings from the National Academy of Science says that uncombusted methane is a more powerful greenhouse gas emitter;
* Some undetermined amount of natural gas is leaking from drilling and transport operations (an in fairness from coal mines as well), for it may be more than the leakage rates of 2% originally estimated (right now the USEPA is gathering data that is difficult to compile and total);
* Popularity of natural gas by an energy-addicted public does not bode well for dispassionate discernment about consumption practices.  This gas can erode a conservation ethic and retard the planned growth of renewables sources expected by 2030; 
* Fracking natural gas involves a number of environmental costs that must not be discounted, such as water contamination and excessive use especially in drier areas, fracturing of domestic water wells, minor earthquakes from water injection, and toxic materials harming livestock and wildlife;
* Low prices could hurt industry's ability to cope with demand and these price fluctuations need to be mitigated (Rutt Bridges, "The Future of Natural Gas," EPmag.com, Feb. 2013); and
* Boom-and-bust gas drilling can be disruptive of the social life of communities, causing congestion, pitting neighbors against neighbor, and eroding social capital by wealth disparity.

     Prayer: Lord, teach us weigh wise environmental and energy choices, and help us see come to a viable conservation ethic.

Handhsake.
(*Photo by Janet McKnight, Creative Commons.)

June 28, 2013   National Handshake Day and Making Agreements

     Many an agreement is resolved by a handshake and without written statements at least at first.  We wonder how many alliances and international agreements have been sealed with famous handshakes in history. 

     Historic handshakes: Some regard the most famous handshake as being between Queen Elizabeth II and former IRA Commander and then Northern Ireland First Deputy Minister Martin McGuinness.  Actually the eight listed in Historic Handshakes by Christopher Klein are: Generals Lee and Grant at Appomattox Courthouse in 1865; President Nixon and Elvis Presley; President McKinley and his assassin Leon Czolgosz just before the shots; Adolph Hitler and British PM Neville Chamberlain in 1938; three-way handshake among Churchill, Truman, and Stalin in 1945; Egyptian President Anwar Sadat and Israeli PM Menachem Begin; PLO Chairman Yasser Arafat and Israeli PM Yitzhak Rabin; and President John Kennedy and a 16-year-old Bill Clinton, a Boys Nation delegate.

     Solemn handshakes.  The flag of our Kentucky Commonwealth has the pioneer and the gentleman shaking hands together.  Interesting!  I recall that my Dad made an agreement with a local cattle trader to sell his yearly supply of beef cattle through a handshake -- and then before the final transaction occurred, the price of cattle went up and we lost much.  I said to my father, "Why there is no written contract, is there?  Only your word?"  And he replied, "But it is MY WORD."  On a word and the symbolic handshake the agreement was reached, and Daddy's word meant something.  Our family lost some income but we gained an understanding of what word means -- and that lesson was well worth the many dollars losses.

     Secular history.  One theory about handshakes is that it shows the other party that the weapon hand is free of any deadly instrument and thus open to agreement.  We become a free agent to execute the handshake as a partner in some peaceful fashion. 

     Liturgical history.  I have noted over time that some people prefer to give a very firm handshake to express determination and resolve and portray to the other party something about personality.  I suspect that a weaker handshake gives them a poorer impression of me.  Once on a Mission talk in Michigan, I suffered from a sprained hand but still tried to endure the art of greeting each person after church with a handshake and a light one at that, since each undertaking was painful.  A lady grabbed my swollen hand and scolded me while shaking it vigorously.  I recalled the story that Abe Lincoln suffered exactly the same during one of those festivals at the White House when he had to shake untold numbers of hands.

     Prayer: Lord, our handshake with you is our word in Baptism that we will live as partner with you.  We make our individual covenant.  You promise us peace in this life and eternal life in the divine family; we try to seal our relationship with a covenant of keeping your commandments -- our handshake with you.

Caught in the act; beetle eating folliage.
(*photo credit)

June 29, 2013       Books in Progress: A Novel Concept?

     The digital age of printing allows us to edit existing (digital) books at will when we decide that updating needs to be done.  This means a new copyright and ISBN number when we assemble a new set of additions and changes.  Indeed, the effort and cost of doing so is minor compared to developing newer printed editions.  Not all projects or books lend themselves easily for this approach, but certainly those of current events, environmental issues, social philosophy, or clarifying theological issues allow for such a process.   Perhaps those who are very near death may regard a work closure as a last hurrah. True!  However, if we have the intellectual energy, spark of creativity, and willingness to communicate with others, this digital age allows for still more advantages for continuing writing the works-in-progress:

     Openness by the author: We are always open when our works are simply in progress, the pen is never rested, and the final result presented to the world.  This also keeps the author from having to defend his or her last word, for it is not expected to be.  The exercise can be humbling, for it opens us to new concepts and to defy elitist temptation that this is the last word.  Obviously this opens to others using ideas, camouflaging in their own and often more succinct style, perhaps even negatively belittling our work, and then feeling completely free to advance their thought.  That is fear of our competitive age.  However, we take comfort in knowing that copyrights for older and dated versions are operative. 

     Invitation to audience: Readers who want to enter the discussion, and have much to offer, know that more is coming and they could influence results.  While naysayers have fewer grounds for final judgment, they may prefer to put people into pre-established categories.  However, this approach can be liberating to positive readers who feel restricted in critique of a finished work when something is at variance with their own position.  They may hesitate to give opposition to something realized to be a good work.  If their contribution may be articulated in the next edition, then they find it more appealing to be invited to be collaborative through discussion with the author.

     Defies final judgment: Reviewers or judges do not like this method and yet some of us who make these works-in-progress free of charge are doing so for the budding practice of cooperative book writing.  Transparency tells what is now in our mind.  An open and easily accessible social media allows contributors to enter in and contribute their expertise.  Judges and critics may lack this urge for creative advancement, even while pretending to be positive.  Thus an unfinished word does not allow for condemnation of that final work-in-progress because it is being written.  Judges are invited into a scripting room and show their own limitations.

     Prayer: Lord, give us the energy to continue the struggle; much of our current conditions, economy, systems, and even art of communication are in flux.  Keep us open to a better tomorrow.

Rose pink, Sabatia angularis. Rockcastle Co., KY.
(*photo credit)

June 30, 2013       Follow Jesus on the Journey to Jerusalem

     Once the hand is laid to the plough, no one who looks back is fit for the kingdom of God.  (Luke 9:62)

     Hand plowing is difficult enough, but without going into  details we are faced with the equally if not greater difficulty of following the Lord in today's world.  We vacillate as to whether we want to lead or follow and come to realize in life that we have to do both. The Gospel of Luke is one of a travel narrative, and Jesus is heading to culminating his mission in Jerusalem.  Today's Gospel passage says that the journey of faith is not all roses.

     Following is part of being Christian.  We are called to follow the Lord from the time of our Baptism when we enter the community of Christ's Body.  We choose to have a covenant relationship with our loving and merciful God, and this means that in following our calling we are faithful to that promise of service with the promise of eternal life.  The options are simple; the road to reach the end can be long and dusty; we need to follow another for that road is too blinding and dusty when trying to go it alone. 

     Our "Jerusalem" lies somewhat before us beyond the curtain of current time.  In some ways it has a familiar ring to the road Jesus took with temptations and opposition.  In other ways it is a different time and place.  We note that Jesus had disciples to accompany him on his journey; we also need companionship on the unexpected and sometimes rocky terrain of our journey.  Our "Jerusalem" refers to a destiny of life and, while different, it still has a resemblance to Jesus' own travel.

     The journey includes the Spirit who is with us.  Jesus' journey is resolute for he is led by the Spirit.  We are one with the Lord and that means we go where the Spirit directs us as well.  Jesus is a realist and knows that hard knocks lie ahead; we foresee possibilities of hardships with diminishment of powers and the final struggles of life.  Jesus does not allow the temptation of Peter (who suggests that the journey be cancelled) to influence him; we too are called to overcome the test of detouring or giving up our journey of faith.  Jesus does not want followers who hesitate and turn back; we look for faithful companions and know the Lord is with us also.

     Leading includes being other christs to our neighbor.  Can we follow and lead at the same time?  Jesus asks us to be lights to others just as he is light to us.  If we look up we observe some folks wandering about leaderless and craving some directing person.  We all have only a limited period of precious time to achieve our goal.  Acquaintances pass before us as time flies by and we become aware of needing to act.  We are called to help others overcome their pitfalls and to join us as companions on our joint journey. 

     Prayer: Lord, give us the grace to follow the Spirit in our journey of faith, and to bring others with us as companions.