The Earth Healing Bulletin features recent additions to the Earth Healing website, catches you up-to-date on our latest endeavors, and highlights areas that may be of special interest to you, our loyal subscribers. Have a story to share? We'd love to hear from you! We invite you to tell a friend about Earth Healing Bulletin, and as always, we welcome your comments and suggestions.
Peace,
Al Fritsch, SJ and the Earth Healing team

THIS MONTH'S FEATURES
Thanks to our website visitors who were faithful during the long, hot summer when many abandon frequent Internet visits. This website had over 400,000 during August (a record) and over 1.15 million during the summer from 103 countries (another record). We hope to continue providing you with pertinent texts and photos, and as always we look forward to hearing from you.


Special Issues have continued through the year with an addition in every month except July. We have completed the "Sounds and Silence" contributions during the summer (Sound Pollution in August and Reclaiming Silent Space in September). For the month of October we are presenting a modified Globish as a better tool for communicating English among readers. In November, you will receive our Morality of Nuclear Power, a most timely subject due to the global movement towards a carbon-free energy economy. In December, we intend to complete the year with the "Right to Dry" Clothes Outdoors by its foremost proponent, Alexander Lee. We hope you give careful viewing of all these 2007 Special Issues.


Nature Photos have been appearing at one a day -- quite an undertaking. Many are from Janet Powell's growing library but, as many readers note, some are from other contributors. We will honor voluntary digital submissions via e-mail (webperson +at+ earthhealing +dot+ info), and will make an effort to pair contributor's submissions with a Daily Reflections entry.


Birthday gifts can be for social justice projects. Donations for Earthhealing.info are always welcome, especially since this costs us slightly more than $50 per day, whatever the size of the viewership. And this does not include much total or partial donated time by various staff members. We invest very little in raising funds, but are starting to look for sponsorships and grants to tide us through 2008 and inevitably rising costs. Have you got someone in mind who would appreciate a day's sponsorship on their birthday? We will note the contribution on that day if you wish and if sent three weeks ahead of time. (Click here for our Donations page).


The year 2008 looms before us. For the past four years we have introduced a unique Daily Reflections (1461 different entries) but it may be time to revisit the 2004 topics which had far fewer visitors that first year (about what we get now in four days). These 2004 subjects need updating and a fresh look.


Future books are being planned. One that is being finished at this time is Redeeming Tobacco that treats the general and personal history and health effects of past tobacco use along with attention to new uses of tobacco for producing low-priced pharmaceutical products. Art Purcell promises to help us with a book on Noise Pollution, if his health keeps improving. If time permits a future book on Radically Sharing World Resources could be in the offing.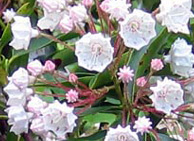 The term "Earth Healing" (EH) has been used by our Environmental Resource Assessment Service (ERAS) for two decades. Through ERAS, we have assisted over 200 groups in 34 states and Canada. EH has been used on our weekly television shows on WOBZ-TV at London, Kentucky for the past six years. EH was also the name of a book by Al Fritsch and Bob Sears. And finally, it is now being used for this website and associated non-profit organization, Earth Healing, Inc. We hope you enjoy your visit to this site and invite you to join our mailing list!