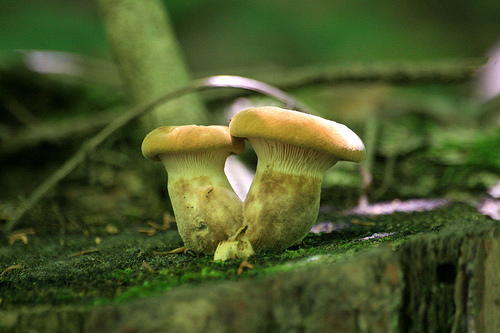 Twin toadstools growing on a stump under dense forest canopy.
Cumberland Gap National Historical Park
September 1, 2007 Cherokee National Holiday

We always need to honor the heritage of people who live near
us. The Nature Center that I helped establish in south central
Kentucky was part of what was informally considered the hunting
territory of the Cherokee nation, which existed further south in
Tennessee, North Carolina and into Georgia.

The history of the Cherokee tribe (one of the so-called "five
civilized nations" of the Southeast) included great promise that
turned to sorrow upon further contact with the waves of white
settlers. The promise included development of the Cherokee written
language and government. A German-born activist, Christian Priber,
came among the Cherokees in the early eighteenth century and sought
to set up a "Kingdom of Paradise," which triggered concern among
colonialists because he wanted to include the French and black
slaves as citizens of this commonwealth. Priber encouraged the
nation to trade with the English who constantly shortchanged the
Cherokee, which brought about Priber's downfall and imprisonment.
With Anglo expansionism the Cherokees saw treaty after treaty
broken and more and more of their ancestral land taken over by
white settlers. A proud people with their written language and
deep culture along with a non-warlike nature became the target of
land-grabbing that culminated in destructive actions during the
Jackson Administration. The Cherokee people's cohesiveness was
broken in the 1830s when a major tribal component was forced to
march on the "Trail of Tears" across the Mississippi Valley and
into Indian Territory of present day Oklahoma.

Some of the Cherokee people escaped from the round-up and
forced march; these hid in the Appalachian hills, intermarried
with homesteaders and melted into the local residents. Their
Cherokee blood still courses in the veins of quite a number of
Appalachians. A more pure blooded component of this Eastern
Cherokee Band set up a reservation in North Carolina, first under
private and then governmental auspices, and this reservation
prospers today in Swain County adjacent to the Great Smoky
Mountains National Park. The people in and around Cherokee, North
Carolina, pride themselves on their heritage and maintain an
informative museum and a theater both giving highlights about the
history and culture of this people. The reservation thrives today,
in part from revenue involving tourism and gambling.

The western band was settled in Oklahoma in and around
Cherokee County east of Tulsa. This band is quite conscious of its
history but does not have a land-based center like the North
Carolina reservation. However, its history is highlighted on the
website <www.cherokeehistory.com>. Among the descendants of
this band of Cherokee is the humorist and actor Will Rogers, who
had Cherokee blood from both his father's and mother's side.
Rogers said his folks did not come over on the Mayflower; they met
it here. His remarks include: "I have Indian Blood in me. I have
just enough white blood for you to question my honesty." One can
understand this in the light of Cherokee-American relations.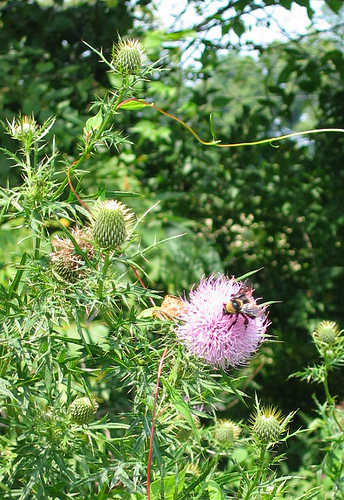 Carduus nutans, nodding thistle. Woodford Co., KY

September 2, 2007 Exalted and Humbled

Too often in the past we have witnessed a neo-colonialist
approach to spreading the Good News. Mainly, the true believer has
the power to give something another lacks through ignorance, and so
this is now the good news for you to take or reject. Fine and
good! And such proclaimers have been good candidates for cannibal
stew. Exaltation comes in crowing to another, but humility waits
patiently in the wings of the stage. Another way of seeing
ourselves as proclaimers of the Good News is that we feel extremely
humbled by the task and our inability to be able to effect as much
change as we would like. We are also humbled in knowing that our
message will need to be continually refined while in dialog with
those from other cultures -- all of whom have so many good things
to bring back to the universal community through the communication
of the Church. In fact, one of our goals in proclaiming Good News
is that the culture that we are targeting has good qualities that
we must help fashion into the refined proclamation, thereby
spreading the word that a culture deemed of little worth actually
has value for a broader global audience. The Good News is that we
all have something to give to each other and to radically share.

Appalachian Example. Cultures may be already Christian or
not and so those we look for and find will differ one from another.
The Appalachian culture is basically Christian but not Catholic as
such. Thus what we seek for are refinements on the culture so that
a fuller participation in our common Christian heritage may result.
The following are ways Appalachian culture can be approached so
that all are humbled together and arrive at a common exaltation.
In this case a culture that is regarded as rural and more defective
(the Appalachian) can be seen as positive and contributing to the
glory of the Family of God. We will look at four major sections of
the components of the Catechism of the Catholic Church.

I. Profession of faith: The marks of the Church are
One, Holy, Catholic & Apostolic vs.
Appalachian -- Witness of the dynamics of the local
church and how this church is regarded as
psychologically owned by the local community.

II. Celebration of all seven sacraments: vs.
Appalachian -- Born again by Spirit and intensity of
that rebirth (Humility demands that we see that our
salvation is being worked out in fear and trembling).

III. Life of Christ: Seven Gifts of the Holy Spirit that are
conferred in the sacrament of confirmation vs.
Appalachian -- Intense suffering from drug culture that
needs remedying by cooperation of all the people.

IV. Christian prayer: Formal prayer of the Church in all its
liturgical beauty brings all people together vs.
Appalachian -- Informal but quietly intense prayer
concentrating on presence before God for more local
needs.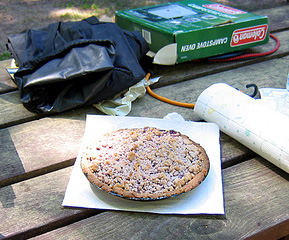 Labor day camp cooking, freshly-made pie.
September 3, 2007 Laboring to Save the Earth

Three steps are needed to begin the process of healing our
Earth: knowing what is wrong; stopping the perpetrators of the
wrongdoing; and mustering the will power to take corrective action.
All of these take effort or work -- and that is what we are
focusing on during this Labor Day weekend. In recent years this
holiday has come to mean fun and games, the kickoff of an election
campaign, and honoring the Union movement. All of these are good
and to be encouraged, but our daily reflections have focused more
often on the value of laboring (Sept. 1, 2004) and the work ethic
as related to youth (April 27, 2006). Climate change triggers a
work ethic that is directly related to our responsibilities as
citizens of a troubled Earth. The dignity of work is more than
making a decent living; it involves uniting to save our Earth.

Learning. It takes a certain amount of concentration to focus
on what is wrong with use of nonrenewable resources, practices
causing excessive carbon dioxide and methane generation and buildup
in our environment, who the culprits are and what we must do about
them, and individual practices that must be undertaken as part of
a conservation ethic.

Public interest action. We are tempted to deny the current
environmental problems, but upon learning about them we are drawn
to identify and publicize culprits; this takes a special effort
for the task is too big for individuals and requires joining with
others. Joining involves more than an occasional donation; it
includes letter-writing, phone calls, getting others to join,
demonstrating, and a host of different actions that can bring about
change -- all of which are labors of love.

Remedies. We are all partly to blame for the mess in which
our troubled Earth has found herself. Conserving resources is
troublesome and yet needs to be undertaken. Such measures include
using and maintaining compost bins, walking when we could drive,
and recycling various sorted materials, substituting fluorescent
bulbs for incandescent electric bulbs, and airing out the house in
early morning in place of using air conditioning.

Changing our ways. One instance of labor that is often
overlooked is the effort it takes to change our way of living such
as our diet so that we use fewer food resources. Eating a heavy
diet of meat and processed foods takes far more resources than a
more simple vegetarian and whole foods diet. We may wish to expand
our own backyard gardening and this can couple physical exercise
with physical labor -- with many other benefits to follow.
It is false to think that profound changes can be made in our
American lifestyle without some effort and sacrifice on the part of
individuals and groups. Some things may be more inconvenient at
first. Every society faced with crises has needed to sacrifice and
find in doing so hidden benefits that include solidarity with
others who are in need. Our efforts become labor which can be
celebrated -- and that is what a liturgy is.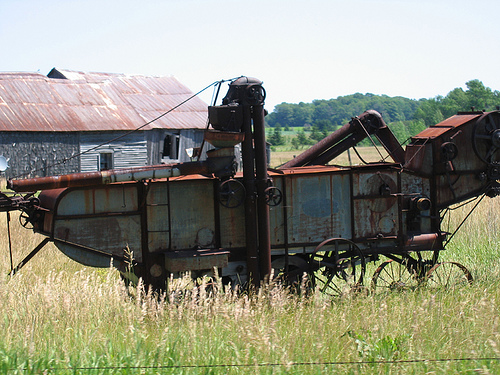 Old farm scene with rusty thrashing machine from an earlier time.

September 4, 2007 Pasta Salad Varieties

In late summer so many groups want to have potluck picnics to
crowd in the event before the weather turns bad. September is the
ideal time. Such potlucks are challenges for the minor cooks of
this Earth but there are possible dishes. When my 12-part fresh
salads of spring give way to tougher and stronger tasting veggies
of summer, I try to vary my contributions to include standard
pastas to which I have added ingredients in a somewhat creative
manner. I am listing here thirty ingredients from which I include
an selected number (hoping to reach the magic dozen in a single
preparation). All these pasta salads contain olive oil, vinegar
(herbal if possible), lemon juice, soy sauce, Parmesan cheese,
artificial bacon bits, salt and pepper. The following are some
veggie additions:

Basil leaves (the following are finely chopped)
Beet tops when tender
Broccoli (sometimes steamed first)
Brussels sprouts "
Cabbage "
Cauliflower "
Carrots
Celery
Corn
Cranberries (dried)
Cucumbers
Dill seed
Endive
Garlic cloves, juice or leaves
Green beans chopped fine
Jerusalem artichokes
Mustard greens
Okra
Olives
Onions
Parsley
Peanuts
Peas
Peppers (green)
" (chili) dash
Pickles
Radishes
Sorrel leaves
Sunflower seeds
Tomatoes

The type of pasta chosen can vary as well, for pasta comes in
a variety of shapes, colors and vegetative compositions (spinach,
etc.) as a substitute for wheat flour. Additional herbs may also
be tried.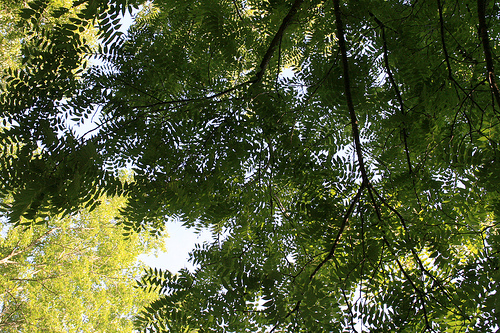 Peering into the treetops along a road lined
with black walnuts (Juglans nigra)

September 5, 2007 Urban Forests

Experts admit that strips of vegetation strips near roadways
can decrease highway traffic noise. This is very true where there
is a thick undergrowth. The Federal Highway Administration says
that thirty meters of dense vegetation can reduce noise by five
decibels. Some protest that these tree and other vegetation belts
are luxuries that cannot be afforded by every community. In this
age of decreasing urban forestry existing vegetation is becoming
more highly valued. Recall the shady lanes of rural villages and
the tree-lined streets of small-town America. However, few tree
plantings with all their benefits (shade, beauty, etc.) are done to
reduce land-based noise, and yet most forms of urban forestry can
reduce air traffic noises considerably.

Urban forestry must again become a goal of our metropolitan
areas. Unfortunately, trees produce leaves that some find a burden
to clean up; trees have become the victims of air pollution; the
replacement of aging trees is expensive and other tasks are
regarded as more pressing. Within the past few decades San Diego
has lost one-quarter of its tree cover, Washington, DC half and
Chicago and Philadelphia even more (Wall Street Journal, June 23-
24, 2007 p. A-8). This is equivalent to what is occurring in the
rain forest, and this tree loss results in less cleaning of
polluted air, less retention of rain water, less shading that
retards the heating of hardened road surfaces (and could reduce
temperatures up to eight degrees). Today's global warming and
energy conservation consciousness make urban dwellers realize that
trees translate into less air conditioning. But besides, there is
the added advantage of foliage-dampening noise.

Tree planting programs can be initiated and encouraged by
civic, religious and school groups as well as by metropolitan
governmental agencies. For instance, Los Angeles plans to plant
one million trees over a thirty-year period, although the city
realizes that benefits will be rather slow to accrue.

Several types of trees with more foliage cover are more
advantageous from an environmental standpoint. Traffic tolerant
evergreens can be favorites since they are laden with greenery
year-round. Some managers and homeowners do not like falling
leaves and fruit/nuts, and so prefer light-leafed deciduous trees
or evergreens. Trees that are pollution tolerant should be a less
important factor in selection, as stricter air-pollution and
especially ozone standards are enforced. Urban forestry target
areas are all over -- residential areas, roadways, cemeteries,
malls and parking lots. Most surfaces could use tree strips,
strategic tree islands, or trees interspersed in open space.
Maintenance crews for parking areas often object in the snow belt
because it is hard to negotiate around trees and tree islands --
but global warming will mean less snow. Trees have too many
advantages to allow inconveniences such as fall leaves or
hindrances to snow plows to stand in the way of massive urban tree
plantings.


September 6, 2007 Climate Change and the Poor

The June, 2007, issue of Acid News (see August 10, 2007, for
periodical details) says that the poorest people of this Earth will
be hardest hit by global warming. The article focuses on a report
by the United Nation's Intergovernmental Panel on Climate Change
(IPCC) that cites four areas where populations are most vulnerable:
* The Arctic, where temperatures are rising and ice is
melting;
* Sub-Saharan Africa, where dry areas are forecast to get
dryer;
* Small islands (principally in the Pacific and Indian
Oceans), because of their inherent lack of capability to adapt, and
* Asian mega-deltas, where billions of people will be at
increased risk of flooding and coastal inundation.

It appears that the first of these regions (the Arctic) is
already experiencing more severe climatic change effects than other
areas. However, the Arctic is thinly populated with only thousands
of people deeply affected. The third area (the oceanic islands) is
also relatively small in population (though some islands are
densely settled). Both Arctic and Oceanic groups could be moved to
more favorable locations through minor adjustment of world
resources. However, this is not the case with sub-Saharan regions
of Africa and with the mega-delta people, especially those living
in very poor and low-resourced Bangladesh.

Upon penetrating more deeply into the IPCC report we find that
in Africa food production is predicted to fall by half as early as
2020 and that reduced water resources could affect 75-250 million
people. Asia will suffer reductions in meltwater runoff from the
receding mountain glaciers in the Himalayas with negative effects
on more than one billion people by 2050. Australia will experience
restricted water availability; Latin America will expect declines
in harvest; North America may experience extremes in weather; and
Europe, perhaps the least negatively affected continent, can still
expect coastal erosion and more climate-related natural
catastrophes.

When disasters occur, all too often as was exemplified in the
Katrina Storm in New Orleans in 2005, poor people have the most
difficult time getting away to safety, much less starting afresh to
rebuild their lives after the disaster. The possible flooding and
droughts that will undoubtedly come in the years ahead due to
global warming will affect the poor the most, whether Inuit in the
Arctic or Bangladeshi. We see what is coming and so can make
adjustments in living conditions. Flood walls are expensive and
effective irrigation projects nearly impossible in some water
deprived areas. However, we can prepare resources to provide
potable water reservoirs and food distribution and health centers
for people who suffer from increased malnutrition and burdens of
diarrhoeal, cardio-respiratory and infectious diseases. Such
preparations will take new priorities in financial resources but
the poor deserve such anticipatory actions.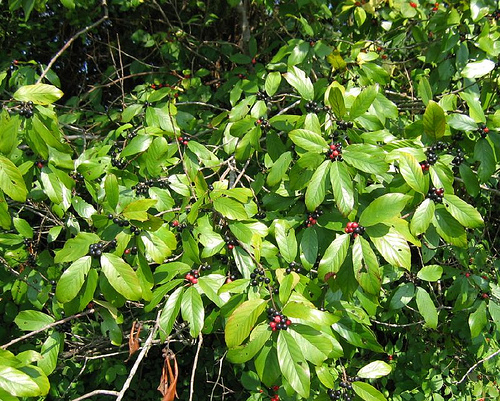 Carolina buckthorn, Frangula caroliniana.
September 7, 2007 Live Earth Pledge

Former United States Vice President Al Gore has taken upon
himself the task of becoming a spokesperson for alerting the world
to the tragic effects of climate change. He has done this through
a prize winning movie as well as through talks, debates and other
appearances for various environmental causes. One of his
contributions is in the form of a pledge that is worth taking:

Pledge:

1. To demand that my country join an international treaty
within the next two years that cuts global warming pollution by 90%
in developed countries and by more than half worldwide in time for
the next generation to inherit a healthy Earth;

2. To take personal action to help solve the climate crisis by
reducing my own carbon dioxide pollution as much as I can and
offsetting the rest to become "carbon neutral."*

3. To fight for a moratorium on the construction of any new
generating facility that burns coal without the capacity to safely
trap and store carbon dioxide;

4. To work for a dramatic increase in the energy efficiency of
my home, workplace, school, place of worship, and means of
transportation;

5. To fight for laws and policies that expand the use of
renewable energy sources and reduce dependence on oil and coal;

6. To plant new trees and to join with others in preserving
and protecting forests; and

7. To buy from businesses and support leaders who share my
commitment to solving the climate crisis and building a
sustainable, just, and prosperous world for the 21st century.


-- MAKE THE PLEDGE AND SPREAD THE WORD TO OTHERS --


* Note: I am highly uncertain about the "offsetting with
"carbon neutral" portion of Number Two. The basic idea is well
intended but given current American attitudes, it can be subject to
misinterpretation (see September 28, 2007 when it appears). First,
only the wealthy have the ability to perform some types of
offsetting; second, the action can be pretending to be green when
it actually is allowing certain wasteful practices to continue; and
third, it can allow others to see a tinge of hypocrisy that can be
associated with only partly acting in a conservation-conscious
manner.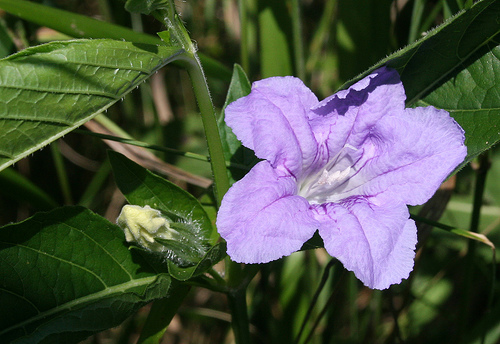 Ruellia strepens, Franklin Co., KY.

September 8, 2007 The Value of Improved Literacy

This is International Literacy Day and a time to appreciate
the power of knowing how to read, to obtain information, to
understand basic instruction, and to prepare documents for basic
human living. Literacy has been written about before in these
daily reflections, from the general problem of total illiteracy to
cultural illiteracy (literate people who no longer read for one or
other reason), and functional illiteracy (those who do not read
well, at least in English). Let's move beyond the basics.

Give quality time to reading. Television and radio can make
people lazy and cut back on their reading. It is astounding that
few read serious books even when they buy them; some read novels
but the majority do little reading at all beyond road signs and the
gender of the restroom. I do not have a television cable hook-up
and know others who refrain from using this media outlet. Over the
years I have noted that when I am at places where television is
easily accessible my reading diminishes. Literacy practice seems
to be related to the media used for communication and the amount of
time given to such media. The first way to improve one's literacy
is to give reading some quality time each day; however, this is
more easy said than done, for reading takes more effort than
switching on a television set.

Simplify lingua franca. All too often indigenous
languages that are spoken by native peoples are not the focus of
attention. It is the second or "national" language that needs to
be read for the sake of greater communication. Here the English-
speaking peoples of the developed nations ought to pay a tax for
they do not have the burden and expense of learning the lingua
franca of trade or the Internet world. A fraction of one-percent
tax on sales of items and commerce would fund a global learning
process available to non-English speaking peoples who desire to
interact at a global level in commerce and services. And the
language should be simplified for the sake of learning. This
"Globish" basic English language should become the polite
vocabulary of people who are native English speakers, thus allowing
larger numbers of those with English as a second or third language
to have a better facility in basic communications.

Support ongoing literacy programs. Regard literacy as of
national importance. Some of the most vulnerable programs that are
traditionally government funded are literacy ones. Is this because
the benefactors are not very vocal, or because the results take
time to observe, or because the work is highly intensive as to
labor demanded? However, the overall investment is worth it.
Every person who is able to read is a more valuable citizen and can
do so much more for our country and world -- plus this being a
gratifying experience and liberation for the individual citizen.
On the international front, literacy programs within developing
countries afford excellent opportunities for volunteers to give
service to others -- though even their volunteering requires a
certain monetary investment. Globally it is worth it.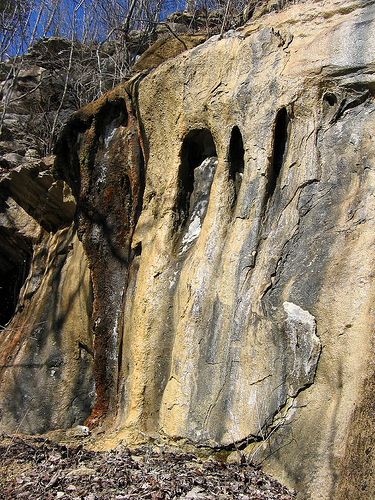 Travertine on Limestone, Carter Caves State Park.
Carter Co., KY.

September 9, 2007 The Cross, Discipleship and Saving the Earth

As for your intention, who would have learnt it, had you not
granted Wisdom and sent your holy spirit from above? (Wisdom 9, 17)

God gives us the way to become godly in our conduct, and this
is exemplified and realized by the suffering of Christ on Calvary.
To be his disciple, we are to take up our cross and help in the
salvation of this troubled world. To thus be godly as holy Wisdom
(Jesus himself) is, in sacrificing for us, we are to discern
together in a forthright manner how we are to follow and be
effective through the power of the Holy Spirit. It makes me happy
to suffer for you, as I am suffering now, and in my own body to do
what I can to make up for all that has still to be undergone by
Christ for the sake of his body, the Church. (Colossians 1:24)

Let's expand the theology of redemption from saving our
individual souls to saving our troubled world, which is really very
closely associated. We have the gifts of wisdom and discernment so
that we can plan effectively what to do. We come to know right and
wrong; we help develop proper remedies; and we pray for the will
power to put this into effect. Knowing is through the entire
secular enterprise of knowledge and education; effecting changes to
reduce the wrong being done is the work of public interest in this
age; to bolster the will power to do this work on both an
individual and group level takes spiritual effort.

As church people doing godly work it is utterly important that
we undertake practices of self-denial and conservation, and do so,
not as individuals apart from others, but as part of a community
moving to a united end of a healed Earth. As the gospel (Luke 14:
25-33) today testifies, we must strengthen our will power through
deliberate planning, not a hit and miss approach to salvation. We
are like architects preparing to build a sturdy building that can
withstand the storms of life. We are to prepare for battle like a
military leader. If the image shocks us a little it is because we
are so often short on discipline, something that the Church has
taught through the ages.

Without methodical planning and discipline our troubled Earth
will not be saved. Our economic system is unchecked and so greed
has its sway and permits vast accumulations of wealth: get money,
buy things, consume them up and buy again, toss the discards, and
buy again and again. The driving force is the quest for personal
satisfaction, and when it never comes, the materialist says try for
more and more. Discernment by wise people calls the consumer rat
race into question. We must plan in an effective manner but not in
order to obtain more and more material things, but for spiritual
goals --love, joy, peace, patience, etc. Yes, this is not a quest
for convenience and ease in operating; the changes needed take
effort and are often inconvenient. Good will ultimately triumphs
but there is a sacrificing cross along the way -- and it is
dishonest to deny it. Our vocation to save this troubled Earth is
privileged vocation -- and that brings its own satisfaction.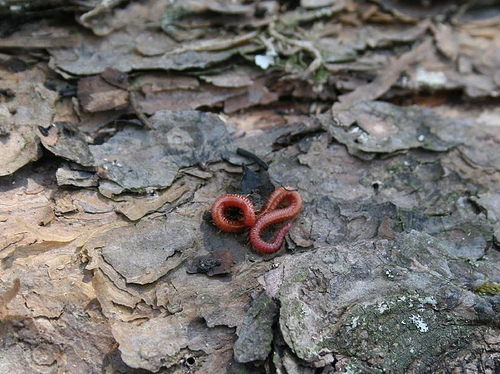 Scolopendromorph (centipede) on fallen pine log

September 10, 2007 Hispanic Heritage and Fair Trade Movement

Many Hispanics who come and work in this country exhibit a
strong work ethic; they live decent lives and send their extra
money back to folks in Latin America. Granted, some few do not
follow these practices but, for the most part, the Hispanic traits
have been highly beneficial for filling in the unfilled work
positions in large portions of our country; these jobs range from
service ones to farm, factory, domestic and construction work to
office and professional positions. The Hispanic heritage of hard
work has enriched the United States and deserves honor by all as
well as gratitude through fair immigration and naturalization
policies.

Quite often Hispanic workers must labor under conditions
imposed by others who own the factories, farms or homesteads that
need maintaining. Workers do not have control over the price that
they receive for labor given. Unions certainly try to ensure
fairness but many workers are not unionized. Often the products of
individual artisans are vulnerable; the artisans lack the economic
self-sufficiency to demand fair prices for the ceramic pot,
sweater, or coffee. Hispanic and Native American artisans seem to
suffer more than others. I recall at a train station in Peru a
woman at the tracks begged for five dollars for a beautiful alpaca
sweater, and our traveling associate put up three fingers; she
traded the sweater (worth $50 a quarter of a century ago) for a
meager three bucks. I really was disturbed about the transaction.

The Fair Trade Movement (FTM) covers several aspects of
commerce: it empowers the poor to sell their products in developed
lands; it also includes setting standards for international
trading of items. FTM means getting fair market price for items
made in the Hispanic world and capturing the differences (between
$3 sales and $50 potential worth) that so often go to traders and
distant corporate stockholders. The FTM seeks to take the place of
the middle person who makes the profit; it is important to get much
of that markup money back to the producer of the sweater or the
pound of coffee. A host of such projects have sprung up including
some related to both coffee and chocolate products by the Catholic
Relief Services. Other sources include Oxfam, Amnesty
International and Caritas International and a whole variety of
specialized groups. The products are high quality, meet accepted
standards for excellence (part of the FTM mission), and are
reasonably priced with the money returning directly to the primary
producers. Such programs reduce the need to migrate and allow many
to remain in their native places with their families.

Monetarily FTM is quite small though it is growing with almost
two billion dollars in fair trade certified sales. But it is a
model of what the world should be heading towards where all
partners are equal and not some rich and able to bargain, and some
are so poor they must take what they can get for their product that
is worth so very much more. Fair trade and Hispanic heritage go
hand-in-hand because so many products come from Latin America.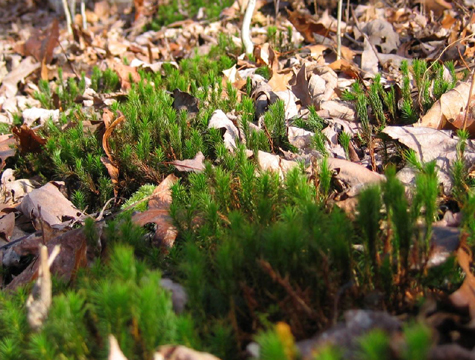 Shining Clubmoss, Lycopodium lucidulum.

September 11, 2007 Arable Land Shortages

Rapid industrialization of China, India and other lands where
arable land has always been a premium is going to have an effect on
agricultural production worldwide. It is now reported that even
though China has had troubles with sales of alleged contaminated
foods abroad, China is becoming a net food importer. As the rising
middle and upper classes wish to imitate westerners in animal
products and all kinds of resource-intensive foods, the rice fields
are being rapidly converted to highways, factory sites, parking
lots, and business establishments with ever increasing demands for
space to meet craved-for western standards. And the small farmers
of China, India and other places are not able to cope with this
demand for their land -- and some even to recoup fair sale prices
for their farmland. But available arable lands tend to
diminish.

Arable land is limited and a positive effort must be made to
return some of the mis- or underused land to crop production:

* Urban gardening and land reuse. Vast quantities of prime
farmland in such spreading cities as Chicago, Columbus, St. Louis,
Detroit and St. Paul have been taken up with urban development,
which does not mean only parking and buildings. Millions of acres
of space surrounding many of these building have been converted to
well watered, fertilized and tended lawns and greenspace. This
space could easily grow gardens or fruit/nut trees for human or
animal food. In fact, a great part of the vegetable needs of the
Second World War generation was met by the "victory gardens" in
many backyards. And that was prior to an age of suburban sprawl
and tens of millions of additional acres of lawns. If what was
achieved during that war was duplicated through gardening efforts
today, a sizeable portion of our food needs could be met by urban
gardening ventures -- and with additional benefits to gardeners.

* Tobacco land reuse. Tobacco's future rests with many who
foresee tobacco's unique benefits in a world striving for lower-
priced custom-made pharmaceuticals to combat rising medical costs.
Tobacco can be used to produce the protein food supplements that
are needed in an undernourished world. A world short of arable
land could benefit from the production of massive amounts of
protein on smaller and smaller total acreage of available land.
With a critical awareness of the past and a hope for the future we
can anticipate a sunset in the nicotine addictive misuse of tobacco
and a sunrise in tobacco's possible beneficial future.

* Animal feed croplands reuse. Protein-for-protein, some land
areas are more efficient than others in what is produced for food.
Much farmland in America goes into corn production for biofuels
with waste products for animals, or directly for animal feed. If
people moved from meat to more vegetarian diets, the croplands
needed for meeting these diet changes would become more efficient
as food producers; and cereals and soybeans could be used primarily
for human consumption and less for livestock production.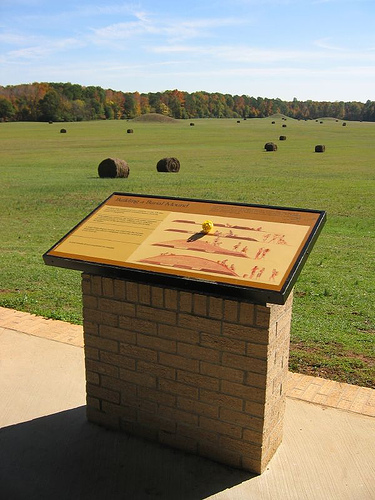 Pharr Mounds along the Natchez Trace.

September 12, 2007 Another Myth about Nuclear Power

To say that Nuclear Power is devoid of contributions to global
warming is one of the most insidious myths now current, as the
nuclear industry deliberately tries to repopularize that mode of
energy production. The argument is as follows: to arrive
at the nuclear production capabilities we have today that has
included uranium mining and processing as well as nuclear plant
construction and the disposal of nuclear waste materials, this was
required an immense outlay of non-nuclear power, that is through
electricity produced from coal-burning powerplants. This historic
phenomenon has been especially true in processing nuclear fuels
where much electricity has been expended and derived from coal-
burning powerplants.

Ridiculous say the opponents! Certainly the energy needed has
been somewhat interchangeable and so some coal-derived electricity
has been used, but the net effect over years is added energy by the
nuclear powerplants minus fossil fuels. And these nuclear
facilities contribute to one-fifth of U.S. total electricity
supply, otherwise more coal-burning powerplants would be necessary.

Not so ridiculous! De facto, the nuclear industry has used
coal-derived electricity as for instance within the Paducah,
Kentucky processing facility (the largest user of electricity in
Kentucky with no nuclear power plants present) and at Oak Ridge,
Tennessee, another major electricity user. If the difference is
between energy sources and the substitution of one for another
variety, then some excuse for interchanging of energy sources is
valid. However, two other comparisons are possible.

First, solar- or wind-derived renewable energy sources do
require some coal-derived electricity for equipment manufacture,
but the important difference exists -- the fuel source is from the
sun and wind and these do not require increments of coal-derived
electricity to process or capture. So it is a matter of immense
difference; nuclear has been coal-dependent for its basic fuel.

Second, the discussion could go beyond coal (or other non-
renewable fossil fuels) versus nuclear and become rather energy
conservation versus nuclear. The twenty percent of the total
electricity mix in this country could with a modest effort have
been saved through conservation -- if our country only had a
conservation ethic. If the money to create and maintain the
nuclear energy economy were used to reduce energy use, then the
savings of the electricity to process the nuclear fuel would
include the carbon dioxide expended somewhere in the process no
matter how much excess electricity was produced. Much carbon
dioxide *(perhaps ten billion tons since the 1950s) has been
released into the atmosphere in order to develop a nuclear economy.

* Note: And if someone would like to develop a more exact
calculation -- please do so. We are starting to work on a more
precise determination right now and challenge others to assist us.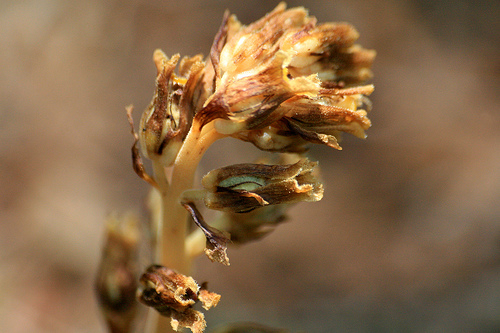 Pinesap, Monotropa hypopithys.

September 13, 2007 Bottled Water Fad

In a world in which one billion people have no reliable source
of drinking water...conspicuous consumption of bottled water that
we don't need seems wasteful, and perhaps cavalier. Charles Fishman

We all desire safe drinking water in the amount that is needed
for human health. We want it to be available and to be low-priced.
That wish is not always met by local supplies and so people strive
to take various initiatives: secure water in the most economical
and convenient fashion from distant sources, or purify the polluted
local water by community or individual efforts.

Obtain water from a distance. Water is a basic necessity
that is bulky and should come from local sources if possible.
Those buying popular brands of bottled water from France or Fiji
(which have been shipped thousands of miles in bottles that were
first shipped to these distant water sources) are hardly
environmental as such -- they are simply part of wealthy groups who
are pretending to be green in their daily practices. The
environmental impacts of transportation energy used are immense.

Secure water economically. The attraction for higher quality
drinking water makes some consumers go to great lengths. The
average American drank 28.3 gallons of bottled water last year as
opposed to 1.6 gallons thirty years ago. We discover that up to
40% of bottled water is filtered tap water or comes from public
water sources. The basic ingredient of beverages is often less
expensive than the containers, which must be disposed of properly
after use. We are amazed when people at rest stops buy bottled
water when a tap of free water is available a few feet away. They
have tossed the last water container. A fad is a fad is a fad.
One of their excuses is that bottled water is better for you than
an equally priced bottled carbonated soft drink. True. But we are
being programmed to drink bottled water rather than water from the
tap or fountain -- a programming that yields enormous profits to
distant beverage processors.

Secure conveniently. The containers are key to resource use.
Buying water in five-gallon quantities poured into containers that
the consumers bring from home seems quite sensible. But what about
the small bottle user and tosser (38 billion bottles ended in
American landfills last year)? Water bottle disposal is a recent
phenomenon, especially since much is not recycled.

Purify the water. Some of this bottled water (and some tap
water) does not pass muster even though it may not contain
dangerous bacteria. Some water contains polluting chemicals that
have proven to be hard to remove. Higher quality water is obtained
by filtering tap water or cistern rain water. For those who do not
like the water taste, the water can be filtered, aerated and boiled
and then flavored by putting it into jars and making it into a
favorite type of sun tea. Only as a last resort should users go to
a distant place to obtain their bottled drinking water supply.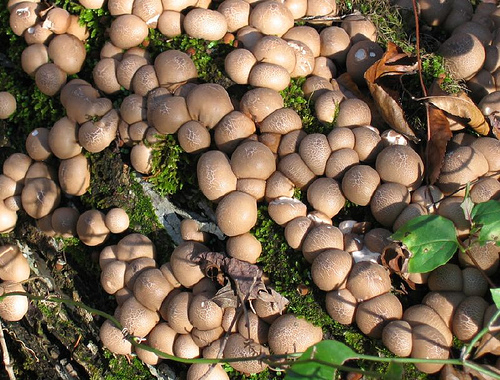 Lycoperdon pyriforme, puffball fungus.
Cedars of Lebanon State Park. Lebanon, TN.

September 14, 2007 American Military Expenditures: A Cross of Iron

Every gun that is made, every warship launched, every rocket
fired signifies, in the final sense, a theft from those who hunger
and are not fed, those who are cold and not clothed. This world in
arms is not spending money alone. It is spending the sweat of its
laborers, the genius of its scientists, the hopes of its
children...This is not a way of life in any true sense. Under the
cloud of threatening war, it is humanity hanging from a cross of
iron. Dwight D. Eisenhower

On this feast of the Holy Cross it is wise to realize the
major crosses that confront our world's people -- especially the
poor. What President Eisenhower said a half century ago when
military expenditures were far smaller is all the more true today
when the United States expends almost half the world's military
budget of well over a trillion dollars a year. And this is a world
in which resources are limited and what is expended for one item or
service is excluded from another -- for resources are not infinite.
What makes excessive militarism so unjust is that it concentrates
the expenses in the hands of a few profit-making corporations and
within the hands of a few elite associated with those institutions.

Thus the major cross that the poor suffer is the lack of
resources when others grab Earth's limited treasures. This nation
can requisition excess world resources through a defense apparatus,
which provides less defense and less security from year to year.
Annually, our country spends 600 billion dollars on defense, about
one hundred dollars for every person on earth. That's enough money
to give every person basic medical protection against malaria and
dysentery and even have funds left over for some basic food
commodities -- true defense against emerging terrorism.

In a very real sense the threat of starvation on the part of
tens of thousands of refugees in Darfur and the basic threat to
human life through lack of easily available disease remedies for
millions of Africans is the primary form of terrorism in the world
today. A disease that kills so many stands as terror for victims
and loved ones alike. The inequality of resource distribution
exacerbates these threats and helps create a climate where
insecurity and dissatisfaction foments especially among young
radicalized and unemployed youth throughout the world. Terrorism
is best combated by bringing justice to the poor and not by
excessive militarism. Try to convince the "practical" folks -- and
the iron cross will continue to cast its deep shadow on all. But
it is more than practical differences; it is the conventional
thinking of the current American administration that is mesmerized
by Osama bin Laden and his ilk. Rather, the terror of a parent of
a whimpering dying baby should cause us all to pause.

Note: Lest we forget, the military expenditure of the late
fifth century A.D. Roman Empire was the largest in its millennia of
existence -- and still Rome fell. Our American military budget is
the highest ever. Are we to learn from history?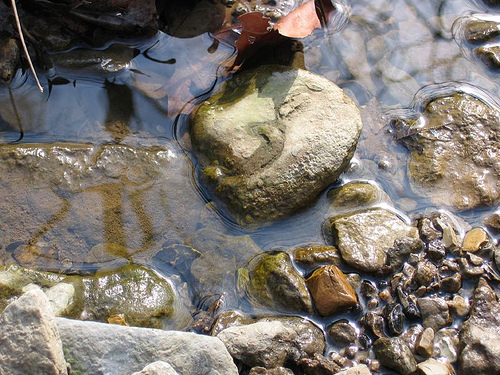 Scene along a Kentucky creek, natural assemblage of rocks.
Franklin Co., KY.

September 15, 2007 Declaration of Debt

1. Together, we the undersigned participants of the World
Social forum are determined to achieve an end to debt
domination...Indebtedness is still robbing the peoples of Africa,
Latin America and Asia of their rights...their rights to
independence and political autonomy, as well as to health,
education, water and all other essential goods and basic services
which should be available to all.

2. The debt crisis is not just a financial problem for the
countries of the South. It is also a political problem that is
based on and reinforces unequal power relations. Debt continues to
be used as an instrument of control, through conditions attached to
loans and debt relief. It is an instrument of leverage used by
lender countries and lender controlled institutions to: aid the
entry of their transnational corporations, enforce their foreign
policy options and military and invasive strategies; secure
favorable trade deals; and promote resource extraction from
recipient countries.

3. It is also the responsibility of the North: Their
reckless, self-interested, irresponsible and exploitive lending has
fostered this crisis, and their imposition of policies has deepened
it.... We also recognize the role of unaccountable and corrupt
governments of the South in increasing this debt. These
governments must make restitution for their theft from and
exploitation of peoples of the South.

5. We know that our strength lies in the commitment and
determination of social movements, campaigns and individuals
working in solidarity around the world...This over many years, has
forced the debt crisis from being an issue that few knew about and
that governments did not acknowledge, to being a subject of debate
around the world. It has also brought successes such as that in
Norway, and the realization of official debt audits in Ecuador and
other countries. We, Southern and Northern people's movements and
organizations, are determined to work and raise our voices together
until the call for an end to debt domination becomes irresistible.

6. We assert that the South is the creditor of an enormous
historical, social, cultural, political and ongoing ecological
debt. This must be acknowledged, and reparations made.
7. We are calling for just economic relations between and
within countries...We assert the rights of peoples to hold their
own governments to account, and call on governments to uphold those
debts. We are calling for -- officials and citizens' audits of
debt and a citizens' audit of the international financial
institutions; a systematic social control of public indebtedness;
debt cancellation without the imposition of conditions by lenders
for restitution and reparation. We stand in solidarity with
governments who choose to repudiate illegitimate debt. We are
calling for the total elimination of illegitimate, odious, unjust
and unpayable debt. For the full text see www.maryknollogc.org>.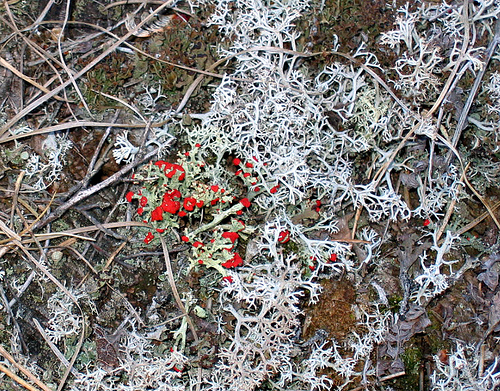 Cladonia cristatella, British soldier lichen.

September 16, 2007 Destitution is Slavery

And he would willingly have filled his belly with the husks
the pigs were eating but no one offered him anything. (Luke 15:16)

This quotation from the Prodigal Son (or Forgiving Father or
Unforgiving Brother) parable refers to a form of destitution
involving a dire condition of the human being who causes it
himself. Note that others who were the prodigal son's neighbors
offered him nothing -- the atmosphere of insensitivity. Under such
circumstances the slavery of destitution exists -- and many of the
hungry do not have a rich father to return to. Unless we act as
neighbor their condition of enslavement to destitution continues.
This extreme poverty should never be regarded as permanent, for it
is fundamentally a destabilizing condition on the world around us
and it points to our own present condition of sin. If we accept
this condition as permanent, we succumb to the loss of our soul.

In the ultimate analysis, excessive wealth breeds destitution
for wealth is fungible and must be shared. Taking more than what
is needed is taking from the just resources of another even if he
does not have the opportunity to gain his livelihood by labor.
Destitution includes an inability to live in proper housing,
uncertainty about the next meal, lack of warm clothing in winter,
lack of security and safety for family members, lack of access to
proper health needs, and inability to obtain a sufficient
education. And it includes lack of ability to acquire a decent
living through labor. What a wrong that people come upon this
fruitful Earth and are unable to live a decent life in a thriving
community.

The deepest wrong is that those of us who have plenty allow
this destitution to continue, thus jeopardizing our own immortal
souls in the process. How can we allow this form of pervasive
slavery after seeing so much of the injustice that slavery in all
its forms has caused in this world? As citizens of this Earth we
must not tolerate destitution in any of its many and ugly forms but
how do we start? Recognition is first; removing the blame on the
poor for their being poor is the second; preparing ways so that
reformed governments will tax fairly and redistribute fairly is a
third.

In slavery, some have power over others to require their work.
In a slavery of destitution the wealthy require the silence of the
poor so that the inequality will continue. Enlightenment led one
country after another to abandon labor-based slavery. Slave
holders argued that they treated day laborers more humanely than
did factory owners their workers. Today slavery still exists in
the form of sex trade, child labor and child soldiers. Others are
enslaved to certain drugs and substances. Impoverished people are
theoretically able to migrate to areas of a more promising life;
they know that their basic rights are affirmed even though not
fully exercised. However, the Lincolnian insight applies to all --
the aspiration to enjoy the basics of life is a right of all.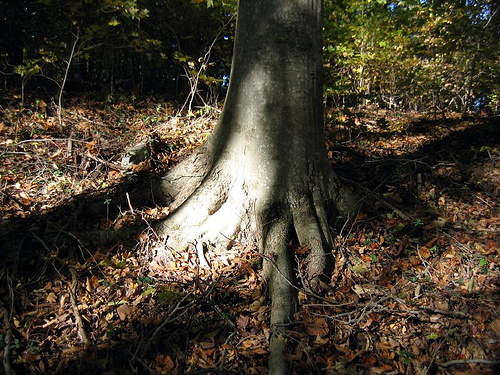 Fagus grandifolia, American Beech. Franklin, TN.

September 17, 2007 Enhancing Our Sense of Citizenship

Today is Citizenship Day and it is a good opportunity to find
in President Kennedy's words what "we can do for our country" and
not what our country can do for us. Citizenship and selfishness
cannot flourish side by side -- and many of our citizens have much
of the latter. Citizenship in its pure form goes back to the Greek
city state and the republican form of government where all are
entitled to full civil rights. The citizen is a member of a state
or nation by birth or naturalization and bears a responsibility
along with a privilege. In time of crises, this responsibility
takes on far deeper meaning. Some ways we have to retain and
enhance our privilege of citizenship include:

* Voting at regular elections in an intelligent manner for
those best suited to be our representatives in government;
* Serving on juries of our peers to help decide the cases of
people who are brought before the courts on criminal charges;
* Assisting others who come to our country to settle down,
learn the proper procedures, and move towards full citizenship;
* Following the record of those in public office as citizen
overseers and monitors and communicating with these elected
officials from time to time on matters with which we are acquainted
and about which we have a deep concern;
* Looking out for the commons that includes local, state and
federal parks and places of public interest. We become the
citizen monitors when police and law enforcement are stretched too
thin;
* Speaking up in this age of cynicism for our democratic way
of life and especially against corrosive influences such as the
erosion of our personal liberties and the taking of the commons by
the greedy and profit-mongers;
* Paying taxes for the upkeep of the state, and being willing
to see these taxes increased so that those who have much will be
relieved of more in order to reduce concentration of wealth;
* Volunteering when services are needed as has been so evident
in the past history of the United States in regard to needed
militia in time of war. This willingness to sacrifice for others
in troubled times when so many are in harms way is a continued
necessity of good citizenship:
* Showing common civility in all matters from common courtesy
to the manner in which we show respect to all our citizens;
* Following the just laws of the land and especially with
reference to highway practices and regulations, for all too often
discourtesy leads to unsafe traffic conditions;
* Knowing the history of our land and showing respect for our
sacred emblems such as the flag and the graves of those who helped
defend our country; and
* Being willing to see citizenship as going beyond the ancient
city states of Athens and Sparta or more modern states of France
and Germany, and now embracing all inhabitants of the world. We
are one people and our citizenship is not just here in one place
but in the future New Heaven and the New Earth.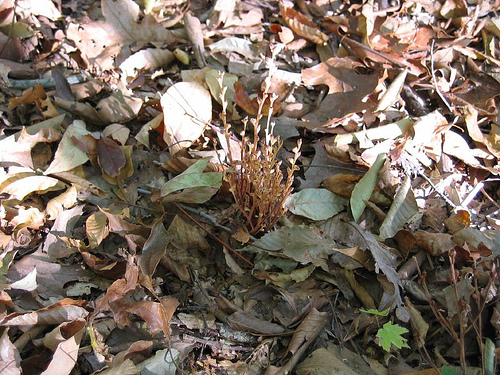 Epifagus virginiana, beech drops
A root holoparasite occurring only in association with American Beech trees.

September 18, 2008 Hosea Today

This is why the country is in mourning, and all who live in it
pine away, even the wild animals and the birds of heaven; the fish
of the sea themselves are perishing. (Hosea 4:3)

What Hosea accepts in an unfaithful wife and even an
uncertainty as to the parentage of his "own" children is worth
remembering -- for he is a compassionate person. Why does God
allow all of this to happen? Perhaps even amid the extraordinary
circumstances recounted in Hosea's life is the emerging story that
infidelity of Israel to the God who deeply loves her continues
through the ages. Infidelity is countered by faithful love.

We too are to immerse ourselves in a materialistic world and
some of the things we seek to achieve are of uncertain parentage,
namely our individual efforts to do good. And this can make us
depressed. Does the little good we see result from our own efforts
or those of others? Often we experience what we estimate to be
good efforts presented through love and yet these are distorted by
others. Why do we attempt to change a world that seems hell-bent
on its own destruction? In our moment of depression we find that
compassion abandons us and the inclination to love others seems to
recede. But we are called back to act in a godly fashion meaning
we love our neighbors as God loves us.

The challenge for us is to imitate Hosea today not on an
individual level, for few would ever have to make such existential
choices with a spouse. Rather, we must see our dealing with our
fellow human beings through our own imperfect ways of serving --
and the good we do is certainly of imperfect and unspecified
parentage. We risk in our dealings with others that they misuse
our trust and even falsely interpret our intentions. What we must
affirm even when it is quite difficult is that the harm done to our
world is real -- as the above quotation shows; our efforts are to
correct these without giving up hope for our own people, for we
live in the hope that the world will be a better place and that all
will rise to the challenges facing them and us.

We are somehow "married" to this troubled world, and we cannot
eject ourselves out of it. Escapes will destroy our mission and
make us hardened of heart -- and this should not be. Love must
conquer all and it must spring from our own hearts. It is because
we love others, especially all creatures who suffer, that we become
all the more compassionate. At the end of her insightful
treatment of the prophet Hosea, Marjorie Kimbough prays that she
could have done what Hosea did but she does understand God's
unconditional love for her. Reference: Marjorie L. Kimbough,
Strong in Heart: Biblical Men of Compassion (Nashville, Tenn.:
Abingdon Press, 2004, p.88). Perhaps the prayer could be extended
to include the circumstances in which God allows us to enter into
relationship with this unholy world. Still, even amid these times,
divine love shines through while we seek to deal with our marriage
to an imperfect world.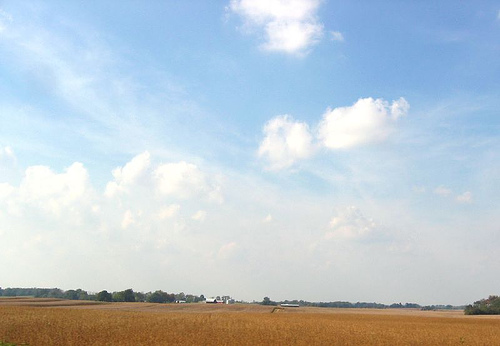 A rural farm near Eastview, KY.

September 19, 2007 Environmental Beatitudes in Autumn

There are beatitudes for each of the seasons of the year. We
find these blessings as we prepare for the upcoming season of
autumn. Let is not forget that all times and places bring their
own unique blessings.

Autumn Beatitudes

1. Leaves fall -- Blessed is poor, wounded and denuded Earth
that will flower again next year when the spring rains come.

2. Harvests occur -- Blessed are the ones who cultivate the
fields; they sow in tears but now find satisfaction in a joyful
harvest from an Earth which is their heritage and home.

3. Heat dissipates -- Blessed are the ones who suffer from the
heat of summer; they will be relieved when they see the flocking of
the birds.

4. Species are threatened -- Blessed are all who strive to
live rightly on this planet -- especially the threatened and
endangered species; they will be comforted through the actions of
their protectors.

5. Life becomes simpler -- Blessed are those who seek to live
simply and treat limited resources with respect; they will have
enough and show others that enough is enough, and quality of life
is to live with less quantity.

6. Winter needs appear -- Blessed are those who remember the
needs of others in the public interest; they will see the commons
reclaimed and all will be treated in a godly manner.

7. Terror continues -- Blessed are they who strive to bring
peace to a troubled world; they will be seen as people who are
willing to share radically with others.

8. Stockholders meet -- Blessed are they who attack unjust
corporate structures; they will be marginalized and considered
unpatriotic. Remember that the same happened to the prophets of
old. And recall that autumn gives us a whispering message that
better days are coming.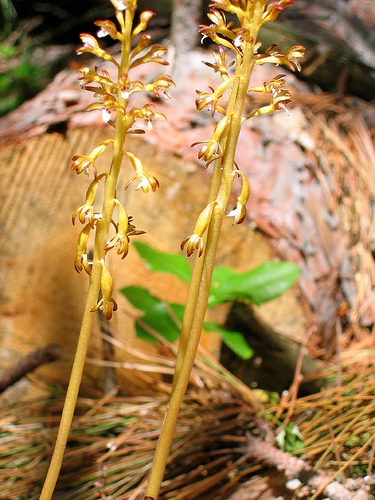 Corallorhiza maculata, spotted coralroot.


September 20, 2007 Fortitude as a Gift of the Spirit

The gift of the Holy Spirit of fortitude helps us to receive
the courage to overcome the obstacles and difficulties that stand
in the way of the practice of our religious duties. Here one may
go beyond the individual duties of keeping the commandments of God
and the Church, and regard "religious" in its more public and
demonstrative manner: a public profession of where we stand on a
certain issue and the power to commit oneself to actualizing the
convictions that we hold. Fortunately, the world is blessed with
many examples of courageous persons and, since the bravery is more
expressive when performed by an individual rather than a group,
those most striking models of martyrs, warriors, caregivers, and
leaders are people who stand out for us to imitate. Courage is at
the heart of such actions, and some who act take great risks to
life, reputation, or limb. A peer-dictated society requires no
courage, only conformity. To be one of the crowd and nod assent to
each and every popular opinion lacks little beyond melting into the
crowd. On the other hand, being counter-cultural means standing
out and doing things that others are too afraid to do, and
especially when encouragement from others is lacking. Saints,
whistleblowers and prophets show courage. On our journey of faith
we will face obstacles that must be confronted publicly.

However, courage may involve the efforts of a community or
group who do not succumb to pressures from a dysfunctional society
that is on the wrong track. Communal difficulties are always
present when we are at the cutting edge of change and these often
call for communal creativity that is not always seen at the time as
a form of bravery. "Buck up your courage" is said during major
struggles when what we hold as basic truths are threatened. For
instance, simplifying our lifestyle to meet the demands of an
emerging strict conservation ethic in this age of dramatic climatic
change takes an act of collective courage, especially if we
citizens of a developed country are in the forefront and are
willing to show leadership and moral character. Never in our
history has so much courage been called for in lifestyle.

Courage consists in taking actions that run the risk of being
misrepresented and misunderstood by others. Courage and risk seem
to go together and thus one needs to be willing to accept the
unpredictable circumstances as part of the action. In some cases
bodily harm may result; in others one's position in society may be
at risk. Action is needed though the future is uncertain and
risky. For the sake of our troubled Earth we must act, even
granting possible unexpected consequences. Courage differs from
recklessness or temerity; it embraces justified need to act and a
willingness to do so in the face of numerous obstacles that can
become opportunities. Overcoming divisive barriers emerges as a
formidable task; we cannot deny obstacles, excuse ourselves from
doing them, or escape to other concerns that seek to remove us from
the scene. Fortitude demands that we bear our responsibility; it
goes beyond heroic feats of soldiers, police and fire personnel;
we must all rise to feats of courage as a nation and world.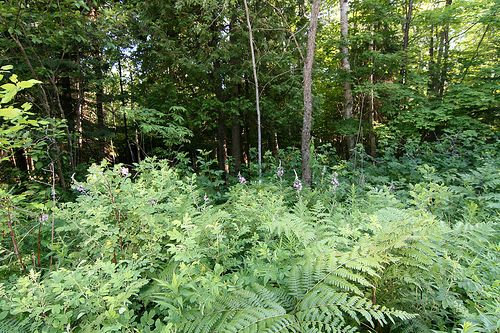 Wilderness scene on lands of Ojibwa reservation, near St. Ignace, MI.

September 21, 2007 World Gratitude & Native American Day

The world before me is restored in beauty.
The world behind me is restored in beauty.
The world below me is restored in beauty.
The world above me is restored in beauty.
All things around me are restored in beauty. (Navaho Prayer)

These two celebrations, of gratitude and Native Americans, did
not arise from the same sources but work well together on the same
day. Gratitude stems from all that we have that we are to be
thankful for, and Americans have so much to be thankful for from
our Native Americans forebears as this partial list suggests:

Corn and food -- Corn is one of the world's most staple crops
and yet we forget those who cultivated, fertilized, protected,
harvested, stored and prepared corn in so many interesting ways as
a basic food that we enjoy. Lest we forget, we receive many other
culinary delights through Native American tutelage such as pumpkin,
squash, tomatoes, potatoes, eggplant, hot (chili) peppers,
cranberries, persimmons, papaws, and turkey and bison, and many
more good things.
* Wildlife and environment -- Native Americans lived in a
symbiotic relationship with all the various birds, fish and mammals
that are so threatened today. They honored them, spoke to them,
protected them, and used them for food -- and the Native Americans
taught us to value all of the environment for the betterment of
all. These early natives even conducted controlled grass and
forest burns so as to keep landscape more productive.
* Communications -- Native Americans have a wide diversity of
languages but were able to communicate among nearby tribes through
a common sign language that was known by all. In this manner the
different peoples who resided in this hemisphere prior to the
coming of the Europeans were able to trade and even to travel
extensively and in relative peace (however, struggles did arise).
* Respect -- Native Americans thank God for gifts given and
have for millennia shown the deepest respect to the creator of all
things. What we as a world are grateful for is that a people has
retained that basic respect and passed it on to all of us from that
first pilgrim thanksgiving day. What native peoples teach us is to
manifest the same respect in our own prayer and ceremonies. Native
Americans taught the more active Europeans the need to sit and rest
in silence, to speak less, to value ceremonial symbols and to
exchange tokens of respect. Even tobacco was ceremonially used
with respect.
* Travel networks and means -- Newcomers to these shores were
welcomed for the most part as strangers and guests. The newcomers
found that a valuable network of paths and rivers through which
commerce was carried on existed. The light-weight canoe is of
Native American contribution to easy travel on the river systems.
The hurdles of lack of familiarity with the terrain were mainly
overcome by native Americans who risked much to allow visitors to
feel at home -- a practice that was not always reciprocated
properly by the guests. But grievances followed initial welcome.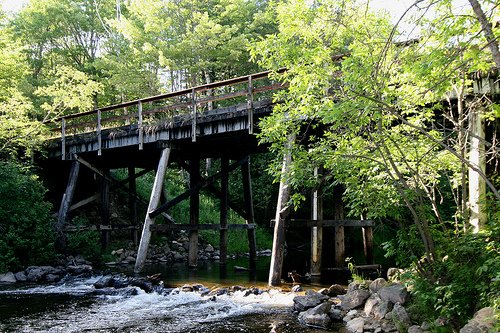 The Carp River rushing under rustic bridge.

September 22, 2007 Are there Times for Green Hunting?

It would seem that after my two reflections on the ethics of
hunting (November 5, 2004) and Hunting and Fishing Day (September
25, 2005) little more can be said. However, the proliferation of
certain species of animals would make the exercise of hunting
necessary at times -- and some may term this rebalancing of the
wildlife balance a "sport" if they so care. The simple fact is
that unwise human activity has resulted in certain species of
wildlife being allowed to create imbalances in our environment,
e.g., introduction of rabbits to Australia or rats to many Pacific
Islands. But distant places are not alone in this practice of
introducing exotic species (e.g., kudzu) or reintroducing native
species (wild turkeys having domestic turkey blood). One answer
may have to be hunting as a rebalancing act. Note that I admit to
hunting aggressive crows when young, but found non-aggressive
species far too gentle to shoot. Why shoot a quail or a rabbit?

However, even within a strict ethics of hunting some allowance
has been made for those species that prove overly abundant and
aggressive or invasive. And if some like to hunt with guns or bow
and arrow, then let us encourage them to use their sport in the act
of controlling species that harm the environment through
overpopulation. Would that the foxes and coyotes could serve as
the only balancing agents, but they generally do not do the job
thoroughly enough for lack of numbers. The "wild" turkeys simply
must be controlled in order to preserve our regional ecosystem.
As the expression goes, "Kill two birds with one stone." Both deer
and turkey are excellent meat sources and thus we recommend that
meat eaters get their protein materials locally and not from
distant corporate feed lots and farms. At the same time they can
satisfy their hunting instincts and help restore the natural
balance by thinning down the proliferating population of deer and
turkeys when these become nuisance species.

Several ethical remarks are in order: target only species of
animals that have proliferated to a degree that they are harming
the local environment; obey the game rules in the place where
hunting; do not allow the wildlife to suffer but kill it instantly
if at all possible; dress the species immediately or as soon as
possible and either use this for your own diet or give to those who
are able to appreciate it -- especially poor folks. Another
species that is proliferating is the wild goose, but the
preparation of geese for eating is somewhat more difficult because
these are not as tasty as turkey or deer -- but some can prepare
goose for a plentiful meal. Insist that hunting organizations
teach good environmental practices; interact with the respective
state hunting control agencies and try to stop them from
deliberately introducing game species that can proliferate easily.
Encourage them to reintroduce the bear or elk or other species that
have become threatened or extinct in certain former native
territory. If need be, have agencies extend the hunting season for
species that are the greatest nuisance, but make sure they are
really nuisances under existing conditions.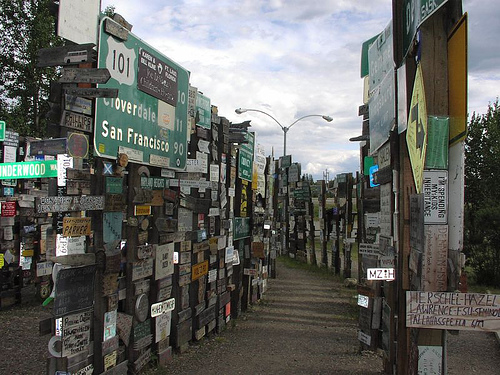 The Signpost Forest, an artistic assemblage of street signs from around the world.
Watson Lake, Yukon.

September 23, 2007 God or Money? Fair Taxes or Exemptions?

Listen to us, you who trample on the needy and try to suppress
the poor people of the country. (Amos 8:4)

The signposts of life can get quite confusing, and we need to
pause at times and reflect on where we are going. Some places may
be to our benefit and others a waste of time or effort. And we
have only so much time to spare, for the days are short and growing
shorter as we know on this Autumnal Equinox. In our confusion we
attest to everyone that we mean well and yet we need to take a
second look at our collective actions.

Economic literature in the business world around us is filled
with ways to cut taxes, make extra money and spend more and more
time investing money wisely. After awhile the total attention is
given to making the living we aspire to, which in most cases
involves more income than we take in right now. Money is the goal
of our efforts. But let's consider how so many of our people want
to increase that money cache by keeping taxes low and full of
exemptions for the wealthy. However, taxes are meant to equalize
the vastly diverging incomes of individuals in this troubled world.
If some (generally the poor of this country or elsewhere) are
deprived of the basics of life through lack of financial resources,
the unfair exemptions are essentially stolen from them. The rich
may say, "I am only doing what is legal or lawful." But who
fashions laws through lobbying the lawmakers?

Is seeking ways to cut taxes proper when the poor do not have
equal influence on Capitol Hill? Obtaining exemptions for
individuals or corporations when others could never manipulate the
complex tax system is to favor rich over poor and erode our
democratic processes. The wealthy can afford lawyers; the retained
exempted funds could do so much more for the poor if properly used.
Some will object and say that finding exemptions is a proper
pursuit and that the money "saved" will be more properly used than
by the government. But what will the saved money be used for and
is this even saved if expended on personal luxuries and personal
items? And still more importantly, is not an alert citizenry
needed to ensure that taxed money is well spent?

Any form of unfair taxes is equivalently a gross violation of
the rights of the poor of the world to a just life, for this
becomes a denial of the basics of life for the sake of the world's
wealthy retaining what is not rightly theirs in the first place.
Thus, mere charity by the excessively wealthy is far inferior to
fair taxes through a governmental system in which the government is
derived from the consent of the governed. But charity may have a
way of placating those who could become revolutionaries and take
what they regard as rightly theirs. Thus this third way of taxing,
rather than redistributing wealth through charity or revolution, is
something everyone should espouse with all their hearts. Only then
can we say, But let justice flow like water, and integrity like an
unfailing stream. (Amos 5:24)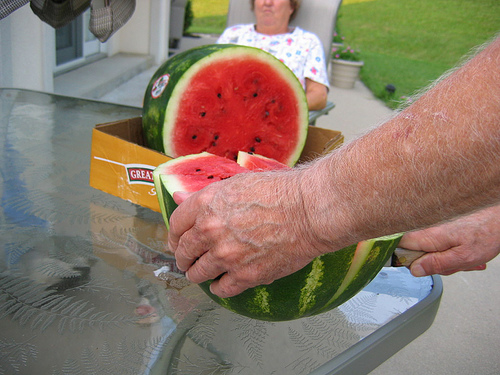 Ripe watermelon at a family gathering.

September 24, 2007 Family Day

We celebrate families on this day and emphasize the word
celebrate. Yes, a loving and entirely functional family has much to
say for itself, and so we salute families and hope they hold
together and have fun and games together. Some do this better than
others, and some of our most pleasant memories are the times we
gathered together and enjoyed each other's company. However, we
ought to go beyond celebrating.

Struggle together. The celebratory image of a family could
include those who struggle together to make ends meet -- for such
families have intimately close ties. We can recall examples of
poor folks we all know who looked out for each other in
extraordinary ways and never left the side of a sick person, or
sacrificed all in order that one family member could immigrate or
be educated. In fact, many such examples exist and are little
known outside the family circle itself and involve heroic
individuals.

Pray together. Father Peyton, the inspiration for the Holy
Cross Family Institute, said that "the family that prayed together,
stayed together." There is much truth to this for the prayer of
one binds and unites that of the other. Thus praying at home or
going to church together has a solidifying effect on all even on
backsliders that do not forget the experience, but seem to have a
way mysteriously open to them to return later to the family fold.

Work together. Some of my most pleasant memories were the
times our entire family was united in certain occupations on the
farm and seemed actually to enjoy each other's company. It was
never a thought that we would shirk or find an excuse, only try to
get the job done as expeditiously as possible. Maybe distance in
time has idealized the sweat and toil, but there is something in
working together that solidifies groups more than almost any other
activity -- if done in a meaningful and pleasant manner.

Grieve together. In the middle of the death of a loved one we
can sometimes forget the previous bonding that comes from being
present in sorrow to others in the family. In some ways, family
days are times when the past returns vividly, and those precious
moments when only a family can enter the circle of grief. Others,
even photographers, must stay away and not infringe on the family.

Be together. In the busy world we live in it is important to
see that being together with no set purpose has its good parts as
well. This can make for a family as much as struggling or grieving
together. "Together time" is so often lacking in a busy world that
is moving in all directions. How many persons in the public arena
say they want to retreat and return and be with their family --
something they dearly crave? Can we blame them? Being together
applies to more than families and includes communities and
neighborhoods and churches and schools. The nuclear family is the
model for a larger society, and it needs our full support today.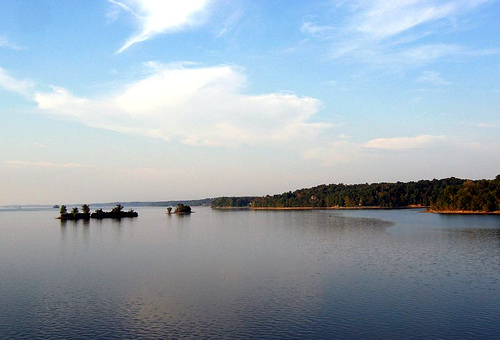 Crossing Lake Barkley from Cadiz, KY.

September 25, 2007 The Rich Get Richer and the Poor Get Restive

The 11th Annual World Wealth Report, published earlier this
year by Merrill Lynch & Company, tells a story of wealth growing on
wealth. The record-setting stock market that seems at times to
climb to new all time highs has provided the largest crop of
richest Americans -- and their numbers continue to grow. But it is
not just Americans; Chinese and Europeans and others are included
in the almost 500 billionaires and others of slightly lower rank.
Reports tell us that 9.5 million people globally (2.92 million
Americans) hold assets of more than one million dollars, and that
is an 8.3% increase over the same period in 2005. The net worth of
these high rollers totals an astounding 37.2 TRILLION or an
increase of 11% over the previous year. And the greatest
percentage gains were not in the traditional seats of wealth, the
U.S. or Western Europe, but rather Singapore (21.2% growth in net
high-wealth populations), India (20.5%), Indonesia and Russia.

This concentration of wealth does not mean that the lower ends
of the human wealth spectrum are likewise growing richer. Entire
countries of Africa do not have individuals or groups who share in
such an accumulation in wealth. It does not follow that, because
the rich are getting richer, so are the poor getting richer. And
the upper end of the economic spectrum actually expects to consume
more of the resources of Earth. The cited report said that the
high-net worth individual's "passion for luxury is growing." In
fact, Daisy Maxey in a Wall street Journal article mentions that
the report uses data from Forbes, "Cost of Living Extremely Well
Index," which says that the cost of luxury goods and services is
growing twice as fast (in 2006) as the cost of everyday consumer
products.

Missing from the report. Concentrated riches are extending
over the Earth and so is the chasm between rich and poor. Some
might say this is all roses and that means if the rich get richer
so do the poor -- but that is not the case. In fact, the number of
those who lack the basics of life (proper food, water, housing,
etc.) actually grows while the percentage of total wealth of the
lower quarter of the people of the world shrinks. What we fail to
realize is that this chasm is having a profound unsettling effect
on the human family. The reason is that power rests with the
wealthy and thus democracy erodes in the face of such differences.
And the poor are poor, not dumb. They realize what is happening.

When wealth reaches an extreme level and people at the lower
end see that the trickle down theory is a mirage for all and a
gamble for a lucky few, they doubt whether they and their family
will share such riches. By espousing a materialistic set of goals
as propagated in our world, these people will grow discontented.
The increase in the difference between wealth and abject poverty is
in direct ratio to a growing insecurity in the world -- but few
admit it. The retention of wealth by a few and the continued
poverty of the many is a sorry mix and it won't last forever. The
best security is not military arms but redistribution of wealth.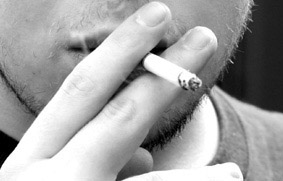 Smoking.

September 26, 2007 Discernment Process: Reasons for Smoking

A discerning process to curb smoking includes listing without
objection all the reasons voiced for continuing to smoke, such as:

* Personal pleasure -- Smoking serves as number one
entertainment in a life that doesn't include too many other forms
such as drinking or heavy drugs. It is a cheap entertainment.

* Individual weight-control -- Cessation of smoking invariably
leads to weight gain and this becomes its own health problem in
relation to heart disease, diabetes and other obesity illnesses.

* Individual stress relief -- Smoking reduces nervous tension,
especially when preparing for an examination or major event.
Smoking allows one to keep busy and reduces tension in special
stressful situations.

* Quality of life -- Tobacco use overcomes a bad disposition
and gives to certain individuals what they regard as a better
quality to life, even though it may shorten it quantity-wise.

* Improvement in community relations -- Smokers exude an air
of contentment and control, and thus ease the way communications
occur among people in society.

* Personal freedom -- Smoking allows for the development of
personality and involves a sense of freedom to do what one likes
even over the objection of other people. Smokers fight back with
such slogans as "Opposing smoking can be hazardous to your health."

* Home atmosphere -- The aroma of a good pipe tobacco gives a
sense of flavor to a homestead which may also mask other more
disagreeable odors in the home or work place.

* Relatively low cost -- In comparison to hard drugs and
alcohol, smoking is inexpensive and also does not have the
detrimental effects of these substances.

* Peer acceptance -- Smoking is quite social for it allows the
person to interact with other smokers during breaks, and the
smoking activity is a means of bonding together.

* Social capital -- Smokers take time to sit and talk to
others who do not otherwise have companionship. It becomes part of
the social capital of the community in dining and gathering places.

* Economics -- Smoking pays much into the excise taxes and
helps support those engaged in the tobacco industry. At one time
tobacco was a key income crop of small family farms.

* Outdoor protection -- Smoking keeps away the gnats and flies
and other unpleasant insects, which can get into one's eyes.
-- for counter arguments see tomorrow --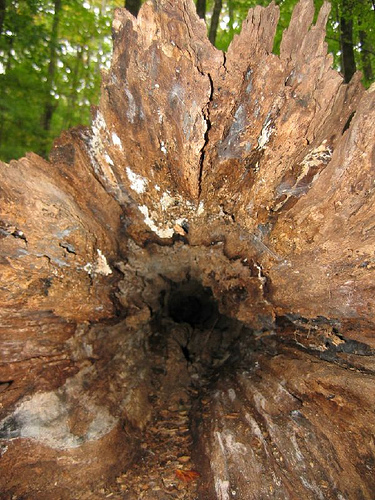 View into a hollow, downed tree.

September 27, 2007 Discernment Process: Reasons Against Smoking

Counter reasons against smoking are often pointed out:

* Individual health costs -- Health costs in shortening of
life are quite well known along with a host of illnesses: shortness
of breath, emphysema, lung cancer, lip cancer, throat and larynx
cancer, heart diseases, and susceptibility to colds.

* Individual economics -- Smoking costs three to five or more
dollars a day for cigarettes, and this mounts to over a thousand
dollars a year, even when buying the discount brands.

* Individual restrictions -- The smoker is addicted and can
experience a sense of loss of control over himself or herself.
Places where smokers can enjoy their smoke break are hard to find.

* Personal appearance -- Smoking and other uses of tobacco can
cause wrinkles, gauntness of appearance, stained teeth, bad breath,
and odor on clothing which can be detected by others.

* Bad role models -- Smokers induce others to start whether
through peer pressure or by simply having younger persons want to
look and act like the smoker.

* Career curtailment -- The loss of health or untimely death
will cut short many of the projects and activities of the smoker
and thus the ultimate contribution to society will be lessened.

* Community health -- Environmental tobacco smoke from both
main and side stream smoke can affect the health of those who live,
study or work near the smoker. Some are allergic to this smoke.

* Citizen rights violations -- Apart from the actual health
effects, the smoker infringes on the rights of others to clean air.

* Road safety -- Smoking is a major source of inattention in
driving, especially if the hot ash/butt is lost within a vehicle.

* Family discord -- Nonsmokers are affected by the habits of
the smoker and this leads to irritability and extra stress.
The habits and illnesses of smokers will result in utter disruption
of family life and the associated troubles resulting from treatment
of smoke-related conditions.

* Property safety -- Smoking and especially discarded
cigarette butts have started numerous fires and lead to the burning
of buildings, forests, grasslands and property such as carpets,
clothes, furniture and upholstery.

* Disorder and disarray -- Homes may reek with stale smoke
and the smoke clings to books, curtains, bed clothes and rugs. Tar
sticks to windows in home and car. Ashes and butts are indoor
litter.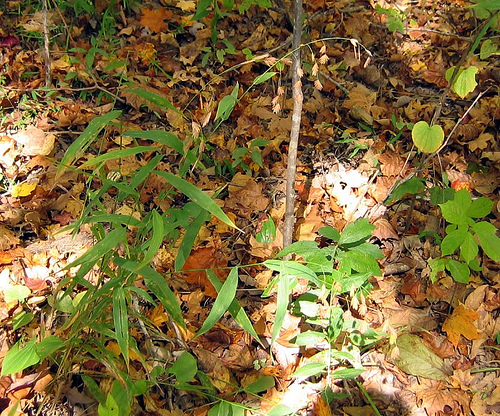 Oat grass, Chasmanthium latifolium.

September 28, 2007 Neutral Carbon: A Shell Game?

Saving our Earth is really too serious a matter to allow some
to play misleading games with conservation of resources. One
possible game may be talking about "carbon neutral," which means
you are neutralizing the effect of your personal greenhouse gas
emissions, so that your personal and household activities no longer
contribute to the dangers of global warming (Solar Electric Light
Fund's definition). The problem is not in the wording or even the
rules of the game. Rather it is as attitudinal as youth playing
with automatic weapons. What is positive and what is negative? By
game rules I burn a stick of wood; that is negative. I plant a tree
that takes up carbon dioxide and that becomes a "carbon offset;"
that is positive. The two add together and neutralize each other.
Fair enough. Now let's take another scenario. A poor Indian burns
wood to make a meal, but she does not have time to plant a tree
that day because it took eight hours to gather wood; totally
negative. I burn the wood because I like fireplace burning; also
negative, but I have resources and so I pay someone to plant a
tree. I am absolved; the Indian is not because that person is too
poor to be carbon neutral. Yes, hypocrisy could result?

As my friend Art Purcell says, this seems to be the product
of the "children of Washington," meaning those who know how to make
others feel good about living high on the hog (eating ham and not
pig's feet). The game sounds good until we realize that when we do
something that is wasteful we do not absolve it by planting a tree
that just may not live to get old -- some tree planting projects in
Haiti resulted in goats eating the saplings. It is not in the game
plan but in the difficulty in seeing practical results to
conclusions. I waste and do a negative action and before the
positive one succeeds I have been imitated by a peer who sees no
value in neutralizing anything. Let others do the planting, I want
to burn energy by the ton. Wasteful habits should be changed, not
neutralized.

Let's go farther and talk about another carbon neutralizing
practice called "carbon trading" among institutions and
corporations. I know someone who is putting his car up on blocks
and forsaking his job because commuting takes gas. Any group out
there interested in driving extra and paying him for his halting
negative energy use? The entire enterprise reminds us of Civil War
practices of paying $300 for a substitute to take one's place in
the draft. The Union army hated this practice for the type of
soldiers the substitute made -- always looking for the first
opportunity to go AWOL and start all over again. Today China is
getting a fair chunk of carbon trading funds and yet the annual
million barrel increase in petroleum use (even amid all the
consciousness raising) includes a sizeable Chinese contribution.
Who is conserving what?

Let's get serious. No one or no group should be allowed to
consume the commons wastefully for it belongs to all present and
future generations. We have no right to waste even though some
pollution occurs just by living. The failure to get serious (by
the elite) is costing the environment. There is no substitute for
knowing how to conserve and doing it, but don't call it an
"offset." A better game exercise is to develop a carbon tax or a
penalty for wasting resources. The commons is being damaged and
the culprit ought to pay in fines (and maybe a jail term for the
most egregious). Now that is a serious game.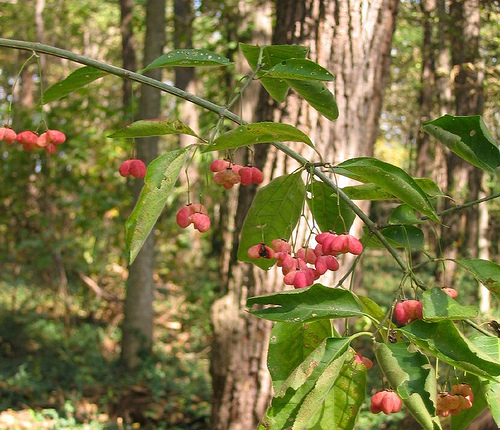 Eastern wahoo, Euonymus atropurpureus. The Arboretum, Lexington, KY.


September 29, 2007 Oak Ridge Environmental Peace Alliance

We believe in order to deal effectively with this new and
dangerous era, the United States and the international community
must embrace the vision of a world free of nuclear weapons and
pursue critical measures towards achieving that goal.
Sam Nunn, Testimony before Congress, March 29, 2007

Our featured 501-c-3 non-profit organization of the month is
the Oak Ridge Environmental Peace Alliance (OREPA) located in the
heart of traditional nuclear weapons production country at Oak
Ridge in eastern central Tennessee. OREPA has always kept a clear
focus on the nuclear free world that must be in our future. This
organization concentrates on the happenings at the Oak Ridge
nuclear facilities, and especially at one termed the "Y12 Nuclear
Weapons Plant." The goal is peaceful means of protest against
continuing weapons production. The focus is more on the present
and future rather than on the past historic events. OREPA holds
that the ultimate hypocrisy for the U.S. is to decry North Korean
or Iranian nuclear ambitions while we upgrade our own nuclear
arsenal. This has been the OREPA message of the annual (August)
actions for over a decade. The citizens group rallies
for a future in which all people are free from the threat of
nuclear destruction.

In working towards its goals, OREPA uses a variety of means:
a newsletter, OREPA News; specific citizen actions such as marches
at various times and especially an annual August Action for Peace
around Hiroshima Day; programs with expert speakers; blockages of
the entrance of the Y12 Plant and support for those who are
arrested during these blockages; a peace lantern ceremony on
Nagasaki Day; an annual puppet workshop; an annual hiking for peace
and biking for peace by "Peace Peddlers" from Asheville, North
Carolina, to Oak Ridge; and a sacred run for peace from the gaseous
diffusion plant in Portsmouth, Ohio, to Oak Ridge. For more
information look at <www.footprintsforpeace.tripod.com>.

The newsletter of OREPA suggests letter-writing to local
newspapers on nuclear policy issues as well as writing to
congresspersons on specific legislation dealing with nuclear
weapons proliferation.

For further information contact:
OREPA P.O. Box 5743 Oak ridge, TN 47831

<www.stopthebombs.org>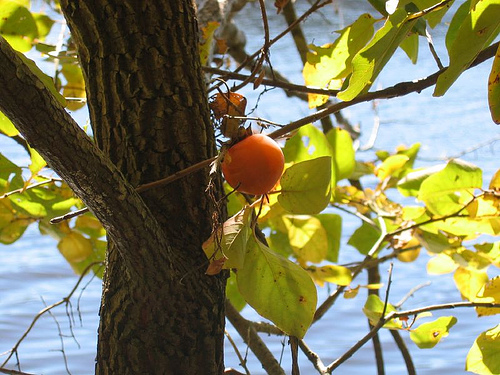 Ripening persimmon along Hematite Lake. Land Between the Lakes.

September 30, 2007 Lazarus = Laz(y) are us (we)

Woe to those ensconced so snugly in Zion and to those who feel
so safe on the mountain of Samaria...You think to defer the day of
misfortune, but you hasten the reign of violence. Lying on ivory
beds and sprawling on their divans, they dine on lambs from the
flock and stall-fattened veal... (Amos 6: 1, 3-4)

The words of Amos as well as the parable of Lazarus (Luke 16:
19-31) have a certain foreboding about them. Something is about to
happen and yet those fully immersed in their wealth pay little or
no attention. Something is about to happen and yet a lazy
atmosphere surrounded by an insensitivity to the immediate
environment brings on the cry of woe from the prophets. Things are
not right and, if they are not corrected, worse things will happen
when it is too late. Thus the disconcerting message contains words
of encouragement: change and become sensitive to the poor's needs.

Through the graces of our baptism and confirmation we are
called to be prophetic in our Christian stance -- and this means
that we read the gospel carefully and try to apply what we learn.
We will find that the wealth may be concentrated in the hands of a
few but rampant consumption embraces entire cultures including our
own. Here it is considered patriotic to spend much and consume
more; it is modern to demand spacious homes and inefficient
vehicles; it is expected that we are privileged to consume by the
force of our military might.

Let us not dismiss the current and wasteful practices purely
as laziness, for the picture is a complex mixture of corporate
pressure, peer influence, selfishness and insensitivity coming
through affluence. The situation will not remain permanent; we
cannot continue to have a world of opulence and destitution. What
our instant communications and information sources tell us is that
Lazarus is at the gate and knows he is destitute; what our
transportation and distribution expertise tells us is that we can
give out more than crumbs to keep Lazarus alive; what our
knowledge of world resources tells us is that power controls the
distribution of those resources and the most resources go to the
wealthiest; what our moral mandates move our hearts to do is to
radically share those resources. In the event that we are too lazy
or greedy or selfish to move, then we are only condemning ourselves
as in the case of Dives.

The prophet gives hope for there is still time to break loose
from the grips of sensuality and wealth. There is time to see how
much some have and others do not have. There is time to close the
gap between the rich and the poor and this closing is to be done
through the grace of the Lord. We are not yet condemned, for we
can make the changes necessary for growth in life. But time is
getting short. Wisdom is knowing the shortness of our life, and
that resources are to be shared, not consumed apart from others.
Within our community we have the power to rise and do something
about the poverty that is all around us.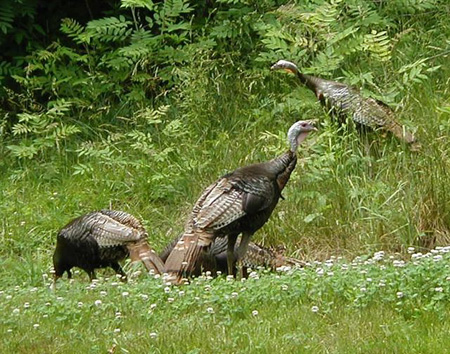 Wild Turkeys, Sunrise Ridge, Stanton Kentucky
(Photo: Marge Para)