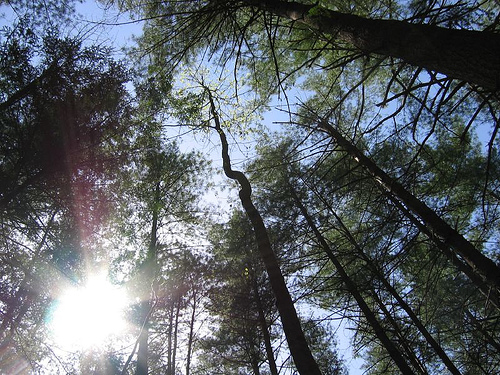 An inspiring skyward view through the treetops.
Pine grove, Red River Gorge, Kentucky
(*photo credit)
August 1, 2007 Twenty-Fifth Anniversary

In the early 1980s a group of our Appalachian non-profit
organizations wanted to become self-supporting after some initial
federal money was expended. Thus was born the short-lived
Appalachian Institute. We wanted a program that would show that
the region offered the nation and world more than coal, logs and
emigrating people. We could offer a service that demonstrates some
of the region's appropriate technologies. Thus was born a dream
that became the Earthhealing Program, first attached to Appalachia-
- Science in the Public Interest and then independently organized.
In the summer twenty-five years ago Paul Gallimore and I performed
an assessment of a greenhouse project in Jackson County, Kentucky,
as the first project. As this service evolved into a more formal
program, we called it "Earth Healing," from which the name of this
website was derived. See the current Special Issues with
photographs of groups that we have assessed through the years.

Throughout this quarter of a century we have focused on the
200 assessments, but not exclusively. For a period of time (1998-
2002) we developed "Earthhealing" videotapes covering a wide range
appropriate technology subjects through a grant from the U.S.
Environmental Protection Agency. A third and most recent stage of
"Earthhealing" involves this website.

The demanding work of doing a thorough environmental
assessment and of finding subjects and creating videotapes is now
beyond my physical energy. Thus the third stage of website
information is more feasible given limited resources of time and
age. We now receive one quarter of a million visitors per month or
a yearly rate of three million, and this is far wider outreach than
we had with the previous two projects.

Healing the Earth is more than a catchy phrase; it is a sacred
calling. It is a serious calling involving recognition that our
Earth has been wounded by the misdeeds of people and that we must
save and heal it. We cannot ignore this call. We bring the Good
News that we do not have to continue on a downward path but can
restore the Earth to fullness of life. Over and over, we proclaim
that social and eco-justice are so interconnected that they are one
justice, that is, those who suffer poverty must be liberated from
the bonds that oppress them and so should Mother Earth; we hasten
to add that the destruction associated with poverty is not caused
by the sufferers but by a world community that overlooks the need
to work as a team to heal planetary wounds. And when we look about
still more deeply we find that a democratic spirit in which this
healing must occur is being eroded by the very wealthy who often
wrap themselves more tightly in flags of democracy.

What will the next quarter of a century bring? If people do
not reform their ways, the Earth will descend into deeper troubles.
If justice reigns, then we can await with expectancy a New Heaven
and a New Earth.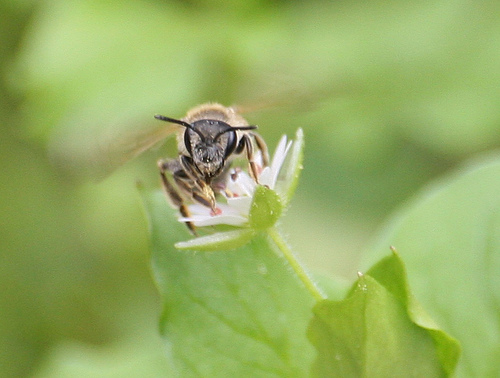 Busy at work
(*photo credit)

August 2, 2007 Counsel: Making Right Judgments

Each month during the Pentecost season we focus on one of the
gifts of the Holy Spirit. Counsel, the third of this series, is
associated with supernatural prudence, and enables us to choose
correctly what will help most in giving glory to God and in
effecting our own salvation. Humble people know their limitations
and that can include the ability on occasion to make right
judgments. They do not judge rashly nor avoid making choices.

Judgment does not always come easily; people may judge too
quickly or they may never judge or may put off too long, due to a
rather procrastinating mentality. For them, evidence is either
overly obvious or totally hidden; they behave as impulsive shoppers
or they never come to decisions at all. And there is the third
category, namely, those who sometimes make bad choices by not
weighing all the factors or discerning properly; they come to
judgments quickly but these are sometimes bad judgments.
Prudence calls for action, correct action granted the current
understanding of the situation. We can do a variety of activities
and often are caught in not wanting just to act correctly but to
understand some of the ramifications that actions may entail; but
we find it difficult to choose from possibilities to act this way
or that through a proper but hidden judgment.

What becomes evident to anyone who is actively engaged, and is
looking out for "our" and not just "my" salvation, is that we are
in a community in our journey in faith and we need the counsel of
other co-travelers in matters dealing with our practices. An
openness to weigh opinions and factual evidence within a
collaborative context is at the heart of good judgment. A danger
is the attitude, "Leave me alone, for I can do it myself."
Obviously, it is true that "the buck may rest here" with many
decisions, but consultation is of utmost importance before the
choice is finalized. And consultation includes a conversation with
the Lord along with a discerning process that may and often should
involve other human beings who are judged to be able to act in a
godly manner. Wisdom leads us to the counsel of the wise;
understanding inspires us to be more open and seek advice from
equally open people. The discernment process requires a prayerful
weighing of all options before God, a cutting out of the ones that
involve selfishness, and the emphasizing of those that are to the
benefit of all. And others assist in such discernment.

Application: Proper decisions are part of the lives of all
who reach the use of reason. Individually we find this need in
religious choices and in the tasks and offices we hold. Proper
collective decisions involve enhancing our culture and Earth
itself. Proper judgment magnifies the glory of God's world -- our
lives, our mission, our family, our profession. The discerning
person realizes the value of good judgment, and thus the care and
discernment that must be undertaken to bring this about through
deliberate speed. Personal experience leads to seeking wise advice
and counsel for correct decisions have a certain social dimension.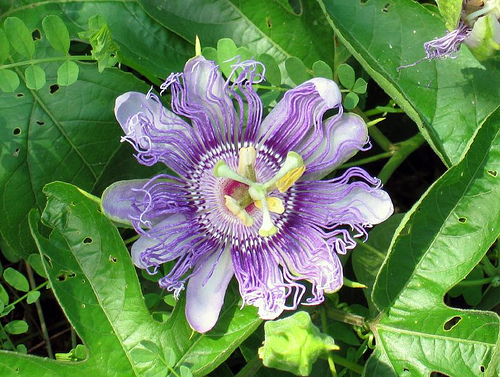 Passiflora incarnata, passion-flower
(*photo credit)

August 3, 2007 August Flowers for Healing

We place a heavy stress in our profusion of photographs at
this website on flowers, and that is because we firmly believe in
the healing aspects of flowers in all our lives. Yes, we know on
an individual level that flowers help heal an ill person. The
color and the fragrance of flowers make a big difference in a
hospital room or at the side of a sick person. What about the
broader picture of communities? We know that fractured communities
that suffer from destructive effects of strip mining or forest
destruction can find partial healing with the reintroduction of
flowers within their countryside, for somehow the flowers herald an
announcement of better days ahead.

Outdoor wild and exotics. As August progresses we see the
bright yellow roadside flowers (heliopsis and others) that come out
each year and seem to form a living bouquet for travelers. They
blend in so well with the seasonal mainstays the pale wild chicory
and the Queen Anne's lace.

Outdoor displays. Deliberate cultivated wildscapes have their
second breath in mid-summer after the spring displays with the
profusion of color from the cosmos and other summer flowers. It is
the season when the deeper summer colors of zinnias, echinacea,
cannas, begonias, castor plants, and scarlet sage brighten the
flower beds of homes and businesses. In Europe, the geraniums
seems to spill out of the houses onto the window sills. In August
we look across the meadows and see the summer flowers -- goldenrod
and others; they seem to be everywhere, almost rivaling the
flowers of spring. The only drawback is that this exploding beauty
of the season can be distracting to the passing driver.

Indoor summer bouquets. I always enjoyed bringing my mother
a bouquet of ironweed, goldenrod and bush phlox that was more or
less artistically arranged with other greenery. Care should be
taken for the wild bouquet is all looks and has little fragrance
and even perhaps harbors extra pollen that could affect a sensitive
nose -- so it may be better left on a porch instead of inside the
dwelling. The blues and yellows and purples of these wildflowers
always captivate me, and I hope others as well, but even the
gathering and arranging gesture has a certain healing effect.

Flowers were given in God's evolutionary order of our Earth to
attract the pollinators and to spread the seeds, but with a deeper
and more redemptive aspect. Flowers heal over the transgressions
with which we are so impregnated and seem to smooth the rough edges
of life. Just as a feuding couple may make up through flowers, so
the Creator gives us flowers to bring us back to a sense of
thankfulness and well-being. Flowers become the gentle healers
that are not intrusive or overbearing, self-righteous or self
congratulating. Flowers become the symbol of Earthhealing. They
assist us when in a stressed condition and certainly are effective
in their caregiving capacity. If this reflection incites a single
added bouquet, it is worth the Internet space.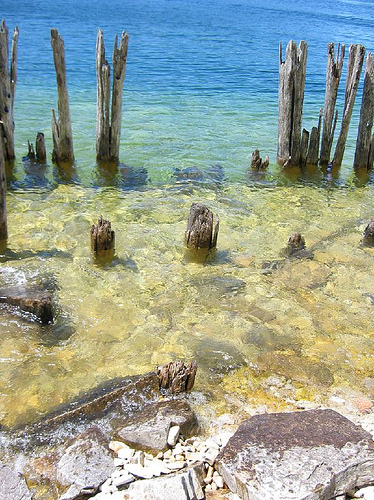 Sparkling water along a coastline
(*photo credit)

August 4, 2007 The Coast Guard
Semper Paratus (Always Ready)

During this hurricane season and the height of water-related
summer recreational activity, it is only appropriate that we should
celebrate Coast Guard Day and honor the heroic people who serve
that agency. So often in the most trying of conditions it is the
U.S. Coast Guard (USCG) that is called out to rescue stranded
people. In such disasters we begin to recognize that USCG
discipline and organization pay off for the good of our general
population. What we do not always realize is that USCG is an alert
watchdog protecting our troubled environment as well. A Jesuit
brother, the late Paul Mattingly, and I took a few vacation trips
together in the 1980s and 90s, and he would regale me with stories
about his days in the USCG. One thing was evident: he treasured
those memories of the Second World War when he assisted in
defending America's coastline against possible Nazi attack. He
never saw any active combat, and I became certain that that is what
made the treasure of memory more delightful with time.

Today the Coast Guard is both a branch of the military and a
service within the Department of Homeland Security. It has a
multimission that is uniquely military, humanitarian and civilian
law-enforcement, all wrapped into one. It not only acts as armed
guardian of our coasts but also carries out policing efforts and
rescues the stranded and the shipwrecked. Sometimes this more
humanitarian work is required in the most harsh of circumstances
such as summer hurricanes and winter storms.

The Coast Guard lists five fundamental roles:
* Maritime Safety: Eliminate deaths, injuries and property
damage associated with maritime transportation, fishing and
recreational boating.

* Maritime Security: Protect America's maritime borders from
all intrusions by: a) halting the flow of illegal drugs, aliens,
and contraband into this country through maritime routes; b)
preventing illegal fishing; and c) suppressing violations of
federal law in the maritime arena.

* Maritime Mobility: Facilitate maritime commerce and
eliminate interruptions and impediments to the efficient and
economical movement of goods and people, while maximizing
recreational access to and enjoyment of the water.

* National Defense: Defend the nation as one of the five U.S.
armed services. Enhance regional stability in support of the
National Security Strategy, utilizing the Coast Guard's unique and
relevant maritime capabilities.

* Protection of Natural Resources: Eliminate
environmental damage and the degradation of natural resources
associated with maritime transportation , fishing, and recreational
boating.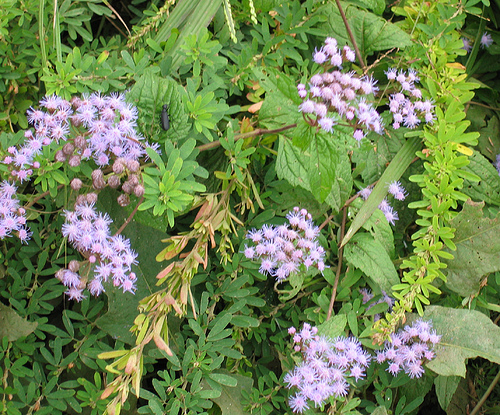 Mistflower, Eupatorium coelestinum
(*photo credit)


August 5, 2007 Confronting Greed

And this hoard of yours, whose will it be then? (Luke 12:20)

Some, if not most, of the seven capital sins are actually
regarded as virtues by the more perverse elements in our culture.
And none of these seven sins is more prominent than greed or the
ability to acquire more and more to look prosperous and successful
to a supposedly admiring world. Greed breeds self-interest to the
detriment of the common good and leads to a spirit destroying
insensitivity to the needs of others. And greed is not measured by
quantity of materials for even the impoverished can be greedy. It
rests in the act of acquiring more and more.

Terror. Slightly removed from the immediate attention of the
greedy are the plotters who are willing to go to extreme lengths to
frustrate that greed. And so greediness breeds adversaries who can
be just as cunning and sinister. And the greedy and their
adversaries are at work at both the individual and communal levels.
As in the parable just quoted, many individuals strive to build up
huge nest eggs without regard to the essential needs of their
neighbors. In much the same way, many communities and nations
store up goods or protect their own sources of food and energy at
the expense of the powerless and less wealthy areas and fellow
communities. The difference between future necessity and hoarding
is not often developed or successfully determined.

Combating greed. Counter measures extend from sharing of toys
by youngsters, through almsgiving by wage earners to sharing time
with elder citizens. Looking for the needs of others is the best
countermeasure to greedy practices. This can be exercised at the
individual level and also at the communal level where competing
self-interests must be addressed and where those with less voice
are often treated unfairly. Powerful nations have colonized other
countries to obtain hoards of materials to fill their own barns,
and to rest in the anticipated satisfaction that they nearly have
enough. However, materials never satisfy and so goals become
elusive. More and more is taken from those with the least, and
still more is demanded.

Exposing deception. Greed must be confronted in a public and
forthright manner. Affluence is not a good even though it has been
regarded as a measure of success. With affluence comes responsible
sharing and that means refraining from taking more than is
necessary. But greedy action can grow on us. We can become all
the more greedy. America has a greedy appetite or "addiction" for
oil. Are we able to break this addiction before all cheaper
resources have been expended? And is the so-called security of
military might to defend these resources really a basic insecurity
that generates more insecurity? Is not the radical sharing of
resources with others a leap of faith and a form of spiritual
security that is beyond the understanding of a materialistic
culture? Greed can only be exposed and addressed in an atmosphere
of prayerful sensitivity to the needy of this world.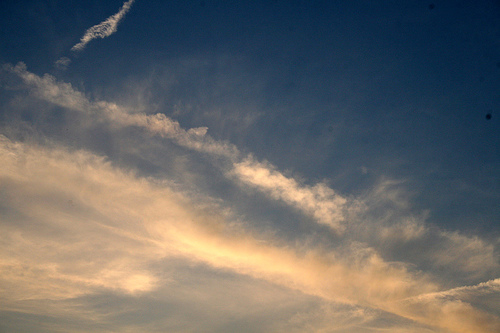 The rich colors of sunset
(*photo credit)

August 6, 2007


MY FAVOR RESTS

Curtained bright land, a moment's darkened cloud,
Graced holy place, chosen race, hope endowed,
Loud the proud, silence of the cowed,
He rode into a cheering, soon turned jeering, crowd.
Aloud, aloud. Hosanna! Like a plowed,
furrowed landscape on this earthen shroud.

Rood of God and us, Heaven professed this plan
"My beloved son in whom my favor rests." When
As Jordan's swift current to the Dead Sea ran;
On Tabor's grand -- brief career's mid-span.
Now at a skull-faced hill faintly heard again;
But how can favor rest when lights descend?

And Earth's word is cleft in gasping breath?
Dispersed light from afar focuses, rescinds.
Wait. Favor does rest on a restless crowd,
even when thunder-like it comes aloud.

Favor rests on John to Mary and her a new son;
He graced this act of maternity,
a dark moment's rest becomes eternity,
Here rests the heart of our beloved one,
Beating to an end, that has won
for us our unmerited fraternity.

Leave land's shadows to the lit-up hill,
prismed light condensed to a moment still.
Afflicted individuals and species ill,
Enlivened spirit, creatures thrill,
Fly monarch, shrill whippoorwill,
Rainbow rays rout the planet's chill.

Fast forward. Is "favor" a prophetic word,
when sharing wealth remains unheard?
And who favors turning the stampeding herd
that says "enough" is utterly absurd?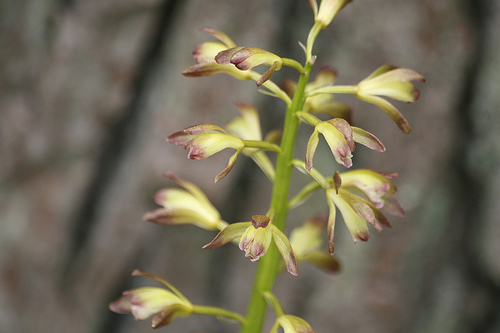 Putty root (orchid), Aplectrum hyemale
(*photo credit)


August 7, 2007 Rural Indoor Air Pollution

About two billion lower income rural people in developing
parts of the world use wood stoves or primitive heating devices.
All too often these devices are not properly vented, and so the
homes of these poor folks are filled with wood smoke, which affects
the respiratory systems and eyes of the cook and all other
inhabitants especially the very old and the very young. The
magnitude of this form of environmental pollution that kills an
estimated 1,500,000 people a year is not as well acknowledged as
are three other major health problems (HIV/AIDS, malnutrition and
water pollution diseases).

In previous reflections we discussed wood and solar cookers as
well as the impact on forestlands of gathering wood for fuel. Not
only is the scavenging of wood denuding parts of the world's
remaining forested areas, but also the time consumed by cooks in
gathering the wood along with the cooking of the meals takes up a
major portion of poor rural women's days. And these wood gathering
ventures are often unsafe ventures. However, few commentators
mention the indoor air pollution problems. I did edit a book in the
1970s entitled Household Pollutants Guide that looked more at the
air quality of American than of developing nations' households.

A recent BBC (July 7, 2007) report gave several suggestions
that are being worked on by technical people in rural parts of the
world. They spoke of Nepalese biogas generators (170,000 serving
one million people) but admit that this clean fuel is predicated on
having access to enough livestock to be the source of the gas --and
many rural people are too poor to qualify. Another approach noted
by appropriate technologists is based on the fact that these rural
cooks like to see and tend the fire. They suggest, in place of
expensive chimneys and enclosed stoves, the installment of hoods to
channel the smoke away from the indoor area. However, one aluminum
hood costs about one thousand rupees or about one-twelfth of a
year's earnings of a poor farm family that wants to save almost all
its income for the education of its youth.

We have regarded solar food cookers as one answer that has
proved highly effective in reducing wood fuel needs and in saving
wood gathering time for folks in developing countries. An added
benefit is the reduction of indoor pollution. These solar devices
can be used much of the year and can cook many food items such as
rice and beans. The solar fuel is free, and there is no
accompanying air pollution -- and the cost is far less than that of
a metal hood at a fireplace. For those who complain that some
weather is not fit for solar cooking, the answer is keeping the
previous cooking device for rainy weather but reducing its use
considerably on sunny days. The solar cookers work in various
parts of the world (we have sent teams to Peru, Honduras, Dominican
Republic and Malawi on eight occasions). Certainly ways exist to
reduce the impacts of the wood smoke air pollution, whether by
improved wood stoves, hoods or solar cookers. Alternatives are
better than indoor open fireplaces.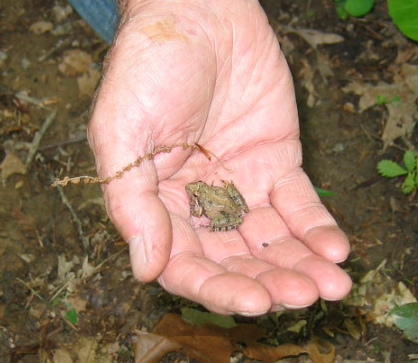 Eastern Gray Treefrog, Hyla versicolor
(*photo credit)

August 8, 2007 Bike Systems

Few things irritate me more than the signs at the entrances of
the Interstate roads listing the different unprivileged travelers
of America who cannot use these expensive networks of roads built
at taxpayer expense, namely, pedestrians and those using bikes,
horse-drawn vehicles, etc.. These groups were never refused our
earlier road systems. Certainly the prohibitions are meant as
safety measures for all concerned, but my irritation stems from the
inherent inability of our wealthy economy to provide for those
forbidden to use the Interstates and other major highways. Why
can't they be privileged as well?

Bike dreams. To obtain a network of roads on which the biker
can travel safely is a dream of every biker. It certainly was my
dream back in 1976 in my bike-riding days when we competed with the
logging trucks in British Columbia. That excursion was downright
scary and I'm too old to do that again. My history of spills and
scares and scars is too lengthy to recall, but it only enhances my
vision of a national bike network that could go over or under or
alongside of the expensive highway networks we have in place.

Costs. Constructing such a bike network would be expensive.
However, that has hardly been an argument against the Interstate
(which did have a national defense rationale at the beginning).
But not all the people are drivers of motorized vehicles either (in
fact, only a minority will drive the Interstates). And bike
networks can make use of existing highways and shoulders of major
roads at far lower expense. Bike lanes, routes, signs, parking
spots, etc., could piggyback off the existing road system with only
small scale readjustment for the greater part. Such a system needs
to consider reduced fuel resource expenditures and air pollution.


Benefits: A national bike system would encourage wider use of
this mode of travel for commuting to work and during vacation
periods, by those wishing to cool the car engine. Such a bike
system would incorporate the existing Rails-to-Trails programs and
add to the length of the already existing bike system. It could
also incorporate existing hiking and bike trails in park and
national forest areas. Through these interconnections there would
come into being a safe and continuous system throughout our
country.

Additional good effects. A bike system in place could popular
this form of safe and easy recreation. It would allow the
promotion of touristry in various parts of the country targeting
both Americans and overseas visitors. If people bike only in
congested areas, they are subjected to additional air pollutants,
but the assumption is that they will do a greater proportion of
their biking on non-congested but well designated rural routes that
will increase enjoyment of biking. Overall, a system would allow
biking to become a more acceptable travel mode (see May 16, 2006).
Champion a National Bike System!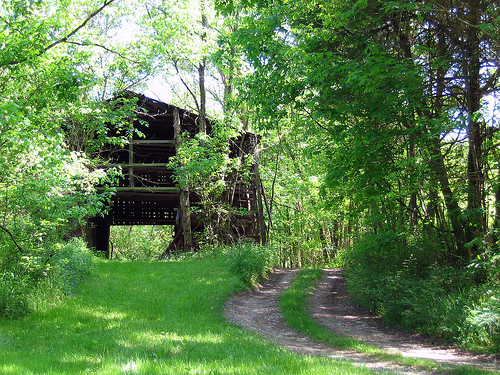 A rustic old barn, Woodford County, Kentucky
(*photo credit)

August 9, 2007 Recycle Barns

We talked last year about barns as environmental weather vanes
(November 20, 2006) and would like to extend this topic from the
pessimistic conclusion that the condition of many American barns is
pathetic. The truth is that many barns are no longer needed for
the tasks they were built to fulfill. A farm or small-town person
who had some horses (for the carriages and riding) and diverse
livestock for milk and meat needed a sizeable structure to shelter
such animals. Today, the auto can be parked out front and the
family is becoming more vegetarian, and so the need for a barn
diminishes. In our area tobacco-growing is rapidly coming to an
end (down from 55,000 growers a decade ago to 8,000 this year).
The tobacco barns are unneeded and ought to be recycled. Here are
some possibilities, though you may think of others:

Barns to houses. Substantial barns have become total housing,
in areas where housing is needed or in Europe where barn/house
combinations have existed for centuries. In our own country,
numerous examples exist of barns that are refurbished to make
comfortable living places -- and usually quite roomy at that.

Barns to public places. Sometimes the ordinary farm storage
needs (hay, implements, etc.) are met using only a portion of the
barn, and so the large interior space can be used for conferences,
dances, community meetings, bars, sleeping quarters, restaurants,
and commercial establishments. Again, the rustic motif comes in
quite handy to entice clientele to a recycled barn setting.

Barns to retreat chapels. The interior of a well preserved
barn allows for the same expanse that a chapel ceiling gives. The
Monroe, Michigan, Immaculate Heart of Mary Sisters have done an
excellent job converting a barn to a retreat chapel/conference
center. A score of other communities have been equally innovative.
Some like the Passionists in Louisville have excellent barns to
work with from the start; others may need extensive retrofitting.

Barns to museums/exhibits. Many folks like to see what a barn
was like in the past and so returning it to former use may become
an opportunity to teach visitors about our shared rural past. Hay
lofts, grain bins, cattle stalls, and pens are all part of who we
are. Even the slave pen at the Cincinnati Underground Railroad
Museum was originally within a barn structure in my county.

Barns to storage. This form of recycling is most used today
and at least can eliminate the need for new storage space.

Barns to redevelopment. In parts of this state the tobacco
warehouses covered sizeable acreage of urban land, and they are not
now needed because of contract instead of auction marketing
procedures. Most of these spacious structures are being torn down
or "accidentally" burned down; they are replaced by housing and
commercial establishments. These reuses save farmland greenspace
and allow gentrification in already developed urban areas.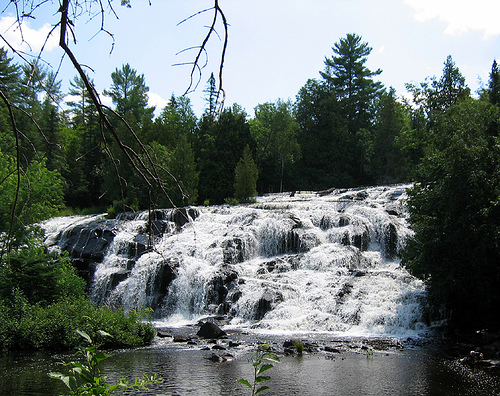 Bond Falls, near Watersmeet, Michigan
(*photo credit)

August 10, 2007 EU Approaches to Global Warming

Acid News: A Newsletter on Air Pollution and Climate Change,
is an informative Swedish publication produced by the Swedish NGO
Secretariat on Acid Rain. This periodical keeps us on this side of
the Atlantic aware of the latest European Union (EU) environmental
activities. The March, 2007, issue of Acid News lists EU targets
that are worth repeating:

Targets for greenhouse gases -- Reduce greenhouse gases by 20%
by 2020 compared to 1990. This is more ambitious than Kyoto targets
of 8% by 2012, for an additional 12% must be achieved in the next
eight years. The European Council endorsed an EU objective of a
30% reduction in emissions by 2020, provided other developed
nations commit themselves to comparable reductions. Beyond 2020,
developed countries should be aiming at collective cuts in
emissions of 60-80% by 2050, compared to 1990 emissions.

Targets for renewables -- The share of renewable energies in
the overall EU energy supply should be 20% by 2020. Renewable
energy sources currently account for less that 7% of the EU energy
mix, with a current non-binding goal of 12% by 2020. The new
binding target will be broken down into differentiated national
targets, taking account of countries' varied circumstances,
starting points and potentials. By 2020, all member states must
achieve a 10% minimum binding target for the share of biofuels in
overall EU transport fuel consumption.

Target for energy efficiency. The EU leaders agreed on a non-
binding commitment to reduce EU energy use by 20% compared to
projections for 2020 through improvements in energy efficiency.
This will be achieved primarily through implementation of the EU
action plan on energy efficiency, presented by the Commission in
October, 2006.

Polls show that the overwhelming majority of EU citizens are
concerned about climate change and are well aware of the impact of
energy supply and use on climate change and global warming. Some
82% are well aware that the way they consume and produce energy
has a negative impact on climate. They are also in favor of trying
to tackle this climate change problem at the EU rather than on a
piecemeal national level. The most concerned people are those in
Spain, Cyprus, Malta and Greece, the lower EU tier.

Note that the June G-8 conference in Germany recognized the
need to treat global warming as a serious subject. However, the
specific targets like those presented here were not a U.S. agenda
item and thus were left out of discussion. But the nations
recognized that all major emitting nations such as the U.S., China,
India and Brazil must be brought in for a global plan to work.

If you wish to receive the periodical, write to the Swedish
NGO Secretariat on Acid Rain, Box 7005, 402 31 Goteborg, Sweden.
For free information visit <info@acidrain.org>.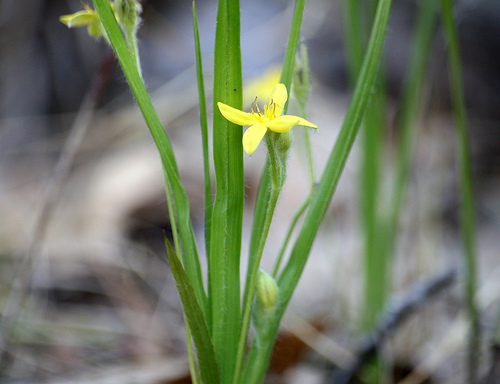 Star Grass, Hypoxis hirsute
(*photo credit)

August 11, 2007 "Smoky Holler"

Some places stand out in our minds and we see them vividly
even though known from our youth. One hollow that served as home
to eight poor white families we termed rather pejoratively "Smokey
Holler." At that site I was hitchhiking on Route U.S. 68, the Old
Buffalo Trace, and a truck bearing railroad ties came blowing its
horn frantically. Something made me back up against the cable
guard rail and the tie edges went right past my face and shaved my
peach fuzz. "Smokey Holler" was my near miss with death.

But there is more to the place and name. An article in this
July/August issue of The Kentucky Explorer is entitled "Mason
Countians Shaken from Sleep by Terrible Explosion in 1854" (pp. 10-
12). Earl White, the author, dates the event as August 13th at
2:15 a.m. At that exact time about eight hundred kegs of blasting
and rifle powder burned and exploded in several terrible explosions
that sent debris and heavy rock all over the Ohio River town of
Maysville, a half mile from that cove. Paradoxically, even though
many of the town's homes, churches and businesses suffered
extensive damage only thirteen houses were destroyed, no one was
killed and only one person, a William Conwell, seriously injured.
An unconfirmed report in the newspaper at the time said that a man
was thrown from his bed at Orangeburg some ten miles away. The
explosion certainly must have awakened everyone in the county on
that August morning.

The author explains that the fact the cove sits on slightly
elevated ground above town reduced the damage. Today this cove and
surrounding areas are within the expanded Maysville city limits.
Undoubtedly, the terrain cushioned the blast, and still directed
the debris mortar-fashion over the town and into or across the Ohio
River. After the blast they found one rock weighing forty-three
pounds on the Ohio side of the river over one mile away.

No suspect was apprehended for setting off the explosives but
someone must have kept secrets. The authorities knew that the
number of culprits was definitely five, but the thousand dollar
reward for pinpointing the instigators went unclaimed. People keep
secrets well in Mason County. The incident did lead to a small-
scale religious revival, for most thought the explosions were a
wake up call from Gabriel.

What made the area, which the author White called "Sleepy
Hollow," so smoky, in its older prior-to-gentrification
nomenclature, was undoubtedly the sulfurous smell of eight hundred
kegs of spent gunpowder. The explosions must have darkened the
cove that appears in my memory as somewhat devoid of vegetation.
The smell must have lingered for a period of time since the cove is
sheltered from the prevailing westerly breezes. The origin of
"smokey" is more or less theoretical on my part -- but it makes
much sense as to where the name Smokey Holler originated. So much
for the vestiges of our past.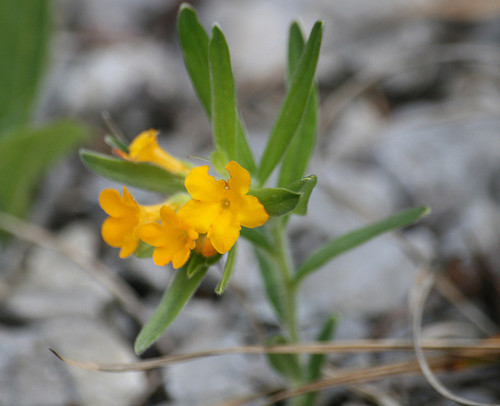 Hoary Puccoon, Lithospermum canescens
(*photo credit)

August 12, 2007 Parables Are for All of Us

Peter said, "Do you intend this parable for us, Lord, or do
you mean it for the whole world?" (Luke 12:41)

Peter's question could be asked about the particular parable
mentioned here, or for any parable for that matter. Each parable
has a story line and each a message that has both individual and
more universal meaning. If one looks out from a pulpit and sees
the glazed-over look of a few in the congregation, it is time to
say this message is meant for you or you -- but we would never do
such a thing lest the person not return to church. Instead we look
into ourselves and say, how can we make stories more relevant so
that they are meant for that person.

Jesus, as master teacher, announces to his listeners the Good
News of God's blessings. The hearers of the word can rise and
become better for it. Jesus proclaims a teaching that involves a
future element but pertains more to the present condition of
preparing for a meaningful future. Since the reign of God is not
just a future event but also an ongoing current happening, the
fulfillment has already begun -- if we have spiritual eyes to see.
This Good News is not a blessing of wealth, success, power, nor of
evil doers, the overly competitive, or the warmongers. No, Jesus
stands on the side of those who are truly blessed, the lowly, the
illiterate or the poorly educated, those who have no school to
attend or where conditions make it difficult to study. His
teaching involves a vision and promise of the coming of better
times, a new reign where the poor are to receive their blessings --
and God's kingdom comes: a certainty that the Messianic age is
approaching.

We apply the parables. Jesus teaches the multitudes in the
fields and hills, in the synagogues and marketplaces, and wherever
the crowd gathers. We should discover new places and ways of
teaching: printed and electronic media, festivals, the Internet.
Jesus teaches in parables that reach the masses in different ways,
and these methods of parables and story-telling are still highly
effective today. People are drawn to concrete examples from
everyday life with which they can identify. Likewise our audience
is the whole world, literate and illiterate. Teaching all people
means having an acute awareness of what they know and their
particular attention span. Finally, the content of our teaching is
part of the Good News, a blessing for those who hear. The message
must be short, plain, and to the point for people who suffer from
too much bad news and information overload. Jesus's teaching way
should become ours.

The challenge. While the message is meant for all, the
challenge is for us to hear the parable in our individual way, and
then consider that it not only applies to us as individuals but
also as to our entire community of believers. Thus it is my job to
help answer Peter's question and to spread the word to others
especially those who have not yet heard the Good News.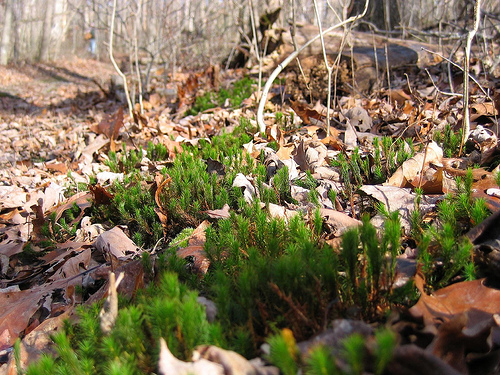 Shining Clubmoss, Lycopodium lucidulum
(*photo credit)

August 13, 2007 Lefthanders' Day and Practical Tolerance

Righthanders are the majority and never seem to consider what
this truly means within our culture. School desks (uniform for the
greater part), handshakes (a sign we are not carrying a weapon),
salutes (who wants a lefthanded salute?), and a host of other
gestures and materials are set up for the majority. And the
lefthanders can list many more. Maybe there are lefthanded people
to remind us that tyranny can be imposed by the majority without
even thinking about such behavior -- and these lefties are maybe
the guardians of the world's unnoticed minorities.

Become both? One answer is to be ambidextrous. Since it is
tiresome to do things always in one way, I learned to plant
tobacco, milk cows, hoe plants and pitch hay with either hand and
arm. But carrying this dexterity over to writing was never tried
and selected use of either hand at certain tasks hardly counts. We
need to do more as a majority. At different times resting one's
arm makes us ambidextrous -- and that may extend to parental or
teaching authorities attempting to force righthandedness on
individuals.

Minorities and Assimilation. Up into recent decades Australia
required its aboriginal people (about two-and-a-half percent of the
total population) to be integrated by forbidding the use of native
languages in the schools to which the youth were sent (this
practice also occurred to some degree in the United States and
Canada as well among native peoples). With time each nation saw
such educational programs as actually oppression by a majority that
really wanted integration and assimilation, without regard to the
cultural consequences of such forced measures. Cultural ways of
such minorities resemble being lefthanded.

Melting pot or mixed vegetables. Today, in America the desire
that foreign language speakers conform to the majority tongue is
rampant. It is not so much melting as dissolving and becoming the
majority in all but little ways. The minorities can cook, dress,
worship, or live their lives as they wish but when speaking in
public it must be in English. This comes when the ability to
translate has never been easier and less costly. Is behind this a
fear that if we allow the minorities to have their ways, they may
prosper, attract others of their kind and become the majority?

Acceptance. Sensitivity grows with time, and the lefties of
the world can gently remind us that a majority position can become
a privileged one under certain circumstances. But with this
knowledge comes a tolerance that furnishes lefthanded desks and can
accept a lefthanded salute or handshake if the culture will just
allow it. But here the uniformity meets diversity, and that too
requires a compromise which lefties have accepted down through the
ages. Somehow this must have been God's design that we are to
accept diversity in little matters so we can do so all the more in
larger matters.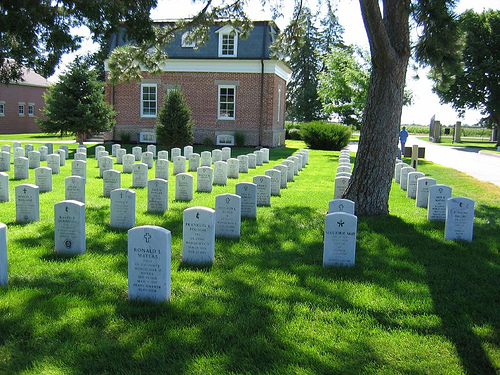 Fort McPherson Cemetery, Nebraska
(*photo credit)

August 14, 2007 Soldiers Dying in Vain

This is the Ninety-third anniversary of the start of World War
I, or what was termed, "The Great War," until an even greater one
took its place two decades later. Individuals so not die in vain,
if they offer their lives for others or for a cause that is
reasonable. What about the individual attitudes at the start of
the Great War? Were there causes that stood out or just the fading
notion of patriotism and love of country that triggered individuals
to march off to war? What did the Austro-Hungarian subjected
people think of being enlisted into the emperor's army? What about
the many French who wanted to regain a dignity lost during the
Franco-Prussian War? Were the wave after wave of massed troops
mowed down by German machine guns wondering was it worth it? What
about the masses of ill-equipped Russian soldiers who had to fight
enemies and suffer and die by the tens of thousands? The minds of
the many were really of little account, for the automatic machine
called war went on its merry and gruesome way. It started in the
glory of a European August but ended during a gray flu-plagued
November four years later (and after millions of folks had died).

Dying in vain? We look beyond the individual, for we must.
For most who died in that war, it was "before their time," meaning
that in the natural order they should have lived to grey hair and
old age. But the fields of Flanders and the cemetery after
cemetery tell us otherwise. This much we know -- they died and
died. Whether this death was in vain is another question that goes
beyond the way in which an individual approaches his or her Judge.
I recently read a book by Stephen O'Shea entitled Back to the
Front: An Accidental Historian Walks the Trenches of World War I
(New York: Walker & Company [1996]). Several unexpected things
emerged in this often entertaining but deeply distressing
travelogue. First, how many of the remnants of that war remain
after almost a century (unexploded shells, trenches and bunkers,
rusted shrapnel, even piles of bones at the fences) and the
cemeteries, hundreds and hundreds of them scattered in a string of
land from Nieuport in Belgium across northern France to the Swiss
border. A second point was O'Shea's own growing distress as he
hiked along mile after mile and was overwhelmed by an awareness
that this was all for naught and the sacrifices were of good young
folks who would never live out a normal lifetime in peace. In his
traveling he even found his great uncle's grave among the graves.

Long after guns were silenced, armchair experts, overlooking
the horror and stench of battle, scrutinized Ypres' or Verdun's
plans and found little planning -- a bankruptcy of leadership. A
slaughter is still a slaughter whether experts point it out or not.
On at least one occasion, French boys led a mutiny for they saw no
reason to go to their certain deaths or to linger for years after
gassing. Many of the most talented and spirited young such as the
writer Charles Peguy died in the early months of that brutal war.
Yes, sometimes people are forced by the circumstances to die in
vain -- unless their deaths lead to a global conclusion: NO MORE
WAR. Let's put that one into effect so their dying has benefit.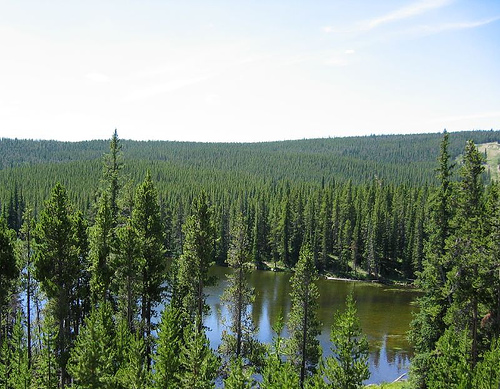 Overhead view of alpine lake, Medicine Bow National Forest, Wyoming
(*photo credit)

August 15, 2007 Basic Assumptions

Blessed are you among women, and blessed is the fruit of your
womb. (Luke 1:42)

Today is the feast of the Blessed Virgin and a time when we
gardeners need to plant our fall turnips. We Catholics (and also
Orthodox) Christians celebrate the Assumption of Mary into heaven
or her being taken up body and soul. We believe that for the rest
of us, we die and there is a change in state and a separation but
that at the final judgment we will experience a resurrection that
includes the entirety of body and immortal soul. Then Mary, the
privileged one, goes before us and that is what we celebrate today.

But the truth just mentioned does not end the discussion. If
Mary goes before us, then we are to follow in some indefinite
future period, and that is our more fundamental assumption in an
extended meaning of the earthhealing work we perform. We are
"taken up" by the truth that a privilege will in time be extended
to all of us imperfect human beings who happen to live.
Immortality awaits us. As our funeral prayers say, our lives are
changed, not ended. We undergo a partial transformation that gives
us an immense bolstering of faith in God's goodness. And in the
light of the Incarnation event, of God becoming one with us, we
enter into the family of God and are to be integrated with our
bodily features in a time to come. The future is up ahead of us --
and in the fullness of the summer growing season, we reflect on
this fruitful expectation and on the hope of eternal life for those
saved in God's grace.

What are some of the other ramifications of this basic
assumption of our participation in the Marian event. In one way
Mary is most blessed of all women as Scripture says. In an
extended manner, we are most blessed as well, for what comes to
Mary will in due time come to us all though we are different in
time of separation. In what do our blessings consist? First,
there is a glorious future, which we cannot speculate about or even
imagine; all creation including our mortal bodies has value --
eternal value. Second, the scars that we bear in life can become
glorious through the connection with the Resurrected one and will
become features of who we will become. In other words, our history
will live on into the future. And thirdly, the Earth, which we
know, will in some way be transformed and will become part of a
promised New Heaven and New Earth embracing the familiar
environment that makes us who we are.

When the corruptible frame takes on incorruptibility and the
mortal immortality, then will the saying of Scripture be fulfilled:
"Death is swallowed up in victory." "Oh death, where is your
victory? O death, where is your sting?" (I Corinthians. 15: 54-
55)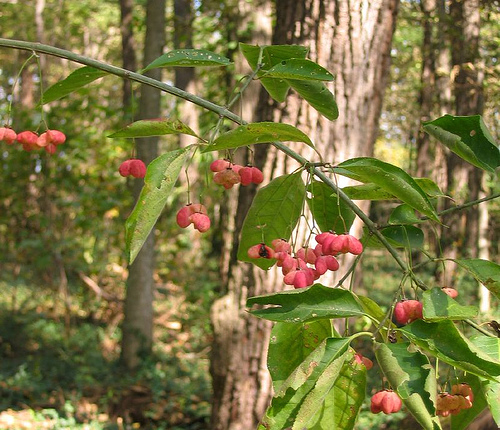 Eastern wahoo, Euonymus atropurpureus. Fayette County, Kentucky
(*photo credit)

August 16, 2007 Relinquishment

Several years ago John Coleman wrote a thought-provoking piece
entitled "An American Strategic Theology" in A Political Theology
of America. Here he speaks of America's need for relinquishment
that is not in negative terms. He says, "What we relinquish is an
addictive bondage to luxury and consumerism in a conversion to
solidarity, community and the full enjoyment, in measure, of the
earth's good resources. Relinquishment points to greater freedom
to enjoy and celebrate."

While agreeing with this call to relinquish, which I consider
to be letting go, I still feel a bit uneasy in the light of the
thought in Eco-Spirituality through the Seasons. That uneasiness
has two aspects: that we Americans are the ones who freely move to
let go almost apart from moral necessity and the clamor of the
lowly who are rising all around us; and that we somehow set
conditions of enjoyment and celebration in our relinquishment.

It seems that what we are called to let go of is our
sinfulness and inability to stop wasting and our unjust clinging to
resources that ought to be used for essential needs of others. We
freely must assent, but it is through the demands of conscience
that tell us that if we don't, our very national salvation is at
stake. We are motivated by moral obligation, not immediate
enjoyment, and thus we must let go of the addiction to comfort and
convenience. We relinquish to others (the world's poor) due to
their just demand on a commons that we have seized for our own
good; and we relinquish our immediate comfort in doing so.

What few politicians want to talk about is that a
materialistic culture must give up spacious homes, powerful fuel
guzzling vehicles, and recreational devices of all sorts that
consume vast resources. What we receive, in turn, is spiritual
satisfaction in radical sharing, a sense of good will and security
within the community of nations knowing that we are doing what is
right, and a gift of hope to others that we are willing and able to
hear their just demands and to respond as equals, not as the rich,
who can give when and where they like and get rewarded for it.

What is important is the very act of letting go. We do so
because we must, not because we are nice guys who want to look nice
about sharing goods with others -- and get our tax write-offs and
feel good at the end. The celebration is in working together with
the lowly and that is certainly celebration. Selfish giving has
little to celebrate. We must celebrate together when we arrive at
radical sharing and not before achieving it. I am not a politician
and thus can speak more freely -- and so should all our theologians
and spiritual leaders. We are the only ones who can speak of the
ultimate enjoyment and celebration awaiting those who relinquish at
a radical level, called for in this age of global warming and
climate change. A new warming is needed, the warmth of love that
replaces the overuse of carbonaceous materials in our nation and
the developed world. And letting go brings this about.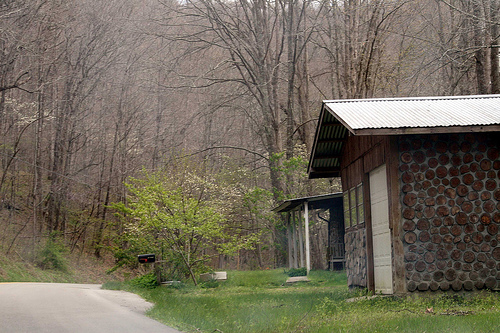 Cordwood mobile home, Appalachia Science in the Public Interest
(*photo credit)

August 17, 2007 Making Do

For non-Americans "making do" may be a linguistic hurdle and
it is not meant to be. The phrase simply means doing with what is
presently available and not trying to wish for or strive for so
much more of anything. Americans have been spoiled and think
luxuries are necessities, and others need to furnish us these
"needs" in a neo-colonialist fashion of the master over a
subservient household. Sharing is beyond our purview. We forget
that luxuries dull our ability to champion and live comfortably
with a homesteader's ethic -- namely, to get along with what we
have around us and not to use servants to supply us extras.

When we visit model pioneer homesteads like one at the
Cherokee Entrance to the Great Smoky Mountains National Park, we
are amazed with what homesteaders did in building with native
materials that were close at hand, in growing and gathering all the
food they needed, in preserving surplus produce for winter in
cellars and as dried, salted or canned goods, in weaving and
spinning and making excess cloth into patchquilts and garments, in
traveling by boat and horse-drawn carriage, and in making their own
soap using wood ash and animal fats. Yes, they were amazing folks,
and we are not true to the gifts they passed on, if we fail to
learn some lessons.

Today we think it convenient to get foods from distant lands,
to use inefficient vehicles burning fuels imported from dwindling
supplies of petroleum, to use incandescent bulbs when more
efficient types are available, and to transport exotic wood from
the rain forests and building materials from distant factories.
We now find making do something that borders on the absurd -- and
yet it is more than just conservative economics. Making do
exhibits a reality that we need to practice. It is respecting the
Creator of all things in giving us abundance but not excess; it is
the willingness to share with those present who do not have the
essentials of life; it is allowing future generations access to
materials for their needs, future generations with whom we can only
share our love and good will; it is denying convenience as our
motivation and affirming deeper values when dealing with limited
resources.

The thought of making do with our own energy sources and not
tapping, securing and defending sources from other parts of Earth
seems far-fetched. But it is true, if we put our minds and hearts
to making do in a patriotic and pioneer manner -- and that is not
as difficult as it might first seem. Good conservation is simply
buying less wasteful lighting and vehicles, insulating and airing
out the house at night, and using less air conditioning and more
home-grown products. It is not something revolutionary. Making do
is accepting solar, wind and geothermal as the ultimate source of
most American energy and implementing utilization ASAP. Making do
is building smaller homes, schools, commercial buildings and
churches and sharing with others. Making do ceasing to grab as
though might is right.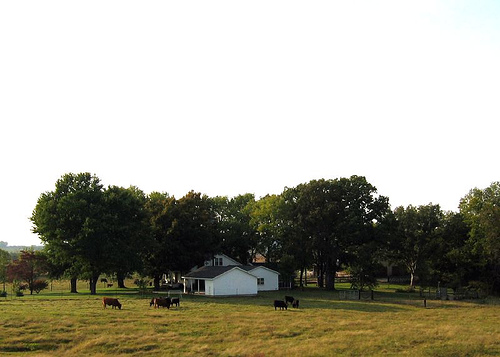 Farm scene, Hopkins County, Kentucky
(*photo credit)

August 18, 2007 Forms of Noise and Excessive Sound

We all know noise as confused clamor, a din, racket, hubbub,
uproar, and discordant sound. We do not often reflect that this is
only part of sound pollution, for excessive sound that is not
necessarily noise is also a form of pollution. It may be the sound
of rainfall that can be interpreted differently (the sound of
rainfall to the person who has experienced floods is in contrast to
the music of needed rain on the metal roof while we sleep). Or
excessive sound is the television while others seek to sleep.

Constant sounding. We all know someone who cannot stop
talking and we excuse this person as suffering from a nervous
condition. What happens if an entire culture participates in this
condition to some degree through cell phones and other devices?
The broader definition of excessive sound includes various
components: chatter, extended conversation, singing, compulsive
laughter, gossip or rumor, protest or accusation, or scandal. This
broader definition of excessive sound involves the use of
amplifying electronic equipment, which does not tire like a human
voice or performance. The equipment continues, and continues
whether the listener tires or even becomes inattentive through
sheer exhaustion. Modern devices can continue the intensity and
duration of a disturbance with no allowance for blessed silence.

Visible pollution. The induced exhausted state of a person
subjected to excessive sound can result in blurred vision -- and be
regarded as "noise.". Thus it takes more and more stimulation to
draw a consumer's attention to some advertisement or source of
information, and so blinking lights and larger billboards are
needed to penetrate the world of excessive sound. Environmental
disharmony that is affecting one sensory faculty may extend to
others through deadening or paralysis of the one. Disharmony can
be contagious when it comes to excessive commercialism.
Sonar pollution. The use of radiation in various forms in
military defense and general communications can lead to confusion
in wildlife that depend on communicating for their own livelihood.
The confusion among whales and others is very real and is a form of
"noise."

Light pollution. Urban areas have massive amounts of external
lighting from parking lots to highway traffic, from home exterior
lights to spotlights on signs. The total aggregate of such
lighting on a given night is termed "light pollution" and becomes
a source of "noise" for the silent night sky. Today few in urban
areas are able to see the expanse of the stars due to the excessive
luminescence of the surrounding sky, and thus the harmony of night
heavens is disturbed.

Vibrational pollution. Disharmony may also include
vibrational pollution or the shaking of the land through blasting
effects from explosives that result in damage to human-made
property; the harm includes the explosive sounds as part of the
entire operation. This could be regarded as part of the "noise"
due to construction and mining operations. Different devices have
been invented and are used to decrease vibrational pollution.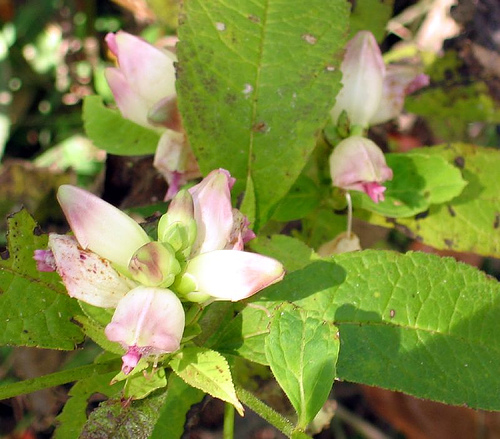 Turtlehead, Chelone glabra
(*photo credit)

August 19, 2007 Bringing Fire to Others

I have come to bring fire to the Earth, and how I wish it were
blazing already! (Luke 12:49)

Setting people on fire for the right cause is a gift and, in
this age of high-powered commercials, it can prove to be a daunting
task. All too often people have created defense mechanisms against
stray phone messages, spam, and television ads to buy this or that
product. Some are already on fire with the wrong things: drug
addiction, alcoholism, sexual problems, a sticky finger for
merchandise, sporting events, and on and on. Being on fire is not
something new and it can be misdirected. That makes the efforts at
inspiration for a good cause all the harder.

Charismatic people such as Hitler could turn masses of people
on to wrong causes, and so merely arousing people's emotions is not
necessarily a lofty goal. Religious charismatics are often gifted
at inciting people to rise, wave their arms and go into a fever
pitch. Sometimes this is for a revival period and sometimes for a
longer period in life. But what brings on genuine enthusiasm (the
God within) with its balanced approach and staying power? This is
the inspiration that takes root and can be seen in others, is
worthy of imitation, and is a rightful way to give or catch fire.

Those who are on fire with a wrong cause or direction are
certainly hard to change, or almost impossible to redirect without
a miracle of grace. It is even more difficult if a tinge of hatred
of others are involved. It is as though the people on fire are
possessed -- and removal of possession is a formidable task. For
them, it may be best not to attempt a frontal confrontation but to
say some prayers and hope the right person enters their lives.
They should not be forgotten. On the other end of the spectrum are
those who lack fire and are moved by nothing; these need to be
inflamed with a zeal that is lacking. Again, we can only do so
much. If the person responds, then the torch has been passed on.

As Saint Luke says, "Yahweh has pulled down princes from their
thrones and exalted the lowly" (1:52). We get a clue from this
passage that our attention must be on the often overlooked -- the
lowly. Sometimes they await inspiration, and yet we have given too
much attention to those who are well-known but over- or under-
charged. Too often we determine and limit the audience to movers
and shakers or those we imagine to be. Sometimes the lowly are
outside of our area of vision. When it comes to change, we are
often taken in by the outmoded dream that if we inspire the
affluent and notable, the peons will follow. Maybe, just maybe,
that is not God's way and Scripture tells us so. The divine
preference is to work with the lowly, to inspire them to rise up.
We need to discover this mysterious preference. It is not that the
notable will first change in a grand benevolent gesture. The
tables have been turned and we are part of that turning. We must
go and search the byways for those who have been overlooked. And
the great challenge is that we are the ones called to inspire them.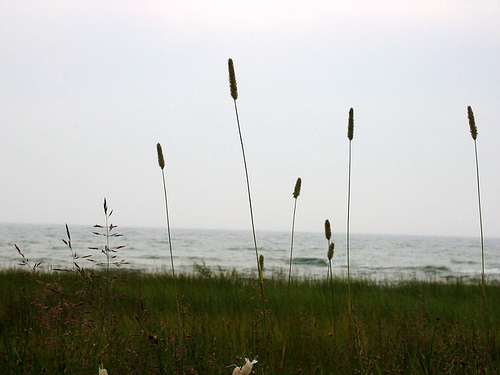 Tall grasses near water's edge
(*photo credit)

August 20, 2007 Bald Eagles and Turkeys

In these designated "Bald Eagle Days" we all celebrate that in
the past few months this majestic and national bird has been
removed from the Endangered Species Act's "threatened" list. In
some ways this removal is a sign of progress; through protected
habitats and the banning of the use of DDT the raptor has returned
to a rightful place in America's biosphere. However, saying all
this does not mean the eagle is free of danger, for developers want
to clear and sell for profit their more scenic habitat areas. And
all of this loosening of restriction has wildlife environmentalists
somewhat concerned. The Bald and Golden Eagle Act still stands,
and no one is allowed to mess with these birds by harming them or
disturbing their nests or eggs. But are their general areas of
feeding and resting distinct from the birds, and now open season to
developers?

This brings us back to Ben Franklin who wanted the wild turkey
to be our national bird, and for good reasons: turkeys are more
plentiful; they inhabit a wide American area and do so in a hearty
fashion; they are just fine roasted; and they are quite pugnacious
(on a hike last week I was challenged by one as I was perhaps too
close to her nest). Some will not regard all of these turkey
characteristics as positive ones and will say the turkey is rather
ugly in contrast to a graceful bald eagle. True, but their
ugliness is somewhat similar to the way Americans fight for their
possessions. I have not yet resolved to consider the turkey as
superior to the eagle, but more thought should be given to its
national characteristics. Remember, turkeys are not raptors.

My modest proposal is akin to what Kentucky has decided in
designating its state tree(s): it has accepted both the Kentucky
coffee tree and the tulip poplar. We ought to declare both the
bald eagle and the turkey as our national birds. Perhaps some will
object, but why would they object? Militarists like the power,
might and aggressiveness of the eagle; these hover over their
prey with a sense of dominance; they elicit a sense that they are
number one in the aviary world; they trigger admiration on the
part of many when watching eagles in flight; they are certainly a
sight to behold!

Turkeys do not share these eagle strong points, and, in fact,
sport teams called eagles elicit pride; those called turkeys run
and hide, for the term is pejorative. However, turkeys will defend
their own fearlessly when provoked -- perhaps more strongly than
other birds. The eagle is uniquely set apart so it will not be
threatened; there is little need to do this with the exploding
population of turkeys. Rather, one must speak of controlling the
turkey populations and harvesting them because they are good to
supply for our most national of all holidays, Thanksgiving.
Turkeys are practical beasts and so are we Americans; they know how
to take care of their own; they use the resources at hand with
expert skill. And they don't beg for handouts. Let's consider
elevating the turkey to an equal status with the bald eagle.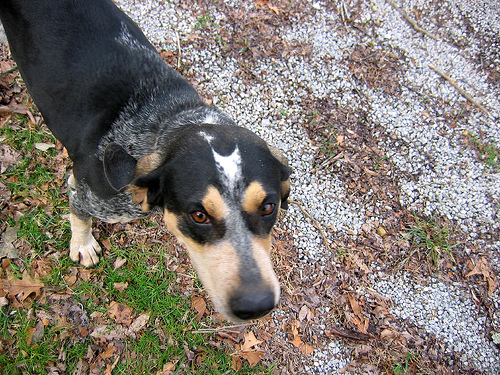 Friendly greeting from an old hound dog
(*photo credit)

August 21, 2007 Animal Shelters

All too often animal lovers seek to be effective and do
something at a community level that is within their means. In
poorer areas of our land people abandon a litter of cats or dogs or
let loose a stray dog hoping others will find it. The individual
animal lover finds the unfortunate animal(s) and has no room at
home. The next best thing is take the phone book and look up the
local animal shelter -- which may or may not exist. However, these
service places seldom have public support and only random private
assistance. Quite often the state chapter of the Humane Society
of America (the largest animal welfare organization in America) can
assist by furnishing the names and locations of the nearest
shelters to you. Other more general groups such as A Voice for
Animals, Adopt-a-Pet, and All Gods Creatures Rescue seek to save
animals that have been disowned or picked up as strays. The normal
procedure is to try to find new owners or to "put them away," which
means exterminating them by more merciful means.

Individual animal lovers of limited means should be encouraged
to offer assistance at the local animal shelter or adoption agency
rather than to donate to larger international and national
organizations (see July 14, 2007). These individuals could do a
variety of volunteer services such as caring for retired and
disabled animals on a one-on-one basis. It is sad to hear of a
poor compassionate person who cares for many cats and dogs and is
exposed by the media for improperly caring for their large number
of animals. Primary attention to animal welfare should be at the
local level where we ask whether sufficient shelters exist.

We do not deny the need to protect tigers in China or
endangered animals in Indonesia, but others may be more financially
able to carry on such missions. Before deciding to give all your
support to well-funded international groups, you may wish to
consider assisting local ones:

* Give special attention to local animal shelters either by
direct financial support or volunteering to assist the shelter in
some way:

* Help obtain donations and grants to offer a period of time
when needy pet owners can bring their pets to be neutered or
inoculated -- the fees for each being more than needy folks can
afford on their own meager budgets;

* Establish bird sanctuaries, if space allows or provide
nesting and feeding possibilities for the birds in the vicinity;

* Spread the word about animal lovers who are doing a good job
for animal protection and welfare in your part of the country; and

* Report anyone who mistreats animals on their own premises
or in confined enclosures. If need be, assist those poor who are
able to care for the animals they take in for personal care.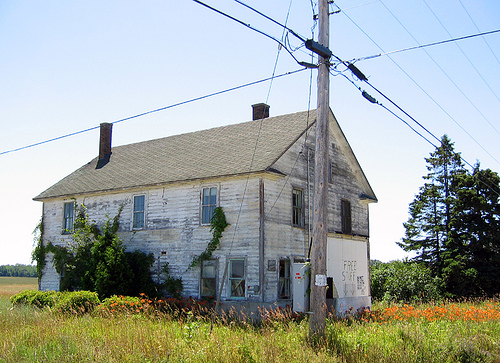 Making use of an abandoned home, serving as a center for
distributing free, used goods
(*photo credit)

August 22, 2007 Recycling Made Easy

Several times a year we speak of the need to address waste
disposal problems that crop up everywhere in our consumer-goods-
glutted society (see July 26. 2004). In some ways a waste
container is an act of disrespect, for we profess that some of
God's creation is not good. Some of that waste can be re-utilized
by means of compost toilets and compost bins in the backyard. But
why do many people fail to recycle even when they have places
fairly near at hand? They tell us that Albanians once freed from
totalitarian rule considered waste something that the state should
take care of and they would dump it wherever convenient -- at least
until they began to see that waste becomes a personal
responsibility for the good of the community. It is a learning
process. In our region of Appalachia the high price of garbage
pickup tempts some to resort to dumping and littering even though
there are anti-litter laws. Let's make recycling easier:

Backyard ease: available composting bin -- Having one's
compost bin for organic materials that can be composted into soil
amendment is one way to reduce waste greatly and still provide a
natural and fairly convenient method of recycling. This means
taking care of food wastes, yard wastes and any compostable matter
that can be worked by worms into an Earth-friendly humus product.

Institutional ease: curbside pickup -- Some places have
recyclers who move about the neighborhood on designated days and
pick up, generally pre-sorted, recyclables (paper, metals,
cardboard, newsprint, and certain plastics). This is the easiest
method but can still be expensive for the pickup people unless the
volume is sufficient to make a profit. A variation on a pick-up
program is for the public to transport their own recyclables to
accessible depots or centers. Sometimes centers have been given
unsorted trash that still needs to be disposed of properly.

Organizational ease -- recycling bins. Much depends on the
length of time it takes to place a plastic bottle in the domestic
or office sorting area. If space allows, the bins can be
accessible and capable of handling the particular's home waste
stream. Leaving this unsorted leads to a desire to simply dump it
for convenience into the waste can and send it to the landfill --
and recycling has suffered another defeat.

Purchase choice ease -- One incentive to reduce container
wastes is that preparing a bean dish from dried beans saves on cans
that need to be washed and prepared for recycling. If we don't buy
all those diverse items, we need to recycle far less. The use of
permanent plates and dinnerware in contrast to disposable materials
would reduce the waste stream and make recycling far easier.

Personal habitual ease -- Exchanging items can prove to be a
waste reducing practice as well. Trading books, periodicals and
other items extends the products' life and reduces the need for
more materials.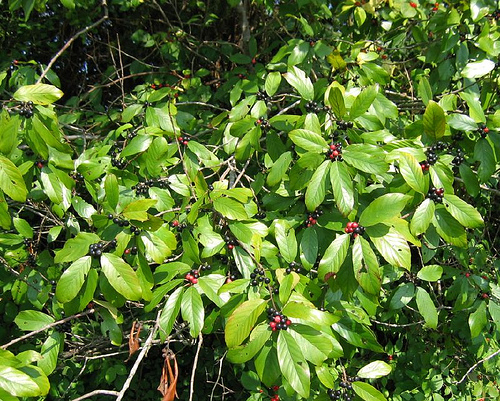 Carolina buckthrown, Frangula caroliniana
(*photo credit)

August 23, 2007 Eastern European Population Decline

Spectacular population increases in many parts of the world
have been extremely worrisome and a challenge to their respective
governments to find employment and basic services to meet needs.
However, some two dozen or so nations are declining in population.
In these lands a shrinking number of workers must provide the
social services for an increasing older population, and this
becomes more and more burdensome as populations continue to
decline. Population decline is mainly occurring in Eastern Europe;
this is due to falling birth rates (which also affect other parts
of Europe, Cuba and the Far East) or increasing death rates
(southern portions of Africa). Below are listed a number of
Eastern European countries with anticipated declines from the year
2005 to the year 2050:

Decline Average/per year
Russia 31,449,000 700,000
Ukraine 20,088,000 446,000
Poland 6,613,000 147,000
Romania 4,954,000 110,000
Belarus 2,738,000 68,000
Bulgaria 2,661,000 59,000
Hungary 1,845,000 41,000
Czech Rep. 1,767,000 40,000
Kazakhstan 1,739,000 (Mainly Europeans) 39,000
Georgia 1,490,000 34,000
Serbia/
Montenegro 1,077,000 23,000
Moldova 894,000 20,000
Lithuania 866,000 19,000
Croatia 866,000 19,000
Slovakia 789,000 17,500
Bosnia 737,000 16,000

During this same time period Japan will lose 15,887,000, Italy
7,181,000 Germany 3,925,000, South Korea 3,188,000 and Cuba
1,520,000. Not listed but losing smaller numbers but larger
proportions of their small populations are Estonia and Latvia.
Noticeably missing are the Scandinavian lands, UK, the Lowlands,
Ireland and France where higher birth rates and immigration are
helping to hold populations steady or bring increases about.

Of course people can say these figures are only tentative and
that other factors can make a difference. Actually, an aging
population finds it more and more difficult to change matters on
its own, for after a period there are simply not enough young folks
of childbearing age to make the difference. As countries increase
in prosperity, they become more attractive to outside populations
and so people literally risk their lives to come to Italy or Spain
from Africa and the Middle East. Conquering AIDS and other
diseases that are adversely influencing death rates in southern
African countries could bring several nations back into the
population growth category.

Statistical source: New York Times 2007 Almanac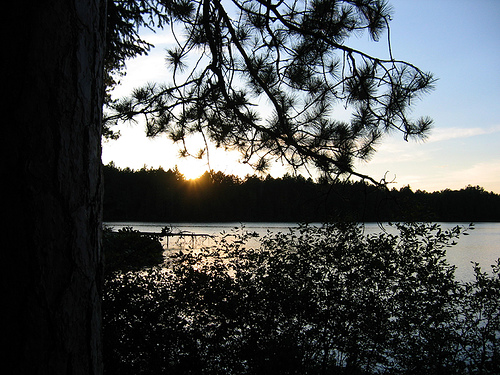 The end of a summer's day
(*photo credit)

August 24, 2007 Better Sources of Biofuels and Plastics

Today a month ago we wrote about corn being a corny (banal)
biofuel, but that is too mild. Converting a food staple like corn
to biofuels drives up the price of food for some of the world's
most needy, while diverting the precious material to a fuel so
often used by inefficient vehicles. A far more promising approach
is to use non-food cellulosic or waste products to make biofuel.
In the June 21, 2007, issue of Nature James Dumesic and his
research team at the University of Wisconsin-Madison describe a
two-stage process for turning biomass-derived sugar into DMF (2,5-
dimethylfuran). This attention to DMF and a precursor HMF
(material from which it is derived) is quite intensive.
Researchers at this university uses an acid catalyst method
(Science, June 30, 2006) while another team at Pacific Northwest
National Laboratory uses a different method to convert fructose
(90% yield) and glucose (70% yield) into this intermediate
compound, HMF, that gives great promise for making DMF at lower
costs for the manufacture of both synthetic biofuels and
alternative non-petro-based plastic precursors.

Advantages. The potential biofuel, DMF, has some great
advantages in comparison to ethanol, the biofuel of current choice:
DMF has a higher energy content than a comparable amount of
ethanol. This ethanol conversion from sugar is slow and
inefficient; ethanol evaporates more easily than DMF and becomes
contaminated by absorption of water from the atmosphere. In
contrast, DMF is chemically stable and insoluble in water.
Furthermore evaporating DMF during the production process requires
about one-third less energy than evaporating ethanol. The key is
manufacturing DMF through lower cost means, and these researchers
claim the production can be simplified using a two-stage balancing
act of catalyst, temperature, pressure and technical conditions.

Source materials. The original base materials for DMF can be
fructose derived either from some fruit and root vegetables and
other products or from glucose, which is derived from starch and
cellulose. Thus the door is opening to the use of massive amounts
of available agricultural and forestry waste products that
currently offer environmental disposal problems. Previous routes
to HMF have proved to be quite expensive and so this new one
(patent-pending) would help also yield low-cost viable alternatives
to some of the petrochemical components of plastics. Not all
health and safety and environmental issues have been solved, since
DMF could move to a potentially massive industrial scale. Often
academic hopes are not realized when it comes to industrial
development, but somehow the DMF process seems more simple and the
end product more stable and promising. Hopefully research and
development time and costs will not be a major hurdle and the mass
of cellulosic waste products will be used in a more meaningful way
both for alternatives to petrochemicals and for transportation
materials that can be easily handled. Still the direct use of
solar as a source of transportation fuel is a more ideal approach -
- if better low-cost storage can be obtained.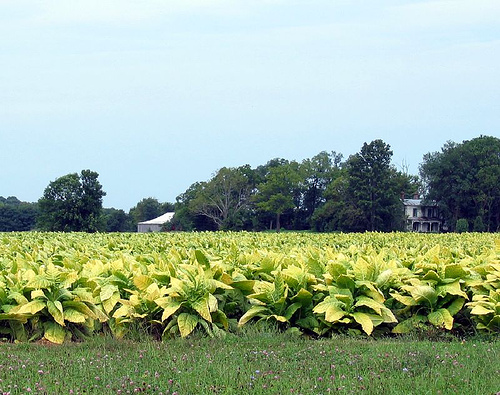 Family-owned tobacco farm in Nelson County, Kentucky
(*photo credit)

August 25, 2007 Tobacco's Future

I have been working on a book, Tobacco Days, in fits and
starts for several years. My hope is that tobacco that we thought
so beneficial during the Second World War (and later found to be a
major health hazard) could be redeemed and become a source for
protein food supplements and for plant-made pharmaceuticals. But
the slow pace of these promising future uses is causing some of us
to lose heart. That it will happen is beyond doubt, but how soon
is another matter. While research and development hurdles exist,
more attention is going to basic research than to the equally
needed development phase.

Early American bravado about tobacco in which I shared, has
given way to the reality that tobacco, through current smoking and
other personal use, shortens three million lives each year (over
one-tenth Americans) by means of cancer and heart ailments. Where
does tobacco's future lie? Is it in continued smoking and non-
smoking by people who can afford the costly cigarettes or snuff?
Or is tobacco's future in the beneficial uses such as protein
supplements (in a protein-short world) and plant-made
pharmaceuticals (in an expensive animal-made pharmaceutical world)?
Or will tobacco continue its global reach as an addictive behavior
that is far harder to change than to initiate?

We are told that two-thirds of Chinese men smoke ("China Aims
to Limit Smoking in Public," Wall Street Journal, May 30, 2007, p.
A-7). China produces and consumes more tobacco than any other
nation, i.e., two trillion cigarettes a year. Head-to-tail this
nearly endless stream of tobacco would take us to the moon and back
how many times? But the reality is that lungs are being filled
with cigarette smoke, and one million Chinese died last year from
smoking, and the number may rise to two million in two decades --
should health consciousness not rise in that land. Many of the
world's nations have signed a treaty to limit citizens' exposure to
second-hand smoke. The World Health Organization shows deep
concern that the future of tobacco will be a continuation of the
present tobacco use practices -- and that means more illnesses and
deaths. Last year Mayor Bloomberg of New York gave 125 million
dollars to combat smoking around the world. The global public is
waking up but very slowly, and one wonders if at a fast enough rate
to equal the growing population of smokers in developing countries.
Will China's ban on smoking in Beijing be honored next year at the
Olympics, or will it continue to be ignored? The big question is
the degree of seriousness in banning smoking in public throughout
the world, and whether there will be an end to promotion, to all
forms of advertising, and to regarding tobacco as a favorite type
of tax revenue. No one likes to slap or cut the hand that feeds
us, and tobacco addiction and tobacco taxes go hand-in-hand.

Tobacco's future is beyond our reckoning. We do not know what
the future will bring but there are options that will allow tobacco
to be redeemed and become truly a beneficial crop. We call for all
healers of the Earth to mobilize.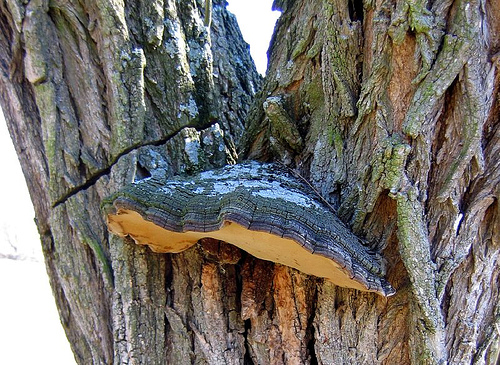 Tree bract at Shaker Village of Pleasant Hill, Kentucky
(*photo credit)

August 26, 2007 Last First and First Last

Yes, there are those now last who will be first, and those now
first who will be last. (Luke 13:30)

God always looks after others. We all rank high in the mind
of God, and in doing so some regard their gifts as really something
they merit or have the right to from some hidden privilege. In
such a world of rankings, they advance to what they regard as first
place, and thus are considered by humble folks as being ahead of
them. The left behind are part of the lower base of a seemingly
unchanging social structure. But revolutions overturn front
ranking mobility; violent storms strike the wealthy as well as the
impoverished; and death is the great leveler. But within the total
spiritual order of things the ranking will also be inverted when
the lowly will rise to high place and those in high place will be
brought low.

The Good News is that salvation is universal, and we all are
brothers and sisters without last or first rank of any sort.
The Church, the New Jerusalem, is now rising as a bright light
attracting people of all ranks. In the matter of our own lifetimes
the Church has become a community of the poor. Thus the majority
is now those who were last in the economic order. Church leaders
are to serve the rest. The cultural status is being overturned as
all see that they must serve not only other human beings but the
plants and animals, by being protectors of the environment. The
ones who are to be the models of a more appropriate technology are
those who have been ignored and considered to be the recipients of
the largesse of the wealthy -- when actually the lowly are
positioning themselves to become the teachers of the affluent.

A message of caution. This section of Saint Luke's Gospel
(13:22-30) always hits us close to home, for at times we all like
to eat, drink and be merry in our own ways. But our merriment is
all too often quite exclusive, and we forget that knocking sound of
someone at the door asking to get in. The poor seek a fair share
of the world's resources, which actually "belong" to all -- really
to God. From these resources we are able to share and distribute
to all according to need. We must each repent in order to be
saved, and thus it involves personal responsibility on our part.
Thus we "must" obey God's commandments in order to be saved, but we
often forget our duties and try to place blame or transfer
responsibility elsewhere and away from our precious selves.

Our commitment. Salvation is both an individual and a
community mandate. On the first level I must become sensitive to
the needs of my brothers and sisters -- and that can only be done
through a life of self-abnegation and following the Lord's
commandments. In order to do this I focus on Jesus, deny myself,
accept responsibility for my journey of faith. That is why the
road may seem easy, and the door wide, but it is somewhat
constricted on closer examination. Through our commitments at
Baptism and Confirmation we come to serve others in many ways.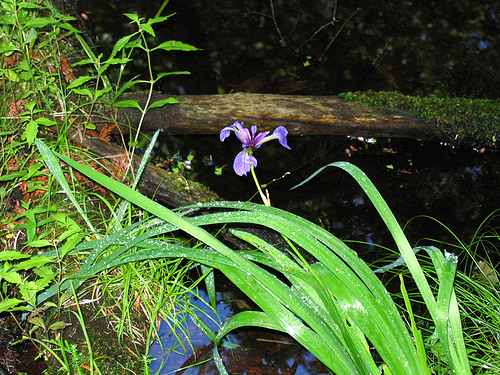 Iris versicolor, wild blue iris
(*photo credit)

August 27, 2007 Mother Teresa's Favorites

The biggest disease today is not leprosy or tuberculosis, but
rather the feeling of being unwanted, uncared for and deserted by
everybody.

The greatest evil is the lack of love and charity, the
terrible indifference toward one's neighbor who lives at the
roadside, assaulted by exploitation, corruption, poverty and
disease.
---------------------

People are often unreasonable, illogical, and self-centered;

Forgive them anyway.

If you are kind, people may accuse you of being selfish
and of having ulterior motives;

Be kind anyway.

If you are successful, you will win some false friends and
some true enemies;

Succeed anyway.

If you are honest and frank, people may cheat you;

Be honest and frank anyway.

What you spend years building, someone may destroy overnight;

Build anyway.

If you find serenity and happiness, they may be jealous;

Be happy anyway.

The good you do today people will often forget tomorrow;

Do good anyway.

Give the world the best you have, and it may never be enough;

Give the world the best you've got anyway.

You see, in the final analysis, it is between you and God.

It is never between you and them anyway.

(Harvard Student Agencies, 1968)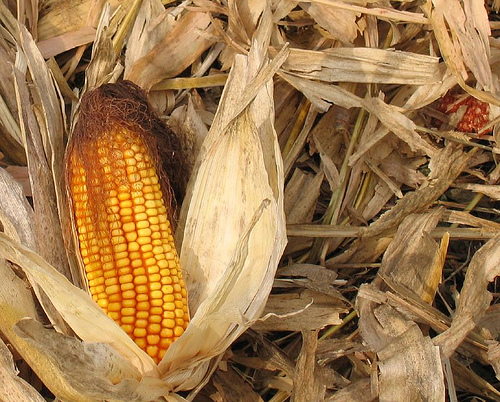 Corn cob, left behind at the end of a season
(*photo credit)

August 28, 2007 Full Corn Moon

The moon is full and the corn is growing, and if you go out on
a warm late August evening you can hear it grow -- the expanding of
the leaves makes a certain crackling noise quite unique to the
grain crops. Corn not only is beautiful to behold in its dark
greenery, but it smells fresh and the soft milky ears are most
tasty right now. Even the fuzzy side of the leaf is pleasant to
touch. But it is the sound of corn at full moon that makes it the
most special of all American crops.

Maize or our American corn (the English word "corn" means
grain) is a staple in the western Hemisphere much as rice is in
Asia and wheat and barley are in the Mediterranean lands. Many of
the poor of this Hemisphere depend on reasonably priced corn being
available for their tacos. With time corn has become the basic
grain for much American processed food as well as for cereal,
cornmeal, popcorn, corn chips, corn syrup, and corn oils, and it is
the main feed for production of meat, egg and milk products. I
grew up at the end of the corn-growing belt and the end of the
hand- and horse- work in raising corn (replanting with a seed
jobber, chopping out weeds, cutting corn by hand, and shucking corn
at harvest time) (see October 15, 2005).

August is a special time, for this is when field corn is
completing its growth and when the roasting ears or "roshunears" as
we called them are at their peak; the forming corn ears are full of
milky kernels that are roasted or boiled into corn-on-the-cob, a
dish so American that we forget it was first Native American. When
I once asked an English friend whether he liked corn-on-the-cob he
replied, "Only hogs and Americans like corn-on-the-cob." I
reminded him that hogs are one of the smartest of animals, but that
did not modify his comment.

Today, the large investment in growing corn to feed the world
is being diverted to growing corn for use in making ethanol as a
subsidized biofuel to replace petroleum. What a travesty, for this
is driving up the price of corn-related food products! All the
while, ethanol takes petroleum to grow it (farmers don't use
ethanol to plant, harvest or dry their corn). Granted ethanol
production results in some byproduct feed for livestock but the
goals are still flawed. Ethanol is less fuel intensive than
petroleum products and so it takes more -- and there are still
carbon dioxide emissions along with other air pollutants.

Returning corn from biofuel to food use is necessary to feed
the world's hungry masses. The selfishness that triggered the so-
called biofuel advantages of corn is reprehensible and fortunately
some other economic pressure groups beside ethanol manufacturers
are getting their say at this time. Corn is meant for everyone,
not just those with their roadhogs or the ones being fed at the
trough of governmental subsidies. Let's grow corn for people, not
vehicles. Then the full corn moon can shine on the corn fields,
and the crop will have more beneficial effects as good food.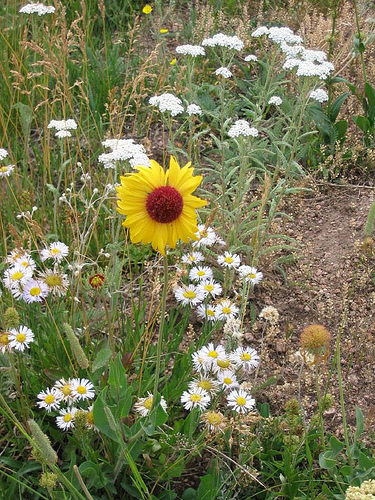 Asters in a field, near Cheyenne, Wyoming
(*photo credit)

August 29, 2007 John the Baptist as Model

The more unpropitious the situation in which we demonstrate
hope, the deeper that hope is. Vaclav Havel

The feast of St. John the Baptist's martyrdom seems an ideal
time to reassess just how we can find this rather heroic and
unusual person as our model in the modern age. Virtually all of us
would find it nearly impossible to live on wild honey and
grasshoppers or to wear the coarse clothing with which he robed
himself. However could we imitate him in being prophetic, which
really means knowing what will inevitably happen if people continue
in present ways? Samuel Goldwyn says, "Never make predictions,
especially about the future." Being prophetic is not predicting
but only saying what will inevitably happen if... we continue as we
are.

John the Baptist is the herald of Jesus Christ: even before
his birth he leaps for joy for the one who approaches; his birth
and naming by Zachariah show the struggle that would dominate in
his life as prophet. Note he is named in much the manner in which
Alex Haley describes in Roots the naming of a West African child;
John withdraws from the world and yet lives simply within it in a
manner few of us could ever imitate as to the exact situation;
John speaks plainly to the people and lives simply and through
deed; John is the right person at the right time and sees what will
happen if people do not reform their ways; and finally John
witnesses to martyrdom because he is bold enough to tell the king
the exact situation of the king's life.

John can be our model. He is a free spirit, affirming the
mystery of life (at birth), living simply, proclaiming prophetic
statements and witnessing to his faith even to the point of
martyrdom. We too can leap with joy at the presence of the Lord,
affirm the mystery of life through reverence, live simply so others
may live, become prophetic and speak out about the need to make
changes in our world, and be willing to witness in our lives to
what God calls us to do. Then John the Baptist becomes our model.

Straight talking. We become the John the Baptists of today
when we also speak in the manner of John. We will have to come to
terms with our economic indebtedness, for all that goes up must
come down -- hopefully not with a crashing sound. The rich cannot
indefinitely continue to grow super rich; eventually the poor will
lose patience and take what rightfully belongs to all and not just
to a few. Ocean levels will surely rise, for melting ice must go
somewhere and glaciers are melting away. Terrorism will prove to
be such a powerful weapon that it will surely increase and become
more widespread because the global condition of under- and
unemployment has not been sufficiently addressed by those who are
in political and economic power. Corporation practices may become
more democratic when stockholders take charge. Some of these
events are most likely to occur, but the negative ones need not
happen any more than the positive ones will happen. As today's
John the Baptist, we are to be the heralds of Good News.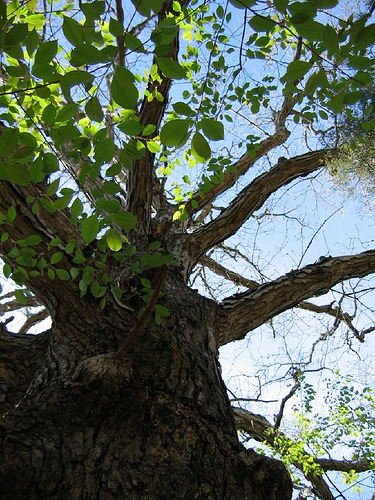 Under the shade of an old oak
(*photo credit)

August 30, 2007 The Oak Shade

Nothing is as delightful on a hot summer day as seeking and
finding a delightful shady tree. And this is quite possible in our
temperate oak/hickory forests. These cover much of the territory
in the eastern half of the continental United States, from the
Ozarks and Appalachians up through New England. These deciduous
oak trees, Quercus, are members of the beech family and are known
for being tall and majestic with broad spreading crowns in older
age. Among my memories is enjoying the shade of the thick-leafed
pin oaks in our home place in earlier times.

Our oak trees may have unimpressive flowers in spring but they
make up for this in their shade-providing capabilities in the hot
summer months. In autumn oaks do not hold a candle to the colorful
maples, but their seasonal natural contributions are in the form of
acorns, mast for the squirrels and other wildlife such as turkeys
and deer. The acorn yield, which begins when the oak is about
twenty years old, and reaches maximum production within a century,
actually varies year-by-year depending on weather conditions. Oaks
are generally famous for their toughness and strength as anyone who
has worked with the wood can testify. Try driving nails or sawing
a rough oak plank. And oak firewood contains much heat content and
is sought after for winter heating. Oak wood is also known to mill
well and is used in building materials, furniture, hardwood floors
and wine barrels.

The white oak (Quercus alba) normally can reach 100 feet tall
and several feet in circumference, and can be called the mainstay
of our Eastern forests. However, even more valued from a wood
quality standpoint is perhaps the red oak (Quercus rubra) that can
reach 90 feet in height and has a round crown when grown in the
open, and a clear, long bore when grown with competition (among
other trees). Various types of oak can grow to over one hundred
feet tall and live at least two centuries. The Wye Oak in Talbot
County Maryland, which succumbed to a wind storm in June 2002, was
estimated to have been 460 years old, 32 feet in circumference, and
108 feet tall. The "Seven Sisters" oak at Mandeville, Louisiana,
is 37 feet in circumference with a crown spread of 150 feet and is
supposed to be one thousand years old. Can you beat that?

Oak decline, mortality or death has been observed in this
country since the beginning of the twentieth century and has been
talked abut more explicitly for the last twenty-five years. This
decline has especially affected red and black oak and also to some
degree scarlet, pin, white and chestnut oak. In the western states
the phenomenon is also occurring, and in parts of California the
death of the native oaks is reaching epidemic proportions. There
does not seem to be one single cause for this phenomenon but most
likely it is the result of stresses from several environmental
factors along with beetles, fungi and defoliating caterpillars.
Hopefully, the strength of the oak will endure, and these oak
forests will continue to flourish. We simply cannot afford to lose
our Quercus. We need them to refresh ourselves in summer.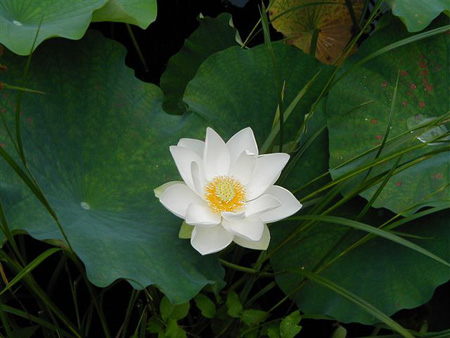 Radiant water-lily nestled amongst deep green foliage
Photo by Walter Para, age 15. Stanton, KY.
August 31, 2007 Family Farm Groups


The family farm as we knew it when young is no longer
flourishing in this country. However, some family farms continue
to function and their efforts are being supported by a number of
organizations, which are the highlighted non-profit groups for the
month of August. Just to list all the organizations that offer
support to family farms (technical assistance, information,
economic support, social services, youth education, national and
state policy issues, and religious services) would be somewhat
overburdening. One group that I served on the board of in the
1990s was the National Catholic Rural Life Conference
<www.ncrlc.com>, which continues working for family farms through
a number of publications, conferences and legislation policy
educational activities.

One cluster of groups includes those affiliated with the
National Family Farm Coalition (NFFC) <www.nffc.net>, and this
includes the Grassroots International <www.grassrootsonline.org>,
and La Via Campesina <www.viacampesina.org>. All of these both support
family farmers and work for food sovereignty in various parts of
the world. The latter term is defined in the NFFC food sovereignty
vision statement:

We envision empowering communities everywhere working together
democratically to advance a food system that ensures health,
justice and dignity for all...
Farmers, ranchers, and fishers will have control over their
lands, water, seeds, and livelihoods [and] all people will have
access to healthy, local, delicious food.