Announcing a new Earthhealing Project
Resonance: Promoting Harmony When Confronting Climate Change
by Al Fritsch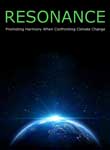 Now available on Amazon Kindle
Resonance: Promoting Harmony When Confronting Climate Change seeks to challenge this global problem from a spiritual perspective. A solely secular approach involving technical experts is insufficient to bring about a renewable energy economy. Rather, a spiritual outlook invites all people of good will to work together. This overlooked approach leads those who believe in the future to discover Divine Harmony as the primary focus and model for change. The mark of the Triune God is present in the entire universe, vibrating and inspiring all activity. To achieve success we explore various types of resonance, from physical, chemical, biological and social, through art, music, compassionate caregiving and international negotiation. More importantly, resonance has a divine character worthy of reflection, the Source of all resonance and harmony. Through prayer, compassionate suffering and action, believers have vital roles to play. For all to collaborate they must be motivated by a critical mass of believers – you and I. Hope breathes eternal, but we must act now.


Format: Amazon Kindle
Price: $3.99 USD
Click here to order!
(Note: use controls to view full-screen)