ABOUT THE EARTH HEALING TEAM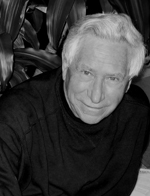 Albert J. Fritsch, Director
Contact information:
St. Elizabeth of Hungary Church
316 Fifth Street
Ravenna, KY 40472-1312
Education:
Xavier University, B.S. (1955); M.S. (1956);
Fordham University, Ph.D. Chemistry (1964);
Bellarmine School of Theology,
Loyola University, S.T.L. (1968)


Experience:
Post Doctorate Research associate, University of Texas
(1969-1970); Science Consultant, Center for Study of
Responsive Law (DC) (1970-1971); Co-Director, Center for
Science in the Public Interest (1971-77); Director,
Appalachia--Science in the Public Interest (1977-2002);
Sacramental Minister at Good Shepherd, Frankfort (2003-)


Current Directorates / Advisorships:
Resource Policy Institute (CA);
Center for the Study of Commercialism (DC); ASPI (KY);
Environmental Resource Assessment Service (NC)



Affiliations:
Society of Jesus; Sigma Xi; Phi Lambda.


Appointments:
Scholar in Residence, National Cathedral, DC (1986);
Gamaliel Chair, Milwaukee, WI (1991);
Bannon Chair, Santa Clara University, CA 1994, 1996;
Wade Chair, Marquette University, WI 1998.


Authorships:
Special Topics in Heterocyclic Chemistry, Vol 30.
Interscience (1977); A Theology of the Earth (1972);
The Contrasumers: A Citizens Guide to Resource
Conservation, Praeger (1974); 99 Ways to a Simple
Lifestyle, Anchor/Doubleday (1976); Household
Pollutants Guide, Anchor/Doubleday (1978);
Environmental Ethics, Anchor/Doubleday (1980);
Green Space, ASPI Publ.(1982); Appalachia: A
Meditation, Loyola University Press (1986); Renew the
Face of the Earth, Loyola Universtiy Press (1987);
Communities at Risk, Renew America (1989); Eco-Church,
Resource Publications (1991); Down to Earth
Spirituality, Sheed & Ward (1992); Waste Minimization:
Widening the Perspectives (1993); Earth Healing (1994);
Spiritual Growth through Domestic Gardening, (2000);
Ecotourism in Appalachia: Marketing the Mountains,
University Press of Kentucky, 2004;
Critical Hour: Three Mile Island, Nuclear Legacy and
National Security, Earth Island, 2004; An Eco-Spirituality Through The Seasons, 2006.

Chapters in: Embracing the Earth, Orbis
(1994); Ecological Prospects, SUNY Press (1994);
Christianity & the Environmental Ethos, ITEST (1996);
The Greening of Faith, University Press of New England
(1996); Religion in Ecology: Scientists Speak,
Franciscan Press, (1998).


Current Publications:
Daily Reflections: 2005; Gray Matter in the Green:
Special Issues in EarthHealing, 2005; Ethnic Atlas of the United States, 2005.


Activities:
Gardening, writing, research -- U.S. ethnic data.