The Earth Healing Team
Al Fritsch, Director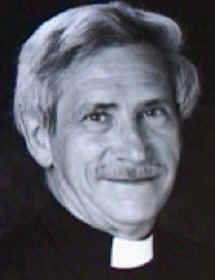 St. Elizabeth of Hungary Church
316 Fifth Street
Ravenna, KY 40472-1312


Education:
Xavier University, B.S. (1955); M.S. (1956);
Fordham University, Ph.D. Chemistry (1964);
Bellarmine School of Theology,
Loyola University, S.T.L. (1968)
Experience:

Post Doctorate Research associate, University of Texas
(1969-1970); Science Consultant, Center for Study of
Responsive Law (DC) (1970-1971); Co-Director, Center for
Science in the Public Interest (1971-77); Director,
Appalachia--Science in the Public Interest (1977-2002);
Sacramental Minister at Good Shepherd Catholic Church, Frankfort (2003-2004)

Current Directorates / Advisorships:

Resource Policy Institute (CA);
Center for the Study of Commercialism (DC); ASPI (KY);
Environmental Resource Assessment Service (NC)

Affiliations:
Society of Jesus; Sigma Xi; Phi Lambda
Janet Powell, Developer



[Bio | Website | Photography]
Education:
University of Kentucky, Environmental Studies with concentration in Biology, B.S. (1998); M.S., Social Work (2003); Additional graduate studies (2007-)
Experience:

Field Research Assistant, University of Kentucky. Investigated the effects of human activities upon forest ecosystems with particular concern for invertebrate macrofauna. Developed the AppalFor - Appalachian Sustainable Forestry Website. (1995-present); Graduate student internships completed in the areas of domestic violence, geriatrics, and refugee resettlement. (2001-2003); Freelance consultant for local and national nonprofit environmental and human service organizations (1997-present); Photographer, freelance (2005-present)

Current Directorates / Advisorships / Pro Bono Consulting:

Central Kentucky Computer Society, Web Publishing Group. (2004-2007); Kentuckians for Nursing Home Reform. (2004-2008); Kentucky Initiative for Quality Nursing Home Care (2008-present); Cumberland Gap National Historical Park, VIP (2006-present); Depression and Bipolar Support Alliance (2006-present); Kentucky Virtual Forestry Education Center, Second Life (2008-present)

Academic Interests:
The effects of human activities on ecosystems; the role of environmental influences on human development and behavior; the digital divide in Appalachia; the behavioral correlates of video game playing; Internet accessibility and adaptive technologies for persons with disabilities; Virtual Reality applications in education and as collaborative tools for nonprofit organizations.

Mark SPENCER
Mark is a highly talented professional artist and graphic designer. He has worked with ASPI - Appalachia Science in the Public Interest for 26 years. Among his acclaimed contributions are the Simple Lifestyle Calendar and Earth Healing show.
Charlie Fritsch
Charlie holds a PhD in Mechanical Engineering from Purdue University. He worked for thirty years at Bell Laboratory/ATT and a has for the last decade operated the organic Windy Hill Apple Orchard.
Mary Byrd Davis
Mary holds a PhD in English with a minor in French from the University of Wisconsin-Madison and an MS in library science from Simmons College. She is the author of numerous books on environmental subjects and head of Eco-perspectives, a Project of Earth Island Institute.
Sally Ramsdell
Sara Deming Ramsdell. Sally is a native of Salt Lake City, Utah. She left there after high school to study geology at Antioch College in Ohio and has lived in Kentucky since 1965. After marriage and motherhood she returned to college at the University of Kentucky, where she majored in civil engineering. She worked for a geotechnical engineering firm as a laboratory technician and draftsman; later she supervised field and laboratory technicians on soils and concrete projects.

For five years she was quality control manager for a six-plant central Kentucky ready-mixed concrete producer. In 1981 she founded Concrete Quality Consulting, Inc., a firm that provided technical services in concrete materials testing and quality control. She served as its president until retiring and closing the business in 2004. She was a member of the American Concrete Institute and was honored in 1988 by election as a Fellow of ACI. She was also a member of ASTM and was active in the International Concrete Repair Institute, Kentucky Ready-Mixed Concrete Association, Associated Builders and Contractors, the Construction Financial Management Association, the American Society for Quality, and the National Association of Women in Construction. In 1994 she was named one of the Top Women in Business in the Bluegrass by The Lane Report.

In her retirement, she serves an arbitrator and mediator for the Better Business Bureau, is a cooperative weather observer for the National Weather Service, and shares ownership of a Christmas tree farm with her husband and eldest daughter.
Use FreeTranslation.com to translate this page:
Haz clic aquí para traducir:

About Us
Our principal service is to offer a Daily Reflection on pertinent subjects. This website began in 2004 and will continue as long as materials are available and funding permits. The weekday Reflections cover a variety of simple living topics and the weekend writings include homilies and other sacred issues. A variety of essays and poems appear here as well. I hope you find these and the other writings offered on the website beneficial.
Peace, Fr. Al Fritsch, S.J.
Read more»